Being one of the most crucial things for the success of a website, SEO still stands to be a mystery for some of the users. And this is why we will unfold all of its technicalities in this tutorial.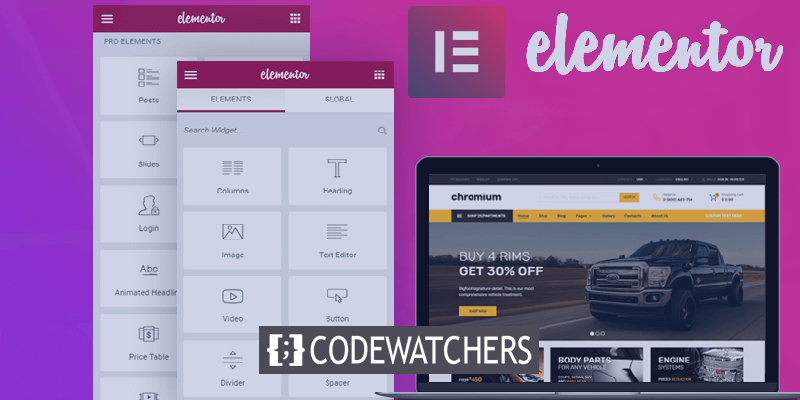 We have talked about it over and over again that the importance of SEO in order to generate traffic, increase conversions and brand's exposure is highly valuable.
With newer and more beneficial plugins, boosting your website's traffic is getting easier. For Elementor, Yoast SEO and Rank Maths SEO are the two amazing SEO plugins that can be integrated and used. This tutorial is a complete Elementor SEO optimization guide and it is all you need to boost your traffic.
You can also check out our tutorial on How to set up All In One SEO plugin.
Create Amazing Websites
With the best free page builder Elementor
Start Now
Search Engine Optimization
SEO or Search Engine Optimization is a technique to make your website more visible on the search engines. Instead of sponsoring your posts through PPC or Email marketing, SEO specifically targets organic traffic.
When you search for something on Google, you must have seen that some websites appear on top of the page because of their SEO optimization. SEO is all about organic traffic that includes unpaid visitors that search for content similar to the one on your website.
About 95% of the users click on the results appearing on the first page of Google, while the top five get two-thirds of all clicks. Also, SEO results in much higher returns on investment than a paid campaign as the Eye-Tracking Study suggest that around 70-80% of people tend to ignore paid search results.
In this tutorial, we will be focusing on two aspects that you should work on right away using the Elementor page builder to optimise your website.
Technical SEO
On-page SEO
Technical SEO helps in making your website more visible to search engines. When somebody searches something on Google, it looks for relevant answers and if your website's content matches the user's search, it automatically puts your content in search results.
Using technical SEO you can make sure that your content is indexed correctly to appear as a relevant answer in search results. The more relevant your content is, the higher it is positioned in the search results. This means that the most relevant content takes on the first position.
By optimising your website for SEO, you can increase your chances of appearing on the top of search results. It is evident, that with an increase in just one position on Google, you can increase your CTR (Click Through Rate) by 53%.
Checklist For Technical SEO Optimization For Elementor
There are many technical aspects for SEO Optimization and we try to explain the most important ones in the simplest manner.
Outbound Links
Outbound links are external links leading your users from your website to another website. Using the outbound links you help the search engine to understand how content and websites are related to each other.
Outbound links help your users find relevant information about their query while also making them think of your website as the primary source for their information. This results in users repeatedly coming to your website.
Outbound links work both ways i.e. an outbound link for your website is an inbound link for another website. And in such cases you can also get inbound links from the websites you link your users to.
In Elementor, to create an outbound link you need to make an Elementor widget. Select the widget you just added and type the URL for an outbound link into the Elementor panel.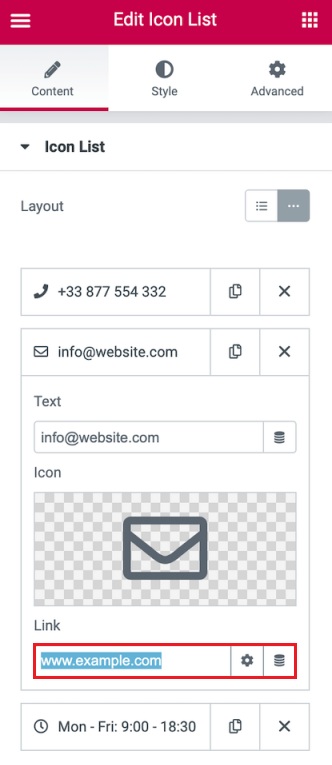 In order to make these outbound links beneficial make sure to lead your users to reliable and trustworthy websites with relevant content.
Internal Links: Old Content
Internal Links help Google to know about important pages of your websites. These links help users to navigate within your site to other relevant content. This can be your pre-existing content demonstrating an aspect of the content or solving any other issue.
In Elementor, it is quite easy to link your older relevant posts. Elementor suggests relevant content automatically whenever you create a new URL. You can use the SEO Spider Tool by Screaming Frog to monitor the health of your internal links as broken links can result in your audience bouncing back and creating a bad impact.
Internal Links: New Content
You should keep updating your older content links with newer content. Editing your older content to link your content will help your users understand that your content is up-to-date.
You can do this by searching the phrases of your post and linking them to your post. Imagine that you wrote a post about changing themes in Elementor a month ago and now you just wrote a complete Elementor Guide. You need to go to your post and search keywords like and Elementor and Themes to link the newly created post.
Website Speed
To rank your website on top of the first page of Google Search Engine, it is important that your website is quick and smooth. Google uses website speed as a ranking factor and it important for your website to show quick results across all devices to appear on the top.
It is important to invest in speed monitoring tools for your website and make it stay on top. We recommend you using Google PageSpeed Insights, GT Metrix and Pingdom to help you regularly monitor the health and speed of your website.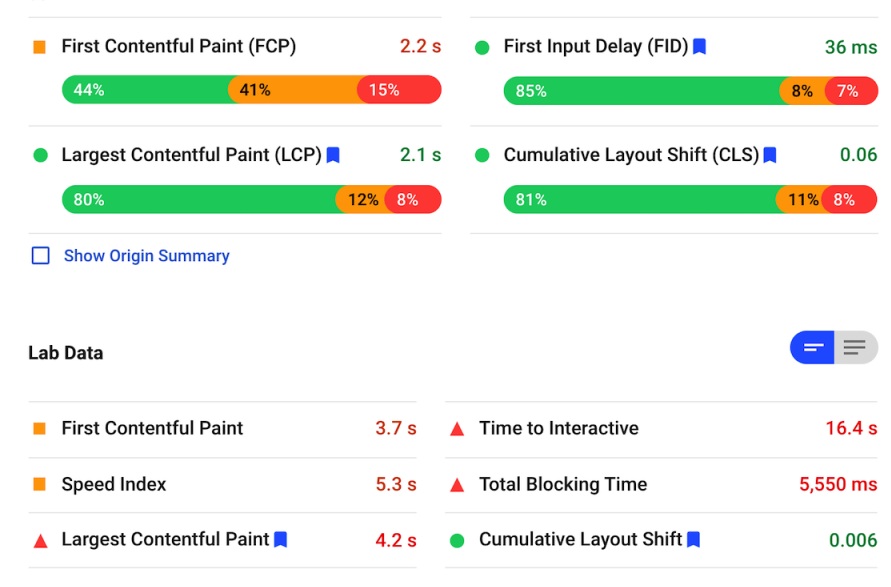 Moreover, make sure to not use heavy plugins or anything that result in your website slowing down.
Robots.txt Files
Robots.txt file helps search engine to understand which parts of your websites are useful and should be accessed and which parts of your site are irrelevant and should be ignored.
A perfectly configured robots.txt file can make a huge impact on your website's SEO and help in indexing your website on Search Engines. We recommend you use a tool such as robots.txt Validator and Testing tool to test the robots.txt file of your website and identify the issues if there are any.
If you identify issues with your robots.txt file, you need to edit it right away. Using Yoast, go to Tools from SEO in the WordPress dashboard and select File Editor.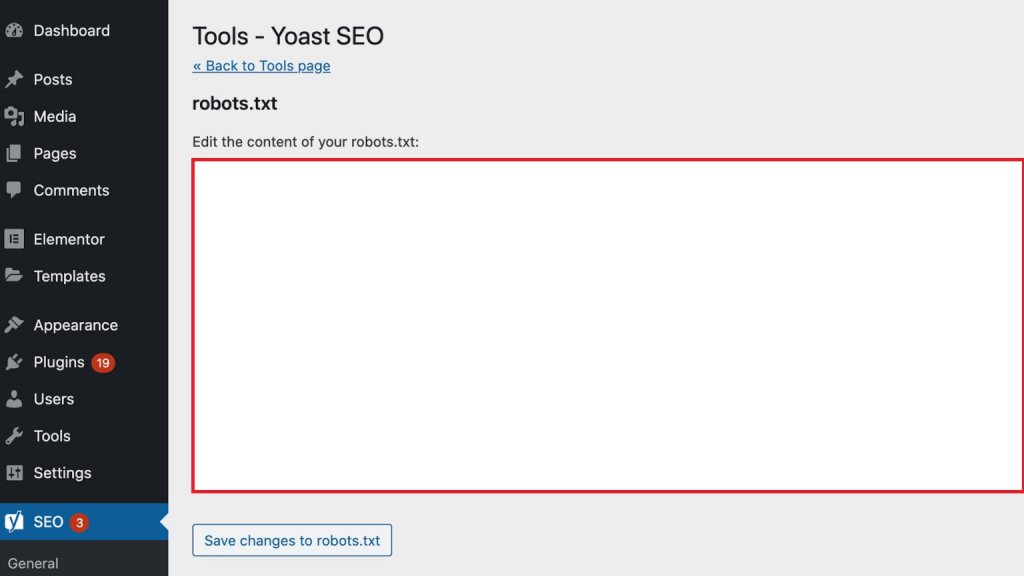 It will display your robots.txt file. You need to configure your robots.txt file and make all the required changes.
If you are using the Rank Math WordPress plugin, go to General Settings from Rank Math in WordPress Dashboard and then choose Edit robots.txt to make your changes.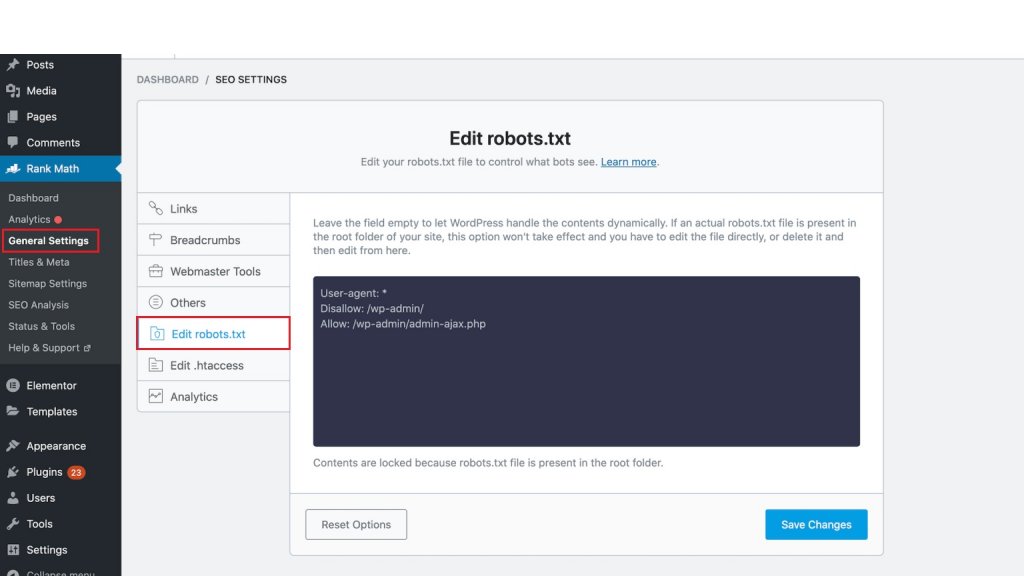 Search Engine bots have a limited 'crawl budget' which determines how many pages they can crawl on your website. You can use the robots.txt file to hide the less important content of your website and using the 'crawl budget' to be used on more important pages of your website.
Checklist for On-Page SEO Optimization For Elementor
Even if you have done everything right in the technical aspect and have created a brilliant landing page, it will still not appear on the first page of Google without the help of on-page SEO.
On-page SEO helps search engines to understand and put your content into context. It helps identify search engines about the questions your content answers, what issues it resolves and what purpose it is there to serve.
Snippet Optimization
Snippet or Snippet text is the representation of each page in search engine results. You can edit the snippet of your page directly inside the Elementor editor with Yoast SEO and Rank Maths integration. Users of Yoast SEO will find out their snippet editor on Elementor's left-side menu.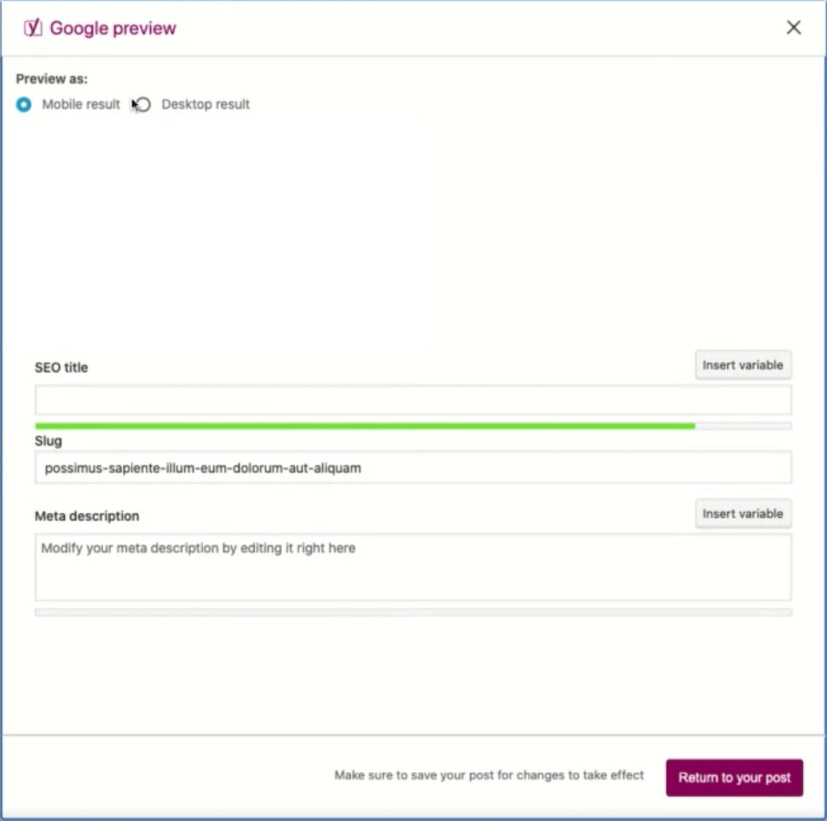 Rank Maths' users can edit their snippet in the SEO tab on the left-side menu.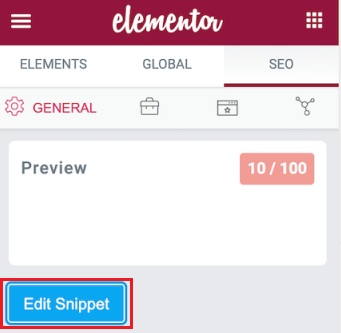 After Selecting the SEO tab, press Edit Snippet and Rank Math's snippet editor will appear in the Elementor interface.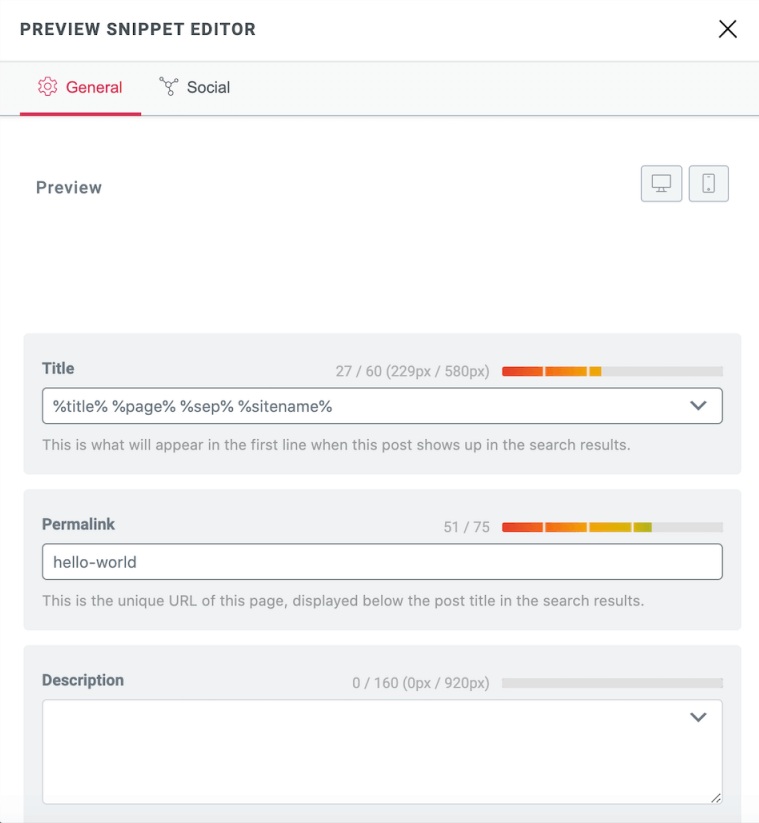 Let's move ahead and check out some of these important elements of Snippet.
SEO Title
The Meta title or the SEO title is a very essential part of your content representation. It appears as the heading of your content in search results and search engines highly focus on the Meta title to determine the relevance of your content.
To achieve an SEO-friendly title, we ask our readers to think of the query their users will search on Google. Your Meta title can be a question that you are answering or the query you are resolving. While it is also necessary to include relevant targeted keywords in your Meta title.
The Slug Line
The Slug Line is an additional part of your content's URL that explains what your content is about to both the search engines and the human readers. If you are using Yoast SEO or Rank Math with Elementor, you edit the post Permalink directly in the Elementor editor. It is very important to keeps your slugs short and concise. To retain the reader's focus in the very initial seconds it is preferable to avoid punctuation marks, non-English characters and capital letters.
Meta Description
Your Meta description is the most important tool for grabbing the user's attention. It has to be informative and distinct enough to make the user click on your website and further read your content.
It is very simple to create a unique Meta description for your content using Yoast SEO or Math Rank. With Yoast SEO, you can edit a number of Meta descriptions using the bulk editor. Go to Tools from SEO in the WordPress dashboard and then choose a bulk editor. Go to the tab you want to make changes in and in this case press description.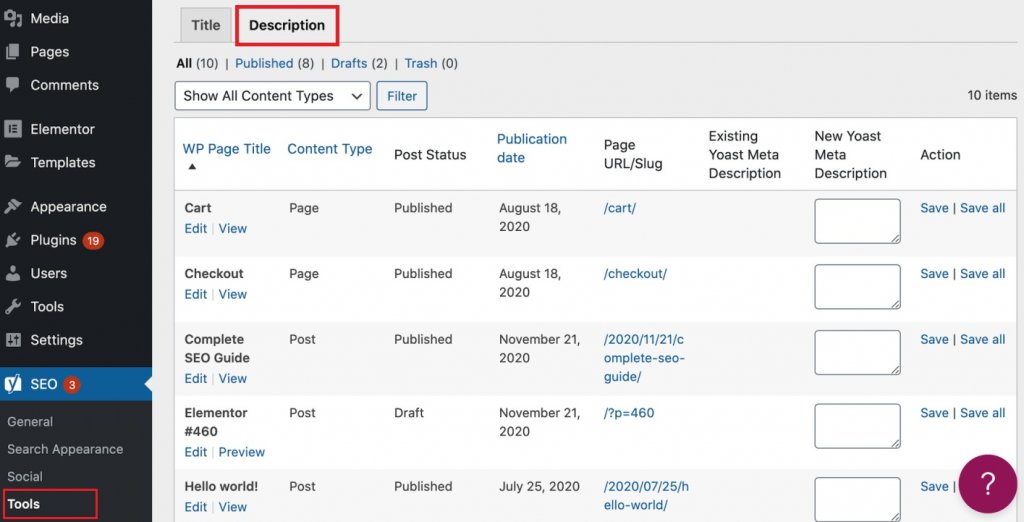 When using WooCommerce, you might have a huge number of pages and in such cases, we recommend you using two Meta description for each product pages separately.
Featured Snippets
Featured Snippets appear when the results are at the top of the search engine. These are highlighted in a box separately and tend to answer the user's query straight away. Featured Snippets achieve much higher CTR and according to a study, they can increase your traffic up to 677%.
Unfortunately, the Google Search console does not offer any information regarding the featured snippet and in such a case, you will need to use a third-party tool. Ahref's Site Explorer is an interesting tool that can help you find out the keywords you currently rank and with Ahref's search filter you can narrow down to pages where your website is on the top of search results.
Rich Snippets
Rich Snippet is the text between the URL and Description that explains more about your content. It delivers extra information about your content and can help in increasing traffic. Recipes, Events or reviews generate rich snippets for content distinction.
From the page's HTML, google recovers the rich snippet data. With Elementor's Star Rating you can easily benefit from rich snippet as it supports rich snippets and Google markup capabilities.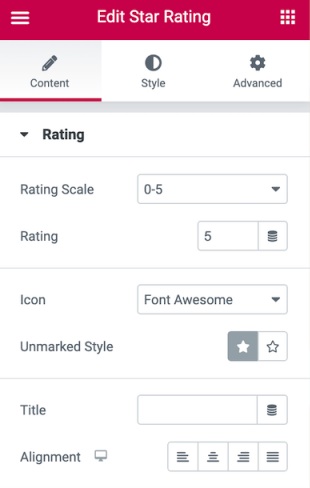 With Yoast SEO, you can easily edit these settings for particular pages and posts using the Elementor editor. Yoast SEO automatically structures your data using the information you have entered. For the ones using Rank Maths, you will need to enable the schema module in order to use the schema-editing tools. Head over to Rank Math's dashboard and enable the Schema (Structured Data) module if it is disabled. Rank Maths allows you to choose a default schema type that will be used for all content types. You can use the Global Meta settings by going to Titles and Meta from Rank Math in the WordPress dashboard. Rank Maths also pre-built schema templates specified for a different type of content such as course, book or article. You can also fill in the information to generate the relevant schema for that post or page.
To apply Rank Math's schema templates directly from Elementor editor, head over to Schema from SEO in the WordPress dashboard. Press the Schema Generator to generate the schema for that post.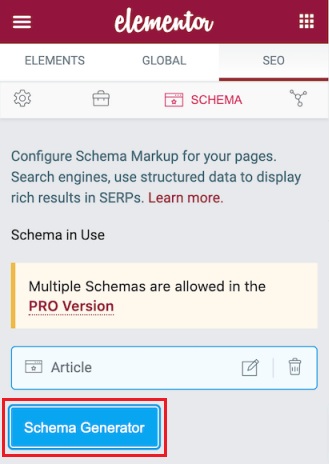 A list of schema templates will appear before you. Choose the template that suits your page or post and enter the other necessary information.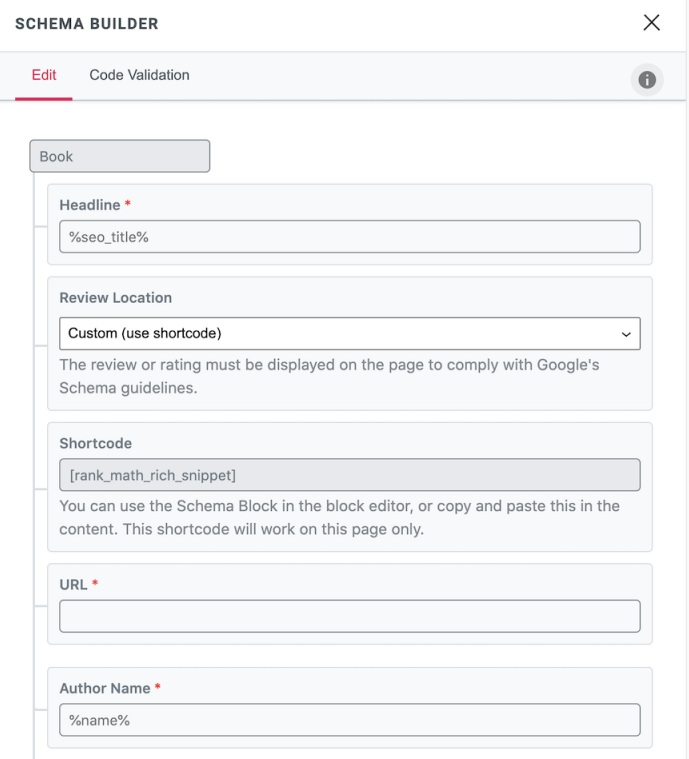 Structuring your content with schema offer higher chances of your website reaching the top of results.
Breadcrumbs
Breadcrumbs are shown at the top of the page to make the user aware of their location on your website and to help them easily navigate through your website. It can potentially increase the time users spend on your website and the number of pages they visit.
When users can easily navigate through your website, they tend to visit more pages than they normally do. And this makes them spend more time on your website. These are both very important stats for SEO while breadcrumbs help the search engines understand the relation between pages. You can also check out our tutorial on how to create breadcrumbs.
For Yoast SEO users, go to Search Appearance from SEO in the WordPress dashboard and then press the Breadcrumbs tab. These breadcrumbs can also be customized.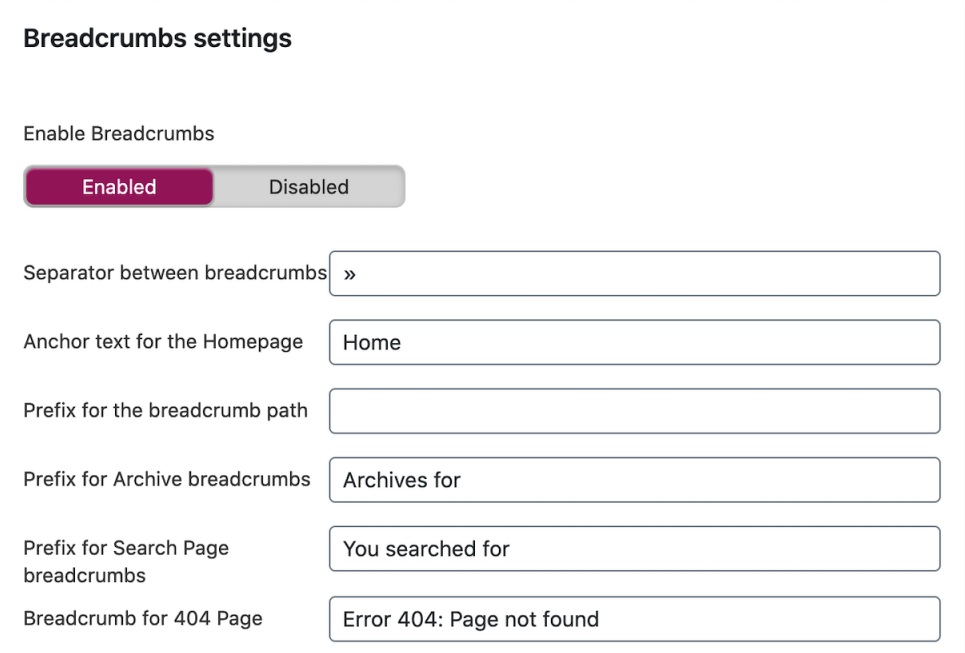 Rank Maths users, they can also have control over their breadcrumbs. Go to General Settings from Rank Maths in the WordPress dashboard and then go to Breadcrumbs.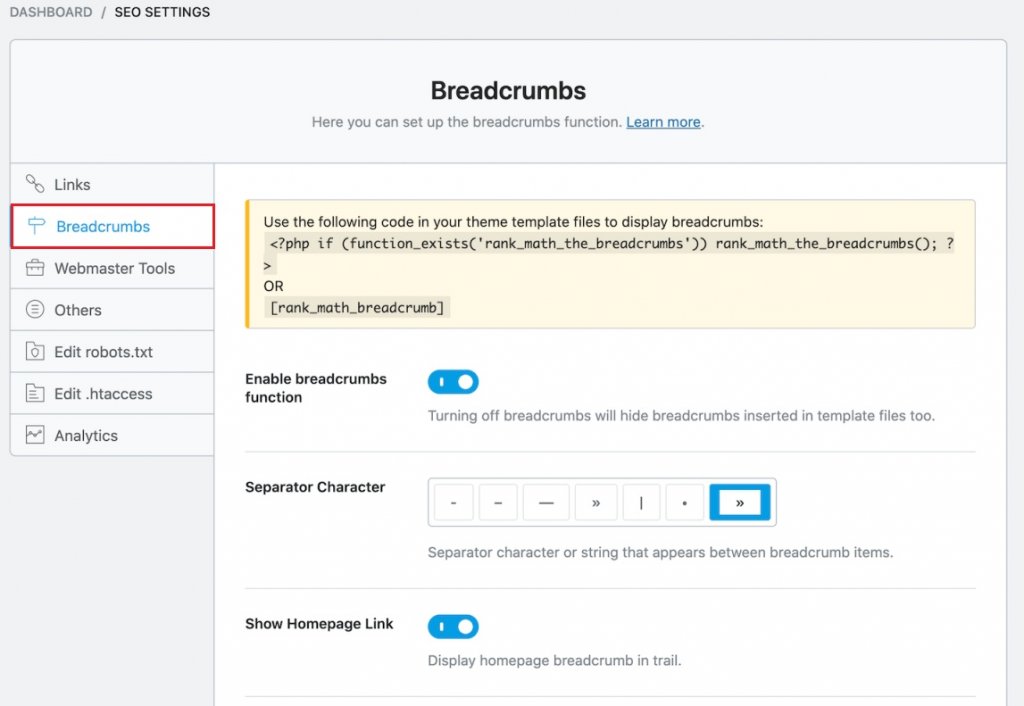 This will allow you can change a few of your breadcrumbs settings such as changing its format for archived pages or adding a prefix. You can also choose a separator for your breadcrumbs.
Inside the Elementor editor, you can use different breadcrumb widgets by Yoast SEO.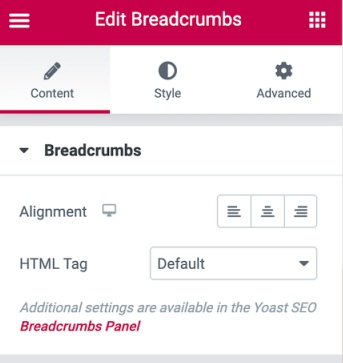 For people owning online stores, Yoast SEO's breadcrumb widgets work the best. Online stores typically have a different website structure and a complex hierarchy and hence, breadcrumbs make it easy for the users to navigate through to the pages of their interest.
Content Optimization
You must have a clear idea about what queries your content is resolving and what questions it is answering. It is very important to stick to a niche for search engines to recognize and understand the dimension of your content.
Providing valuable information to your users is one thing and specifically resolving visitor's issues through research and experience is another. You don't have to fill your user's mind with extra and miscellaneous information and while addressing the issue without some context will also fail to serve the purpose. It is necessary to go hand-in-hand with both of these in a structured manner.
You can also look up to your competitors to assess the market of your niche and analyze their content. Tools such as Link Explorer can help you identify the content with more backlinks. Backlinks are great for SEO and establish the fact that your content caters the issue it claims to resolve.
A good keyword search is necessary to make search engines notice your content. There are a number of tools you can use for keyword research such as Ahref, Keyword Explorer and KWFinder. With Yoast SEO, you can use focus keywords within the Elementor editor.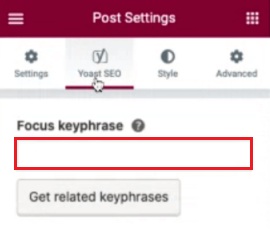 Rank Maths users can enter the focus keywords by going to the SEO tab in the Focus Keyword Field.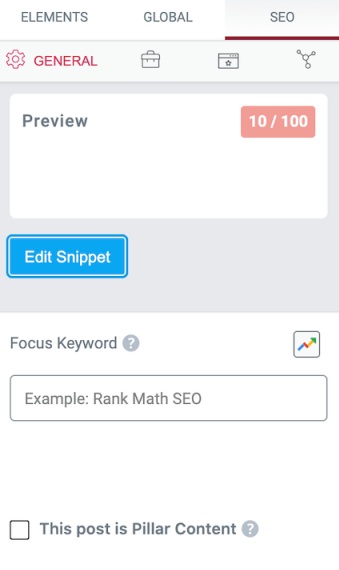 You can use apps Grammarly or Hemingway Editor to polish your content and make it easy to understand for both humans and search engines.
Rank Maths and Yoast SEO both offer suggestions to improve your content SEO directly in the Elementor editor.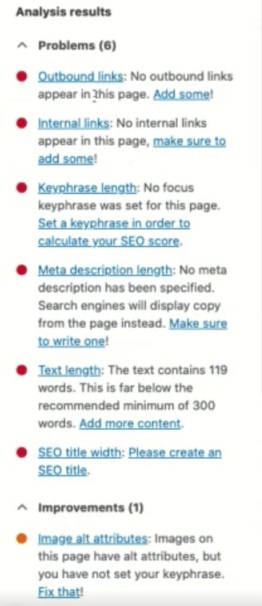 Make sure you have a proper heading structure so that when a user understands your content just by skimming through. Sub-headings can be deciding factor for the user to read your content. Adding a CTA in your content or using relevant synonyms or keyword related terms (LSI) is also beneficial.
Mobile Optimization
Mobiles account for more than 50% of the global web traffic. It is highly essential to optimize your website and content for mobile phones. Furthermore, it is also an important and deciding SEO factor and affects your website's UX.
Not having your website optimised for mobiles will not only result in losing half of your potential audience but also losing the race for a top rank in search results.
With Elementor you can easily test your website for mobile optimization using Elementor's Responsive Mode. At the bottom of the Elementor Panel, you will find a mobile icon. Press that icon and choose mobile to have a mobile view of your website.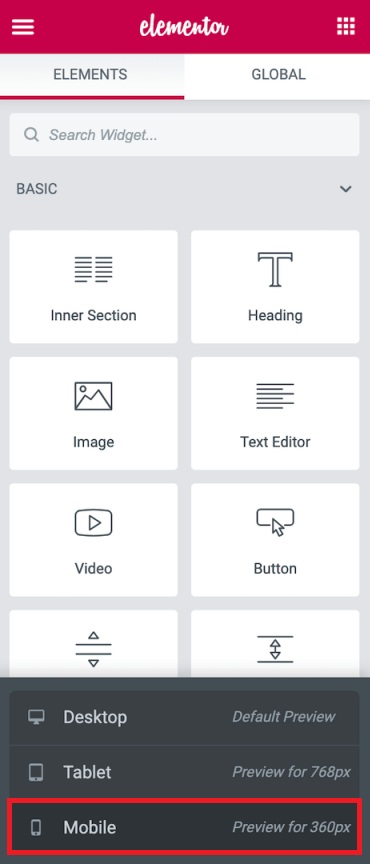 This will help you see how your content might look on a mobile device and then you can optimize it further if needed. We recommend you test its performance Google PageSpeed Insights or other tools like that.
This is your complete guide for optimizing an Elementor website for SEO. Following this, you can easily understand and use Elementor SEO to attract more traffic to your website. Make sure to follow us on our Facebook and Twitter so you never miss a tutorial from us.