Today's review will focus on a WordPress theme that is made for Ad Sense users and Affiliate Marketers. In fact, during the conception of the theme, the author put an emphasis on the ads zone and that's easily noticeable. Admania is the name of the WordPress theme I'm talking about and that we will review. Admania is a premium WordPress theme for blog or magazine websites, with optimization for advertising.
Being on ThemeForest since 2016, this premium WordPress theme has been sold around 2000 times, which shows how much people appreciate that. The good news is that it's still updated by the author as the latest update has been made in July 2020 (at the time of writing). So during these years of existence what is the real value of Admania? Let's find out.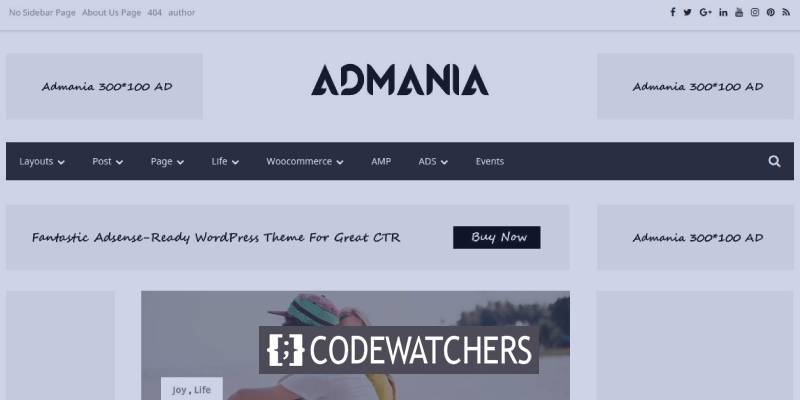 Feature List
Contact Form 7 Ready
Disqus comment system ready
More than 200+ Google fonts
Supports Post Ad
Header Social Follow Icons
Breadcrumb
WPML Compatible
RTL Supported
SEO Optimized
20 Unlike Home Layouts
7 Single Post Layouts
Ads Editor
Drag And Drop Builder Layout
Gutenberg Compatibility
AMP Layout
Slider Post Widget
Mobile Compatibility
The first thing that comes to our mind when we consider reviewing a WordPress theme, is whether or not it's compliant with mobile devices. There is no more doubt to have on it, mobiles are crucial. For some websites, the users on mobile reach 43% of their traffic and with time, this will increase.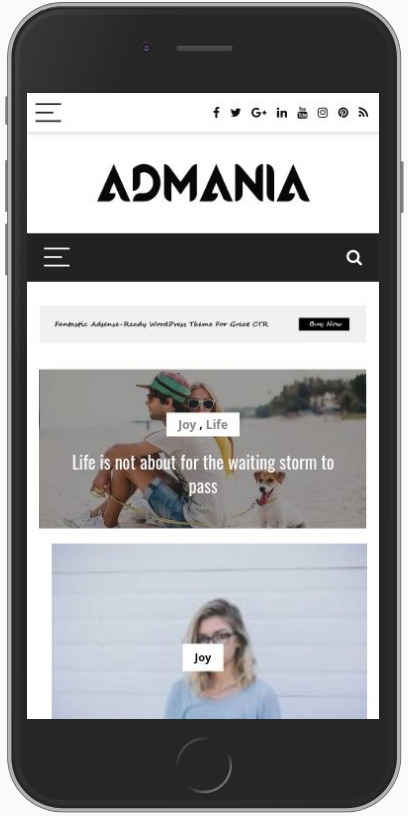 Admania performs well on mobile. We've noticed that while browsing, the area set for advertising has been reorganized and adapted for mobile. That's a good new because the same ads desktop users will see, it will also be available for mobile users. Admania is not only performing well for the ads zones, but also for the design. That's truer as everything is correctly ordered for the screen size available.
DIVI SUMMER SALE Once per year you can get Divi at a special price with 20% discount, and it will only be available for a few days. Don't miss out!
Download Divi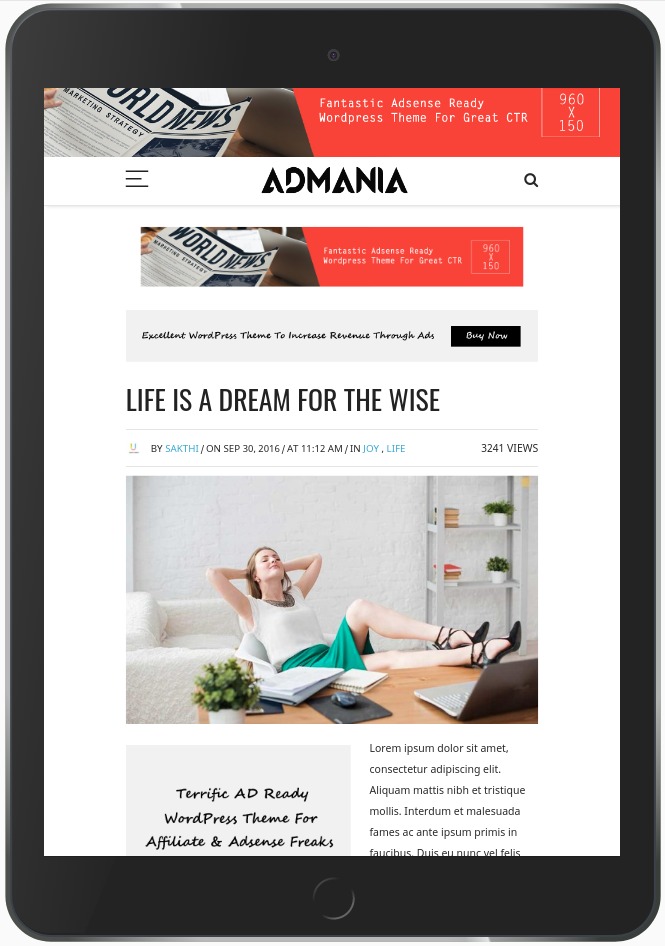 The design is also correctly shaped for tablet. We did a test on an iPad and we've been nicely surprised to see how good everything was ordered. There is definitely nothing to complain about regarding the mobile compatibility and even Google's mobile compatibility tools won't claim the otherwise.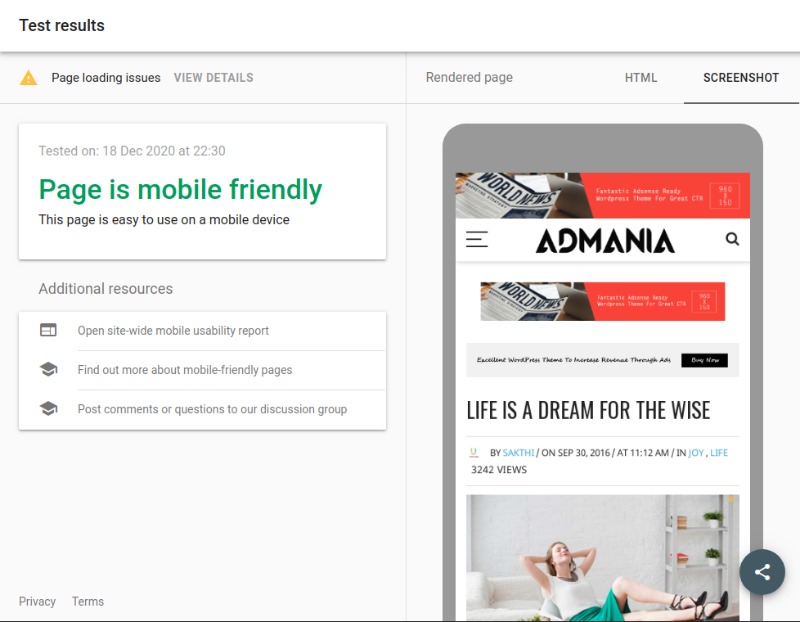 If the mobile responsibility is not bad, can we rate the design the same way ? Let's see.
Design Review
No one like what's is ugly. When it comes to creating a beautiful website, designer needs to keep on midway between beautiful theme and usable theme. That's more truer as an absolute beautiful website doesn't automatically make that a more usable and vice versa.
Admania keeps things simple. The color palette is based on white, black and gray, and blue (buttons). The color set is really appreciated for the blogging niche. If not everyone might like it, we've liked the menu and the way it opens (a quite original animation).
It will be perfect if the design doesn't impact of the speed. Let's figure out this now.
Speed Test Review
Nowadays, it's no more a secret that a website that takes up to 3 seconds to loads is clearly a way to push visitor to bounce. We would all like to keep visitor in our website and the perfect way to do this is to create a website that load fast. While it's true many factors can be a cause of a slow website, one of these factor is the WordPress theme you choose. Fair enough, Admania has meet our expectations.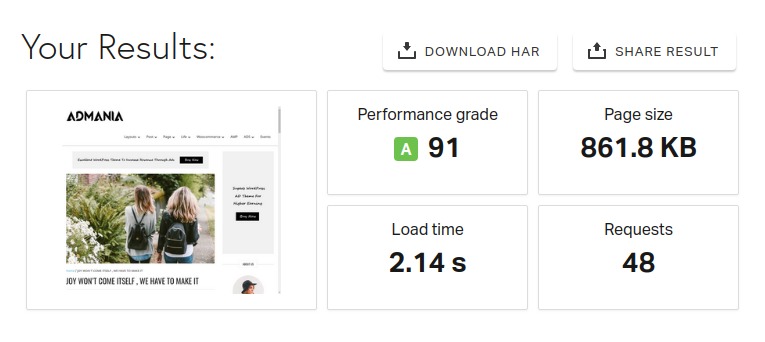 It has loaded in just 2.14 seconds for an overall side of 861Kb (including images) which is definitely not bad. When you'll be using your own images, you'll probably optimize them for your blog.
A WordPress theme that is fast is not a WordPress theme that rank on Google (not necessarily). Something else need to be considered and that's the optimization for SEO.
SEO Review
Globally, SEO is more than having a theme that is well structured, as it also depends on how your content is written. The optimization of your content depends on you and you might probably need to check writing guides provided by Yoast SEO. However, in addition to your content optimization for SEO, a WordPress theme needs to be compliant to SEO through Structured Markup. The better way to find out if a WordPress theme support structured markup is to use Google's Rich Results tester.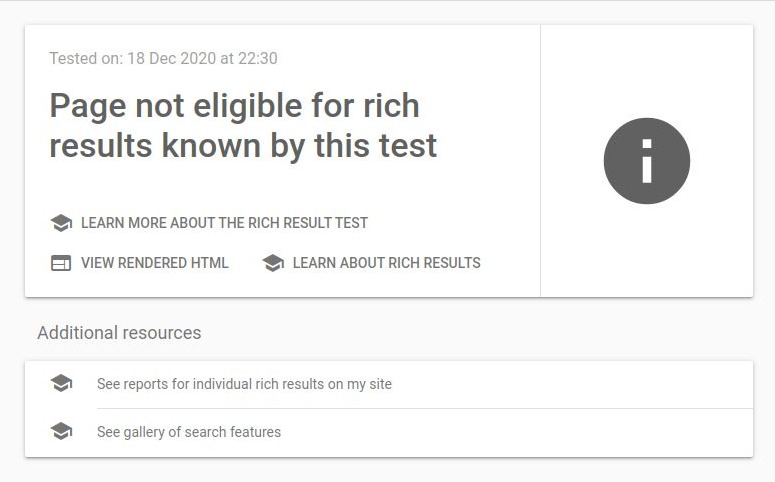 Unfortunately, Admania doesn't support the rich results. If that doesn't means you won't be ranked on Google, that rather mean your content might not correctly be displayed as it deserve on Google.
Beside that, what are the plugins that are compatible or offered with Admania ?
Supported Plugins
The first observation we had was the support of WooCommerce which is not proudly claimed (we're wondering why). The same notice has been made for Elementor and Event Calendar.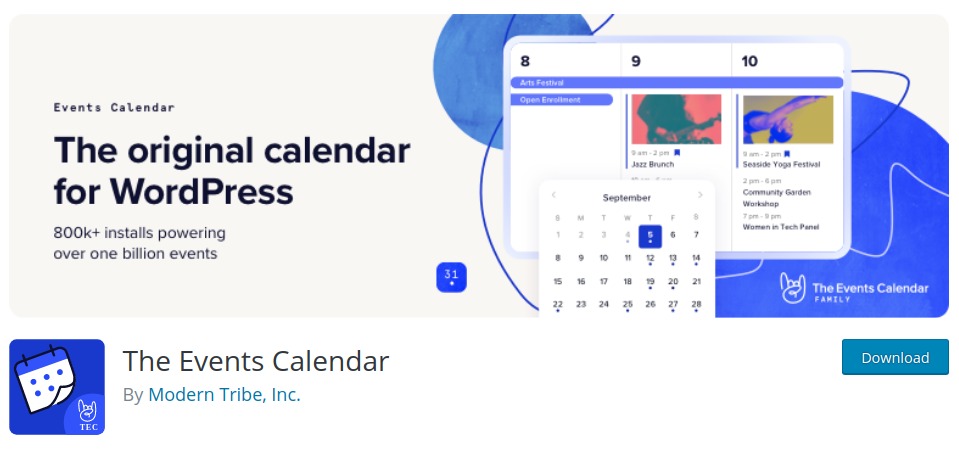 If we can consider this theme as not centered on eCommerce, this store section is not that bad. If it's not as powerful as "WoodMart", it remains decent for those looking for something simple.
So globally how customers feels about using Admania ? Let's see.
Customer Support Review
Regarding the customer appreciations, that's the first time we see 128 reviews of 5 stars for a WordPress theme on ThemeForest. People are really satisfied with this WordPress theme and we clearly understand why.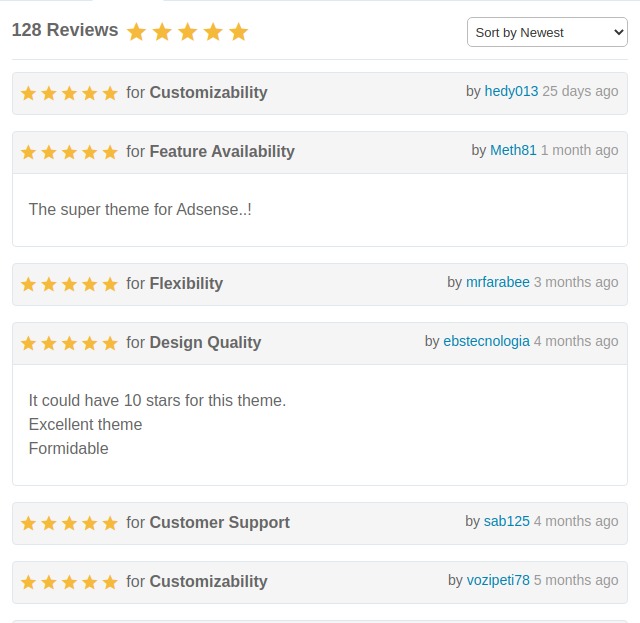 Regarding the support, the author is quite present he can answer a question up to 1 day later. If you're a customer having deep issues, you'll have to send an email to receive help. It's not the perfect way to provide support, but it's decent.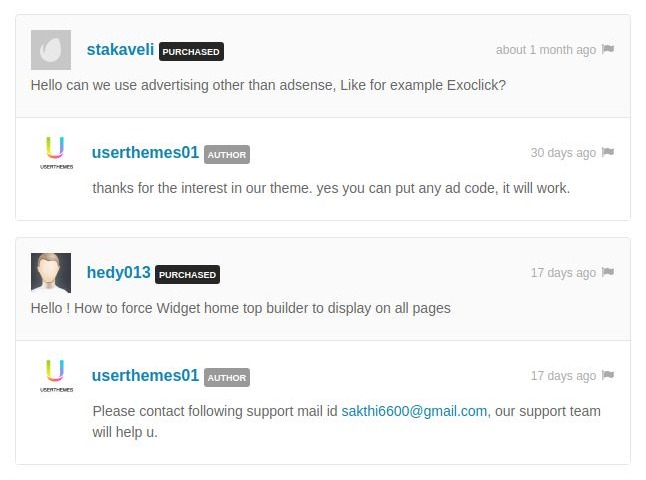 Summarize
So globally, what we kept from this review is that Admania is a nice WordPress theme you should use if one of your interests is monetizing your website with ads. Even if SEO optimization is not perfect, like many other users, you'll definitely enjoy using that.