By multipurpose website, we mean a site with versatile functionality. Zahar is a creative WordPress theme that allows you to create many more types of websites, including tech, business, e-commerce, and online learning platforms. Element page builder and Revolution slider are used in the Zahar multipurpose theme, which allows you to do any artistic designing by using only drag and drop features. Six complete demos and more than 90 pre-built pages will make your website designing work more accessible.
This WordPress theme comes with the support of Live style editor and WooCommerce facility, so it is very easy to create an online marketplace. Zahar is an SEO-friendly, Responsive WordPress theme. Let's take a look at its primary features at the beginning of the review of the whole theme.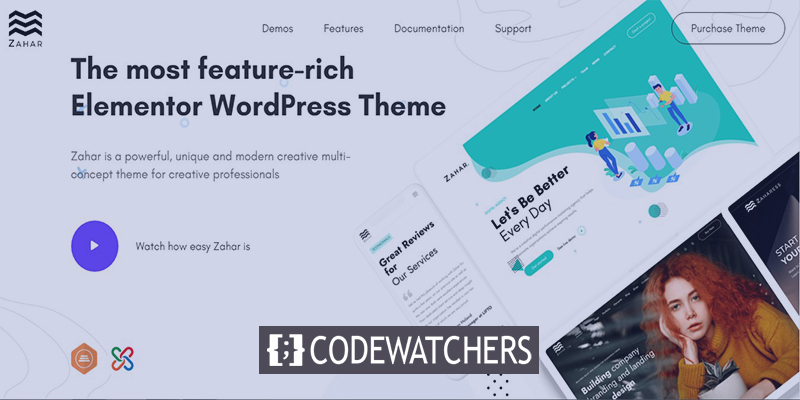 Feature List
6+ Complete demo website
90+ Demo pages
Powerful theme options
Fully responsive layout
Adaptive image functionality
LearnDash LMS plugin
Fast and smooth page loading
SEO friendly
Unlimited color option
Elemetor page builder
Revolution Slider
Live style editor
Redux framework
Huge shiortcode library
WooCommerce
Well Documented
RTL Support
Lifetime Update
Mobile Compatibility
A mobile compatible website gives us a comfortable and smooth feel in daily web browsing on our smartphone. In our busy lives, we do all the necessary work through mobile instead of sitting in front of a computer. Regardless of the screen size, the Responsive Website can adapt to any mobile.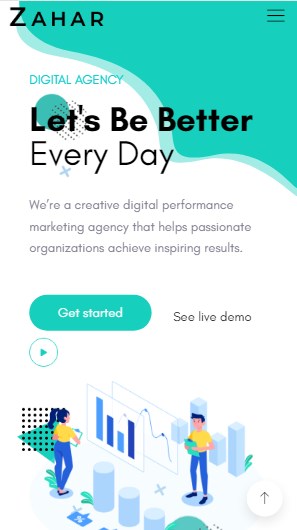 Zahar is a multipurpose WordPress theme, so it has many uses. Since it has many demos, we have tried a couple of them. We must mention that the designers have made sure that this theme is fully compatible with all mobile devices, and it has a different effect on the header section than the computer version. We will conduct the review with a PC Builder demo. This demo has a header drop done menu with five different pages connected with five different sections of the landing page, and all of them have an animative header part. Transitions are smooth, and the loading speed is satisfactory.
DIVI SUMMER SALE Once per year you can get Divi at a special price with 20% discount, and it will only be available for a few days. Don't miss out!
Download Divi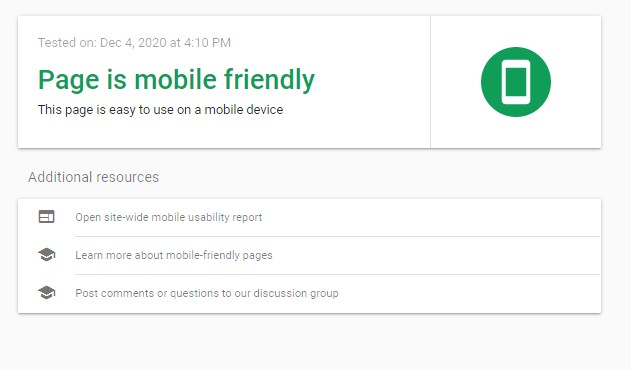 The page elements have excellent placement, and we haven't found any issue. Zahar WordPress theme has an adaptive image functionality system; it will resize the image for different screen sizes automatically and will make your website insanely fast. We also tested the demo website on Google's mobile compatibility test, and the result came out positive. So We can say Zahar is a completely mobile friendly WordPress theme.
Design Review
Designing is quite an influential topic in the world of WordPress websites. It is quite a weapon to attract the attention of visitors. The Zahar WordPress theme has been created for business, IT company, marketing, PC builder store, university, and knowledgebase websites. This creative WordPress theme utilizes an Elementor page builder, which entails that you can simply drag and drop elements to build a website. In just 1-Click, you can try out any demo that you fancy until you come up with the best design that seamlessly resonates with your project. With more than five hundred different options and counting, you will never get tired of mixing and matching design combos.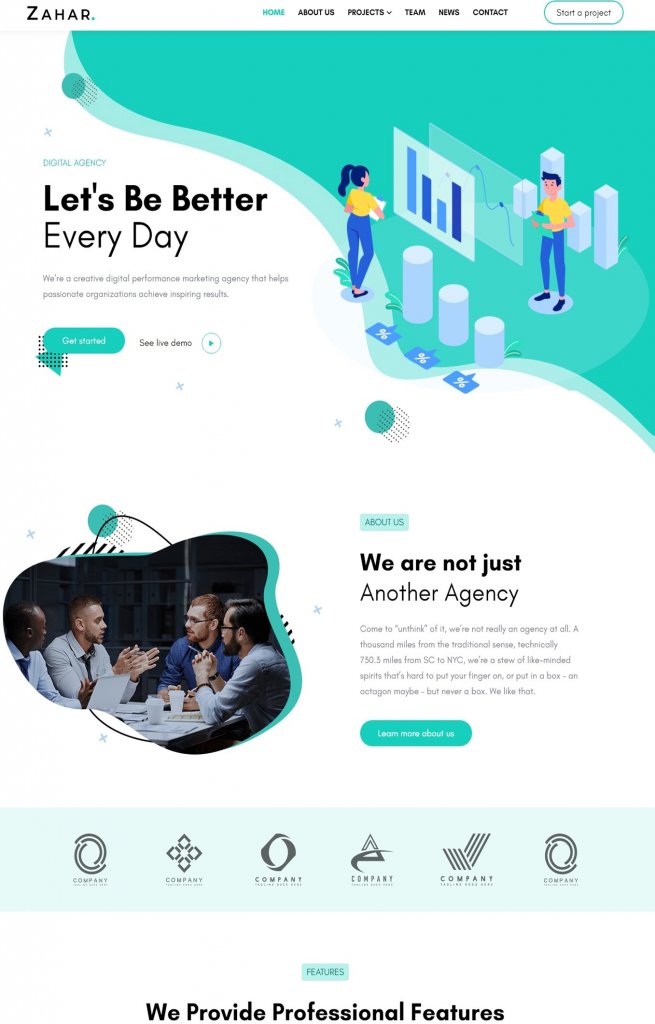 With the Elementor Plugin, you get 200+ custom element blocks that will add a new dimension to your design. There are live style editors to make your super visual designing more effortless. You can choose your desired website color palette and font from an unlimited color scheme and more than 800 google typefaces. Zahar WooCommerce theme has a huge shortcode library, and the dominant theme admin option will give you total mastery to design your site as you want it.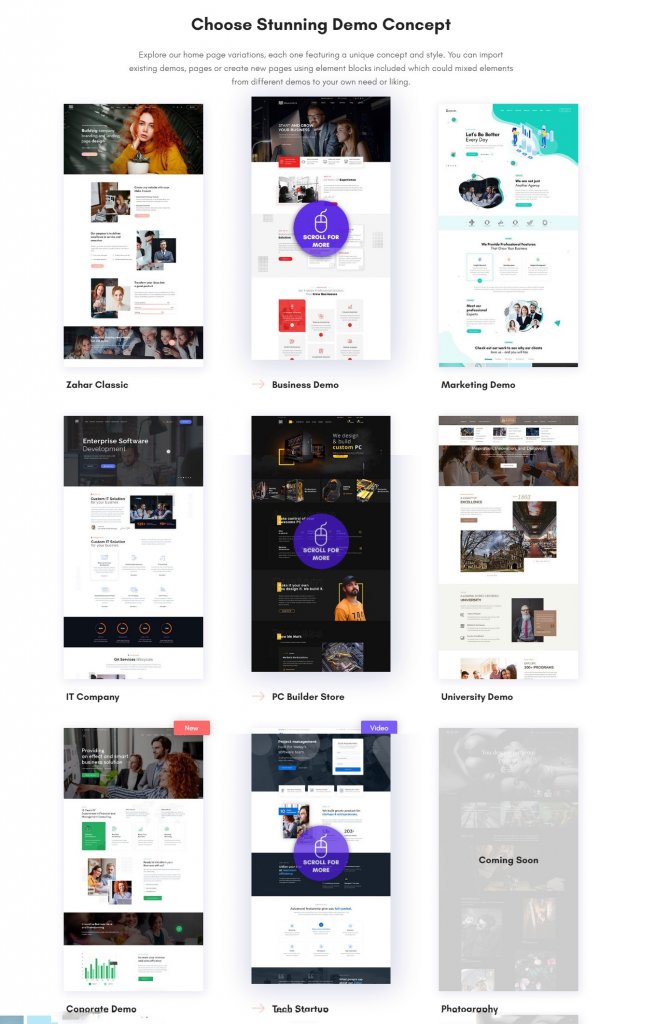 Amazingly, Zahar WordPress theme has a preloading cancellation system, so if your visitor doesn't like to wait for full page loading, they can simply use this option and visit any section they are specifically looking for. This function works well both in mobile and computer versions.
Speed Test Review
Speed is an essential element for any kind of WordPress theme. It determines how fast the website finishes its loading and presents all the page elements properly in front of visitors. A faster website theme can bring more audience into the site, and the prosperity of a website largely depends on it. We are using the Pingdom tool for testing the loading speed of the Zahar WordPress theme.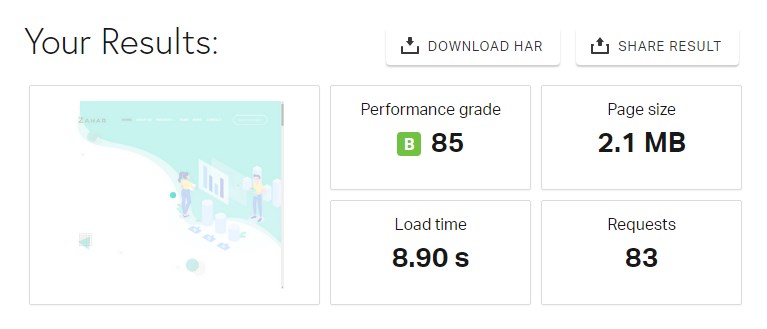 Here we can see, The demo website took only 8.90 sec to complete loading. We consider 3 seconds as the ideal loading time, and the demo website has done pretty well. The landing page weighs 2.1 MB, and the total score is 85(B), which is commendable. Quick reminder, the speed testing tool hasn't used the preloading cancellation module, and the result we have the real result. Here are some results from other speed testing sites and these are also praiseworthy.
Still, we can improve the score by adding expire headers and by making fewer HTTP requests. As there is no plugin provided with the theme pack for cache management, we can use the W3 Total Cache plugin that improves the user experience of your site by developing website performance and decreasing load times by leveraging features like content delivery network (CDN) integration and the latest best practices.
SEO Review
For any kind of website, Search engine optimization is the key to reach audiences. Google is more focusing on the real visitor, so the more organic reach you have on your site, the more chances you have to make it top of the search result. We all know, the first few results have the most reach for any particular keyword. An SEO friendly website helps a lot of ways to achieve that position on Google's ranking.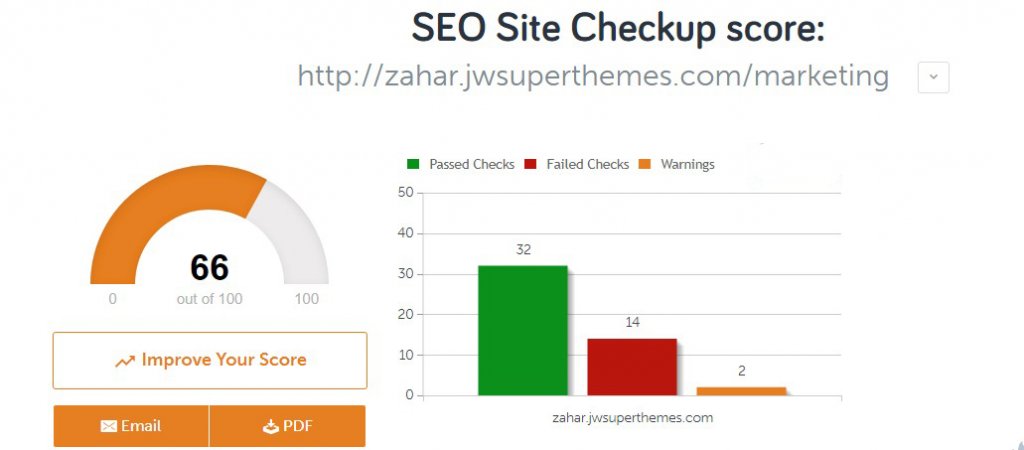 We have tested the SEO Compatibility of Zahar's creative multipurpose WordPress theme on SEOsitecheckup, and the result is excellent. It obtained 66 out of 100 with 32 passes, 14 failed, and two warning. We always say SEO depends on the data provided by the owner of the site. So surely, demo websites result has many reasons to get such results. Here we can see, the site is missing Meta description, keywords, heading tags, a sitemap file, and Google Analytics script. Few images don't have an image Alt tag, and the landing page is using inline CSS that can cause harm in SEO. To resolve the mentioned issues, Yoast SEO is a great plugin that doesn't require any coding knowledge but let you remove all the problem that became an obstacle on your way of SEO ranking.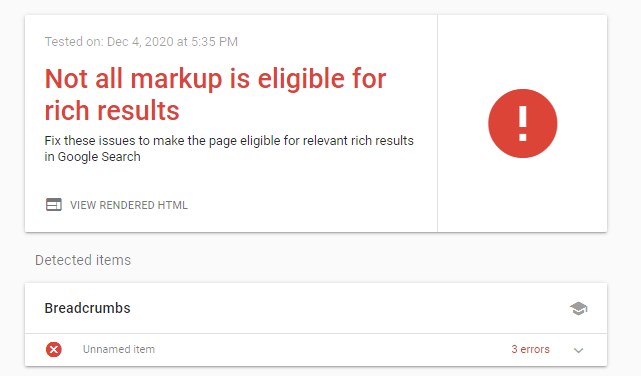 Rich Snippets are Google's way of providing additional context directly in SERPs, which, in theory, allows searchers to better understand what they click on and how relevant it is to their purposes. We have tested the rich result compatibility of the Zahar multipurpose WordPress theme and it's not compatible with it.
Customer Support Review
Giving better consumer care is always a plus point for a business. It's a silent promotional operation via your faithful customer. Thus, any business can generate loyalty from potential customers. JWS themes create the Zahar WordPress theme, and they have years of experience with the aim of providing high quality, modern themes to their customers.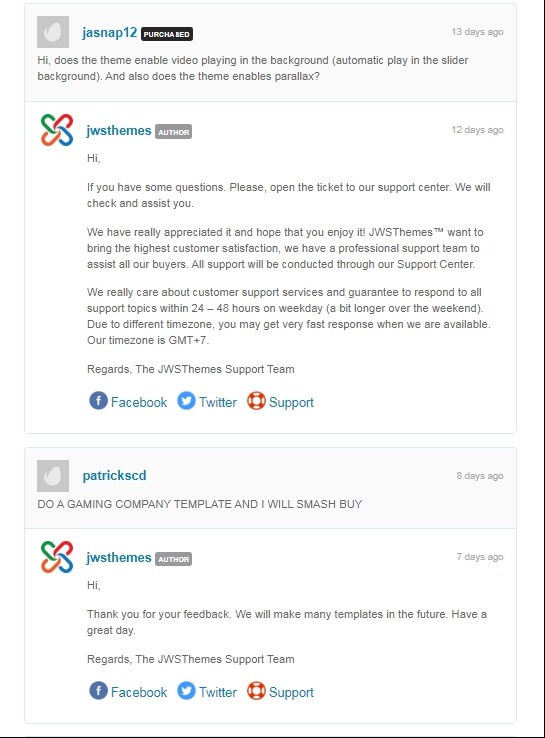 We have explored the comment section of the Zahar WordPress theme, and there are only three comments due to being new to ThemeForest. This theme doesn't have any rating cause the minimum quota of 3 votings hasn't filled yet. But we can assure, as the authors are active and expert, you will be in good hands.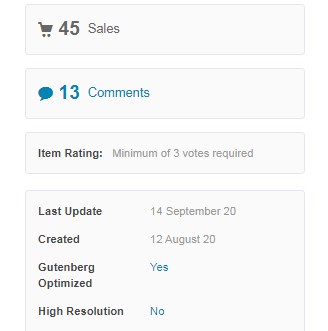 Supported Plugins
Plugins are necessary to WordPress themes cause they enhance the power of a website and provide advantages to the visitor. The Zahar WordPress theme is packed with Elementor pro page builder with 200+ element blocks, revolution slider, LearnDash - the most powerful and intuitive LMS plugin that will let you build a learning management system. The theme has a GDPR compliance facility in addition to Contact form 7,  WPML, MailChimp, and WooCommerce. All of these plugins are available with the theme.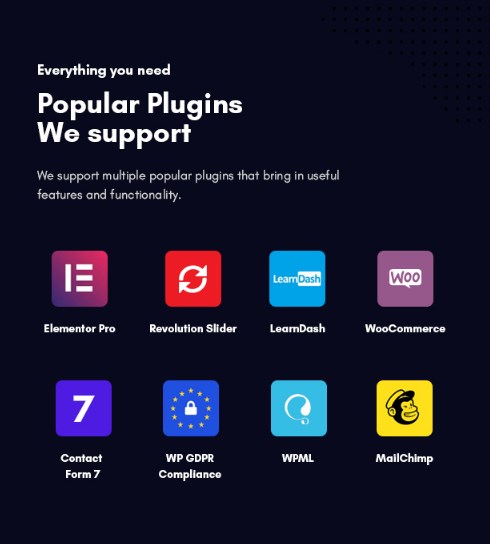 Summarize
Although it is a new theme, its a matter of time before Zahar becomes a successful and popular WordPress theme. Because of its modern design, unique features, and fast and responsive layout, anyone will like it. If the problems of SEO friendliness can be solved in skilled hands, then the Zahar creative multipurpose Elementor theme will definitely become a theme of everyone's choice in a regular budget.