When you think about the advantages of a business website, you may instantly think about e-commerce and online shopping. Perhaps you think about how a service-oriented enterprise may use the text on a website to put itself as a skilled expert. If you run a restaurant, however, you may not see the significance of having a website, and this may seem like an unnecessary investment. There are several reasons why sites are essential for restaurants. It will help you to reach more customers and keep your customers up-to-date about promotional offers. Also, this will create your recognition as a brand over the internet and many more.
Today we will talk about Restaurant Cafe WordPress WooCommerce theme - A dedicated beautiful restaurant theme with massive features and customizability. This theme is packed with both premium and free plugins. You can build different pages with VamTam Page Builder, a functionally limited page builder than The WP Bakery Page Builder. Don't bounce out cause All the pages are nicely crafted, so you don't have to create them by yourself, and although if needed, you can still do it. It's a responsive and SEO friendly WooCommerce theme with endless possibilities.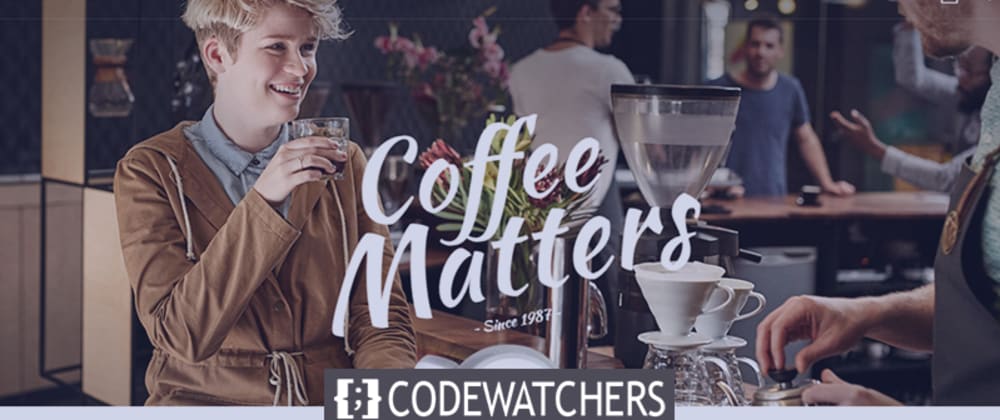 Feature List
Unlimited styles
High-speed performance
Endless layout possibility
One-click demo installer
Translation ready
Icon font manager
Slider Revolution
VamTam Drag and Drop Builder
FoodPress Plugin
Ninja Forms
WooCommerce Support
Responsive Design
100% Retina Ready
SEO friendly
Mobile Compatibility
Responsive design is the "big thing" in web design right now. But if you are not a designer, you may be questioning what this term indicates. You might also be uncertain as to whether or not the business's website should be implementing responsive design, exceptionally if you do not understand the concept.
Responsive design can help you resolve a lot of problems for your website. It will make your site mobile-friendly, adjust the way it looks on devices with both large and small screens, and improve the amount of time that visitors spend on your site. It can also help you increase your rankings in search engines.
Create Amazing Websites
With the best free page builder Elementor
Start Now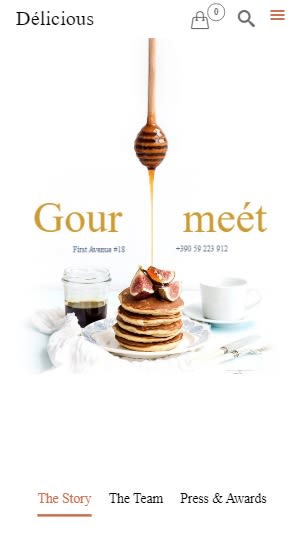 We have tested the mobile compatibility of the Restaurant Cafe theme, and we choose the "Gour Meet "demo for the experiment. We tested the item on mobile and tablet devices of different screen sizes and found that the theme is perfectly compatible with any device.
We did not notice any image or logo misplacement during testing. All text blocks and all sections of the page are displayed appropriately on all devices. We once noticed that a large portion of the screen remained blank towards the end of the landing page, but after refreshing the full page, we saw no more problems.
We have also run the theme on Google Mobile Compatibility Checker, and the result is positive. In summary, the mobile compatibility of the tested theme is suitable as a whole.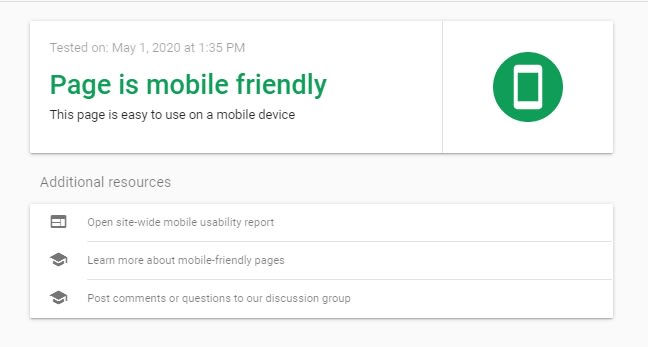 Design Review
Website design plays a significant role in customer attraction. When a customer visits a website, the design of the site first catches his eye. 94% of people don't take more than 3 seconds to reject a website because of a bad or disliked design. The layout of your website can either build or destroy the product you are trying to serve.
When you have a well-maintained site, people can rely on you. Designing a site depends on a lot of things, including looks, navigation, content, search engine optimization. An attractive design builds trust, and when visitants trust you, they won't have doubts about getting your merchandise and services. In effect, you will have a booming and successful business.
The Restaurant Cafe theme is quite rich in terms of designing it, as mentioned earlier. When you load the home page, you will first see honey rolling down from above, which is a parallax effect made with pictures, and it looks quite alive. The headings are written in red on a white background, and writings in black color seem very good. Almost every page has a work of parallax effect, which highlights the subject remarkably. The whole theme is quite gorgeous to look at and has a touch of nobility in every page and section.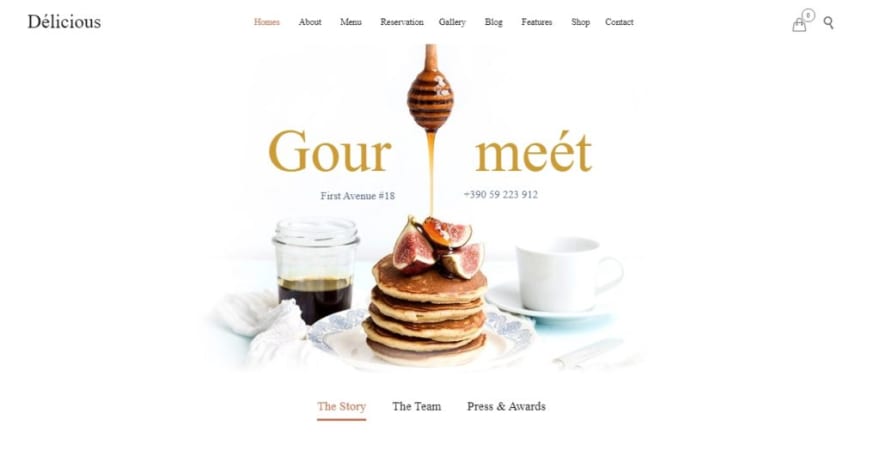 Speed Test Review
WordPress site speed is one of the leading vital factors. Today's super-fast paced growth of business environment needs it terribly. We should keep our WordPress websites speed highest of three to five seconds. Otherwise, we can lose the top gross of traffic sources. Another remarkable matter is the Google ranking factor. You may already know that Google declares an update on its terms and policy every year. The most influential factor here, Google wants the website speed to remain as fat as possible; otherwise, it doesn't give the ranking. And you may know, for your business growth, how necessary the ranking factor is!
We have checked the speed of the Restaurant Cafe theme on GTMetrix, and the result is impressive. It scored 80 out of 100 and took 5.2 seconds to load completely, which isn't bad enough. The website 's speed is fast enough despite having a lot of photos that takes more time to load. Still, there is room for modification. The HTTP requests from one URL to another needs minimization. You can reduce the full page loading time this way. Also, a few JavaScript modifications will help to uphold the total score. No worries, you don't need any coding knowledge, or you don't need to be an expert to do these tweaks. There is an integrated plugin with your theme pack called W3 Total Cache that will boost your website's speed. SEO Review
WordPress themes naturally come with SEO friendly environment. The increase of WordPress powers may extend beyond 30 percent if the number of people tends towards and concentrates more on SEO. SEO is one of the main factors in WordPress theme development. WordPress makes a website that is almost SEO based, and with its various features, functionalists, creativity, plugins, responsive layouts, the site becomes super easy to run and handle. If you want to uphold your business in a more prominent position, then it is a must thing. From photo presentation to content management to products and services, all include the SEO optimization on the website.
According to SEO site checkup, Restaurant Cafe has 70% SEO friendliness. It is a remarkable score for demo sites. We have analyzed the result and found that The demo has no SEO friendly URLs, and no keyword is appearing on the meta-tag section. It doesn't have heading tags, sitemap files, and social media integration. The purchaser usually modifies these things cause it depends on the purpose of the website. You can quickly solve these problems with the Yoast SEO plugin that is bundled with your theme pack.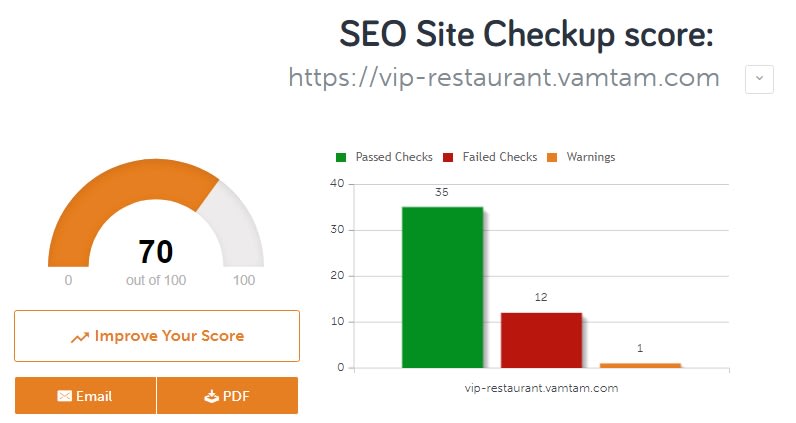 Customer Support Review
Customer service is essential to your business because it retains consumers and derives more value from them. By giving top-notch customer service, enterprises recover customer acquisition costs and develop a loyal following that refers to clients, serves as case investigations, and offers testimonials and reviews.
The Vantam authors are in charge of the Restaurant Cafe theme, and they are doing their job pretty well. They have a 30 days refund policy, which is excellent. This theme doesn't have a high selling ratio, and we are quite surprised to see that.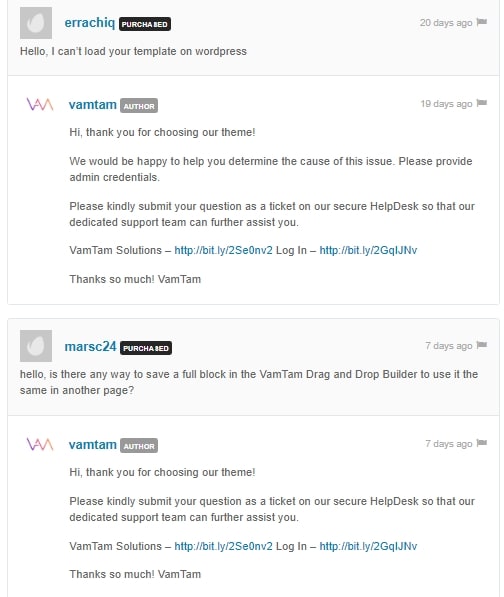 This theme has an average 4.52 rating, which isn't bad at all. We have explored the rating section and saw that majority of the people appreciate the developers for design quality, customizability, and customer support.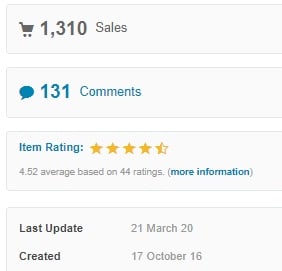 Supported Plugins
The Restaurant Cafe developers are very careful towards their customers; that's why they put every plugin one purchaser may need to rank among the best website. The theme comes with six premium plugins that are worth os $192. You will have Slider Revolution to create fantastic sliders, Foodpress for menu and reservation management, Cube Portfolio for high-speed jQuery performance, Ninja Form Layout for building any form using easy drag and drop feature, Premium Icon Set for beautiful icons and WP 101 for user manual documentation.
Also, there are plenty of free but necessary plugins bundled with this theme, such as - Mailchimp, Yoast SEO, Total Cache, Gravit forms, WordFence, WPML, WooCoomerce, and many more. Some of these themes are entirely free, and some of them have a premium version that needed to be purchased by yourself.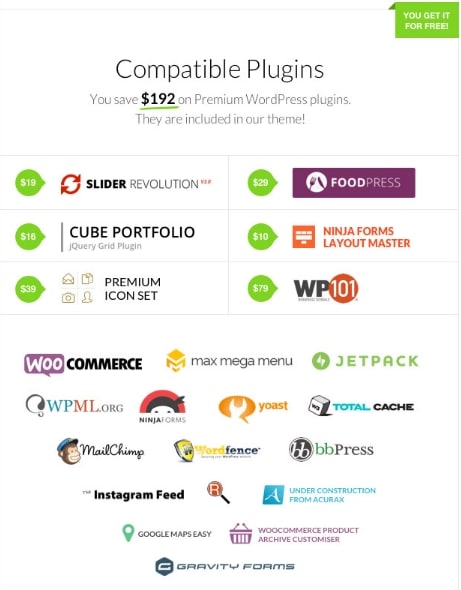 Summarize
The Restaurant Cafe is a fantastic theme for your restaurant, cafes, bars, bistros, bakery, pubs, cafeteria, coffee shop pizzerias, or other restaurant related businesses. After judging from all aspects, the theme is entirely self-contained. Some changes are needed to bring the theme to the forefront. If you are a design fan and want to attract customers with a touch of nobility on your website, then this theme will be quite useful for you even if it is a little more than the average price. As the saying goes - "the better the thing, the higher the price."