The network through which everyone in a community is connected can be intranet or extranet. An example of such a system is the school, the office where everyone is assigned a role and has to complete their work monthly. Today's theme for such an online community website - Woffice. It is built with the most eminent standards of coding and fully responsive. It comes with a complete Buddypress Network, Custom login page, Projects management, Wiki, Chat and messaging, Files Manager, Calendar, Directory Extension, Forum, E-commerce, and so much more. Woffice has several WordPress plugins bundles with the pack such as - BuddyPress, Visual Composer, Slider Revolution, Learndash, rtmedia etc. Woffice is a feature-rich theme, so let's have a look at the features.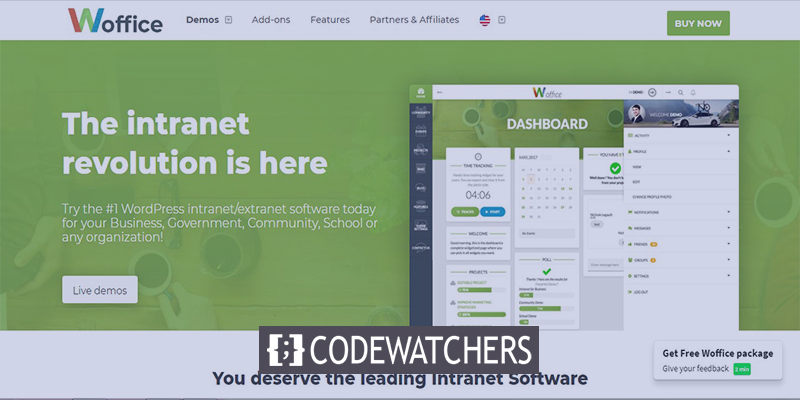 Feature List
BuddyPress Network
Project Management
BBpress forum
Directory extension
100% Responsive Design
Material Design inspired
Horizontal Menu option
Built with HTML5 & CSS3
Clean & Commented Code
SEO friendly
Visual Basic Page Builder
EventON Premium
Learndash
Revolution Slider Premium
WooCommerce
Auto Updater
Gantt graph
600 + Icons (Font Awesome)
WPML
RTL Support
Mobile Compatibility
A smartphone favourable website can bring more prosperity to your business. People use their mobile phones more than a computer to browse the internet daily. And it has confirmed that the lion portion of the total reach for all websites in the world produces from mobiles, not computers. So having a mobile-friendly website is not a choice. It is a must thing.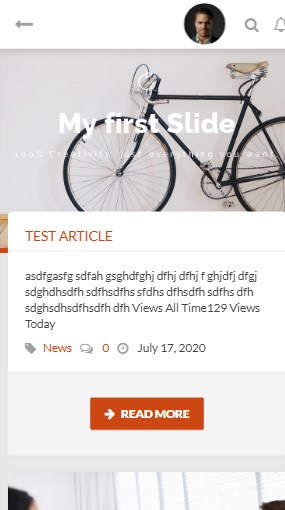 Woffice is certified as mobile-friendly, but here we can see there is no beautification is available on the Google mobile compatibility test. We assume the is a CSS issue lying beneath those coding. Later, we checked the demo website of the Woffice theme on different mobile devices. Here, the page seems like floating over the mobile screen. There is no fixed frame for the theme on the mobile or tab. There is a lot of indentation issues of text block, image block and button block. The dashboard panel looks good after the login. Though the page was still wafting with touch, everything was inline.
Design Review
Design is the first thing for any WordPress theme. Generally, peoples are attracted to pretty things, and when you can deliver a rich, futuristic, and user-friendly website, you can make returning visitors to your site. The Woffice has a multi-functional, modern, unique, and exclusively designed user interface so that people feel comfortable.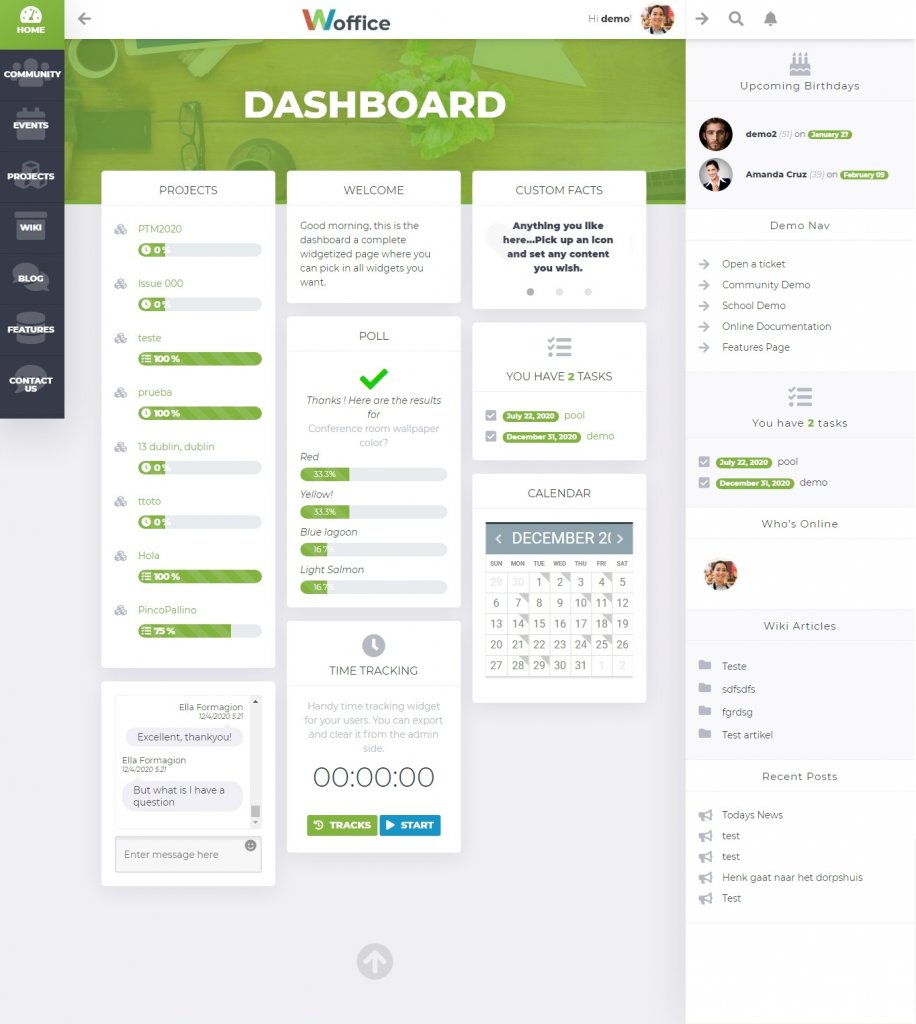 All is wrapped with an easy-to-customize design inspired by Google's Material Design, giving it a beautifully modern feel and easy to navigate User Interface. Woffice is fully adaptable to a wide range of applications, including Business & Government Intranets / Extranets, School Networks or any Community Network and Associations/Charities.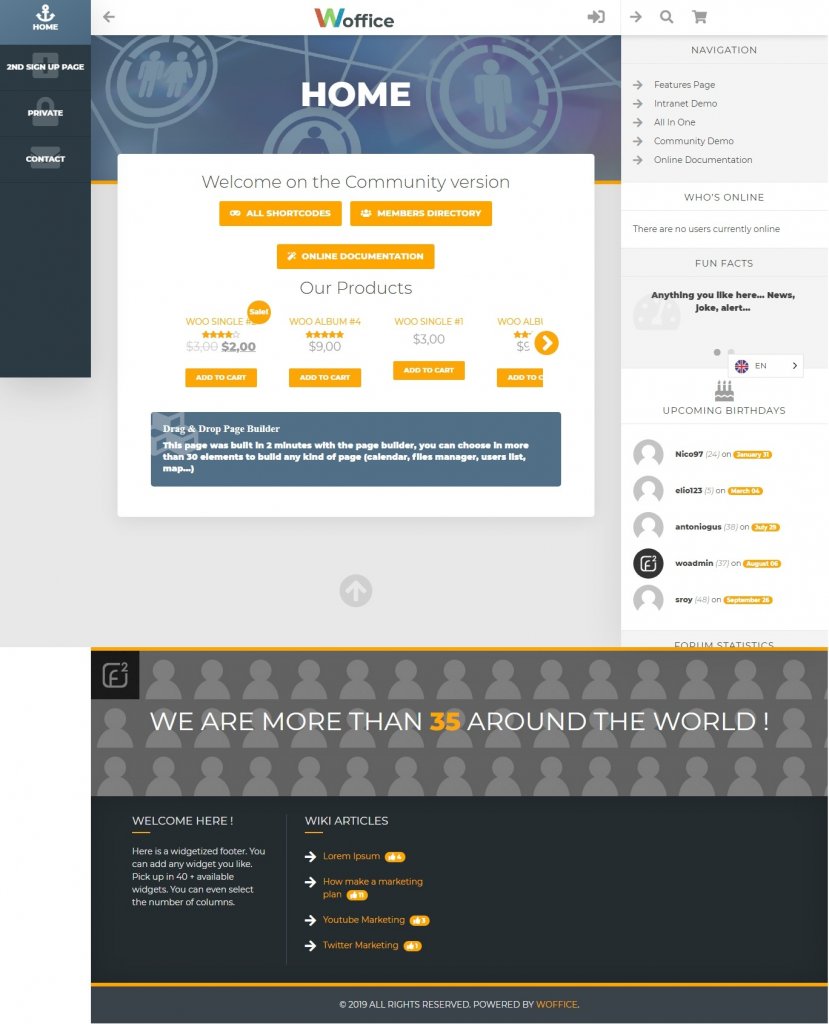 You can build your own Social or Community Network, Intranet/Extranet, Project site with Member Logins, School Intranet, Forum or even a Wiki! Woffice is all included in the one-off fixed price! Everything you need to build and anything you can dream up right out of the box.
Speed Test Review
It's essential to test the speed of any WordPress theme cause it significantly impacts the loading timing of a site. It the website isn't adequately fast, your viewers will go to your rival website, and you'll face an enormous visitor loss. In this age of race, you must keep the velocity up and get enough momentum in the landing page loading.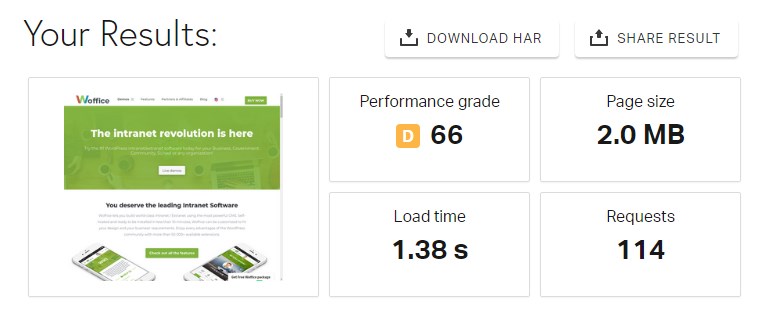 Thanks to the Pingdom, cause it assists us in measuring the loading speed of any theme. We evaluated the Woffice WordPress theme at 1.38 seconds for the complete loading of the page. Even the page has loads faster than the ideal time, which is three seconds, it scored 66(D) out of 100, which is despondent. The demo theme we are reviewing now has several issues, such as - higher HTTP requests (114), uncompressed components, unoptimized images(2MB), etc. This could negatively affect the experience of your users.
But no worries, it is possible to develop the score. Pressing page materials with Gzip, lessening DNS lookups and HTTP requests, and adding expire headers can boost the score. Use the WP Super cache plugin to resolve these issues.
SEO Review
SEO represents a principal role in the prosperity of a website. If a website is not optimized for search engines, it will never arrive on the top search result, and the website won't be able to get visitants. SEO helps to produce a natural audience base for the quality content of your site so that your website can uphold itself on the top search results.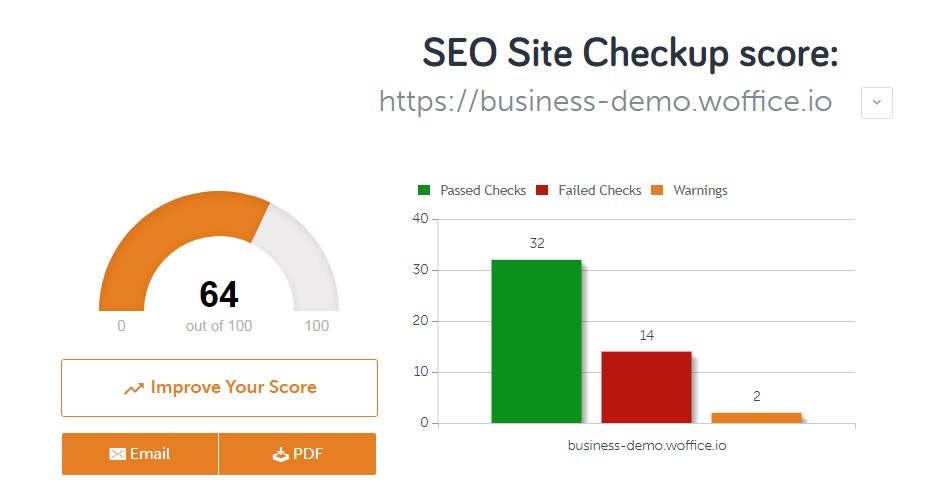 We checked the SEO compatibility of the Woffice WordPress theme on SEO Site Checkup, and we have got the expected result. The Woffice theme has an overall score of 64 out of 100, with 32 passed, 14 failed, and two warnings. The demo website is missing the image Alt tag on all the images from the demo website, and the demo website designing uses inline CSS. A website should have quality optimization to get a good SEO score like this one, and we feel like developers have given much attention to the SEO for demo websites.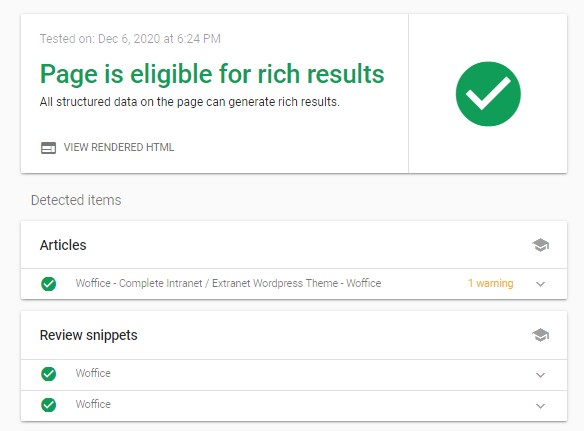 We are also serving you the Rich Results by Google caused by this test, and you can gather complete details about a post or page from search engines. A website must have the ability to provide this information cause it also leads to organic visitors. We can say Woffice can showcase Rich results on Review Snippets, Search box and Software apps from the tet results. Surely, it is an all in one SEO friendly WordPress theme.
Customer Support Review
Faithful customers leave a positive signature and honest reviews that can help any business to develop a brand. A true customer is ten times valuable, and they also work as an aberrant promoter. You can accomplish these things by amiable, confident, and dedicated customer service. Alka web held the support section of The Woffice WordPress theme, and they are doing pretty good.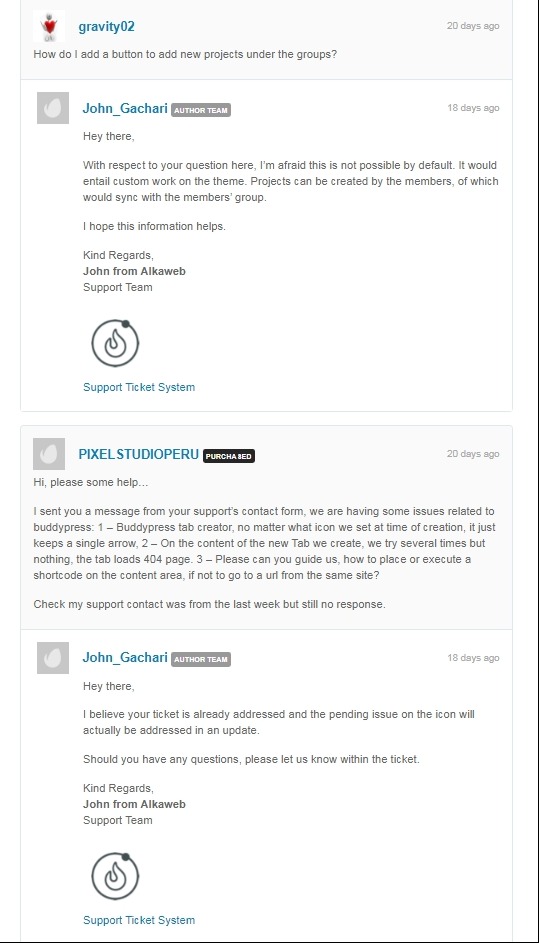 The developers value all types of customers fairly. Turning to the comments section, we want to present to you some of the latest comments so that will help you to understand how much the authors care about their clients.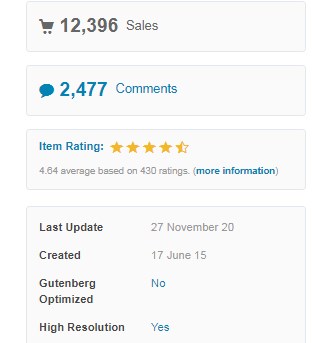 In the review section of the theme, we got to see mixed reactions. Many people have given low ratings to the Woffice WordPress theme due to the complexity of designing bugs and documentation quality. Still, the authors have requested them to submit the ticket to solve the problem. As a result, the ratings have dropped due to the faulty design. But the buyers have no complaints about the features availability and customer support, so the Woffice WordPress theme is in the store with a rating of 4.65 out of 423 reviews.
Supported Plugins
Plugins are always relevant for a WordPress theme because it magnifies the power of the theme. The Woffice WordPress theme has a bunch of plugins. Visual basic page builder and Slider revolution come with premium features so that you can build awesome pages and slider to draw more clients. It has bbPress, WooCommerce, LearnDash, WPML and integrated RTL mode. It's a concise list of plugins but enough to accelerate the user experience.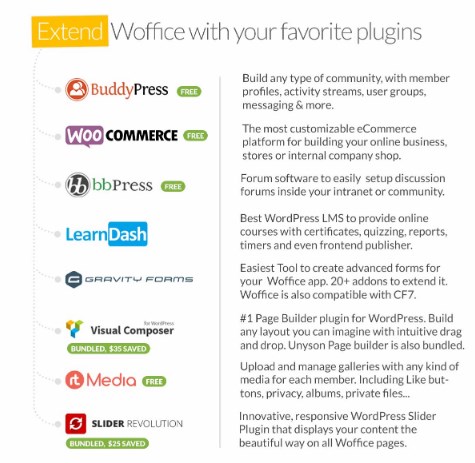 Summarize
Woffice is a great community-focused WordPress theme and it can be used for various purposes. Their consumer service and SEO of this theme are amazing. The theme has a clean coded design and all the necessary features. Feel free to use the Woffice WordPress theme with its great design and fast and user-friendly layout at such a great price.