Peoples always like to know more about the things they love. E-sports gaming is prevalent apart from just playing it; people also read the storyline, Synopsys, and other gamers review. There are multiple gaming news related websites available on the internet. But, everyone has their way of explaining things. If you are game freak and got a unique style to explain things over online - you can go for SquadForce WordPress theme based on eSports gaming. Remarkable design, impressive page elements, Gutenberg builder decoration, CyberPress plugin, easy navigation, tournaments blocks, and WooCommmerce integration - all of these have made SquadForce gorgeous with simplicity. There is a bbPress plugin integration that will allow people to talk about things on your website - like a discussion thread.
SquadForce is a responsive, SEO friendly, retina-ready, and WPML supported theme. You can use this theme as a gaming portal, review website, startup, gaming magazine, portfolio, etc. Let's go and take a full tour of SquadForce through a detailed review. Feature List
Ready To Use Blocks
Creative Gaming Design
Easy Navigation
Esports Tournaments
WooCommerce Shop
WPML Support
100% Retina Ready
Gutenberg 5
bbPress Integration
CyberPress Plugin
Responsive Design
Clean Code
Custom Color
Auto Updates
Mobile Compatibility
A mobile compatible website means a website's mobile version that made with proper web language coding, not using any flash. Sites that made with web coding display perfect and behaved well on mobile devices. People prefer mobile-friendly websites because they are fast responsive and convenient.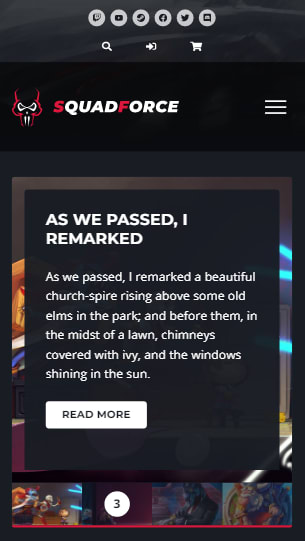 We have checked the mobile consistency of SquadForce, and it looks well on devices. We have tested this theme on different mobile, and it can fit all sizes of screen. All the page elements look perfect. However, the header slider could be more open cause the text over it blocks almost 90% of the image. Except for this, we haven't seen any misplacement or image overlapping issue.
Download Divi The Best WordPress Theme
The Most Popular WordPress Theme In The World And The Ultimate WordPress Page Builder
Download Divi We also did a Google Mobile Compatible test to see this theme can respond fast in mobile devices or not. The result came positive. So we can say, SquadForce is a proper mobile harmonies theme.
Design Review
A lovely presentation can attract a possible client. So design is a significant element for a website. SquadForce is charming in design, and it provides a unique user experience. Colors are vibrant, and there are no extra unnecessary elements found during our test. All section and button placement are excellent. The best part about SquadForce is, the exceptions in a separate component are visible on demo.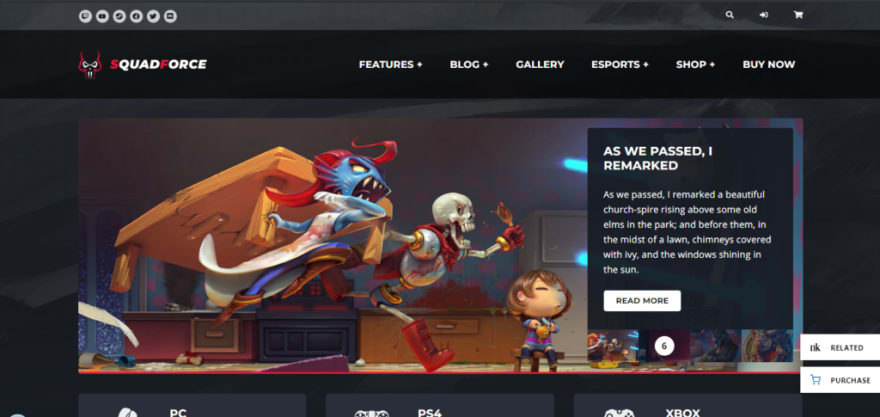 SquadForce supported Gutenberg blocks, and it has dozens of theme options. So you can easily customize the website for your brand. There are tons of ready to use blocks that will extend the beauty of your website. Different widgets, page layouts, blog styles, and shop page arrangements are well displayed so you can have a design walkthrough via visiting the website. There is a unique feature we noticed on the mobile version, and that is - that is a back option for every multiple drop-menu options. So you don't have to start from the zero, you can just tap the back button and start exploring again.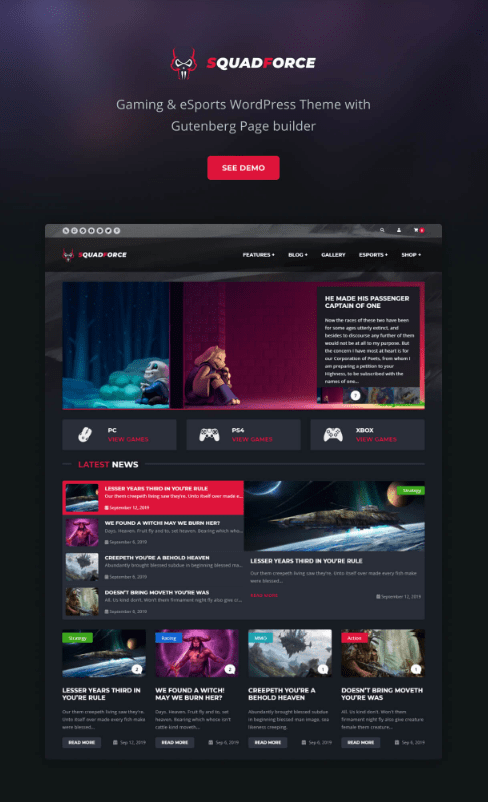 Several plugins are supporting this theme for designing. We will talk about them in plugins section, but we have to mention CyberPress here cause it's powering the eSports section of this theme. Upcoming tournaments, match schedule, player profile - all these sections can be edited with this plugin.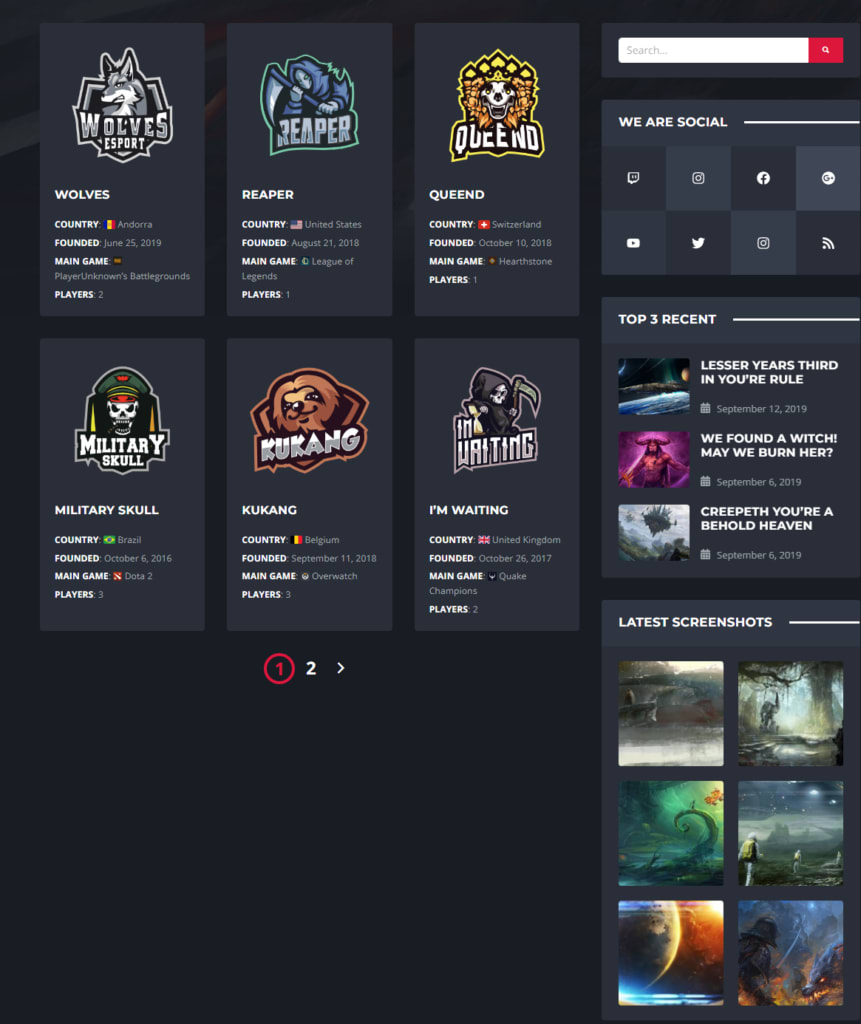 Speed Test Review
The speed test is an excellent mechanical indicator. Just like other aspects like design and mobile compatibility, full-page loading speed matters to rank in google. Usually, an ideal website shouldn't take more than 3 seconds to load completely. If any website takes longer than this, more than 50% of visitors step out and visit a competitive website.
We checked the loading speed of SquadForce on Pingdom, and it obtained 74(c) out of 100 with 1.18 seconds of timing -which is impressive. But the page weight is 5.5 MB, and that's the thing holding the demo website back from achieving better results.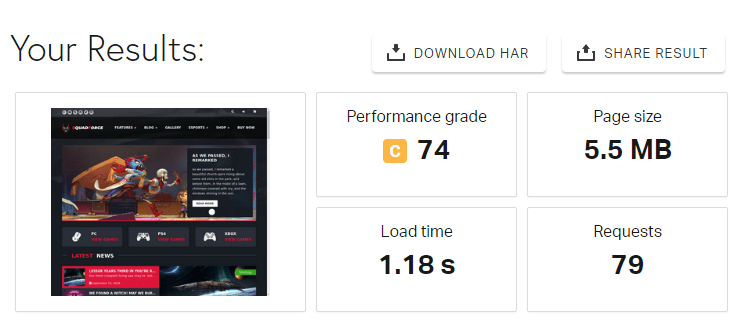 But don't worry, you can develop the pages loading speed of your site. You simply need to minimize the number of components on a page. To achieve this, you must merge files, unite multiple scripts into one script, combine multiple CSS files into one style sheet, and use CSS Sprites and image maps. Sounds tough! Use a Cache plugin, and it will make your work ten times easier.
SEO Review
SEO is also an important factor cause google pays much attention to organic reach on a website. So if your website is optimized for search engines, then you can get more audiences on a daily basis and get much attention from google that will boost your site, and you can hold your place among the best on the first page of the google search page.
We have checked the SEO of SquadForce WordPress theme on SEO site checkup, and it's scored 68 out of 100, and that's pretty much good result. But this WordPress theme needs some adjustment that will intensify the score because a demo website doesn't have all the qualities to be the best SEO friendly website. So it's up to the purchaser who bought the theme, and he inputs data according to his need to rank the website on Google's first page.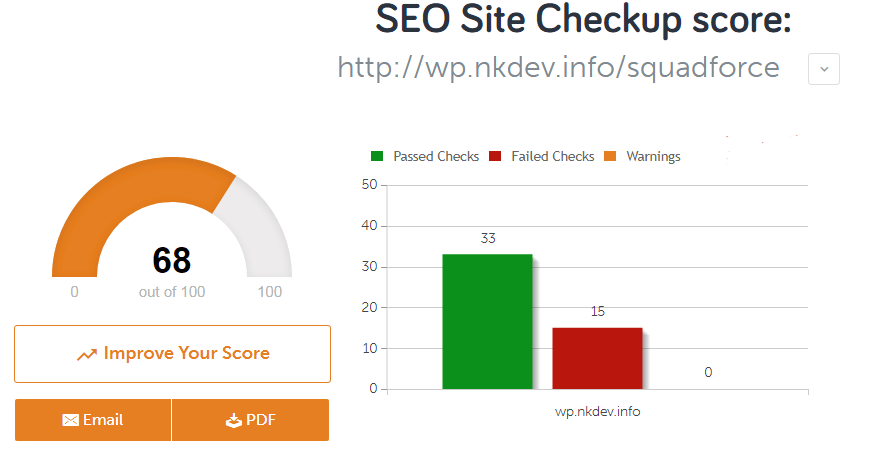 This demo website is missing out of meta description, keyword usage, heading tags, and robot.txt file. The URLs aren't SEO friendly enough, and the image Alt tag is missing in some pictures. This website is using inline CSS, which can damage your SEO score. Otherwise, everything looks just fine. You can use any SEO plugin that will boost your website. Yoast SEO plugin is a wonderful tool that will resolve all these issues and enhance the SEO score of your website
Customer Support Review
SquadForce is a competitively new theme on ThemeForest, and nK developers are supporting this theme. Customer satisfaction is the key to achieve success in any business. If the customers are happy and receive supports according to their needs from the service provider,  the business will boost automatically. The authors are trying their best to replying to all of their purchaser or potential customer with valid answers.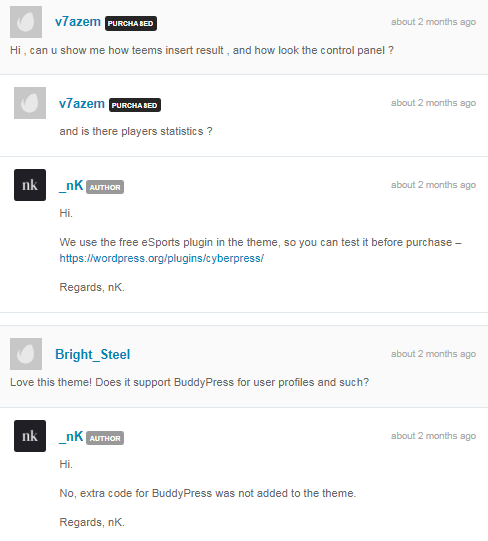 In the same vein, we find that the least quota of votes has not yet been reached. As for the regularity of the updates, if we consider the time taken between the launching of the theme and its last update, we think that it's correct. So you have no worries about the maintenance of the site.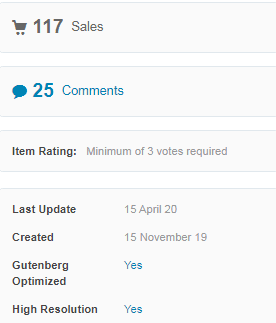 Supported Plugins
SquadForce theme maintains considerable simplicity regarding plugins. Gutenberg is a native WordPress page builder that you will get with this theme, and it will be supported by CyberPress plugin that will allow you to get various built-in blocks about tournaments, matches, game teams and player. There is a responsive grid plugin that will allow you to create better columns for people with ghost kit blocks collection. Also, there is a Visual portfolio plugin to build amazing Galleries and blog posts. WooCommerce and WPML support this theme. There is also a BB press plugin that you can use to create forums for discussion on your community. These are the plugins that come with the theme bundle, but you can use other plugins according to your need.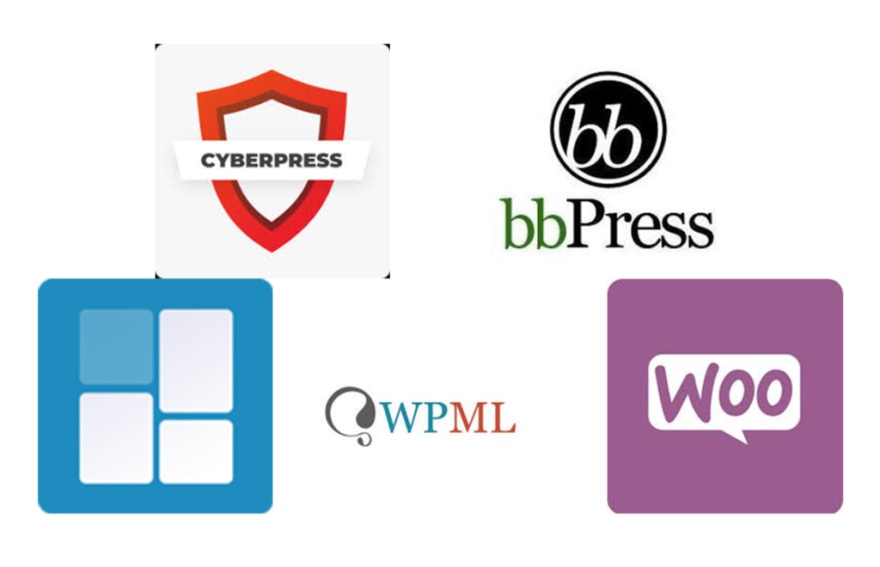 Summarize
SquadForce is an excellent WordPress theme for a gaming magazine, blog/ review, team portfolio, or WooCommerce shop. If you are willing to build and website for your gaming crew or your company, then SquadForce can be your ultimate choice. Yes, there are some insufficiency on this theme, but if you modify this item the way mentioned above, then this will play a significant role in decorating your website.