If you are a real estate agent or owner of a real estate agency, then your first concern is surely to allow your clients to find the accommodation of their dreams. Today we present to you RealPlaces, a WordPress theme designed to help you transform your client's dream into real housing. At first glance, this is an interesting theme, with a neat and successful design. But we will see this in-depth in order to get a clear idea. Let's go! Feature List
Nice and Clean Design
Fully Responsive Layout
Includes Revolution Slider Plugin
Advance Properties Search Form
Google reCAPTCHA Support
Full Localization Support
Gallery Templates
User / Author Detail Page
Child Theme Included
Detailed Documentation Included
Mobile Compatibility
Mobile compatibility is important for a website because we are more likely to use our mobile devices both for work and for entertainment. It is the paradigm of the 21st century. In this context, it is completely obsolete to have a site that cannot function properly on a smartphone or tablet.
Fortunately for the RealPlaces theme, its author has been attentive to this detail and offers us a completely responsive product. This is what emerged from the test we carried out on Mobile-Friendly Test.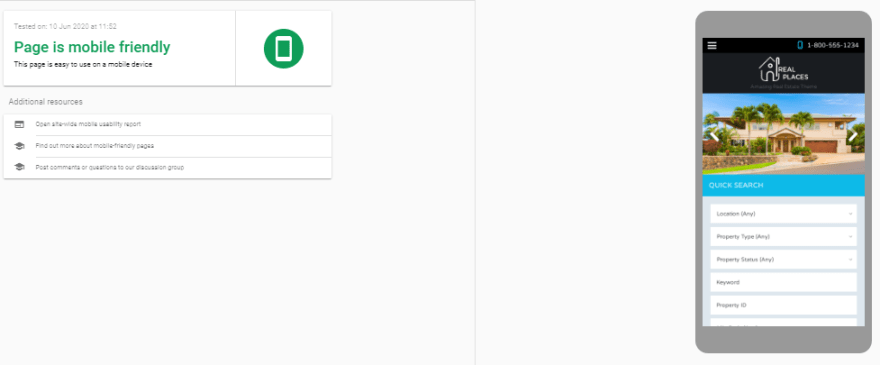 We also opened RealPlaces on devices of various sizes to see how the theme behaves. The latter fits perfectly whatever the screen. The images, the texts, the font, everything is resized according to the size of the screen so that the rendering is as good as possible.
Download Divi The Best WordPress Theme
The Most Popular WordPress Theme In The World And The Ultimate WordPress Page Builder
Download Divi
We just regret the absence of a fixed header to facilitate access to the menu when we have scrolled for a long time. Especially since there is no "Back to top" button. You will then have to manually go back to the header if you want to access the menu.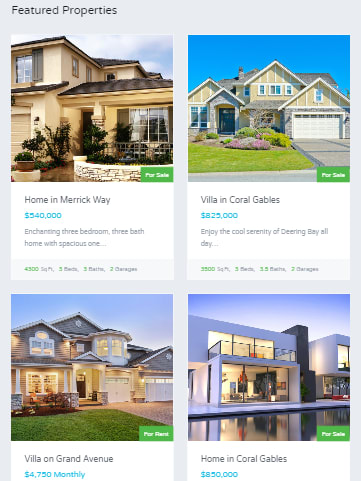 Design Review
From the first glance, we see that it is a real estate theme, from the images, the colors, the information offered, etc. And it's very important for your users to quickly feel in the niche you're targeting. It allows you to quickly focus on the target audience, and increase the chances of retaining potential prospects.
In fact, RealPlaces offers decent design variations with flexibility and customizability to fulfill various requirements. The basic design is clean, beautiful, and Professional.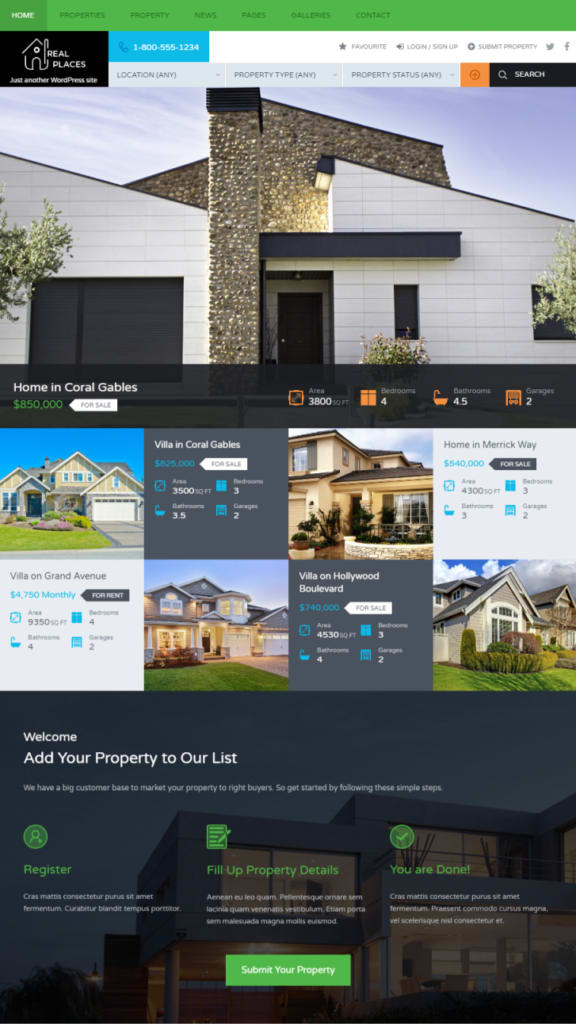 The theme comes loaded with tons of useful features related to Real Estate. These features will mainly allow you to highlight your products and services, for example with the poster style, as well as other means to encourage customers to click on offers.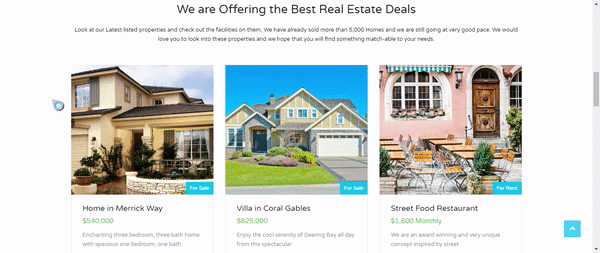 Speed Test Review
The loading speed can influence the perception that visitors have on your website. Beyond 3 seconds, it is very likely that this perception is negative. You could then lose users. That is why we must pay attention to it.
To evaluate RealPlaces, we used a program recognized for the quality of its results, namely GTmetrix.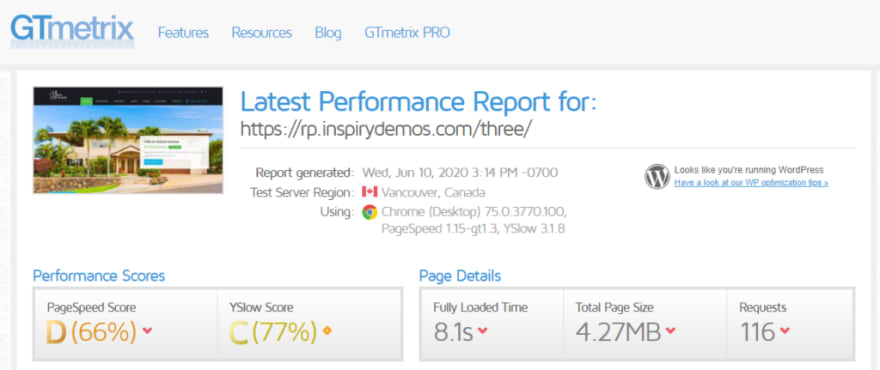 The result is very average, we will even say bad. This theme takes an average of 8 seconds to fully load. It is well beyond the prescribed 3 seconds. The author has been negligent on this point, perhaps because it is only a demo; but an unattractive and unreassuring result.
By analyzing in-depth, we realized that one of the main problems that affect the speed of the site is the weight of the images chosen. They seem quite heavy and weigh on the author's server. We, therefore, recommend that you replace them with lighter images. There is also a way to optimize the images so that they have no influence on the website.
SEO Review
Now let's talk about SEO! This is the set of optimizations that must be made in order for your site to be well-positioned on search engines like Google. Being well positioned on Google means having more visibility among web users. SEO is therefore a strategic tool to start the future popularity of your site.
We used SEO Site Checkup to analyze the SEO of our topic and we came up with a not bad result. 68/100; still above average. Even if that also translates that there are things to review.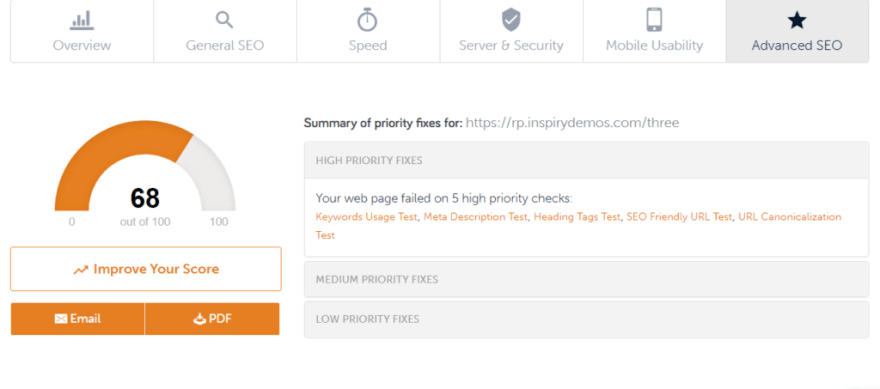 Indeed, we have noted errors at various levels: Keywords Usage, Meta Description, URL Canonicalization, etc. So, by correcting these errors, you can surely improve your SEO score and give your site even more visibility on the search engines. You can use SEO plugins for this; it's easier and more efficient, especially if you don't know much about programming. Apart from the SEO score, the test above tells us about the compatibility of the RealPlaces theme with Rich Results. We can also see that the result is negative. This means that in the current state, this WordPress theme does not provide search engines with elements to enrich the content offered to Internet users. Pity!
Customer Support Review
"The customer support is stellar". This is what a user said to describe their experience with the RealPlaces theme support team. We were able to see for ourselves by the promptness with which the concerns are taken care of. On average it is within 24/48 hours after the publication of the problem.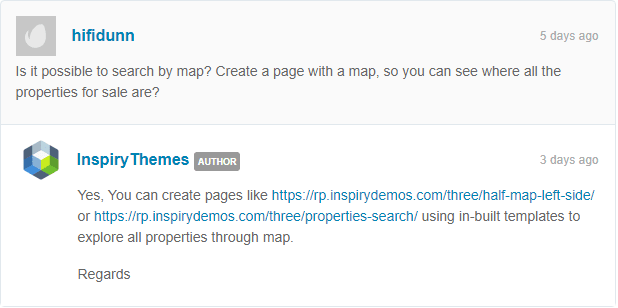 Management is effective, but not only in the background. On the form too, the team knows how to manage users and their moods. Courtesy and politeness allow them to bring satisfaction even to the most difficult customers. On the other hand, to always improve the experience of its users, the author of RealPlaces regularly provides updates. The last date of last May. Reassuring isn't it?
Supported Plugins
RealPlaces is an advantageous WordPress theme thanks to the plugins with which it is compatible and which will provide functionalities that are just as practical as profitable for your site.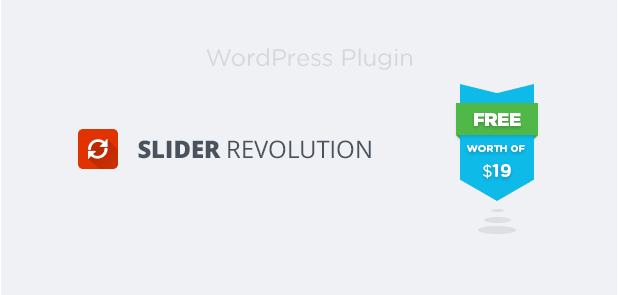 For example, you can build any type of slider using the Revolution Slider plugin that comes included as part of this theme's main pack. If you only want to use properties slider then there are already two slider variations available for those.
In addition, the theme includes basic support for dsIDXpress and WPLM plugins.
Summarize
In sum, the WordPress theme RealPlaces seem to meet all the prerequisites for a good real estate site. We have a purpose oriented design, which can be adapted to any device (mobile or desktop). It also has very interesting features and supports quality plugins that increase its range of functions. It's definitely a theme you shouldn't be bored with.