Gaming has extended people's imagination power. Now we can think and artificially sees a lot of things that we couldn't even imagine ten years ago. People are choosing gaming as a carrier right now. And Esports gaming is one of the best forms of gaming that changed people's life. Today we will talk about a gaming-related WordPress theme named Overworld. This is a giant gaming WordPress WooCommerce theme that covers all the sectors that you need to build a gaming website. It has a huge list of shortcodes with diverse page section styles. The Overworld has some fantastic effects that can catch your attention at a glance. It has various page options such as blog pages with different styles, a couple of demo pages that can act as a portfolio for gaming organizations or teams.
Also, this theme has a live gaming telecast system. So you can stream your games directly from this website along with twitch and YouTube. This theme is supported by some brilliant, powerful premium WordPress plugins, and it has a very appealing design. This is a mobile-friendly theme with multi-level language translation support. We will have a full tour of this theme, but before that, let's have a look at the key features of this theme.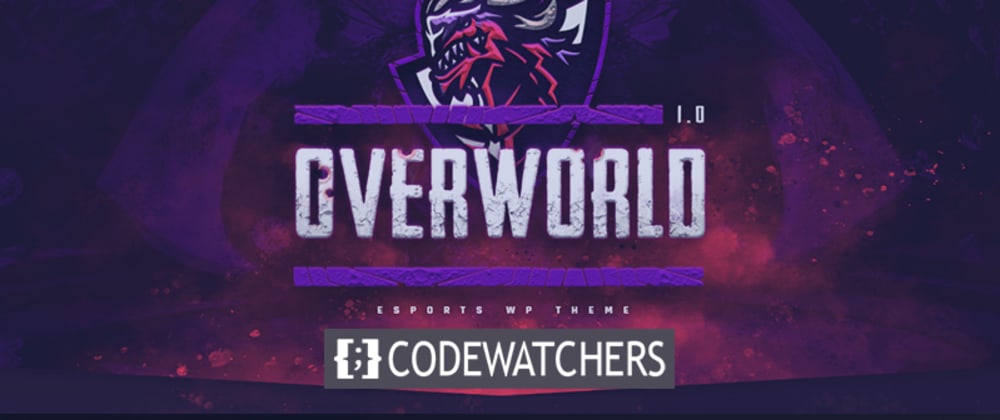 Feature List
Powerful Admin Interface
One-click Demo Import
Creative Demos
Large Shortcode library
Clients Grid
4 Header types
WooCommerce Support
Responsive Design
WPBakery Page Builde
Slider Revolution
Twitter feed
Instagram feed
Integrated Search
Custom Widget
WPML Support
SEO friendly
Mobile Compatibility
Mobile compatibility testing is checking or verifying that your website behaves as expected across the combination of mobile devices. The number of mobile users around the world is continuously increasing. In regular life, everyone uses mobile for web browsing. As a result, most of the views of the websites are generated from mobile devices. So having a mobile-friendly UI is recommended for every site.
We have checked the demo on various mobile devices, and it behaves well on all sizes of screens. Its flexible and interactive UI workes perfectly on mobile. All the page elements are nicely fitted, and the Overworld theme looks beautiful on mobile. This theme has a separate version of all the essential page elements that are specially made for mobile devices. So, there is no possible way to be not compatible with portable devices.
Download Divi The Best WordPress Theme
The Most Popular WordPress Theme In The World And The Ultimate WordPress Page Builder
Download Divi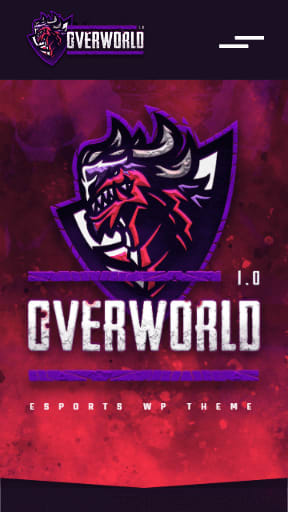 We also performed a Google mobile compatibility test to oversure the harmony of Overworld with mobiles, and google test results didn't agree with the Overworld themes mobile-friendliness. Maybe there is a robots.txt file issue, which can be easily fixed. But we can assure you; this WordPress theme can perfectly sync with any devices.
Design Review
Your first impression always should be the best one. That's why developers always pay more attention to design as its an essential criterion for the WordPress theme. As we mentioned before, the Overworld is visually appealing, and its structure is fascinating. The entire user interface of the theme is quite interactive, which is reflected in a charming style due to the hovering of the mouse. There are many built-in page designs, so you can select any layout you like and edit it with shortcodes cause a vast shortcode library powers the theme.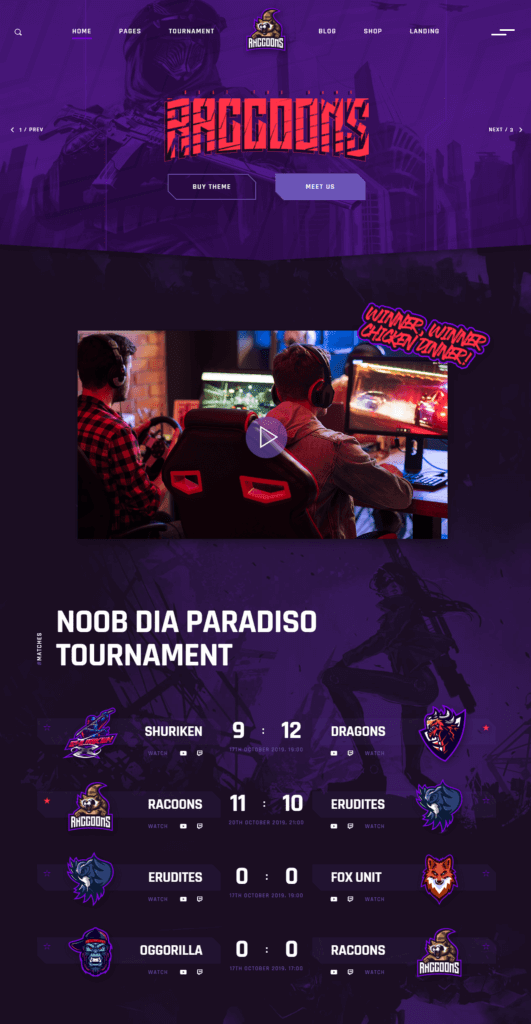 The purple color of the theme is quite eye-catching, and every page has nothing but gaming elements related to the topic. As a result, visitors do not have to do additional searching for specific items. Game fixtures, results, upcoming events, blogs, galleries, member profiles, product details, streaming - there are separate dedicated options for everything. There are also variations in the header and footer sections. Developers will not give you any room for complaint about designing, so you are obliged to provide a full mark for design to the Overworld WordPress theme. Speed Test Review
Speed testing is an essential factor that we should have a check before purchasing a WordPress theme. It helps us to know how soon the theme ingredients can be shown in the browser window. The faster the loading speed is, the better the site. An ideal website shouldn't take more than 3/4 seconds to finish loading.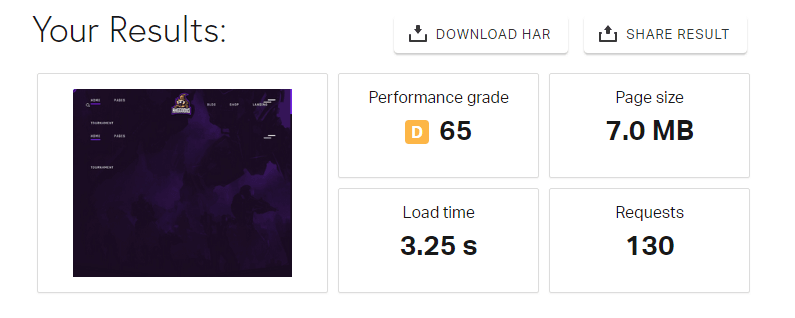 From the Pingdom test result, we are quite convinced with the score. The Overworld WordPress theme obtained  65 out of 100 and took 3.25 seconds to finish its loading. The timing was pleasant enough, but why the rating is less? Well, the page weight is 7MB, which is more than expected. Compressing multiple page stylesheet, java scripts into one and using scaled images can raise the speed up. Use Gzip to squeeze page elements. Also, Using cookie-free domains and decreasing DNS lookups will also help you to enhance the speed. Use the W3 cache plugin cause it's more convenient to use, and no coding knowledge is needed.
SEO Review
SEO is something you should care about before building a website. Google pays much attention to its visitors, so if your website can satisfy your regular audience, then Google will rank your website up. Now how will Google know that your website contains valid and necessary data? If your site has SEO friendly environment, you can quickly put data over there rank your website up.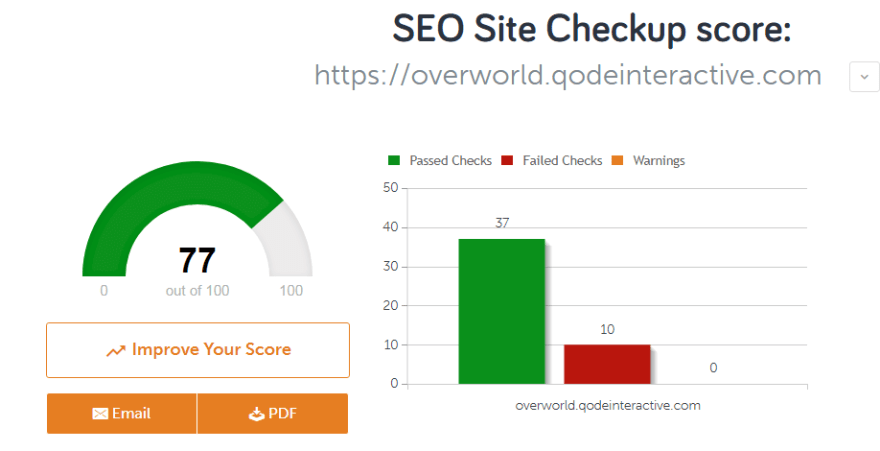 We have tested the Overworld's SEO capability on SEO Site checkup, and the score is fantastic. It scored 77 out of 100. We can see the demo website passed 37 test but failed in 10. So, there is room for modification. The site is needing meta description, keyword usage, a sitemap file ( due to which the theme failed in Google Mobile Compatibility Test), and Google Analytics script. Also, the demo website is using inline CSS files, which is not suitable for SEO, and the demo website URLs aren't SEO friendly. Don't worry, and you don't have to be an expert to solve these. Simply use a premium SEO plugin, and you can blow these issues away.
Customer Support Review
The Overworld theme is new to ThemeForest platform, and they are doing quite well. Client demand and delivery accordingly is a fundamental issue in any business, and the authors are doing the job quite well. Turning to the comments section, we see that the authors are trying to answer every potential client and purchaser's query.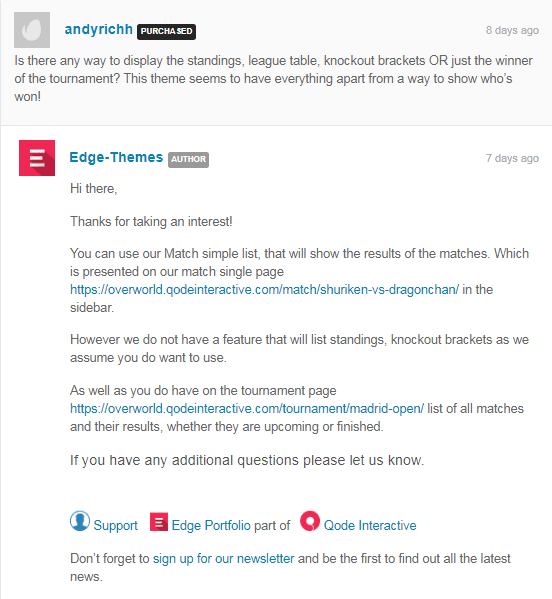 Due to being new, we have seen only three reviews of the theme, and all of them are five stars. The theme deserves a full score for theme support and customizability, and designing. If you are thinking of using this theme then you can be sure to be satisfied with the support system.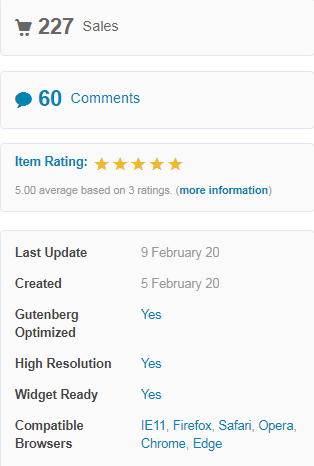 Supported Plugins
The WP Bakery Page Builder is used in the Overworld theme. This is a premium page builder that allows you to design visually pleasing and beautiful pages with maximum capability. Also, with the Slider Revolution plugin, you can create stunning sliders on any part of any page, which will enhance the beauty of your website a few times.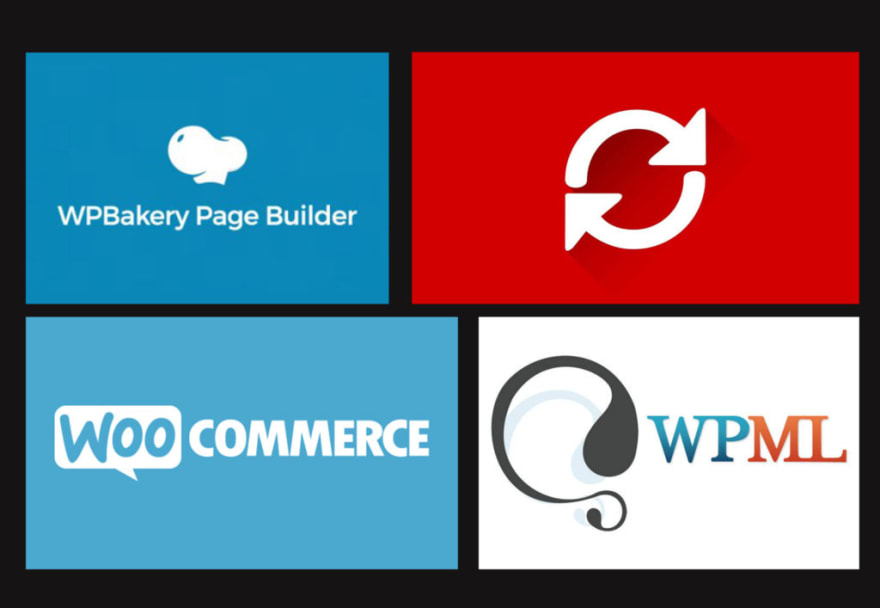 The theme supports multi-language translation and WooCommerce, allowing you to run online shops. You will get all these things in the theme bundle.
Summarize
Depending on elegance and excellence, The Overworld is a sparkling WordPress theme. The theme needs some light modifications that you can do very smoothly. The theme has all the qualifications to manufacture an ideal gaming website. So, you can safely use the theme on your website without ignoring it as new.