According to Medium, Community may have a definition problem. Still, we understand that if a bunch of people gather(online/offline) somewhere to communicate with each other on any perspective is called a community. The network via which everyone in a community communicates with each other can be intranet or extranet. An example of such a system is online coaching classes, discussion forums, live event thread, social websites, etc. Today's theme for such an online community website - OneCommunnity. It is built with the renowned page builder - Elementor(free version), and it is fully responsive. It comes with a complete Buddypress Network, Global like button, Ultimate GemiPress reward system, Login page, Forum, and so much more. OneCommunity has several WordPress plugins bundles with the pack such as - BuddyPress, Youzer user profile, LearnPress, Event manager etc. It is a feature-rich Community focused WordPress theme, so let's have a look at the features.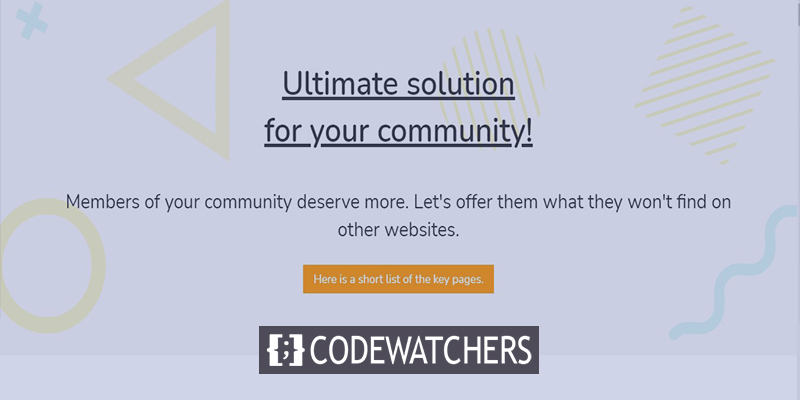 Feature List
BuddyPress 6.2
bbPress integrated
40+ Social Pages
Intranet groups
Pre Built Page Library
SEO Friendly
Responsive Design
Elementor Page Builder
Dark mode / Night mode
Theme Customization API
Event Manager integration
Youzer Plugin
Translation ready
Paid Membership Pro Compatible
Like buttons
Achievements and badges
LearnPress integration
Live notifications
Mobile Compatibility
If you want to survive in this age of the competitive online world, you must keep a connection with everyone. Currently, nearly all websites are mobile-responsive. That means they can adjust themselves to any size device. However, OneCommunity developers have claimed it as a responsive WordPress theme, and we have verified these statements. We have tested the demo website on different devices to ensure that the theme can adapt to the screen in all sizes. It looks like the authors of OneCommunity are partially true cause during our test, pages were floating from left to right. Everything, including logos, element blocks, text sizes, and page components, fits all devices nicely. Nearly all the pages can make themselves stand out on any handy devices. We did not notice any conflicts anywhere. We also checked the Google mobile compatibility of the OneCommunity WordPress theme and found it is harmonious with mobile devices with a few issues such as image errors that couldn't load up on Google test. In summary, the mobile compatibility of the tested theme is good as a whole.
Design Review
The first impression is the best. At first glimpse, you will like the OneCommunity WordPress theme. Its simple but unique design will attract you immediately. Awesome side panel for members, huge menu, dynamic content loading, and pop-up login page style will instantly conquer your mind.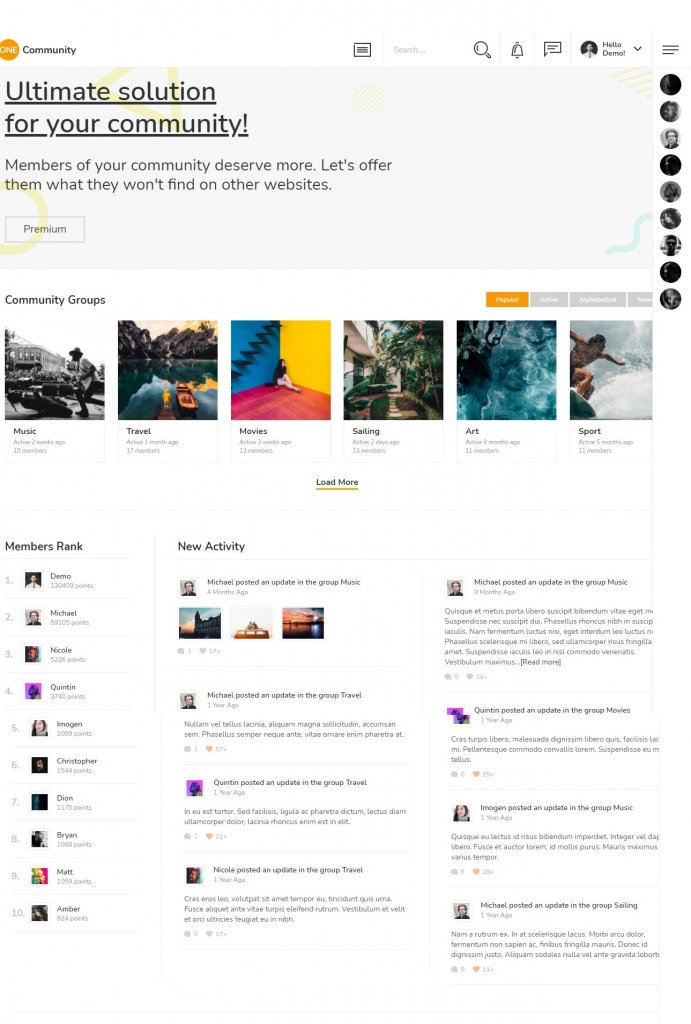 You can customize the website as you need and sell products because of its compatibility with Wooommerce. WooCommece is powering over 28% of the online shop, and OneCommunity is a nice fit for it. You can easily import all demos with content, and all the pages, icons, logos and blocks are pixel perfect. With the help of Ajax, you can create a custom search, filter, and navigation systems.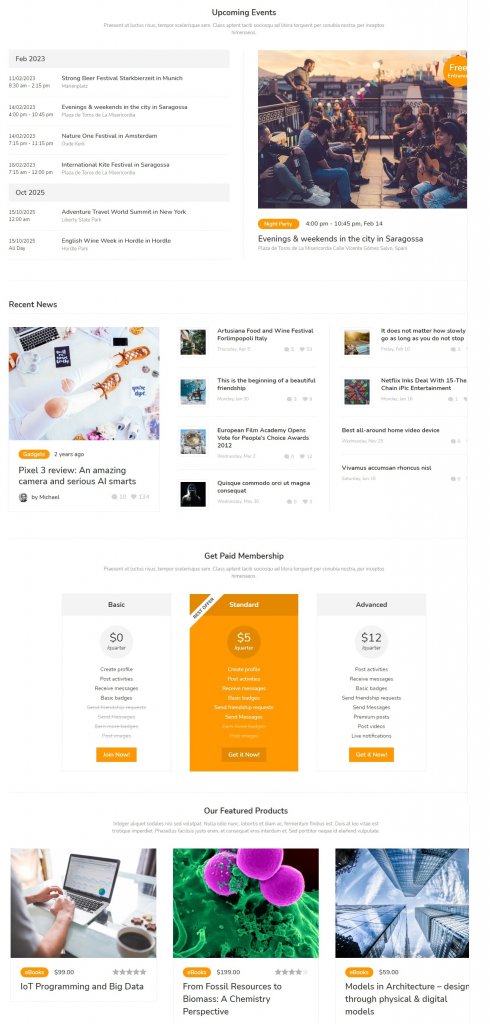 With the help of the Elementor page builder, you can easily create a striking header, footer, engaging page covers, and individual blocks with in-between area options. OneCommunity WordPress theme has a powerful theme admin panel that will allow you to design each component separately.
Speed Test Review
Speed is a notable technical sign, and this test will help us learn about the loading speed of any site. Google pays remarkable consideration to this factor while they rank websites. People don't like to visit delayed websites, and the faster site has lesser chances for a large audience bounce rate. We consider 3 seconds for perfect page loading time.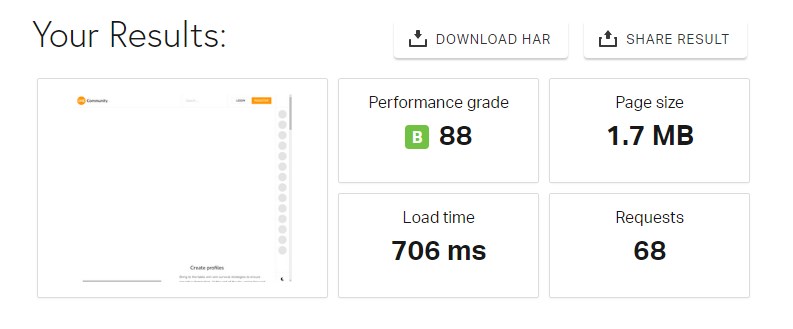 We have checked the loading speed timing of the OnCommunity WordPress theme via Pingdom tools - a powerful tool to check website loading speed and issues behind it. The OneCommunity WordPress theme obtained 88(B) from the speed test, which is an excellent result. The website lading page took 706MS, and it's really faster than the ideal loading time. The webpage contained some unoptimized photos that gave it a weight of 1.7 MB. Adding expire headers, reducing DNS lookups, and compressing Gzip components will significantly boost the page and load more fluidly in less time. This theme has a built-in fragment cache for all user components like sidebar, menu, footer, shortcodes etc.
SEO Review
SEO provides the most to the popularity of a website. It generates brand value for a website by drawing in organic visitors and raises its position in Google's search rankings. Then we count the site as prosperous. So it can be said that SEO has a lot to offer to a wealthy site.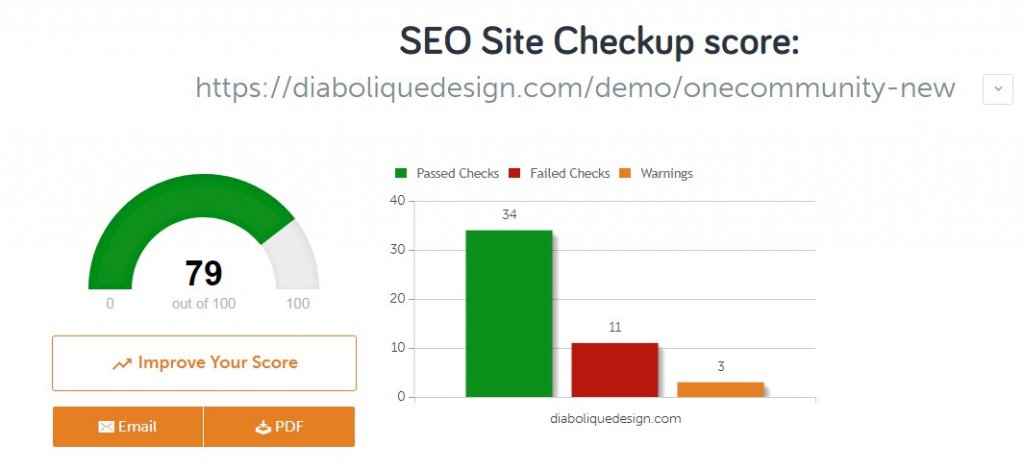 We have tested the SEO score of the OneCommunity WordPress theme on SEO site checkup, and the score is pretty much average. According to the website's criteria, it obtained 79 out of 100 with 34 passes, 11 fatal errors, and three warnings. The demo website is missing a meta description, keywords, a sitemap file, Google analytics file. Also, not all images on this website have image Alt tags, and the website uses inline CSS, which decreases the SEO compatibility of any site. To fix this issue, you don't have to be a WP professional; use an SEO plugin like Yoast SEO, and you can blow these issues off.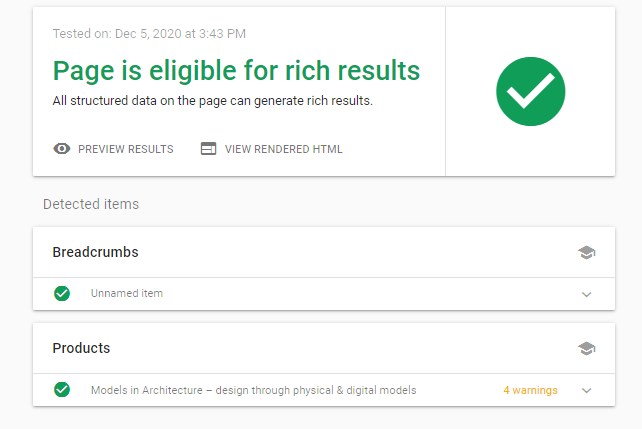 We test the Rich Results by Google cause this test causes you to collect full details about a post or page from search engines. It seems like the OneCommunity WordPress theme has no issues with WooCommerce. All the review snippets, products, and breadcrumbs are eligible for rich results.
Customer Support Review
For a business to persist, the needs of the customer feedback must be supreme, and the product must be present according to their needs. Diabolique is in charge of customer support for the OneCommunity BuddyPress WordPress theme. As far as we have seen, they are just giving customers the necessary solutions.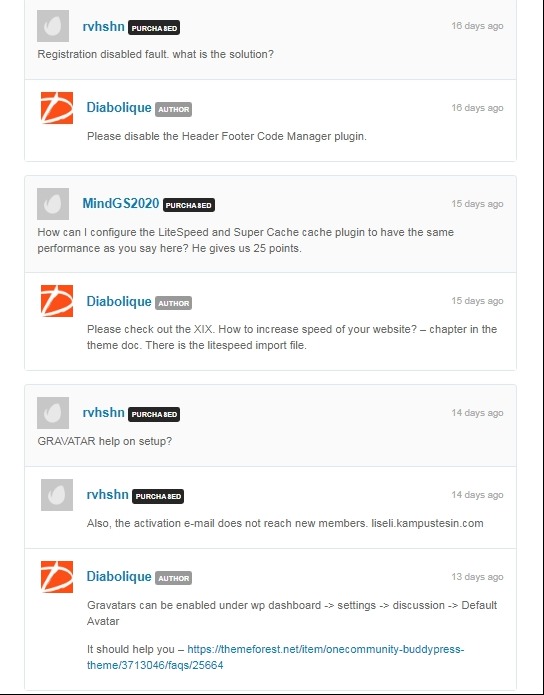 Authors are really dedicated and honest about their products, and this can be understood from their replies. Among 1800+ comments, we randomly decided to show you a few comments to understand how this theme's support system is.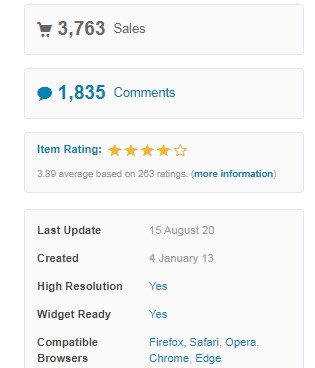 OneCommunity theme review options are filled with optimistic compliments and negative complaints. The developers have behaved fairly in everyone's mind through its customizability, design quality, flexibility, and support. As a result, this theme has 3.89 ratings from 261 consumers.
Supported Plugins
OneCommunity Theme authors have held a steady position on plugins. They have only provided those plugins with the theme bundle that has core level customization capacity. Elementor is a successful and widely used WordPress page builder that allows you to build many visually beautiful designs using the drag and drop feature. There is also the premium Youzer - User profile plugin. It helps to secure a membership system, social login and front-end account settings. The theme also compatible with WooCommerce, WPML, LearnPress, Event Manager and a multi-level language translation system.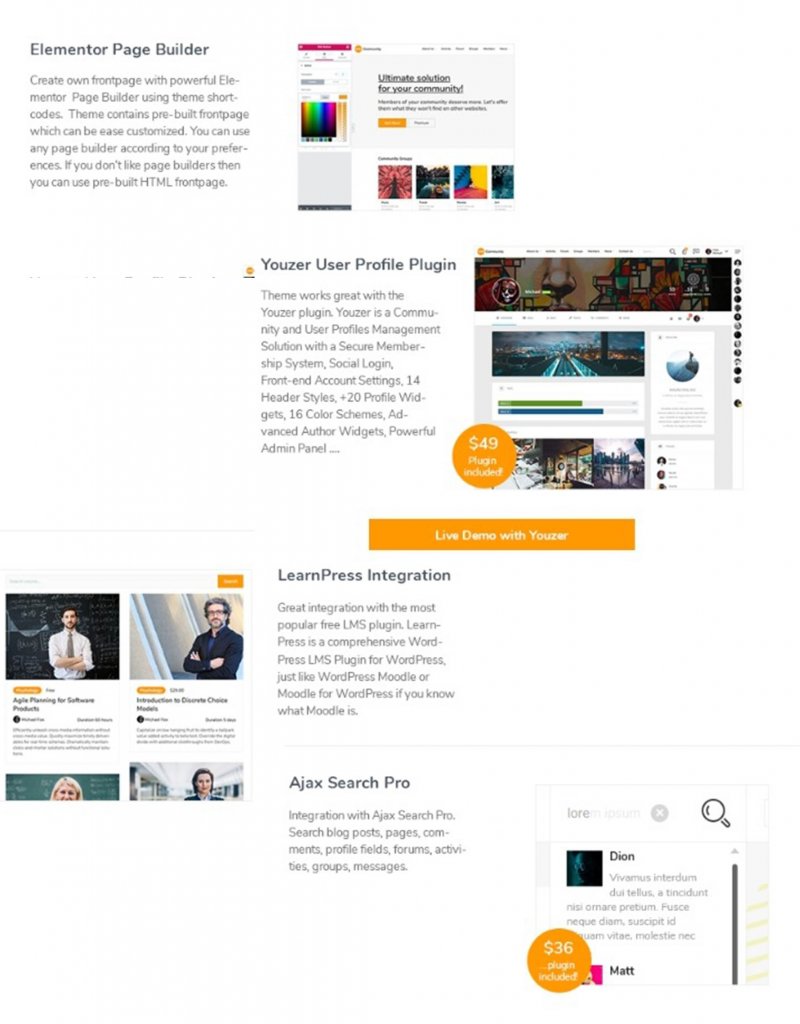 Summarize
To conclude the success of the OneCommunity WordPress Theme, one has to look at its features and potentiality to check how long it's in the market. While there is no shortage of design, responsiveness, loading speed and SEO friendliness, it makes handsome sales. There are very few competitors in the regular price range to compete with this theme, so why are you lagging?