Today we are going to explore a relatively recent (one year), but quite popular theme. His name is "Oklahoma". It was designed to allow you to set up directories of any type that you can offer to your users. But why is that so popular? We will study this question to see if it deserves your attention. Let's go!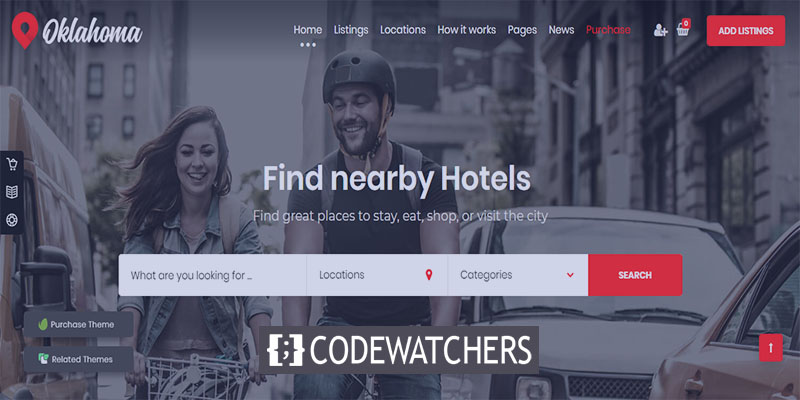 Feature List
Countdowns for event listings
Unlimited sidebars
Fast and easy to use
Fully Responsive
One-click importer
Social media login/registration
Demo data importer
Contact Form 7 compatibility
Eye-catching CSS animations
Well Documented
Mobile Compatibility
It is very important for you to use a theme compatible with mobile devices. It must be said that most users prefer to work on their smartphone or tablet, thanks to which they have better mobility.
From what we could see with the tests carried out, the Oklahoma theme is fully responsive and retina ready. The design and content adapt well to the size of screens, even the smallest. Navigation is fluid and as efficient as on desktop.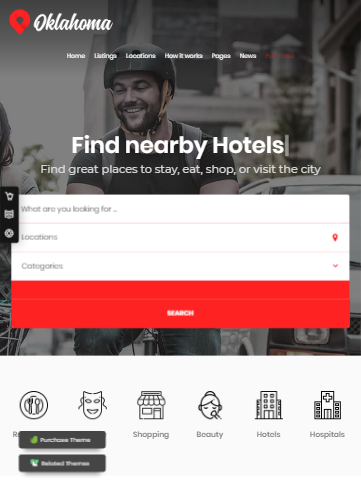 The small downside that we have noticed on smartphones: when we scroll down the hidden menu, we find the list of items too detailed and therefore long enough to cover the whole screen to the point where you have to scroll to see everything. It could be better organized and compiled to make navigation more ergonomic. But apart from that, we find the rest very correct.
Create Amazing Websites
With the best free page builder Elementor
Start Now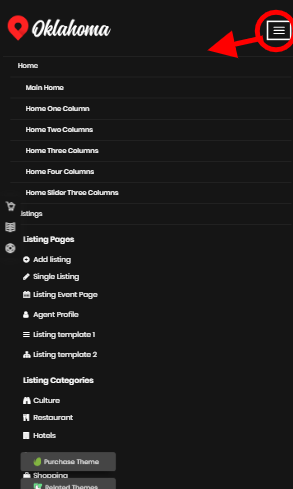 Design Review
We are dealing with a directory and listing theme. We were therefore very curious to see what type of design the author created to materialize his idea. And the least we can do is that we were blown away. The discreet use of Red mixed with White for writing, Black for certain backgrounds, and finely chosen images brings a truly magnificent, but also professional rendering. It's a pleasure to fly over the page, and it really makes you want to search for a place or an event.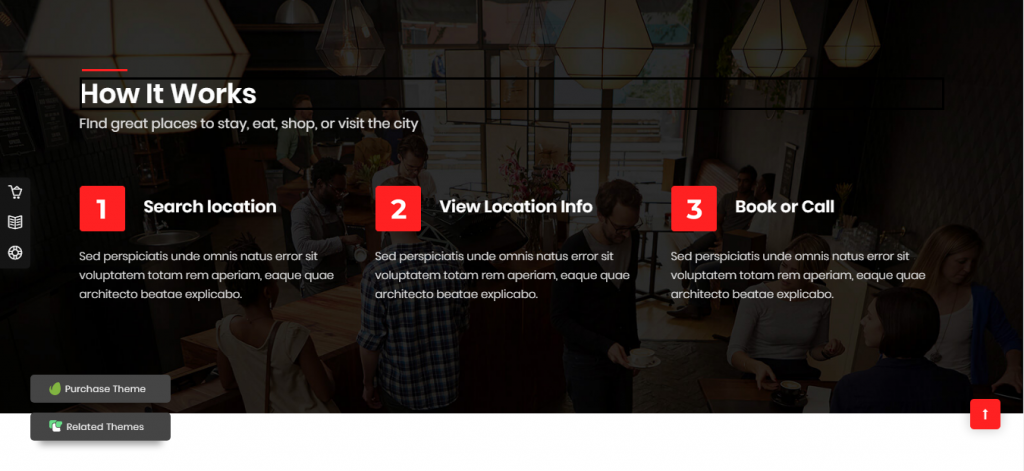 Speed Test Review
Aside from the design, the loading speed of your site is just as important. It doesn't matter if the site looks good if it takes a long time to load, it discourages users. Generally, when a site takes more than 3 seconds to load, visitors tend not to return.
We used the "Pingdom" tool to analyze the speed of the Oklahoma theme, and the result is not very brilliant. The grade of "D" was given to the theme with an average loading time of 4.25 seconds; which is well beyond the prescribed 3 seconds. This is what tarnishes the quality of this theme, which until now seemed perfect to us.
However, we have analyzed in detail what affects the speed of this theme and there are ways to correct this to improve the score. For example, we recommend adding Expire Headers.
What you should know is that Web pages are becoming increasingly complex with more scripts, style sheets, images, and Flash on them. A first-time visit to a page may require several HTTP requests to load all the components. By using Expires headers these components become cacheable, which avoids unnecessary HTTP requests on subsequent page views. Expires headers are most often associated with images, but they can and should be used on all page components including scripts, style sheets, and Flash.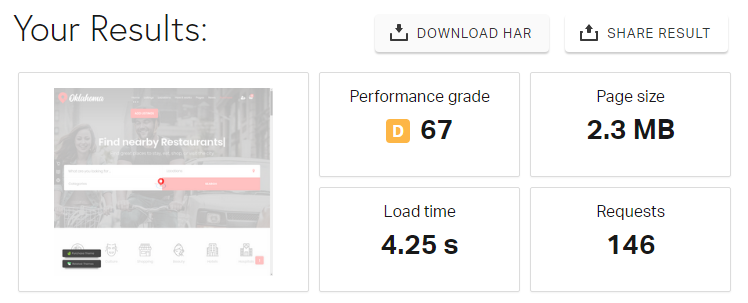 SEO Review
In addition, to have a good speed, a site must be optimized in order to be supported by the search engines. good SEO ensures you are well positioned on search engines and thus have good visibility with users.
According to our test with the SEO Site Checkup tool, the Oklahoma theme has a fairly average SEO score: 62/100. It's not famous, but it's already that! Nevertheless, it is a score that can be improved by means of some optimizations.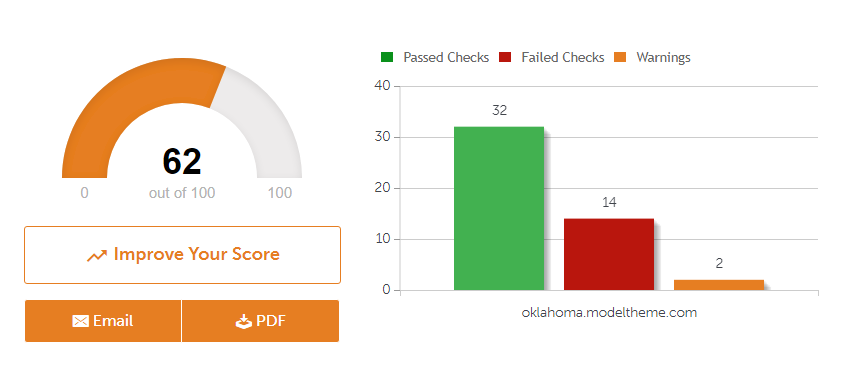 Among the errors observed during our test, we found that the meta description tag is missing from the page. You should include this tag in order to provide a brief description of your page which can be used by search engines. Well-written and inviting meta descriptions may also help click-through rates to your site in search engine results. Here is a tutorial that will learn how to optimize Meta Tags and thus correct this problem.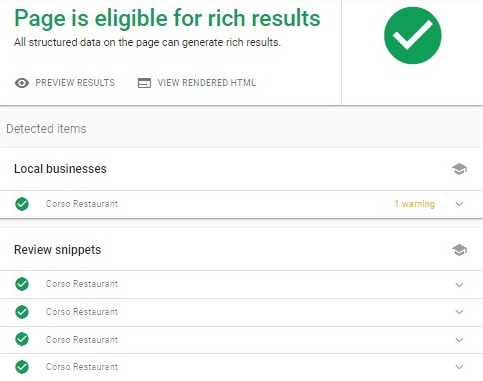 Another way to get a high click-through rate is with Rich Results. These are additional elements that appear with links to visually attract users. In the case of the Oklahoma theme, you have business locations or rich snippets that are compatible with rich results. Interesting isn't it?
Customer Support Review
Needless to say, how important customer management is when offering products and services. The provision of a theme does not escape this principle. The user management system is very crucial in converting prospects.
The team behind the Oklahoma theme understood this very well and even has its strong point, according to customer reviews. We have observed that concerns are addressed in less than 24 hours, and the quality of assistance appears to satisfy most. On the other hand, the author often takes time to offer updates. Although the last was almost 3 months ago, the quality support that follows makes up for the little hassle you may have.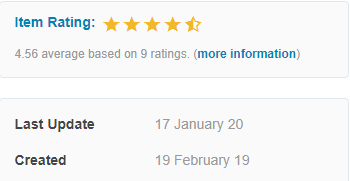 Supported Plugins
Oklahoma includes plugins with every download at no extra cost. Included plugins are ModelTheme Listings plugin, WPBakery Page Builder, Slider Revolution.
In addition to these, we find WPLM and the legendary WooCommerce which guarantees you to make monetization on your site.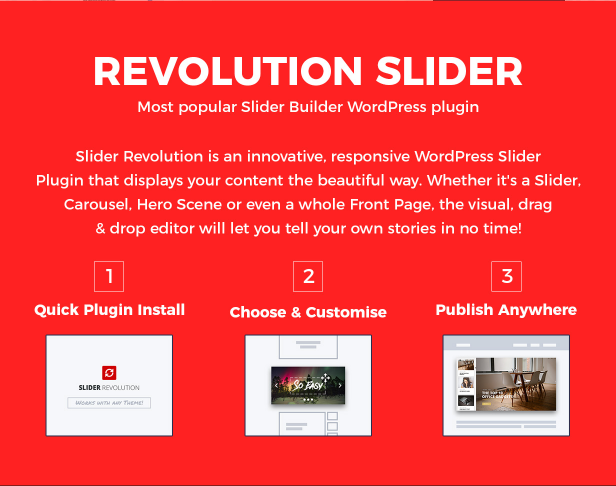 Summarize
In short, Oklahoma is a very powerful repertoire theme with great potential. You just have to see its sales in barely a year to understand. Despite a few caveats in terms of speed and SEO, this theme has risen to us as a great product. It is clearly worth its popularity.