If you are the owner of a medical facility, it stands to reason that you need to tackle the current situation caused by the Coronavirus. Being able to offer its services online is therefore a major asset in this tumultuous period. And we can have the product for you. This is Medizin, a WordPress theme dedicated to the medical field. It is unique in that it supports WooCommerce and allows you to easily create an online store to offer products to your customers (pharmacy, drugstore, etc.). Let's take a look at the range of options that this WordPress product offers us.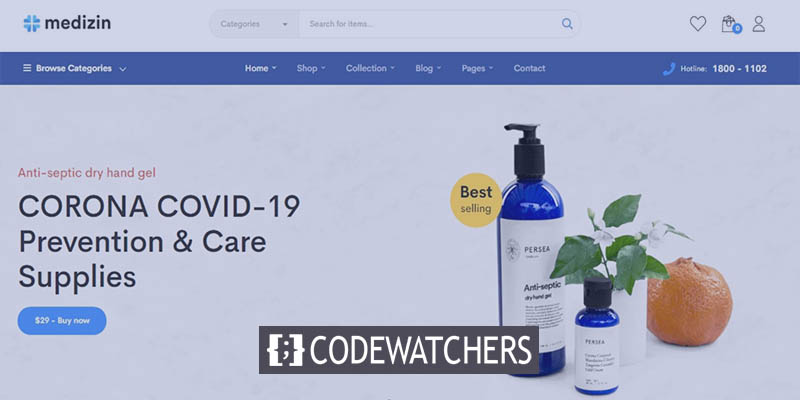 Feature List
GDPR Compliant Theme
Powerful WooCommerce Shop
Beautiful design elements
100% Responsive & Mobile-friendly
Elementor Page Builder
Flash Sale Feature
Countdown Timers for Sale Product
Google Fonts Included
Multilingual Site Support
Cross-browser adaptability
Mobile Compatibility
Mobile-friendly functionality is a must for any website that wants to be competitive on the internet these days. This stems from the fact that the requirements and habits of Internet users have evolved a lot; many prefer mobile devices to desktops for browsing the web.
Therefore, a WordPress theme like Medizin must be able to run on mobile devices so that you have access to the maximum number of patients or clients. And that's what we'll check out in this section.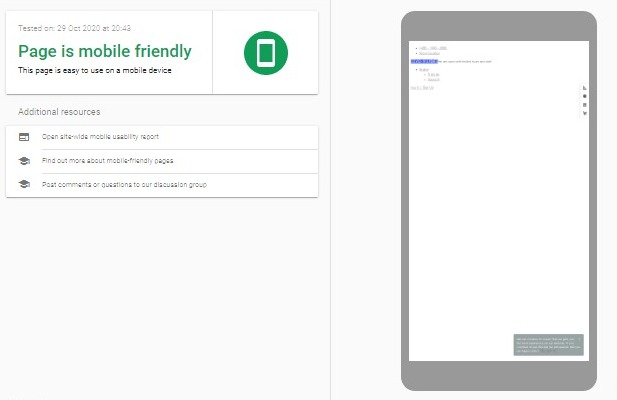 Good news! According to our first test, Medizin is a fully responsive and retina ready theme. It has been designed to allow your site to function properly on any mobile device (smartphone, tablet).
DIVI SUMMER SALE Once per year you can get Divi at a special price with 20% discount, and it will only be available for a few days. Don't miss out!
Download Divi
Moreover, to evaluate the rendering of the theme, we tested it on several mobile devices with different screen sizes. The layout adapts in real-time to the user's screen size. All content is responsive, including images, pages, and more. For example, there is more content displayed on the iPad compared to the iPhone due to the width of the screen. Navigation is very fluid since the content is less heavy on mobile devices.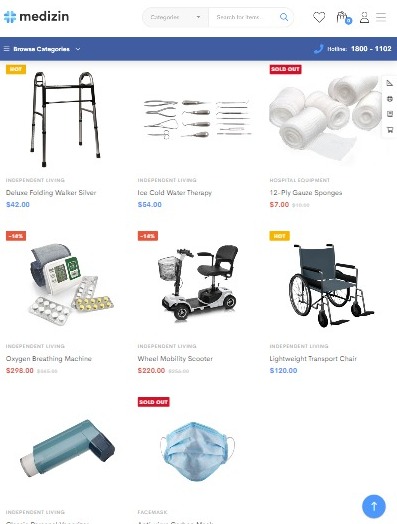 Design Review
The design of your website represents the image of your business or your structure. Aesthetics is therefore a parameter that must be taken into account. For Medizin which is a WordPress theme designed for the medical field (establishment and shop), the author offers a demo with several page models. The overall design is very modern, beautiful, and professional; with a layout intended to highlight your products and services as a showcase.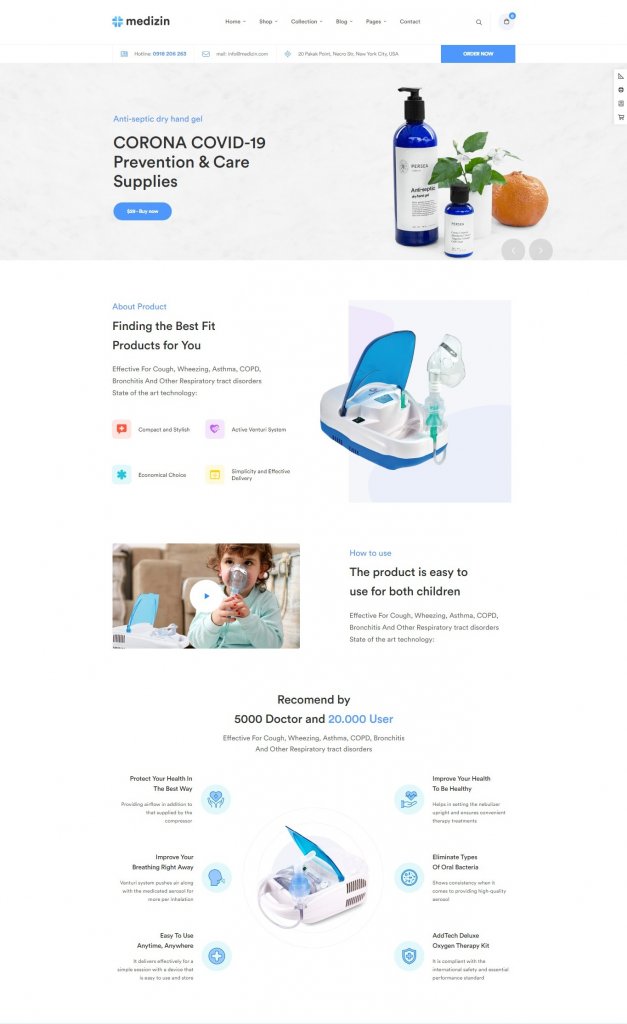 The design of Medizin is fully customizable. Thanks to an intuitive dashboard where all the parameters are accessible, any customization becomes easy and quick to do. You can change your fonts, color palette to meet your brand identity, update your swatches to show multiple product variations, etc. And to top it off, the theme comes with the Elementor page builder. With this drag and drop builder, you can control every aspect of the website in one place, shorten the building time and help your online store to load faster.
Also, as a WooCommerce theme, Medizin has 06+ modern and practical product layouts and shop layouts. You also have specialized features such as Flash Sale, Countdown Timers, alongside a whole bundle of other product features.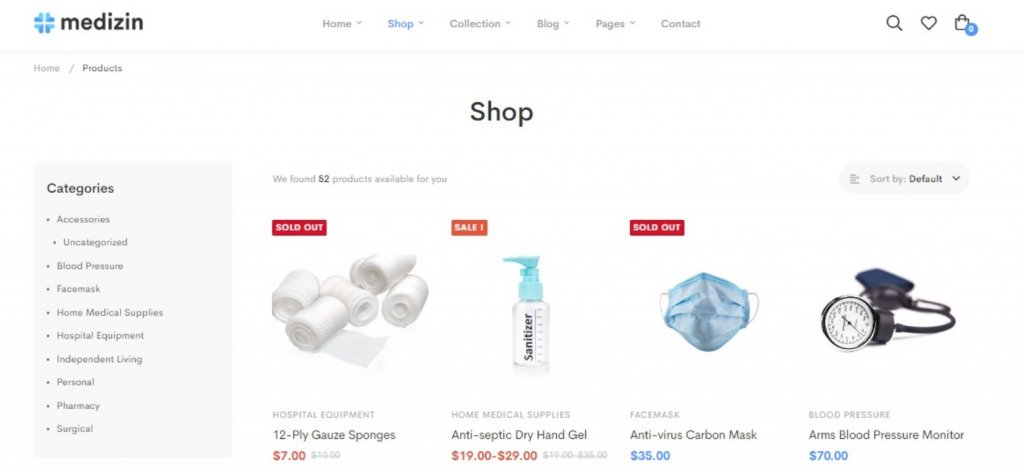 Speed Test Review
The quality of the loading time is a determining aspect in the life of a website. Fast loading is a sign of a healthy site. For internet users, it is also a guarantee of reliability and safety when browsing.
One of the first things to check for increasing your traffic is the page load time. On average, at least 3 seconds is recommended for a good website. Beyond that, it can negatively affect the user experience.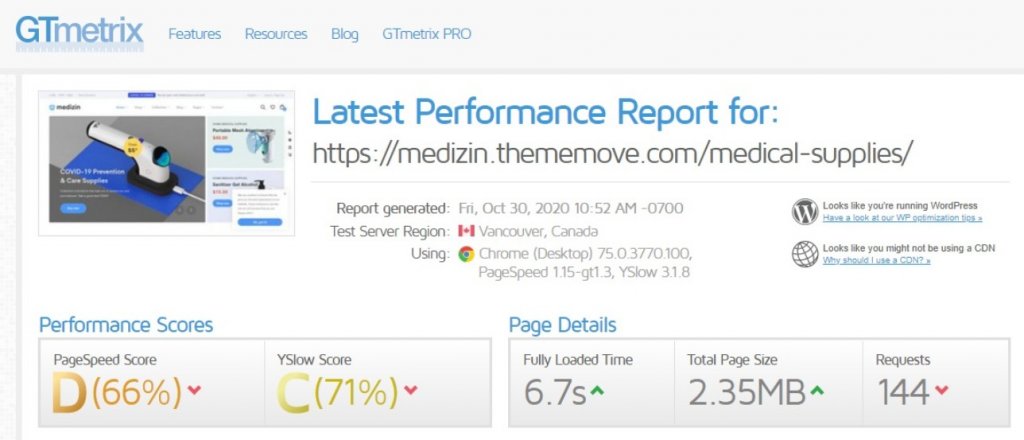 As we can see in the test above, Medizin offers you a loading time of over 6 seconds. A big negative point for this WordPress theme which until now was doing like a chef. The GTmetrix program gave it the grade of "D" to assess its performance.
However, all is not lost since you have the possibility when creating your site to make adjustments to the theme. Remember that only the demo provided by the author is tested here. The fully configured site can perform much better. It will just be necessary to pay attention to certain elements such as the quality and the weight of the images to integrate into the site.
SEO Review
Search engine optimization, in short SEO, constitutes the set of optimization parameters required by search engines like Google to be offered to Internet users. By optimizing your site properly, you will attract better quality visitors, increase your conversion rates, and ultimately attract more customers. This is why having an optimized WordPress theme is a major asset for the quality of the website that will be created. And Medizin?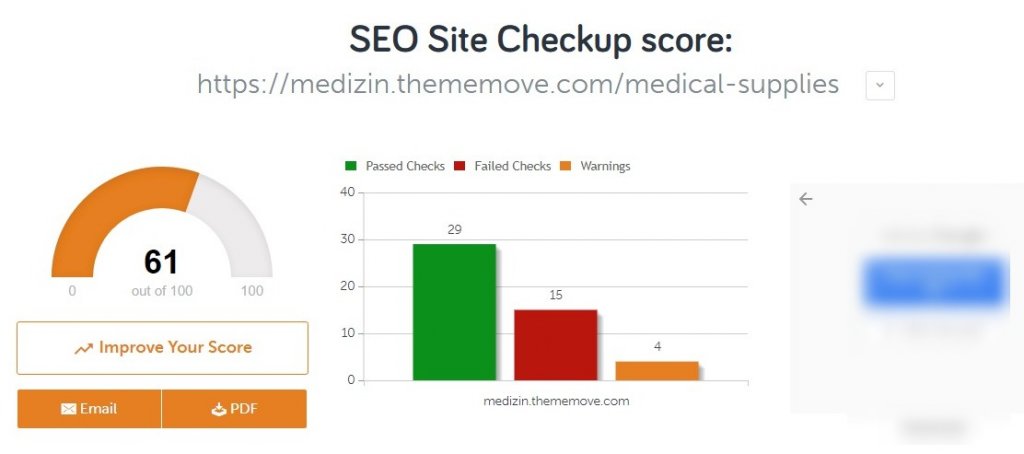 It's not the best score ever, but it's not the worst either. This is all the more so since the test is carried out on a demo and not on a full-fledged site. All this suggests that the result will be even better once the site is up and running. To make it easier for you, just use an SEO plugin. There are several, but we are particularly fond of Yoast SEO.
In addition, good SEO for a website is also assessed by its ability to provide rich results on a search engine. We're talking about Rich Results eligibility here.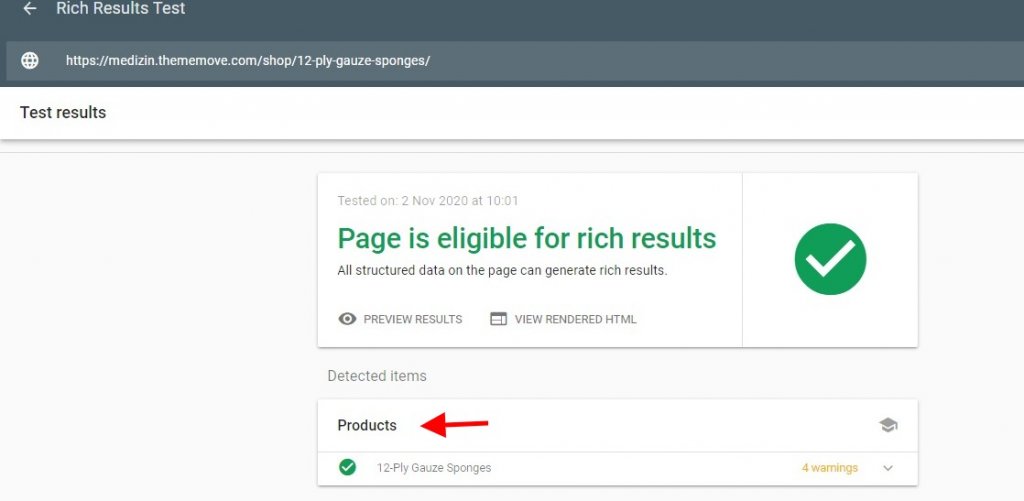 As we can see, the Medizin theme is indeed eligible for Rich Results; including product information. This is both capital and beneficial for a WooCommerce theme like this.
Customer Support Review
How are Medizin users supported? This will determine the level of support you will receive while building your website.
Well, we were pleasantly surprised at the quality of support given to the Medizin team. Hats off to Bryan, who is just professional, quick and efficient at helping users. In addition, we are not the only ones to have noticed it.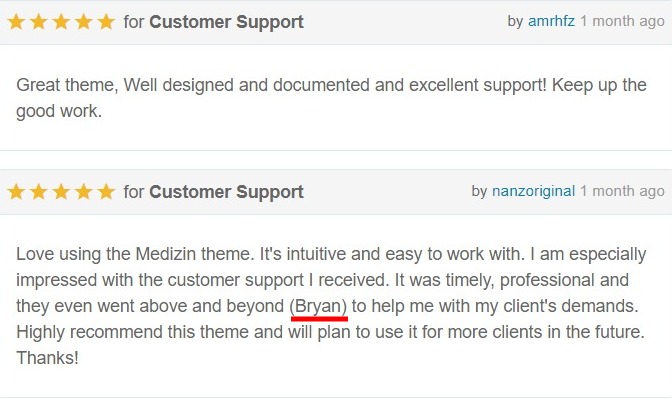 Concerns are usually taken care of in the early hours. This shows the proactivity of this team. In addition, updates are frequently offered to further improve user experience. Supported Plugins
Medizin is an integrated WordPress theme with WooCommerce Brands Pro, Smart Compare, and Smart Wishlist for WooCommerce shop. It also supports several plugins with various functionalities like Contact Form 7, Revolution Slider, MailChimp, etc.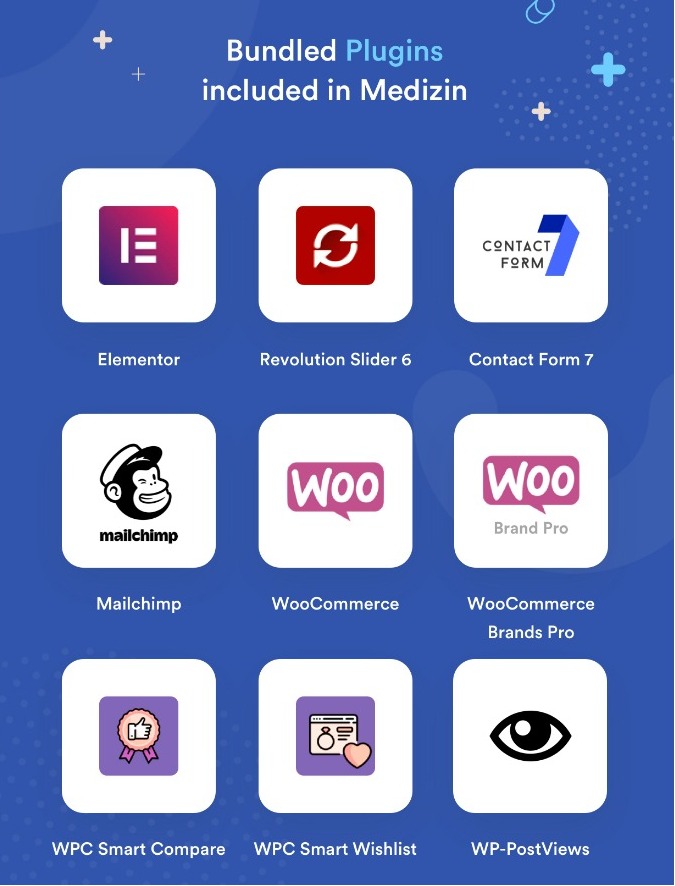 Summarize
To conclude, it seems clear that Medizin is a theme suitable for anyone wishing to set up the site of a medical establishment of any kind (hospital, pharmacy, etc.). The design is appropriate and adaptable as desired, the performance is flexible and there are many very advantageous features, especially in terms of monetization. We invite you to try it and you will tell the news.
Share this article if you liked it. To be informed in real-time of the publication of content on our site, you can follow us on Twitter and Facebook.