In the medical field, the commercial aspect is much more preponderant than one seems to admit. After all, you can't get anything without money, especially when it comes to medicine. However, with the Covid19 pandemic which is currently used it is increasingly complicated to be able to obtain its medication from physical structures. Most people, therefore, turn to the web. So we present Medicor, a premium WordPress theme that will allow you to create a pharmacy or any online store of its kind. Let's start!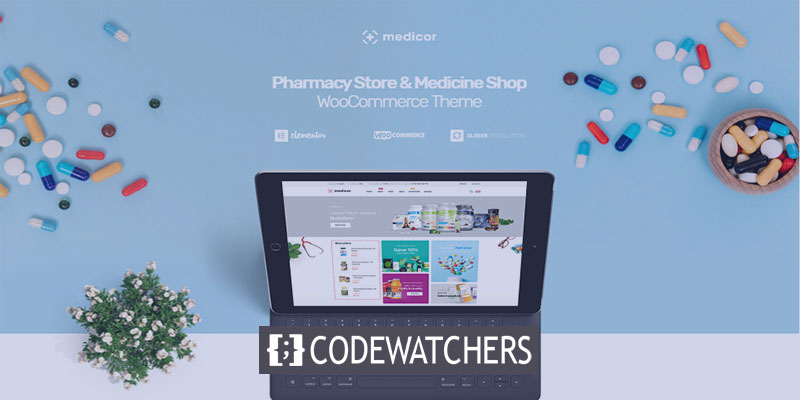 Feature List
10+ exclusively Pre-built layouts
Fast & Intuitive WooCommerce
Easy to customize
Fully Responsive Layout
Product deals countdown
Friendly SEO
Speedy Product Filter
Powerful One-click Demo Import
Bootstrap 3 integrated
Multilingual & RTL Support
Mobile Compatibility
Today, with the Covid19 pandemic, most purchases are made online to avoid the risk of spreading. And the most used tool for this type of transaction is the smartphone or tablet. It is therefore inconceivable for us to analyze an online store theme without ensuring that it is mobile friendly.
With the Medicor theme, you can be reassured! Your users will be able to use your site on their mobile devices without a problem. We tested it on devices of different sizes, and the content is perfectly suited, whether in terms of pixelation, image quality, the fluidity of animations, etc. To make sure, we used a fairly intuitive program to test the mobile compatibility of the Medicor theme. This is Mobile-Friendly Test. According to this program, Medicor is indeed a responsive and retina ready theme.
Elementor Black Friday
Enjoy Amazing Deals Up to 50% Off
Start Now Design Review
The Medicor theme offers several demos available with many customization options.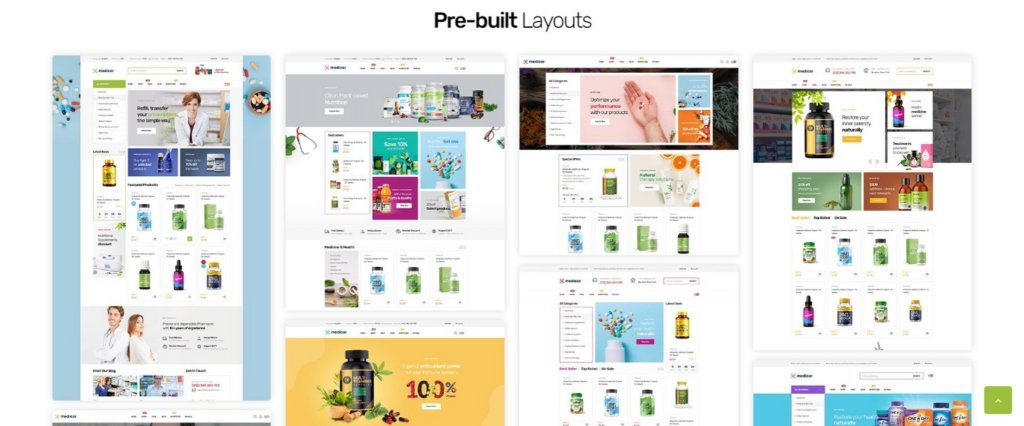 We analyzed one of these demos developed for the sale of health and wellness products. The design is very refined, professional, but with an exotic touch due to the use of several colors, whether for sections, products, animations, etc. And it works very well for an online store because it attracts more customers Speed Test Review
The loading speed of your site can have a significant impact on your traffic because it directly affects the user experience. It is recommended that your site loads in less than 3 seconds so as not to negatively affect your visitors.
Thanks to the GTmetrix program, we were able to test the Medicor theme; and the results obtained are rather encouraging. Even if the time for a full load is 7.5 seconds, the content is displayed fairly quickly, the functions directly accessible. This is why GTmetrix gives a score of 86 for the page loading speed, which is the grade of "B".
In order to improve the complete loading time, we recommend that you provide your site in scaled images. Indeed, serving appropriately-sized images can save many bytes of data and improve the performance of your web page, especially on low-powered (eg. Mobile) devices.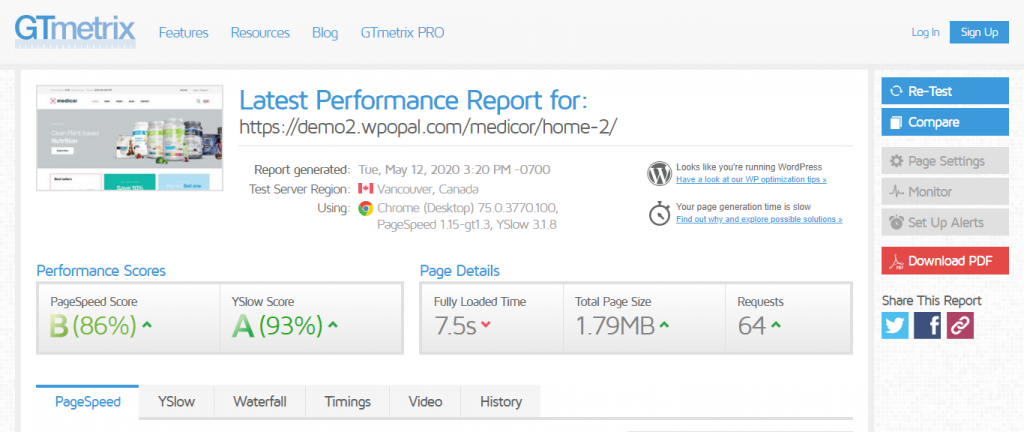 SEO Review
Here too, the developers of Medicor have done a good job. Your site should be well supported by search engines for positioning, and therefore have good visibility with potential users. The NeilPatel site gave the theme a Seo score of 82. In other words, many quality optimizations have been integrated into this theme.
However, for perfectionists, there is the possibility of improving this score by correcting some faults. For example, we found that there was no sitemap.xml file, but these allow us to optimize interactions with bots. We must also pay attention to the number of words per page which is quite low. There, as it is a demo, the author was not demanding on this point. Without enough text on a page, Google will have trouble understanding what the content is about. Add more content to your page so that it isn't considered thin content and have a better chance of ranking. In general, the average web page that ranks on page 1 of Google contains 2200 words.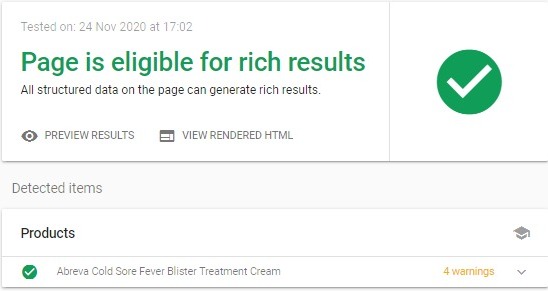 To further boost your search engine ranking, it is important that your website can provide rich results that Google will highlight directly on the search results page. It is a capital element to attract traffic.
Fortunately, the Medicor author has thought of this criterion and provides us with a theme totally eligible for rich results (in this case the products that you are going to offer on your site).
Customer Support Review
Customer support is a fundamental element to boost the conversion rate on your site because the user experience is significantly improved.
The Opal_WP team, which developed this theme, offers quality assistance to its users. We have seen their readiness to address user concerns. We were also satisfied with the attention to detail in the care, in order to completely resolve the problem.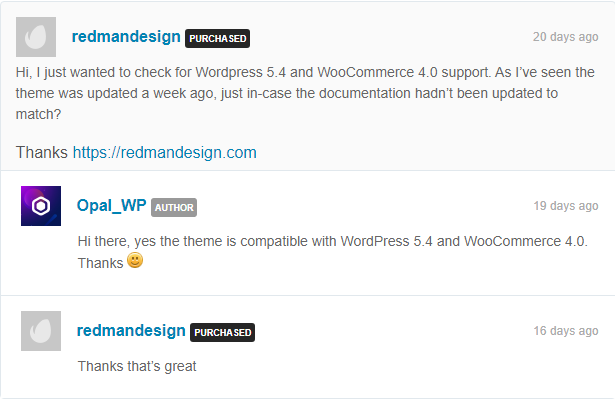 We can see that the theme received on average 4 stars from its users. Many of them were won over by the assistance they received.
In addition, the author takes the time to regularly update Medicor through updates. The last goes back to the past month. This is reassuring! Supported Plugins
As the name suggests, Medicor is primarily compatible with WooCommerce; next it is a theme for online stores. In addition, WooCommerce, there are other very interesting plugins like Slider Revolution, WPLM, Contact Form 7, and many others. Summarize
Well, this is a particularly interesting theme! Although Medicor is barely a year old, he has great potential when you look at his many strengths. It was clearly designed in a very meticulous way and it is for our greatest happiness. So yes, we recommend that you test this little nugget that we believe has a great future ahead of it.