Do you want to create an online medical platform? Whether it is a hospital, a clinic, or any other health facility, we think we have what you need. MediCenter is a theme now 7 years old, which has been specially designed for this niche. It is quite popular and has proven itself in terms of sales over time and even today. There are no less than 10,000 sales to its credit. But what makes it such a popular theme? This is what we will see together!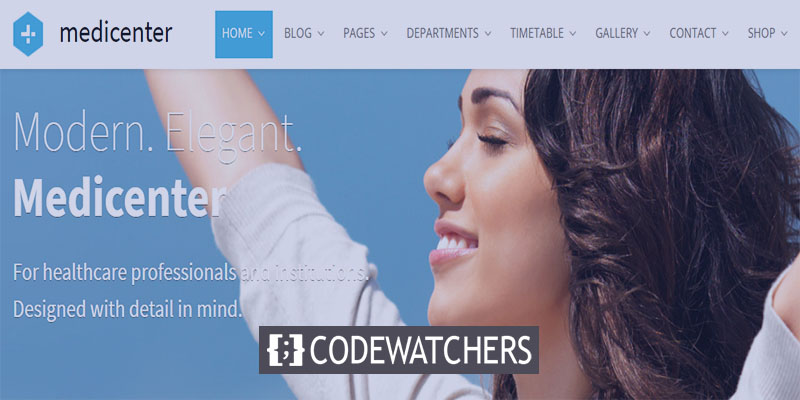 Feature List
Build-In Schedule Manager
60+ Page Builder Components
Easy to customize
Fully Responsive Layout
Google Location Map
Cross-browser Compatible
Social Icons Font with 33 Icons
Ajax Appointment Form
WooCommerce Integration
800+ Google Fonts
Pixel Perfect Design
Documentation Included
Mobile Compatibility
This theme is completely responsive. You can use it on any size mobile device, be it a tablet or smartphone.
We notably tested it on iPhone X and everything is pretty correct. The content is really fluid, which makes browsing pleasant. This is very important for smartphones given the speed with which you can manipulate the screen using your finger. All the same, ergonomically, especially on small screens (smartphones) there is something to complain about. The header, or rather all that is found as the information above the header; it's pretty rough. On a mobile device, the visible content must be simplified and accessible, in order to be visually beautiful and to make people want. By removing the superfluous information above the header section, we think that the rendering would be much better.
Create Amazing Websites
With the best free page builder Elementor
Start Now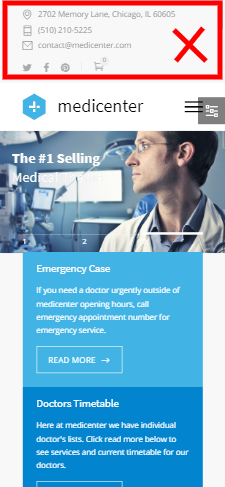 Design Review
MediCenter has a clean and neat design, in addition to being professional. It is fairly classic but that does not take away its charm. The main colors highlighted are white and sky blue; which is quite typical for this kind of site.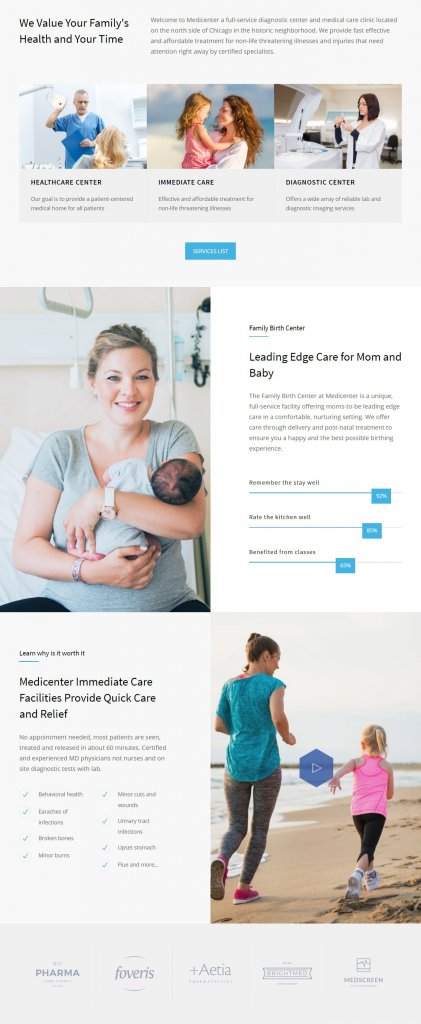 You can also take advantage of highly customizable configuration options with this theme. It uses both boxed and full-width style and unlimited color options to customize with color scheme manager.
However, as for the mobile version, we find the header of the demo not too much for our taste. In fact, the character used for the elements of the header does not really highlight it; it seems rather rude. Not to mention this tendency to provide too many elements to the point that the whole is rough.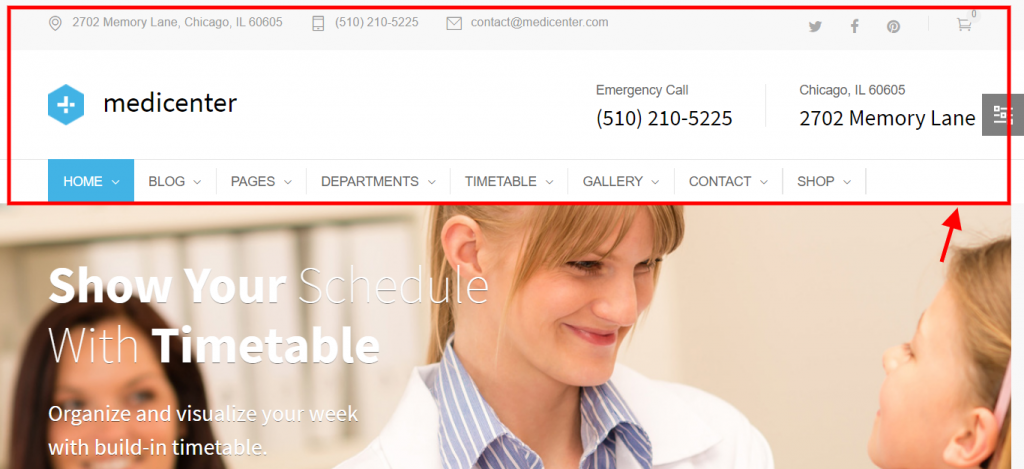 Speed Test Review
The time it takes for pages to load greatly influences your visitors' image of your website. Indeed, a site considered to be slow (in general more than 3 seconds of loading) will negatively influence the user experience; and they will tend to never come back to it.
When we look at the results of the test we carried out on MediCenter with the GTmetrix website, we see that the average loading time is 4.1 seconds. Even if it's not far from the limit, it can frustrate your visitors, even more so today when you get used to the speed of connection on the internet.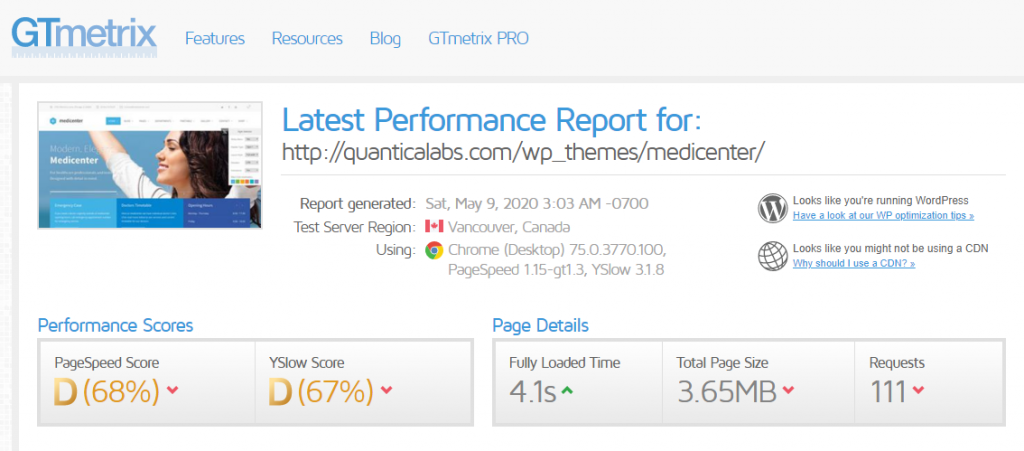 The main cause of this concern seems to be related to the images that the author integrated into the proposed demo. The images you create in programs like Photoshop and Illustrator look amazing, but often the file sizes are very large. This is because the images are made in a format that makes it easier to manipulate in different ways. With file sizes upwards of a couple of megabytes per image, if you put these files on your website it would be very slow to load.
The solution at this level would be to optimize your images. Optimizing your images for the web means saving or compiling your images in a web-friendly format depending on what the image contains. To learn more, we offer this article.
SEO Review
SEO highlights the optimizations that will allow you to have good visibility of your site on the web. This is really important because a topic that is poorly referenced will have little chance of having enough visitors since it will be very poorly ranked on search engines.
We analyzed the SEO of MediCenter, at least from the available demo, with the SEO Site Checkup program; and the score is rather passable. But this average rating also shows that there are some concerns. Fortunately, you have the opportunity to make some adjustments and improve this score for your site.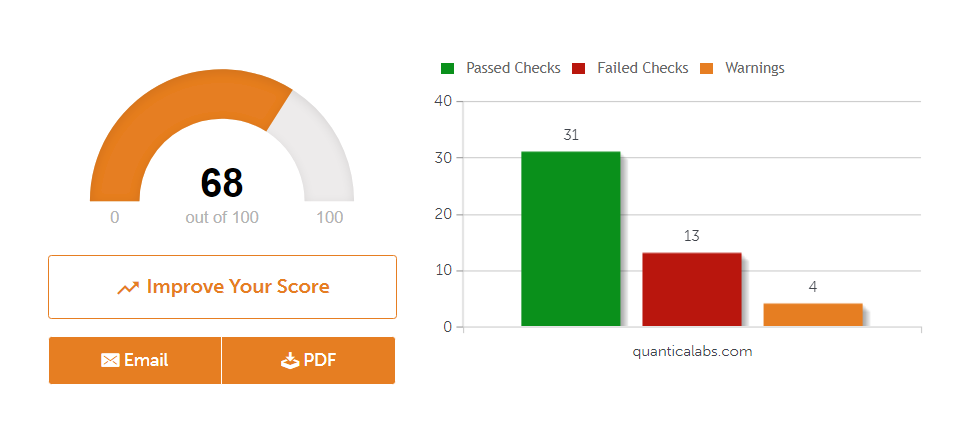 The author has provided us with a demo that contains URLs that are not SEO friendly. We assume that he did not pay attention to this kind of detail since it was a demo, and for good reason, it has consequences on the SEO score that we obtained. We, therefore, advise you to correct this problem. Here is a video that can help you in this direction if you do not know too much!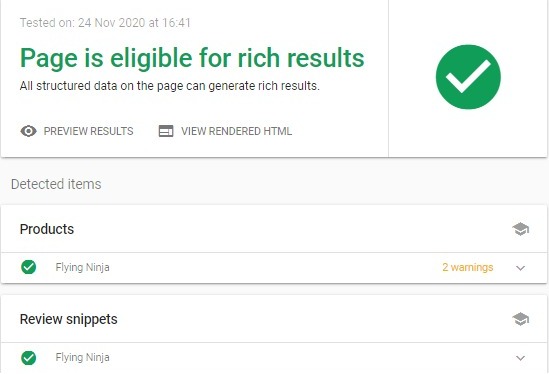 In addition, Rich Results can also help your site become popular and thus improve your SEO. We ran the test on the Rich Results Test site and it turns out that MediCenter is a rich result eligible WordPress theme. Google will therefore do well to highlight certain elements of your products and services on the search page in order to attract as many visitors as possible.
Customer Support Review
Behind the MediCenter theme is a very dynamic team. Despite the years, they remain available to their users regardless of the problem encountered. Concerns are taken care of within 24 hours, and experience over the years only makes the service more efficient.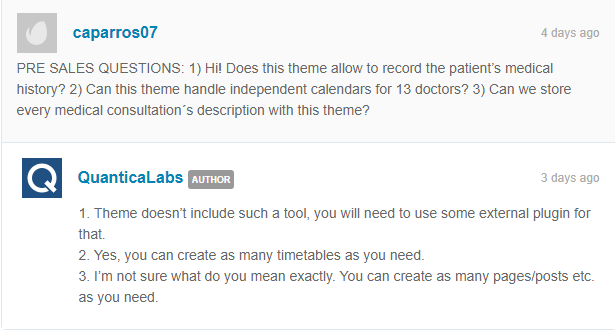 In addition, it is enough to see the date of the last update of this theme to understand that the author is always fully on top and has only one concern: to offer the best product to his customers. Fantastic isn't it?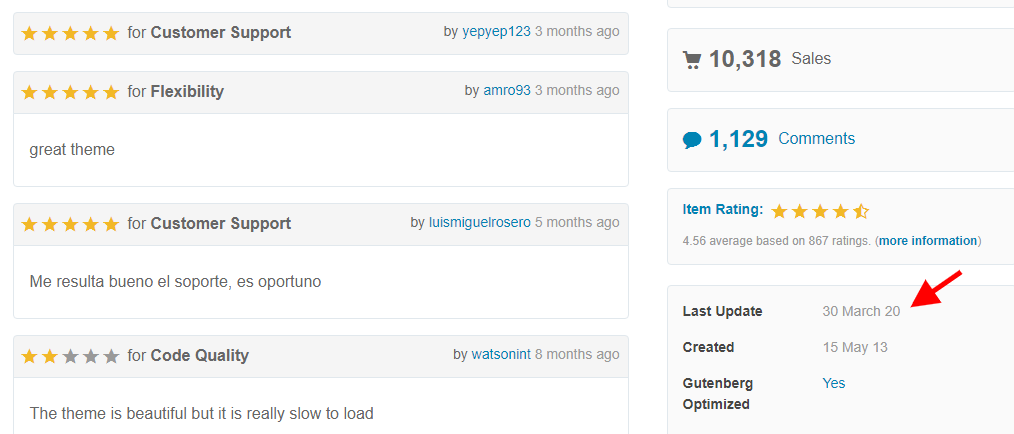 Supported Plugins
MediCenter will allow you to save money because it is supplied with other plugins in principle premium like Slider Revolution, WPBakery Page Builder, Price Table Plugin, or WPLM. In addition, you have the possibility of creating your online store, because the theme is compatible with WooCommerce.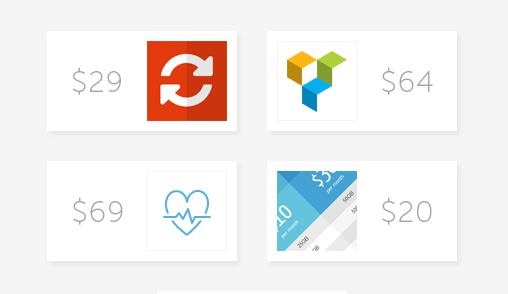 Summarize
To conclude, MediCenter has significant advantages which undoubtedly make it a high-flying theme. The downsides we encountered were much more related to the available demo than to the shortcomings of the theme itself. And with seniority, in addition to popularity, we think you should find satisfaction in MediCenter.