If you are a shop owner or a stylist wishing to promote his creations, then you know the potential that the Internet offers you if you exploit it properly; even more so in this very difficult period of health crisis linked to CoronaVirus. Today we offer Kera, a WordPress theme dedicated to fashion stores and even any type of online store. It supports WooCommerce and Elmentor which makes it easy to set up any business platform. Let's discover together the qualities and faults of this product which caught our attention.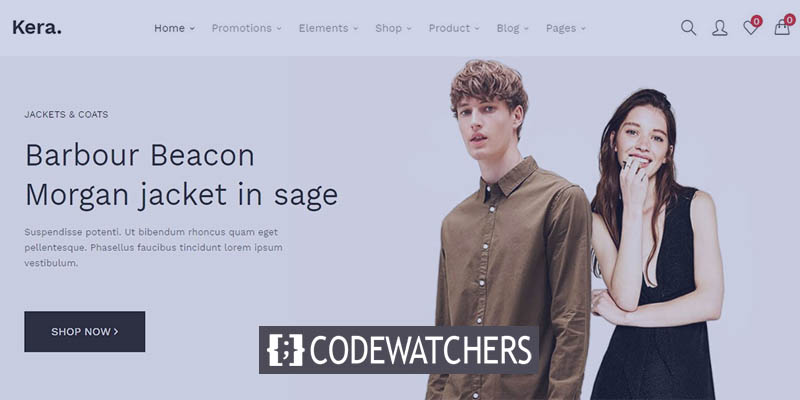 Feature List
2+ Beautiful Home Pages Design
Compatible with Elementor
WooCommerce supported
Optimized design for mobile
One-Click Demo Installation
Catalog mode
SEO Optimized
Search Product AJAX supported
Social icon links
Cross-Browser Compatible
Mobile Compatibility
We start with what we consider to be one of the most important criteria for any website today, which is mobile compatibility. It is indeed more common to see someone use a mobile device to browse the Internet than anything else. This is why even Google does not hesitate to penalize websites that do not yet have a platform accessible on mobile.
To test Kera, we simply use the Mobile-Friendly Test program, a benchmark in the field.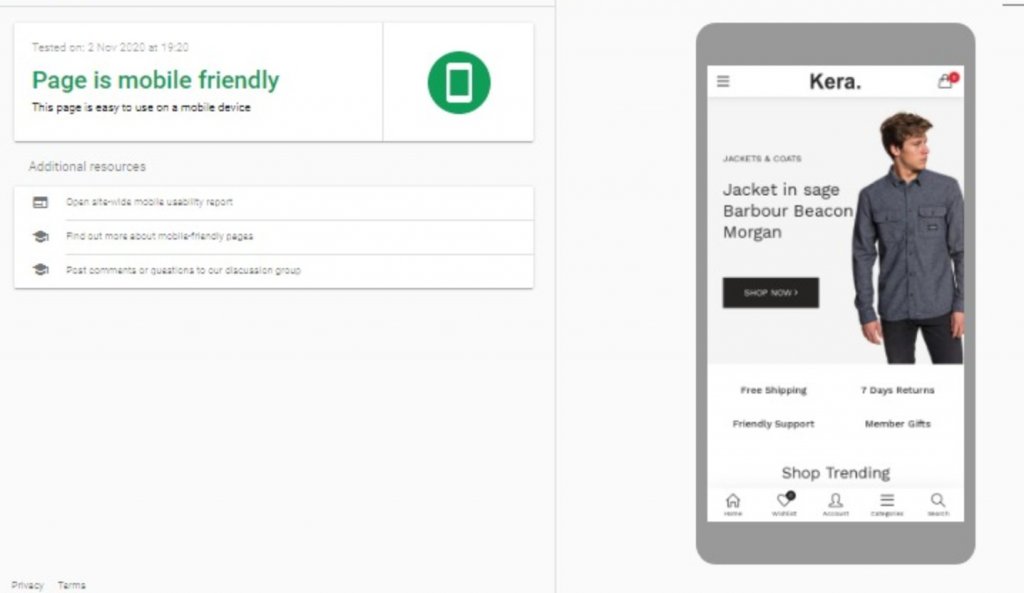 We are happy to confirm that thanks to this WordPress theme, your users will be able to access your online store via their smartphones or tablets.
DIVI SUMMER SALE Once per year you can get Divi at a special price with 20% discount, and it will only be available for a few days. Don't miss out!
Download Divi
Kera provides you with a convenient mobile menu that will bring your buyers to the desired product effortlessly. Navigation is fluid and accessible to all. The rendering of the mobile layout is so impressive that your users won't be able to take their eyes off your phone.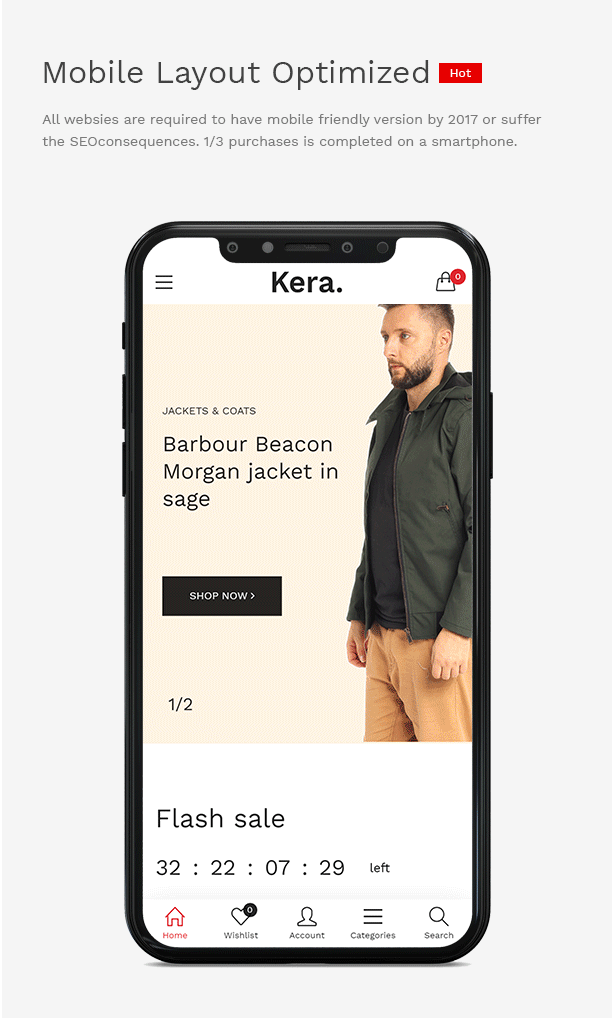 Design Review
It is the design of your website that produces the first impression (favorable, mixed, or unfavorable) of a user. But that doesn't detract from the aesthetic appeal of your site; ergonomics are also concerned. These two aspects are fundamental to retain and convert visitors to your platform.
Kera is a WordPress theme dedicated to online stores. The author provides his users with several pre-designed demos with everything they need (homepages, shop pages, blog pages, etc.). We can see that the design created by the author in his demo fits the thematic niche perfectly. All the codes of an online store are respected both aesthetically (simple but attractive atmosphere) and functional (flash sale, trendy showcase, grid and carousel layout, etc.). However, although Kera is mainly dedicated to shopping stores, you can build any type of online store with it. The theme is multipurpose and has fully customizable options to meet your needs. Additionally, the theme supports the Elementor page builder; which makes the work of designing the site completely accessible even for a beginner.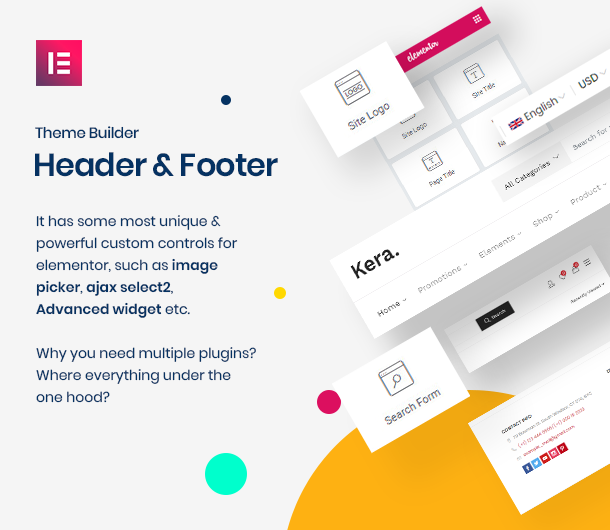 Speed Test Review
How long does it take for pages to load with the Kera theme? This is what we will see in this part.
In fact, having a website that loads quickly is very important for several reasons. Already, so as not to lose potential visitors. In addition, to have more indexed pages.
Indeed, the robot which passes on your site to visit and index the pages works with a principle of "quota of crawl". This means that for each site he defines a crawl time that he uses to index the pages, once this time has elapsed we can say that his mission on this site is finished. With a site with a fast loading time, the engine will then have time to crawl more pages. The exploration time quota will be used wisely.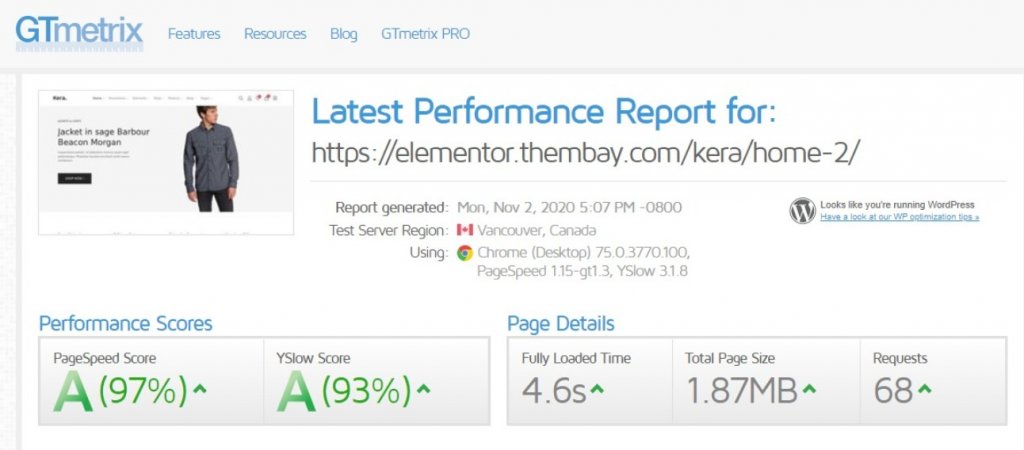 The results above speak for themselves. The score of "A" assigned by the GTmetrix site faithfully reflects the performance of Kera, and therefore the performance of your future online store. It will just be necessary to pay attention to certain elements like the images which must be optimized so as not to negatively affect the loading speed.
SEO Review
SEO (Search Engine Optimization) is essential for improving the visibility and ranking of a website's pages in search engine results. Thanks to the SEO Site Checkup program, we are able to digitally assess the SEO level of our WordPress theme under study.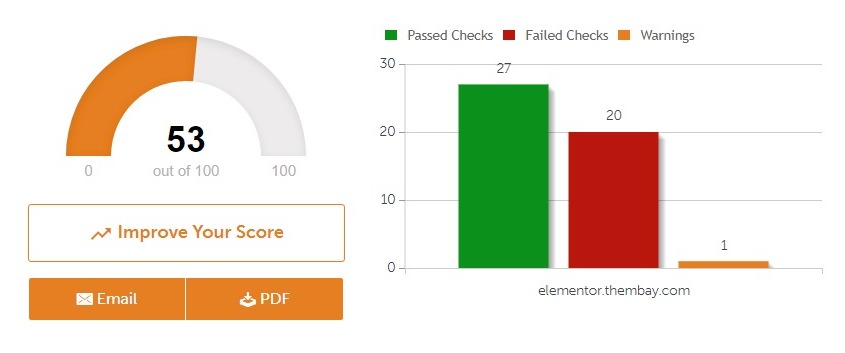 Just the average as can be seen. Many errors that we noted during the test lead to this score. This is mainly related to the fact that this is currently only a demo. For example, there is a lack of keywords in URLs. Web addresses still play an important role in page positioning. If you want to move up in Google's results for a given query, it is best if the keywords for that query are present in the URL. Optimized URLs make content more meaningful and make it clear to Google what the page is about.
However, we are happy to see that the Kera theme is eligible for rich results. It is that we reveal another that we carried out on the site Rich Results Test.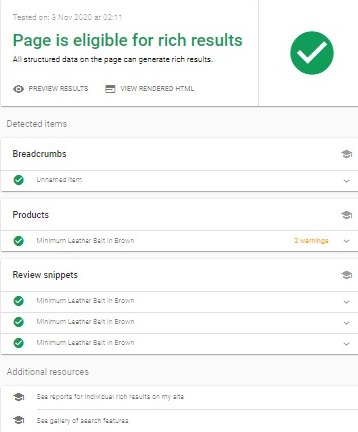 Several pieces of information are therefore accessible in the search results, in particular the products, or even the review snippets. This is capital for an online store that wants to be popular with Internet users.
Customer Support Review
What can we say at this level? Well, we have noticed that user support is very good. The team is constantly active; which means that the problems do not take more than 24 hours to be dealt with and you benefit from support in resolving your problem.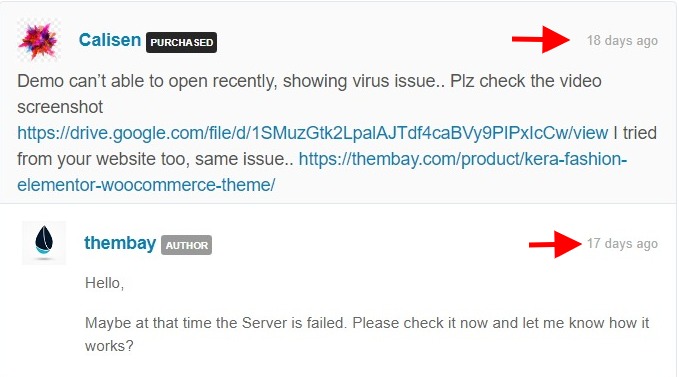 However, we also found that the author has so far provided only two updates. And the last date of September 2020, more than a month. This may reflect certain confidence in his product, but that Kera is quite new, we will observe for the moment what it is.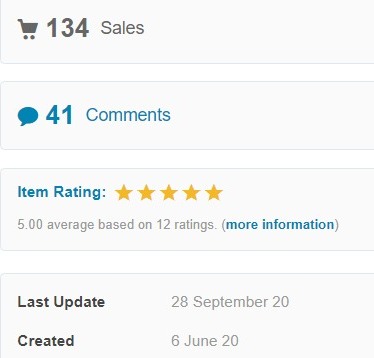 Supported Plugins
Among the flagship plugins supported by Kera, we find first the popular WooCommerce. It is not surprising for a WordPress theme dedicated to online stores. We also find Elementor, this powerful age builder who allows you to customize your site to your liking thanks to its drag and drop function.
In addition to those, you also have Revolution Slider, MailChimp, and many more.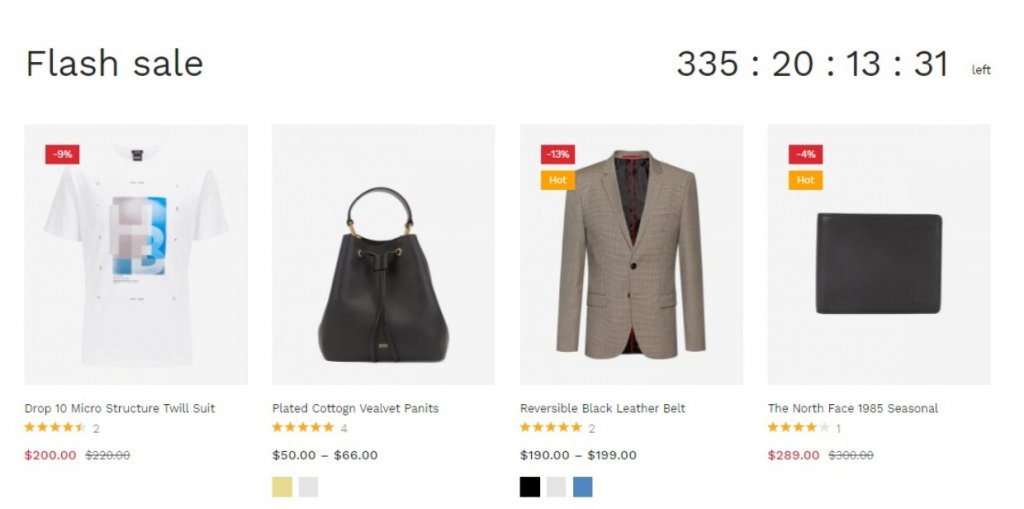 Summarize
Ultimately, Kera is a WooCommerce theme full of potential and suitable for any eCommerce business you want to promote online. Its attractive and fashion-oriented design will make it easier for you if you want to set up a clothing store. Otherwise, you have plenty of customizations to develop whatever you want; especially since this WordPress theme is compatible with Elementor. Between its dedicated features (Flash sales, store layouts, etc.) and the quality support team to serve you, we believe you will have no trouble doing what you want with Kera.