Do you dream of an all-in-one platform for creating websites that are perfectly suited to your needs? So, the "Jupiter" theme is made for you. It must be said that it's a theme that has met with great success on the Envato platform with more than 100,000 sales. Indeed it offers an impressive number of fairly structured demos covering many niches. This theme really piqued our curiosity. Let's see in detail if it deserves his success. Feature List
250 + prebuilt websites
SEO Optimised
Billion portfolios styles
Responsive & Retina Ready
Google & Adobe Fonts
Multi-language
Compatible with GDPR
RTL Support
Custom maintenance page
Auto Update
Mobile Compatibility
We can never say it enough, good mobile compatibility of your site is likely to generate a lot of traffic. And who says traffic says, potential customers. So to perform the test on mobile compatibility, we tested the "Fast Food" demo on smartphones and tablets.
The screenshot made on the demo shows us centered texts and images fairly distributed in the space. The header is well done and the site looks good. Except that when using devices with fairly small screens like smartphones, there are small bugs while browsing, unlike tablets. It is not very serious but it is not very pleasant to work. However, we found that this problem was limited to the "Fast Food" demo. We don't see the same problem with other demos. We think this is a small bug that the author should fix soon. In addition, mobile compatibility can also be assessed using a tool like "Mobile-Friendly Test" provided by Google. We used it for the "Fast Food" demo, and the result is quite satisfactory.
Create Amazing Websites
With the best free page builder Elementor
Start Now Design Review
In the same vein, we analyzed the design of some demos of the Jupiter theme. All of them seemed to be in line with the different niches targeted. For example, for the "Fast Food" demo, we notice that the main menu sports bright colors such as blue and red, colors that are fairly representative of Fast food. On a white background, we discover attractive images of the different menus. We also discover on this demo small animations when we fly over the images and some menu buttons. In short, the site is attractive and makes you want to order food. What else are we looking for? Speed Test Review
We discuss in this section on a very important technical aspect: The speed of the website. A well-designed website is good, but a site that loads quickly is even better. Statistically, a site that loads in more than 3 seconds is likely to disappoint its visitors; which decreases the number of possible conversions. That is why it is to get hold of a theme that is not going to negatively affect the loading speed of your site. We performed the speed test of one of the demos on the pingdom.com site. And the results are excellent. Site pages load in less than a second and the number of requests made to the server is reduced to 65. Hence the grade of "B" awarded to him.
SEO Review
SEO analysis allows us to know if the website has good referencing on search engines such as Google. And overall the result of the test performed is good. This result saves you from making complex configurations so as not to be penalized by Google bots. This is all the more advantageous if you are a beginner. However, we have noted a few small errors that can fairly easily be corrected. This will further improve the SEO of your site. We see on many pages a low word count. Without enough text on a page, Google will have trouble understanding what the content is about. You must then add more content to your page so that it isn't considered thin content and has a better chance of ranking. In general, the average web page that ranks on page 1 of Google contains 2200 words.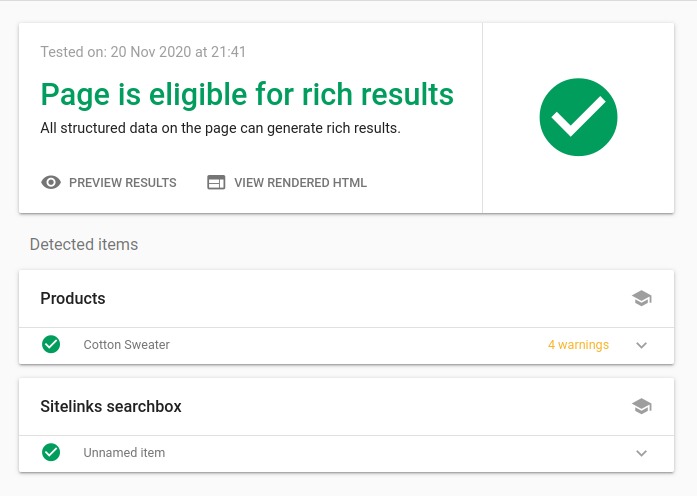 One of the feature we've liked with Jupiter is the support for Rich Result. This criteria is important when we're reviewing a SEO score of a WordPress theme. Jupiter will be able to display your products with their price right from Google.
Customer Support Review
We counted more than 14000 comments on the Envato platform, this is huge even though Jupiter is a relatively old theme (Published in July 2013). Most concerns are answered within 24 hours; which is very interesting. The answers are precise and most users are satisfied with the answers they get. In the same vein, we find that the template has received favorable reviews overall. With a rate of more than 84% at 5 stars, we deduce that the customers are satisfied with the theme. And since the last update dates from October 14, 2020, we conclude that these are regularly made. Which is a good point if you need your theme regularly optimized. Supported Plugins
We have effectively identified a panoply of plugins supported by the Jupiter theme. Among these, we can quote WooCommerce, bbpress, BuddyPress, Contact Form, WPLM and Google Analytics. These are fairly useful plugins to improve the functioning of your site. We tested a few of them, they work fine. Summarize
An adage says old pots make the best recipes. This is the case with the Jupiter theme, which by its original design and its rigorous structuring has won the hearts of many customers. Moreover, the speed and SEO tests proved to be conclusive. Therefore, it is with pleasure that we recommend this theme to develop your website, whatever it is.