With the current crisis in the world (Coronavirus), it is important to support each other in any way. Creating a charity is everyone's reach, but it is still necessary to ensure its visibility. Today we have a WordPress theme that will allow you to highlight your project and this, cheaper. This is "HelpingHands". The name says it all, but what about the bottom? This is what we will see through our analysis.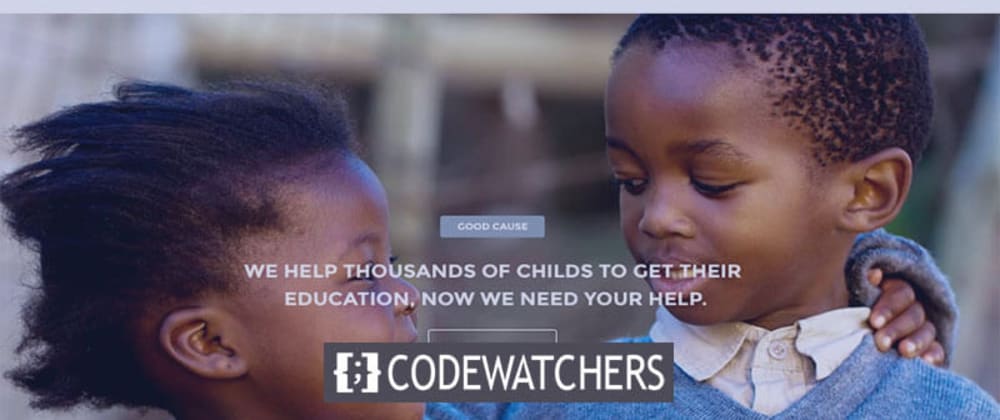 Feature List
Ultra Responsive
WooCommerce ready
SEO optimized
Donations and Custom Pledges
PayPal payment gateway
Easy to use and customize
Unlimited color styles
Full width and boxed layout
Continuous Updates
Extended Documentation
Mobile Compatibility
The ability of your site to be accessible on mobile devices is very important for its success. Indeed, nowadays, everyone uses a mobile device, whether for professional purposes or not. So imagine the traffic potential that you could reach with a site that works both on smartphones and tablets as on computers.
HelpingHands seems fortunate to fulfill this criterion perfectly in view of the result of the test that we carried out.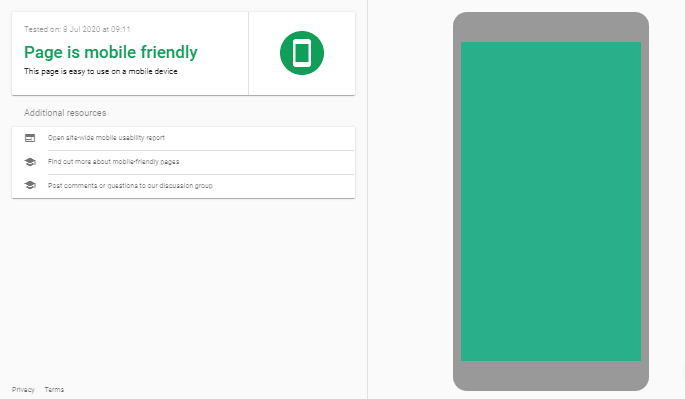 We took the trouble to test it ourselves on different types of devices. The theme is effectively responsive and retina ready. the content (images, animations, sections) adapts to the size of the screen. Your site will fit the large desktop screen, all the way down to iPhone; and of course any Tablet or iPad.
DIVI SUMMER SALE Once per year you can get Divi at a special price with 20% discount, and it will only be available for a few days. Don't miss out!
Download Divi
However, certain elements caught our attention. On small-screen devices such as iPhone or Samsung S5, we see that the home image is put in the background because of the very busy header. We think that the latter does not necessarily occupy too much space. It would be interesting to review this when creating your site.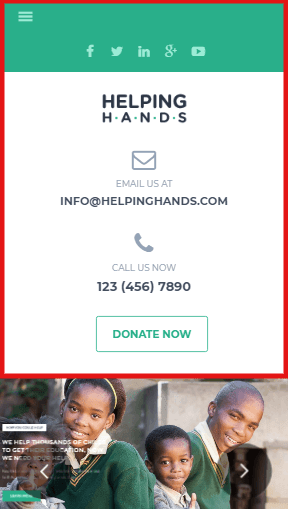 Design Review
The WordPress HelpingHands theme comes with no less than 4 pre-built demos entirely at your disposal. The design is truly adapted to the targeted niche (aid, charity, etc.). For the demos, the author used green as the main color with black or white as an accompaniment. It is quite refreshing; which is a good feeling to have when opening this type of site.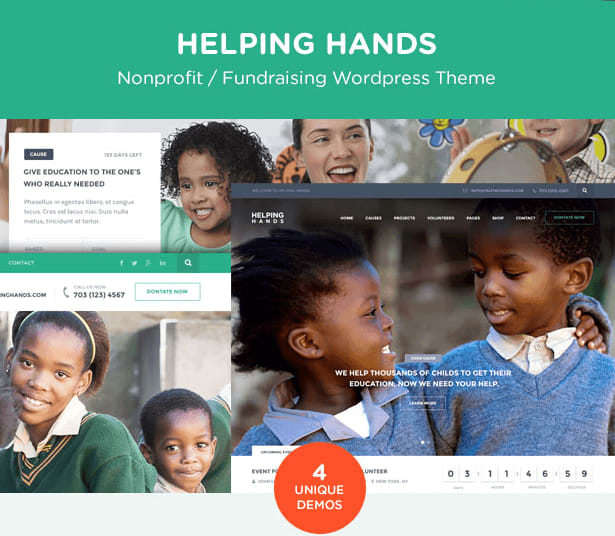 Of course, the demos available are completely customizable, be it colors, images, sections, and more. The theme provides you with unlimited color styles. You can also switch between full width and boxed layout for the appearance of your site. The basic design is really up to what we are looking for.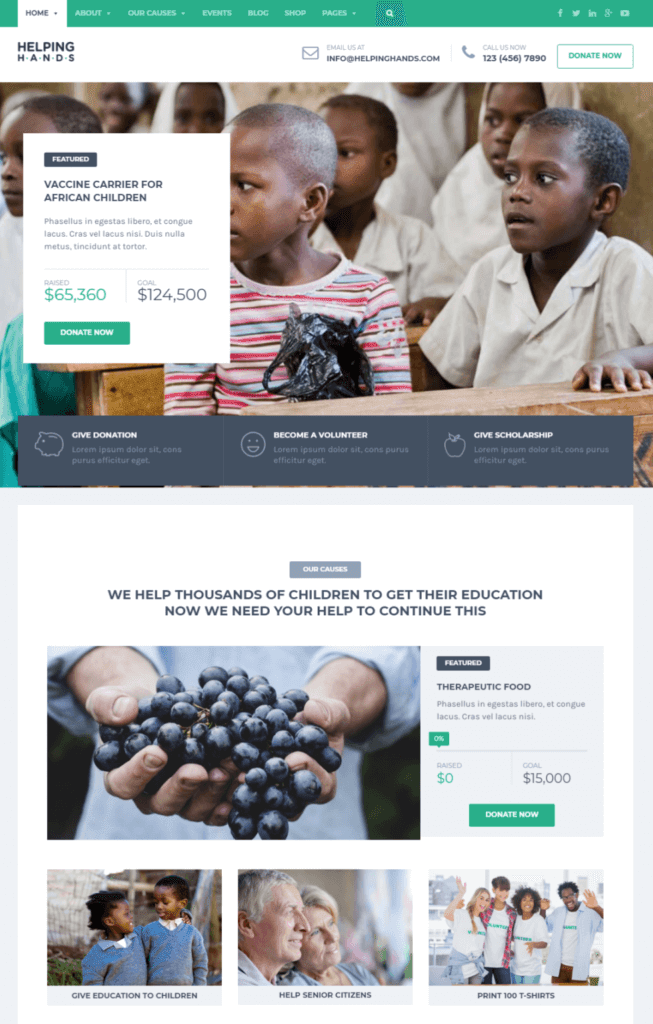 Speed Test Review
GTmetrix allowed us to assess the loading speed of HelpingHands. It must be said that this is one of the criteria that most visitors observe when opening a system. A slow site results in a high bounce rate.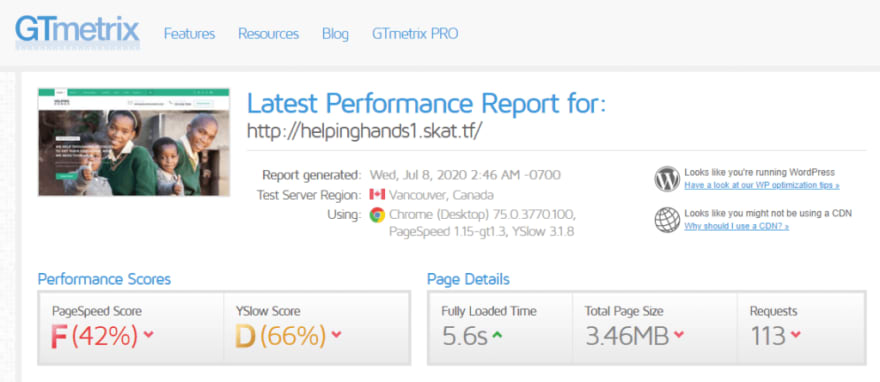 With a note of "F", we understand that 5.6 seconds is much too slow for a normal web page. Statistically speaking, 3 seconds is more than enough for a site to fully load without negatively affecting the user experience.
The problem that affects the speed of this theme is the size of the images embedded in it. Since they weigh, it affects their loading and therefore the loading of the whole page. The best way to remedy this is by serving scaled images. You should also note that the reason for this is to not be using an optimized hosting provider.
SEO Review
As for the SEO test, it reveals a number of errors that affect the HelpingHands' SEO score. All the same, this score remains quite interesting given that it is much higher than the average (71/100). This means that with a few configurations, your website will be supported and well-positioned on the search engines.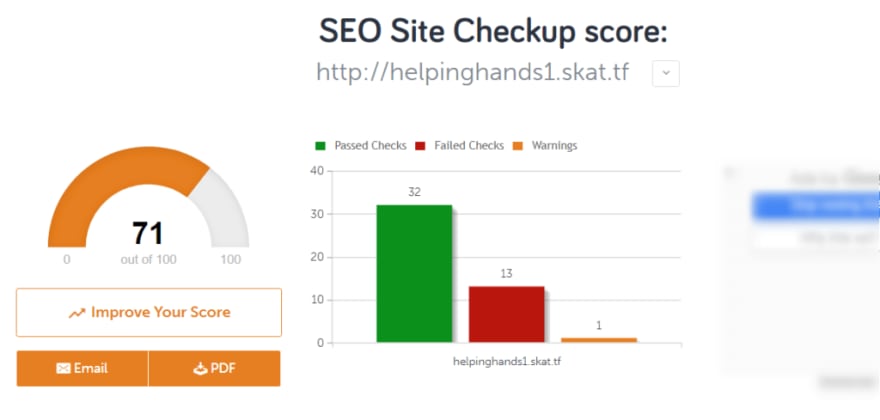 You have the opportunity to further optimize your site by correcting the few errors that we have been able to identify. It should be noted that these are errors mainly related to the fact that the test was performed on a demo.
For example, a Google Analytics script is not detected on the page. While there are several tools available to monitor your site's visitors and traffic sources, Google Analytics is a free, commonly recommended program to help diagnose potential SEO issues. You can correct this problem by creating an account on the Google Analytics site, and insert into your page a small javascript tracking code. Here is a tutorial video to help you.
In addition, you can also use SEO plugins to easily optimize your site without special coding skills.
Customer Support Review
Here we will assess the level of support that the team behind HelpingHands brings to its different customers. This will allow you to ensure that you are well managed in the event of a problem when using the theme.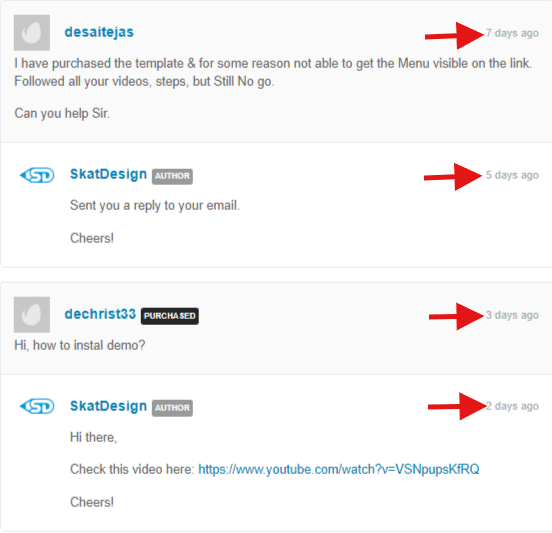 You have a large part of the comments and we are happy to see that HelpingHands has a dynamic, prompt, and efficient team for customer support. The concerns are quickly analyzed and responses are made within 24 / 48H. Some users report the patient side of the developer in their care until the complete resolution of the problem.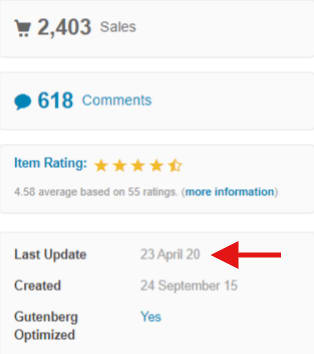 As for the regularity of the updates, if we consider the time taken between the launching of the theme and its last update, we consider that it's correct. so you have no worries about the maintenance of the site.
Supported Plugins
HelpingHands comes with powerful plugins that will save you money. This is the case for example of RevSlider (worth $ 25), Visual Composer (worth $ 34), Ultimate VC Addons (worth $ 18), and much more. HelpingHands comes with powerful plugins that will save you money. can also count WooCommerce thanks to which you can monetize your website.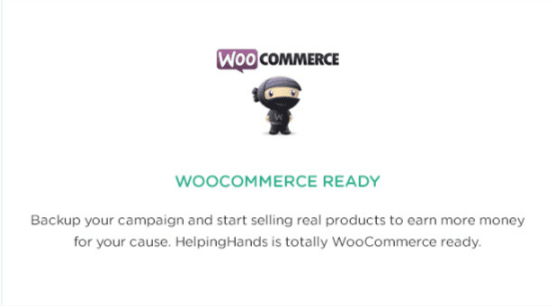 Summarize
What can we say in the finish? We have a WordPress theme not very expensive ($ 29), but rather efficient, with a well-developed design and impressive features. Aside from a few minor additions, HelpingHands is well enough accomplished to meet your needs in our opinion. Try to see it!