Whether for a dating site or a social network, setting up a community platform requires specific tools. We have discovered one for you by the name of Gwangi. It is a WordPress theme designed to allow you to create an online community site of any type. It offers no less than 9 prebuilt demos with unique designs. You also have many customization options to help you create the site of your dreams; and this very easily. No code required! Join us during this review so that we can see together how interesting this WordPress theme can be.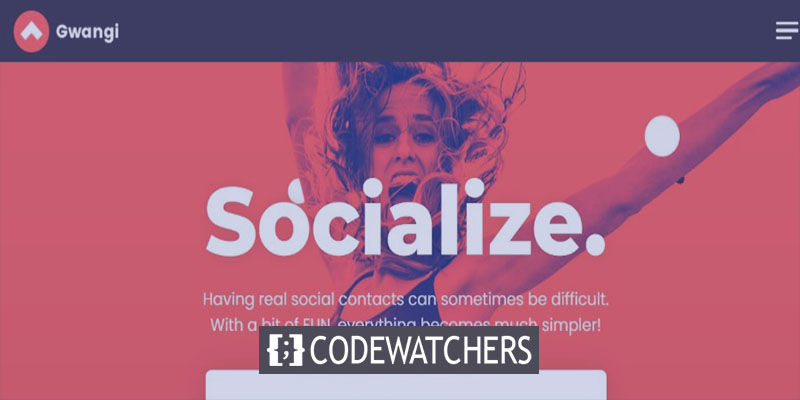 Feature List
Five child themes for a Quick start
All code is SEO Friendly Friendly
Customized widgets
Fully translatable and WPML compatible
Custom members directory
Members Swap view
WooCommerce compatible
Highly customizable and no coding skills required
Mobile Compatibility
Of course, first of all you wonder if Gwangi works well on mobile devices. This is an imperative criterion because most of your future visitors will probably use a smartphone or a tablet. Our time is thus made.
That's why we submitted this WordPress theme to a mobile compatibility test on the Mobile-friendly Test site.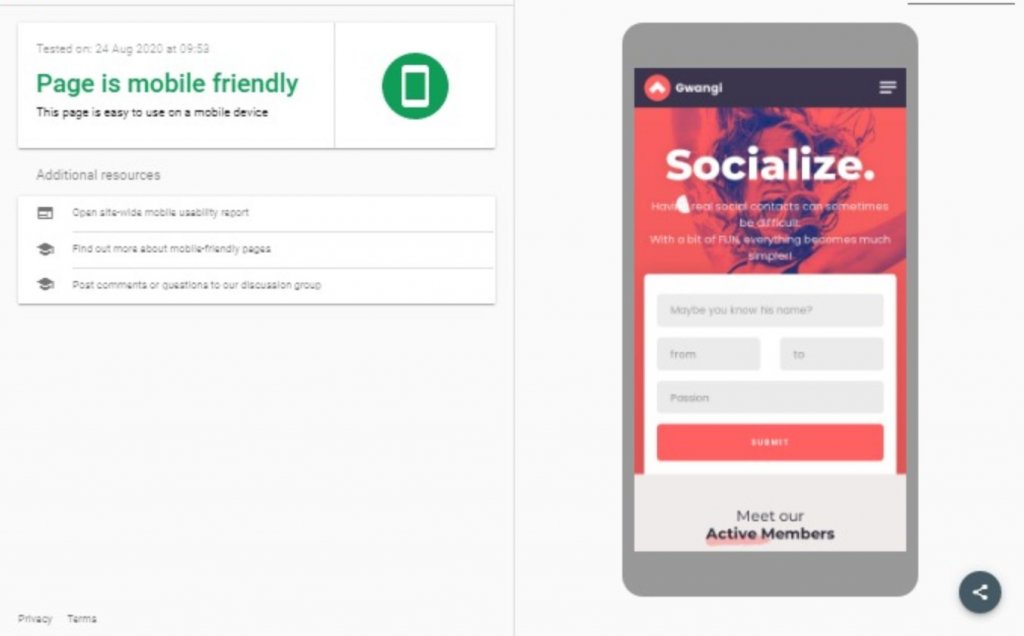 As we can see, our theme under review is responsive and Retina ready. By also testing it on different types of mobile devices, we can see that it has a fully responsive layout that adapts to the size of the screen. Whether it is the text font, the pixel and the size of the images, or the organization of windows and sections, all to make navigation pleasant and ergonomic whatever the device.
DIVI SUMMER SALE Once per year you can get Divi at a special price with 20% discount, and it will only be available for a few days. Don't miss out!
Download Divi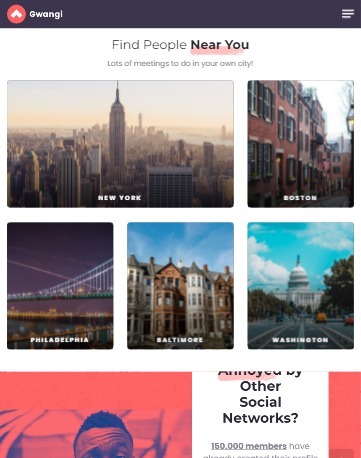 Design Review
Now, let's take a look at the visual impact of the Gwangi theme. We all know that; the first impression is very important in maintaining visitors to a web page. Design is therefore not a criterion to be taken lightly.
Gwangi is a Multipurpose WordPress theme focused on building online communities. This may concern various fields of activity. That's why the author offers no less than 9 prebuilt demos with various but interesting designs. Each of the demos has an original design. You can see the extent of the artistry of the developers.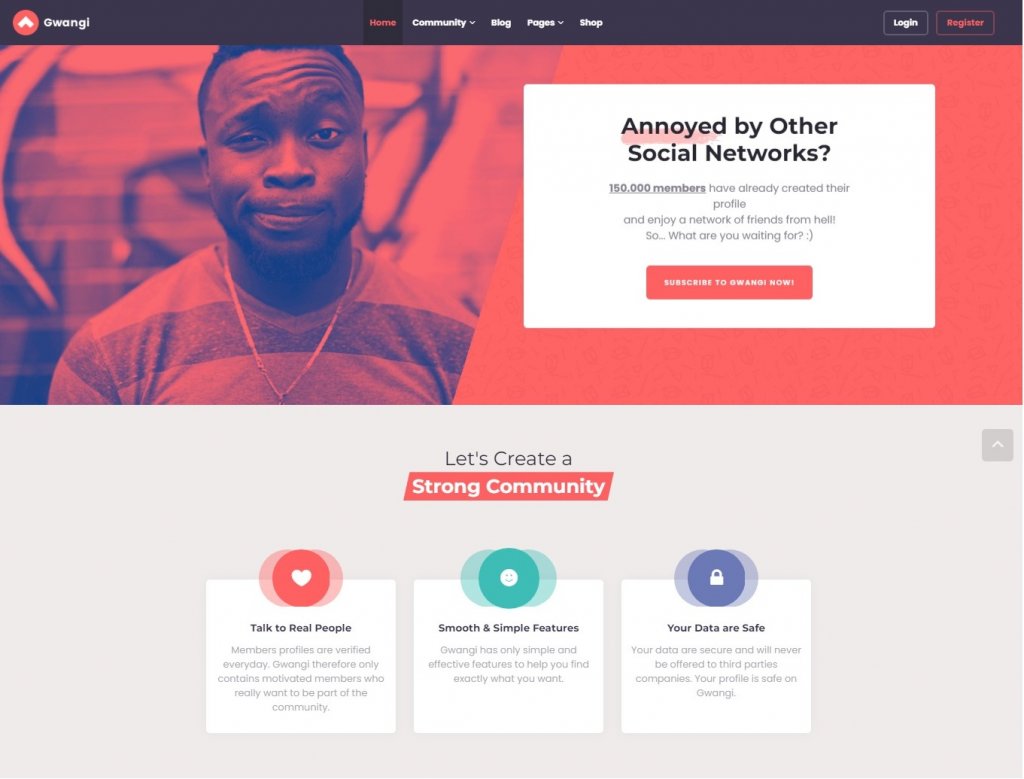 The image above shows one of the demos that caught our eye. Simply beautiful and attractive. The mix of colors, in particular between red, white, and black, offers a very fun and pleasant atmosphere. It is a design that we find suitable for managing an online community. Your users should be able to feel comfortable. The author has also integrated features that cover the niche well while offering a user-friendly rendering.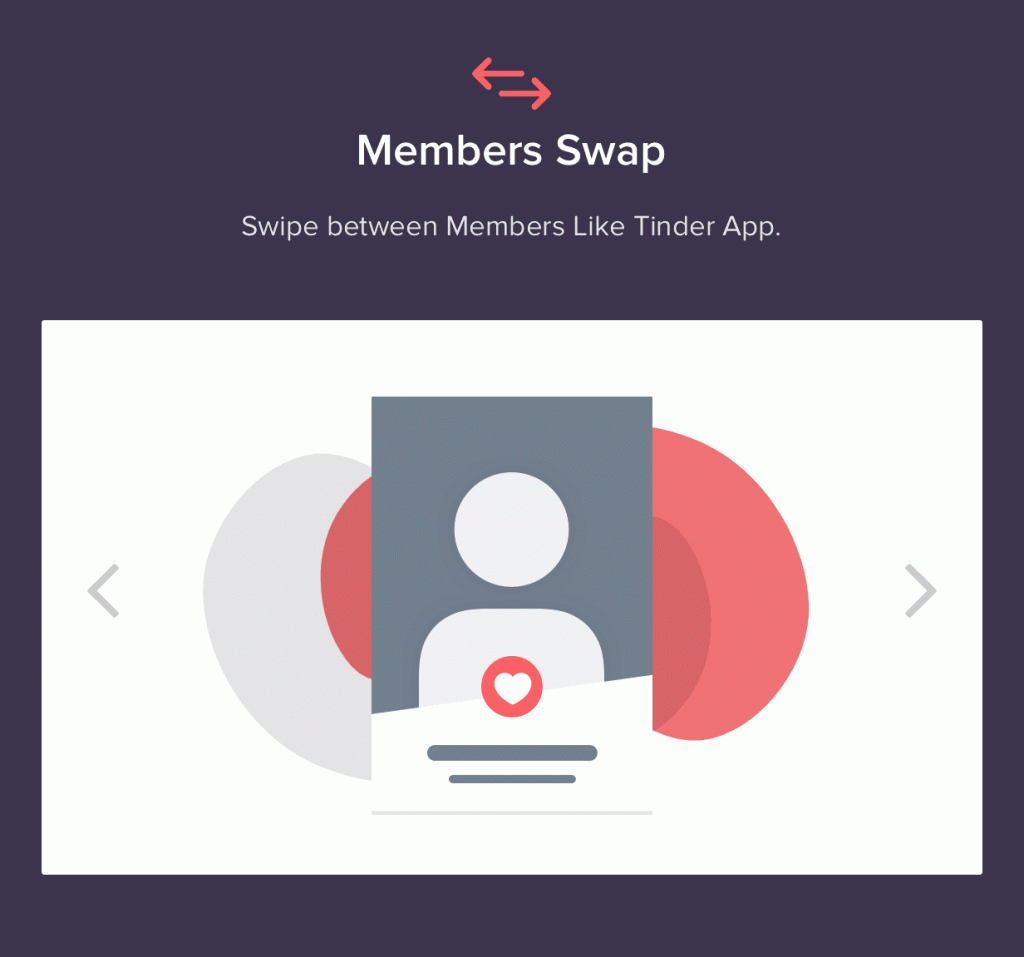 Gwangi supports the Elementor page builder which will allow you to design and customize your web pages according to your preferences.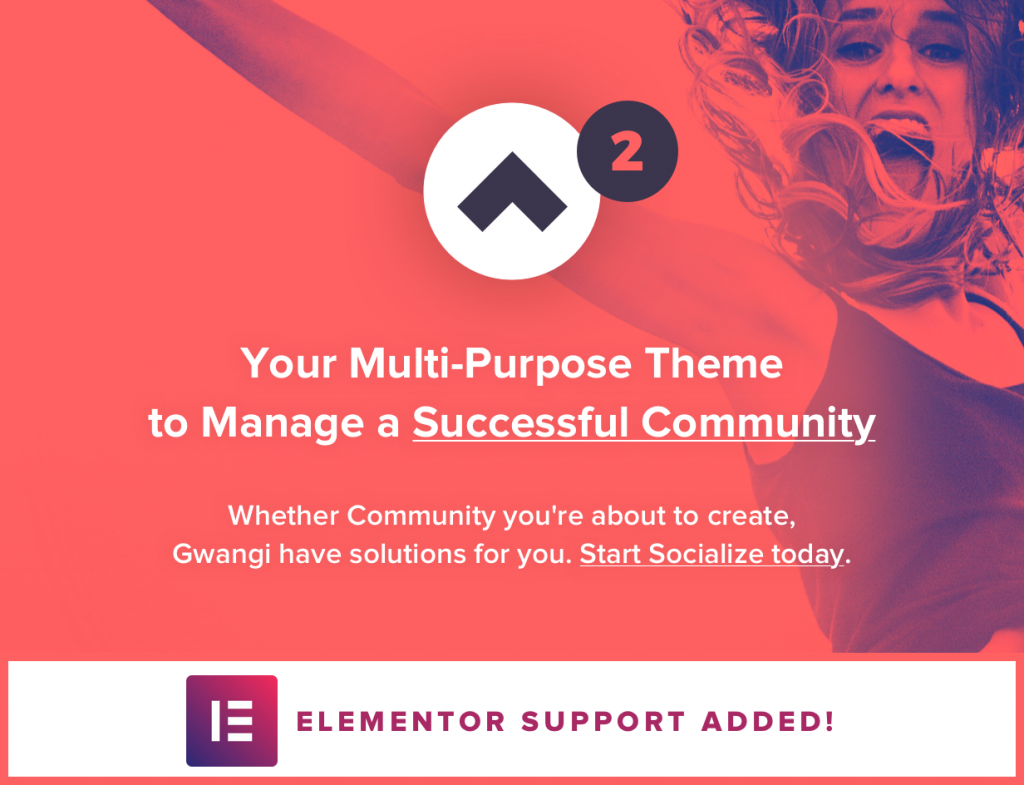 Speed Test Review
This performance index is very important for the future of your website; especially to keep users on your page. This is because most people don't like spending time on a site whose pages load slowly. It is recommended that a web page takes an average of 3 seconds to display. Beyond this time, you are likely to end up with a high bounce rate. What about Gwangi?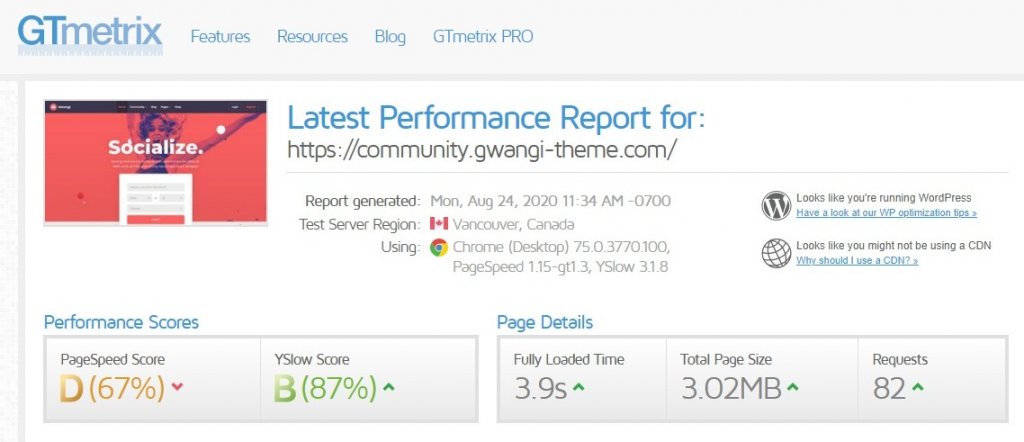 This WordPress theme takes an average of 3.9 seconds for a full load according to the test we performed on GTmetrix. It's not a very good performance even if it's not catastrophic. It just translates that with a few small tweaks you will get a site with very interesting loading speed.
We just noticed a few errors during our test. The most obvious concerns the images which are not always adapted to the size of the site. When they weigh too much, they affect the loading speed of your web page. We recommend that you optimize your images or provide scaled images to make your page more fluid. This should significantly improve the performance of your website.
SEO Review
After the loading speed, another index of performance of your future website is the SEO level. The latter defines the support of your site by the search engines as well as the positioning that they attribute to you in the search results. It is very important to evaluate the SEO of the Gwangi theme before considering using it for your online platform.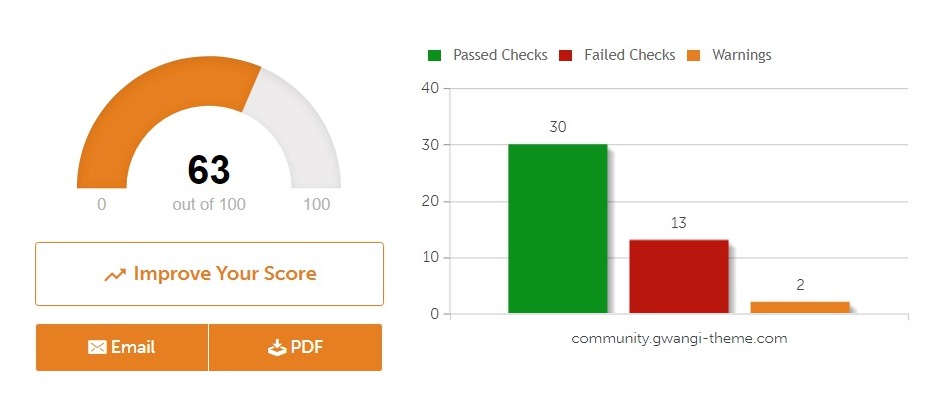 Our test was carried out on the SEO Site Checkup site. We can see that Gwangi was designed with a fairly average SEO level (68/100). However, it should be remembered that we performed this test on an available demo and not a full site. This means that this theme has great SEO potential.
So when creating your online community site, you have to pay attention to certain aspects like Meta Description, SEO Friendly URL, Keywords Usage, CSS Minification, etc. We recommend that you simply use a WordPress plugin to easily help you with this. As a quality SEO plugin, there is for example Yoast SEO.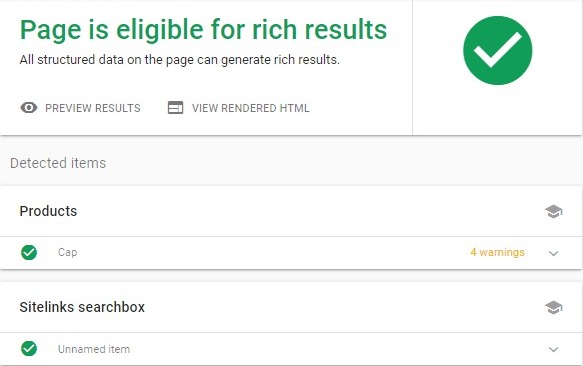 As you can see, this WordPress theme fully supports Rich Results. This is a major asset that will positively influence the SEO of your website because Google will be able to highlight additional information about your site on the search results page.
Customer Support Review
This is just a point as important to analyze like any other when evaluating a theme. Here you can assess the quality of support provided to users of this product. Good assistance ensures that you can count on a good team to get started with this WordPress theme.
According to our observations, behind the Gwangi theme, we find a professional and experienced team. Concerns are generally taken care of within 24 hours; which is very good. The satisfaction of most of the users leads us to predict that the team knows how to be efficient and respectful at the same time, we think you should be happy at that level.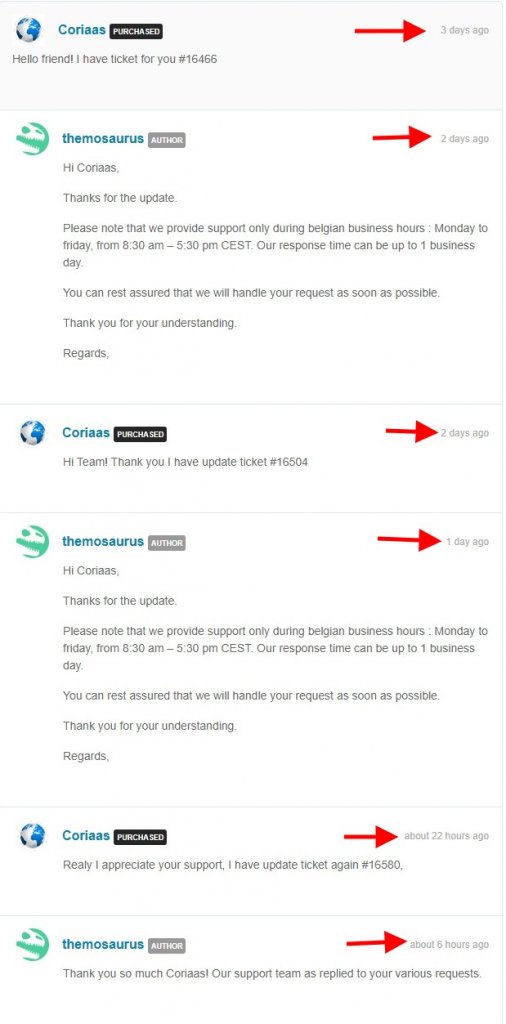 The author also provides regular updates in order to continuously optimize his product. The most recent dates back to June of this year. This proves that Gwangi still has the undivided attention of its creator.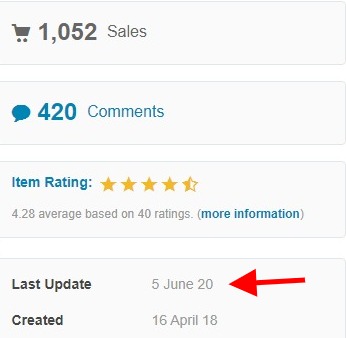 Supported Plugins
Gwangi is an online community theme that supports many WordPress plugins. For example, we find BuddyPress, considered the best WP plugin to build a community, or Paid Memberships PRO which allows you to create premium content sites, clubs/associations, subscription products, and more! The latter adds a new revenue source to your WordPress site.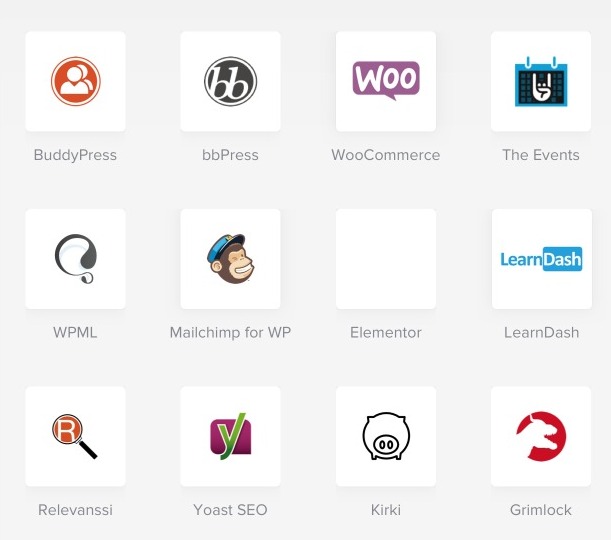 Besides these, WooCommerce is in a good position to help you sell your products online. You also have LearnDash, Yoast SEO, and many more.
Summarize
In short, we have seen that Gwangi is a WordPress theme that can help you create any community site quite easily. Its performance ensures that you build a quality platform (SEO, speed, etc.). You have various beautiful, attractive, and customizable designs available; as well as a dedicated and professional team that provides quality customer support. What are you waiting for to try it?
If you enjoyed this article, we recommend that you follow us on Facebook and Twitter to always be up to date with the latest news.