Wanting to contribute to the preservation of nature is very important, and many people around the world are dedicated to this cause. We have thought of you today with a theme that will allow you to bring visibility to your fight on the web: it is "Green Earth". Thanks to this theme, you can even get outside support through the site you can create. But as beautiful as it looks, let's dig a little deeper to see what Green Earth really has in its belly.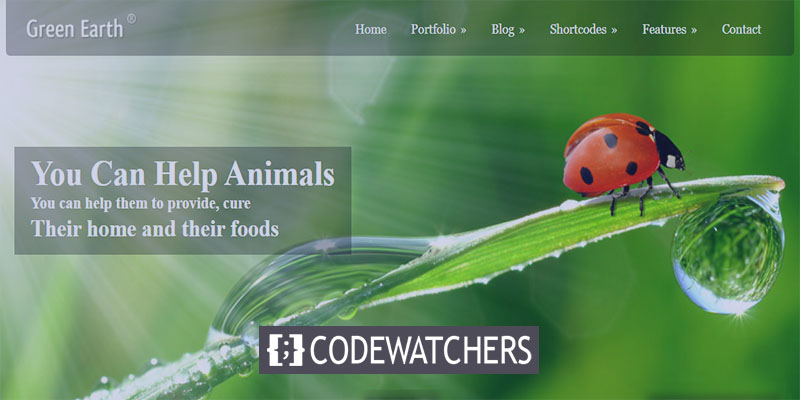 Feature List
Drag Drop Page Builder
Fully responsive and Retina ready
SEO Optimized
WPML Supported
350+ Fonts Available
Localization supported
Social Share for Posts
6 Footer Layouts
4 Sliders
Unlimited Sidebar
Mobile Compatibility
The use of mobile devices such as smartphones and tablets is a prerequisite for our current society. This is why if you target the maximum traffic, it is essential that your site is accessible on this type of device. Fortunately for Green Earth, this fully responsive theme as demonstrated by the Mobile-Friendly Test program below.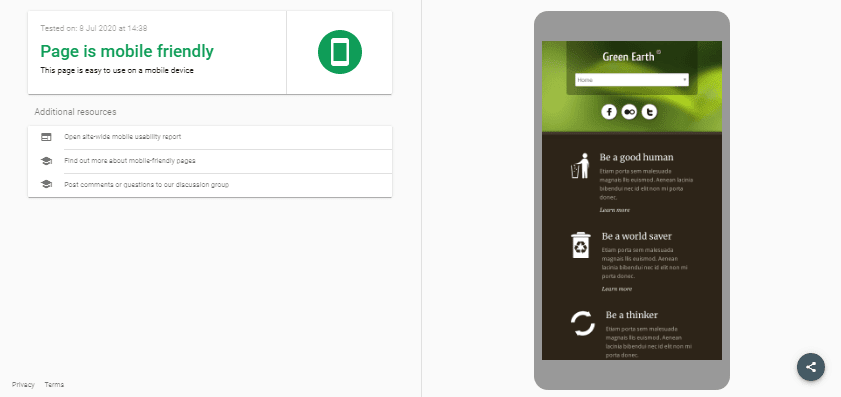 We used it on the iPad and the rendering is really excellent. Portfolios and sliders adapt to the size of the screen. They can go from four to two columns depending on the device used. The navigation is fluid and ergonomic so that the user feels as comfortable as on a computer.
We still think it would have been interesting to integrate a "Back to top" button to facilitate navigation between pages; especially since there is no fixed hidden menu.
Download Divi The Best WordPress Theme
The Most Popular WordPress Theme In The World And The Ultimate WordPress Page Builder
Download Divi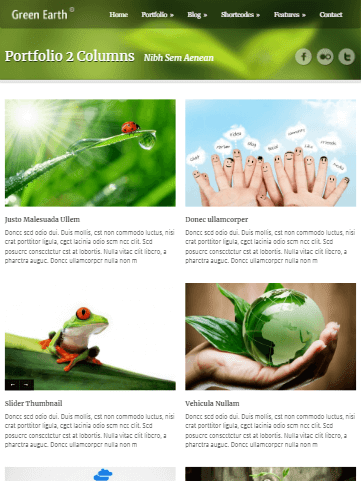 Design Review
Who says Environment says Nature; and this is first of all what emerges when we examine the demo made available to us by the author of Green Earth. But it must be said that it is above all the very beautiful images that we find there that bring us back to nature. For the rest, we find this design rather simplistic, not very rich.
It may be part of the logic to create a fairly short site that goes to the basics, but it's still quite a shame considering the potential. In our opinion, there is still room to add content. At the same time, this is just a demo; then you can go all out when creating your own site.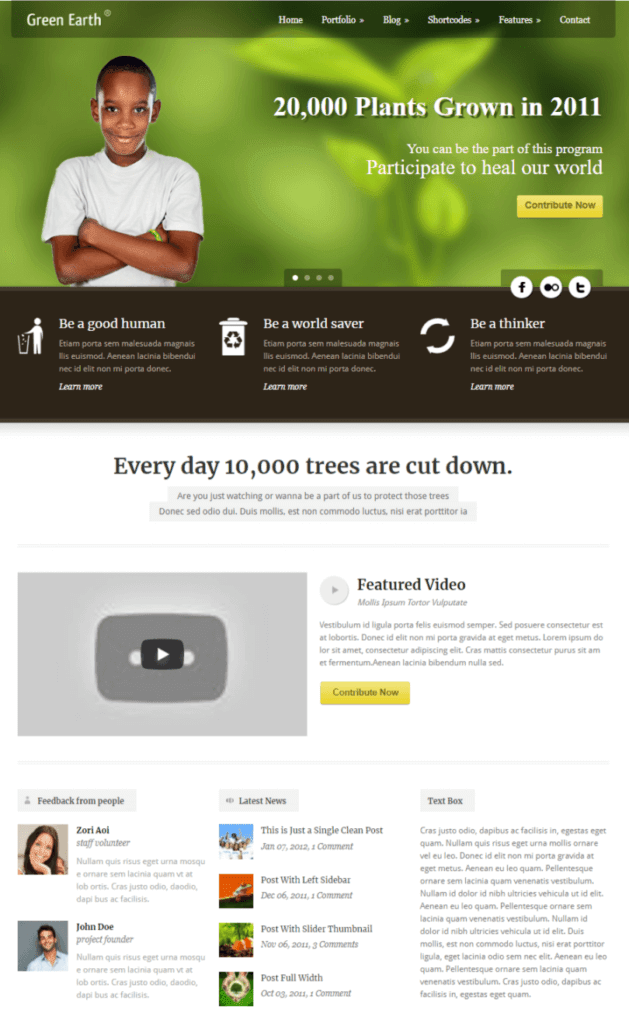 The Green Earth theme has a "Custom Slider" function that allows you to manage slider freely. So you have several configuration options to customize your website according to your requirements. You can for example create pages easily by drag-drop module with "Page Builder". You can also create unlimited sidebar, choosing over 450 fonts or if you want to use your own.
In short, it's an open design that offers you a myriad of customization options.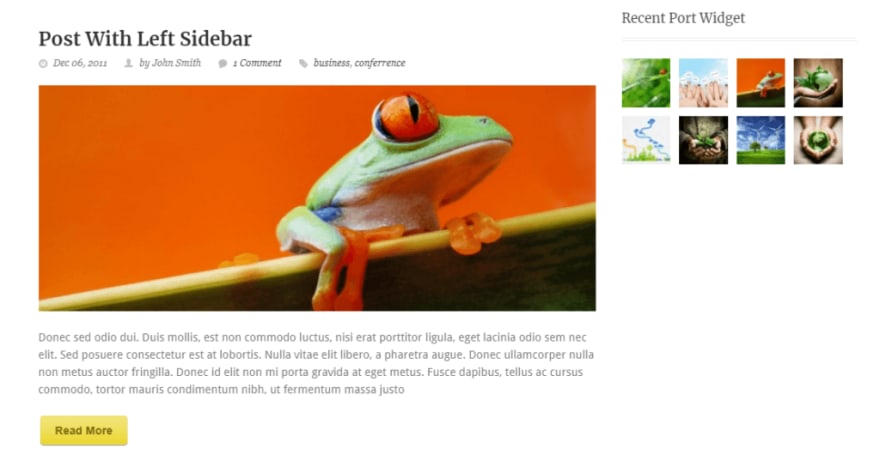 Speed Test Review
The speed of loading is a determining factor for the success of your site because it influences the opinion that visitors will have of your site at first. In the internet world where everything is going faster and faster, having a site that seems a bit slow will cause a high bounce rate.
It would take, by statistical prescription, that the site takes an average of 3 seconds to load. Beyond this time, the chances of rebounds are increased. The Green Earth theme is no exception to this rule.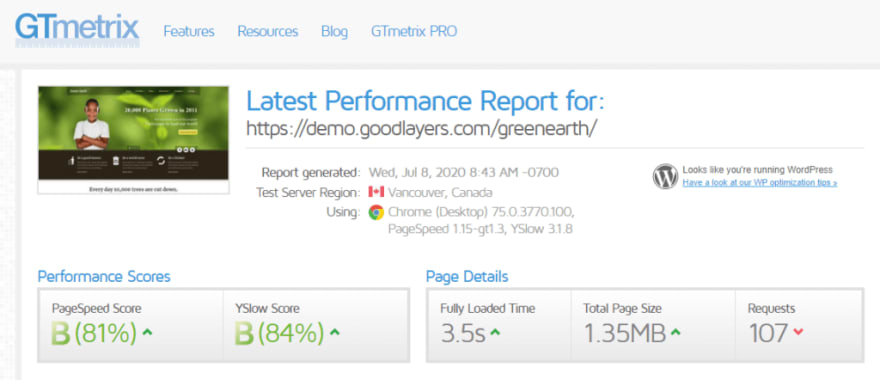 According to GTmetrix, our topic understudy can take an average of 3.5 seconds to fully charge. It should be noted here that this is only the available demo. This is why we find this result very interesting. It is a good basis for building your site.
However, you will have to be careful with the images that you add to the site because it is one of the elements that most influences the loading speed of a page. There are very powerful plugins that will allow you to optimize your images so that they do not negatively affect the speed of your site.
SEO Review
Who says SEO also says positioning of his site on search engines. A well-referenced site will have good visibility with users given the advantageous positioning. Seo Site Checkup is our reference tool for this type of test.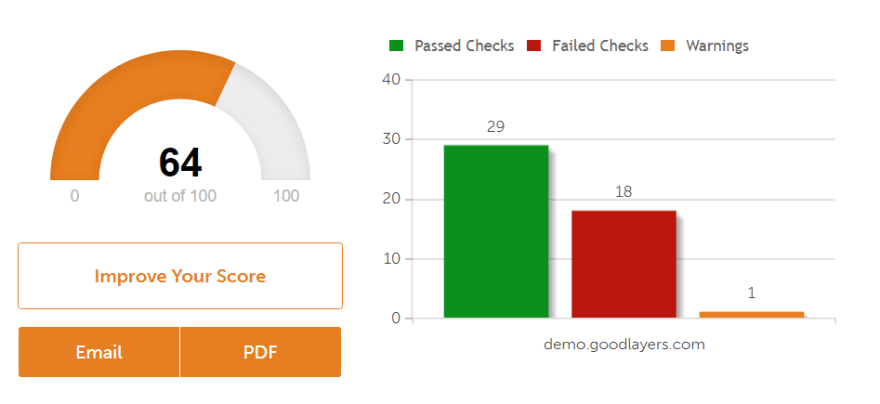 64/100 is a little above average; but not less a little mediocre. The cause here is attributed lack of fundamental elements that search engines such as Google requires to take your site seriously. This concerns in particular keywords, integration of social networks, Meta descriptions, and many others. Since the test was done on a demo, it can be understood.
We advise you if you don't have coding skills, to use an SEO plugin to correct these errors. Yoast Seo for example should be able to do the trick.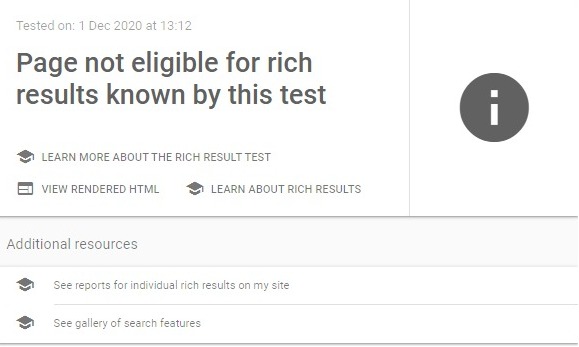 Unfortunately, this WordPress theme does not allow you to enjoy the benefits of search engine rich results. The elements that compose it are not compatible. It's a shame because this feature brings a significant plus to the visibility of your website.
Customer Support Review
The proper use of a new product depends on the assistance that one can receive from its author. This is all the more true for a theme because no one masters it as much as its developer. Regarding the Green Earth theme, we consulted the Comments section in order to assess the quality of support provided to users.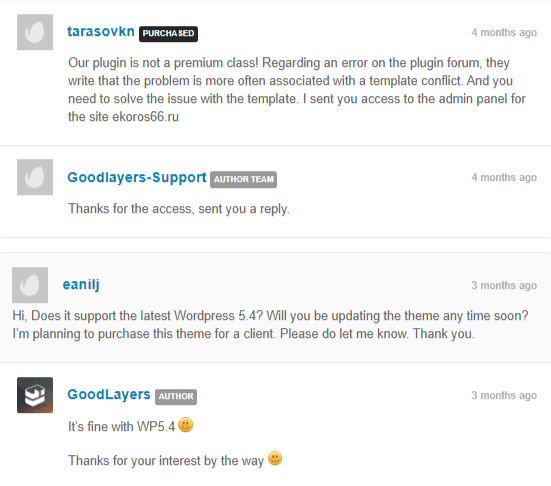 As for promptness, it is quite difficult to assess it because the last comments go back months. But in terms of efficiency, it seems correct. We see that the concerns are managed with professionalism and courtesy. Although it is not unanimous, most users seem satisfied with the quality of the service.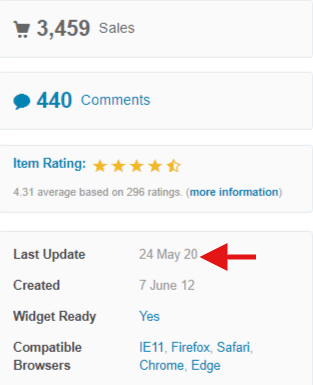 On the other hand, the author regularly makes sure to provide updates to fix bugs and add functionality. Although the theme is already 8 years old, we see that the last update dates back to a few months ago. Which is very reassuring in our opinion!
Supported Plugins
Unfortunately, on the Envato platform, Green Earth developers are a bit vague about compatibility with some popular extensions. We can just see that the theme supports WPLM, a plugin developed to make any site multilingual. But it looks like the provided features are enough to have a completely well-designed website. Summarize
In summary, although Green Earth seems rather simplistic at first, it still has interesting assets to create a website worthy of the name. The fact that it is already 8 years old also demonstrates the experience of the developers behind it. They should be able to give you satisfaction in the event of a problem.