Today we will talk about a gaming news magazine theme or called Goodgame. This WordPress theme has a techy vibe on its design, and you can use this theme for gaming review, gadget review, app review, tech product selling, and many more ways. As it has integrated Twitch Tv support, anybody can telecast their game live on twitch and the website. You can create outstanding pages with Visual basic composer. This is a fast-responsive, mobile and SEO friendly theme with WooCommerce and WPML support. We will learn about the various exciting aspects of the theme, but let's take a look at the key features of the Goodgame theme.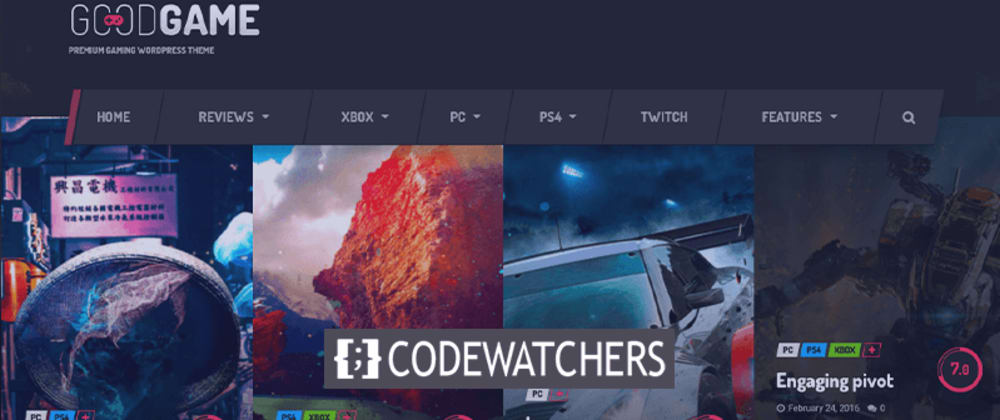 Feature List
Integrated Twitch TV
PSD Files Included
Powerful Admin Panel
Fully Responsive Layout
700+ Google fonts
Google Ads Management
SEO friendly
Beautiful Typography
Gaming Platform Category
Visual Basic Composer
Mega Menu
jQuery framework
Powered by Bootstrap 4
Social Forum Integration
Woo Commerce Support
WPML Ready
Powerful Admin Panel
Amazing Customer Support
Mobile Compatibility
We all know that day by day, people are accessing the internet with different sized devices. If you think that people will visit your website only with a PC or laptop, then you are living in a fool's paradise. If someone visits your site once and sees that the website is not compatible with the screen of the mobile or tab, then you will lose a potential audience. Earlier websites were not mobile-friendly, but now everyone is looking forward to creating sites that that cop up with every screen size.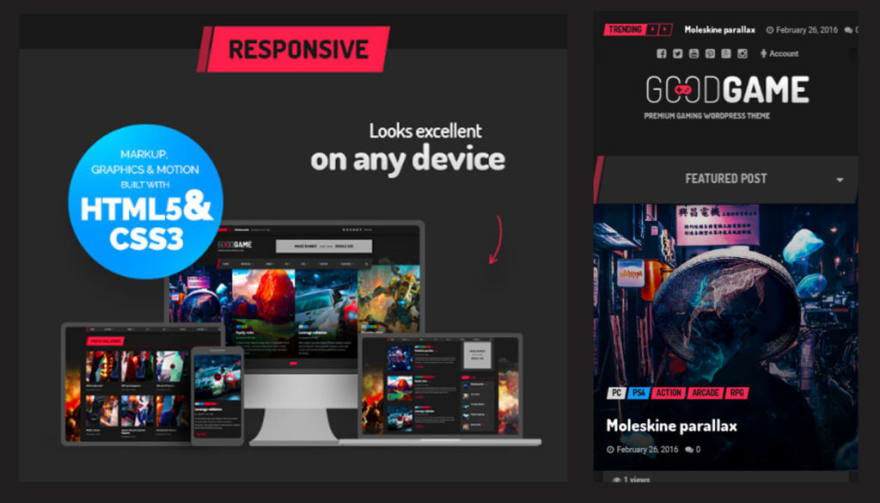 We checked the mobile consistency of the Goodgame Wordpress theme in various devices. The theme adapts itself to screens of all sizes. We didn't notice any inconsistencies anywhere. However, the animations of the theme do not work in the mobile version. Apart from these, all the page elements are working very nicely. The transition was quite fast and smooth as the theme's mark-up was specially done with HTML5 and CSS3.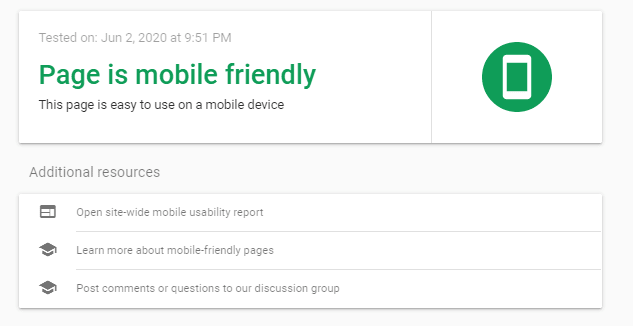 We also checked this demo website on Google mobile compatibility checker to see how fast it can respond to a mobile device. Goodgame was quite faster, but it can improve. How? We will see that in the speed test section. In summary, the mobile compatibility of the tested theme is good as a whole.
Download Divi The Best WordPress Theme
The Most Popular WordPress Theme In The World And The Ultimate WordPress Page Builder
Download Divi
Design Review
An appealing design can grab any visitor's attention in a moment. So this is a very impotent benchmark for any WordPress theme. A massive amount of people never visit a site more than once if the design is not attractive. So, If you don't pay attention to your website's design, your competitor will take away your views.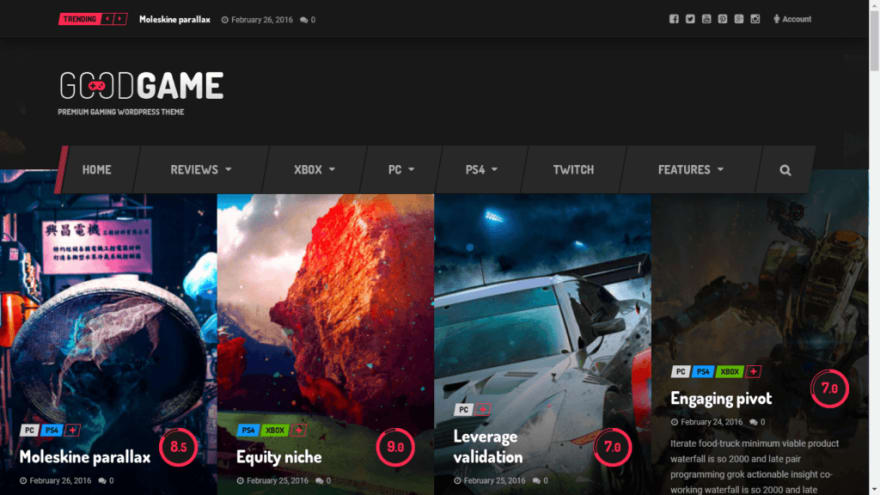 Goodgame looks like a next-gen tech theme. We loved the glitchy effect while hovering on different options. There are separate sections for Xbox, PC, PlayStations on so that users can easily find game review info. The massive megamenu looks amazing. This theme is made with the jQuery framework and Bootstrap3. Also, it has a standard HTML5 & CSS3 code. All you have to do to get started is open the post edit page in your WordPress admin and set the star rating value - your review will be better presentable than your competitors.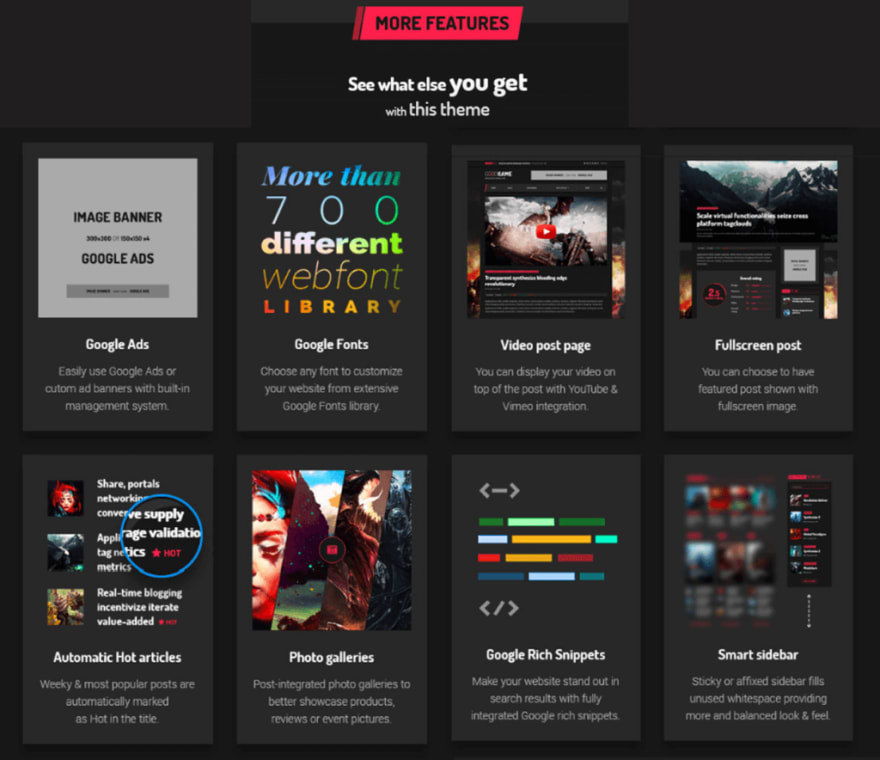 Besides, this theme has a lot more things waiting for you that will extend the beauty. It has a hot article section and googles rich snippet that will boost your traffic. Moreover, you will have a post page with an embedded video option, full-page post, and eye-catching photo gallery. There are dozen different types of homepage content blocks that can be used and combined in different setups to achieve the perfect layout for your site.
Speed Test Review
The speed test is a prominent factor, according to the Google algorithm. A website with faster loading speed get more visitor, and effortlessly those sites can get higher places in search engines result. Again, while we consider user experience - fast loading websites can deliver better comfort than slower ones. If a site loads quickly, visitors are more likely to stick around, read your content, and ultimately convert. In other words, a lightning-quick website unlocks all the good things that webmasters crave.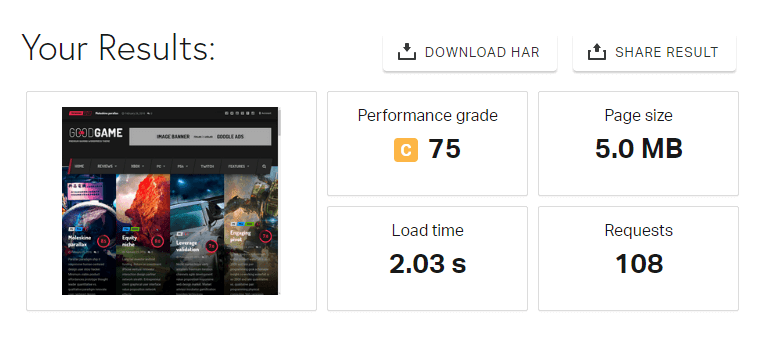 As reported by Pingdom, Goodgame has finished its loading in 2.03s with a score of 75 out of 100. As we consider that an ideal website loading time shouldn't be more than 3 seconds, so Goodgame WordPress theme did a fantastic job. Despite getting relatively lower loading time, the total score couldn't get higher. So here comes the insufficient aspects of this theme. This demo websites landing page became complex with more stylesheet, images, flashes. We have to reduce them and compress scripts into one file to make fewer HTTP requests. Using a good speed enhancer plugin like W3 total cache or WP super cache can solve all these issues.
SEO Review
The more significant part of search engine users is more likely to check on one of the top 5 suggestions in the search engine results pages. To take benefit of this and gain more visitors to your website or customers to your online store, your website needs to show up in one of the top positions. SEO is not only about search engines, but good SEO practices improve the user experience and usability of a website.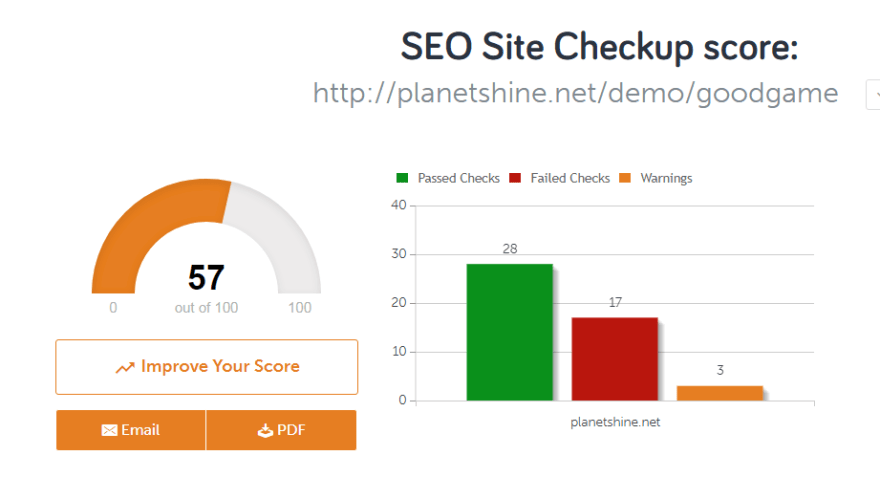 From SEOsitecheckup Result, we understand that the Goodgame demo website is not lousy in SEO friendliness. It scored 57 out of 100, and that's an average result. Meta description, keyword, heading tag is missing, image alt tag missing in a few images, and unsized favicon - these are some lacking the theme is having. Also, the URL's aren't SEO friendly. So this theme needs several modifications. You can use an SEO plugin that will resolve these issues and uphold your website among the best.
Customer Support Review
Customer satisfaction is a prominent rule of business. One must look after the needs and suggestions from their customer. Goodgame authors are average responsive as they can take up to 5 business days to reply. We can see a lot of complaints in the comment section, but the author is delivering necessary instructions to resolve customer issues, even if its a refund related too!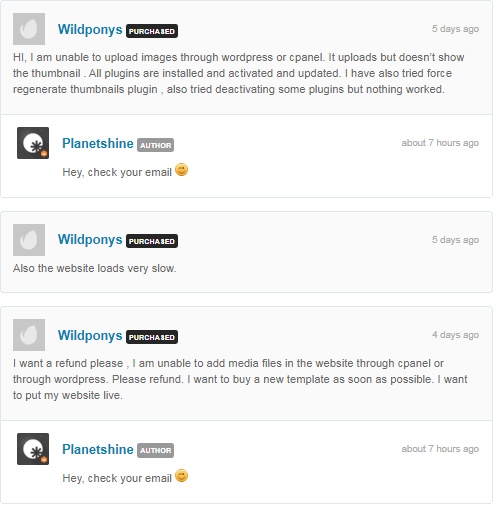 In the review section, we saw mixed reactions among the customers. Many people complained about the customizability, design quality, and flexibility of the theme, but we did not find anything in our testing. It should be noted that the web page elements are responsible for the slowdown of the website. The Goodgame theme has a 4.11 rating, which is relatively good at first glance.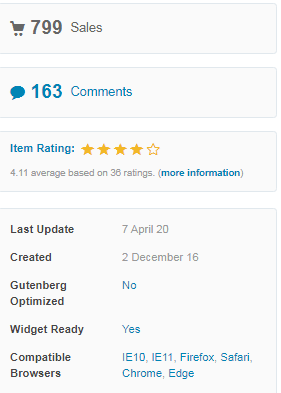 Supported Plugins
Goodgame WordPress theme uses a concise number of Plugins, so they keep the theme lite. Visual basic composer will allow you to create stunning pages, and with Mega Menu plugin, you can attractively manage a colossal header menu. Also, it comes with contact form 7 plugin. Goodgame is Multilanguage translation ready theme with WooCommerce support. Integrated Buddypress Plugin will help you to build a gaming community with a social forum and direct messaging.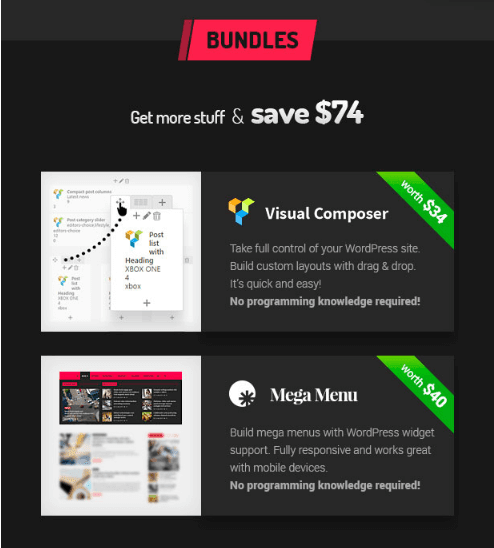 Summarize
Goodgame is an excellent theme for a blog /magazine website. The theme has many potentials, and it is possible to present this theme remarkably through some minor modifications. Developers should also pay more attention to the customer so that the Goodgame theme can one day go to a dominant position.