Are you launching your web store/blog or going to establish your business's online identity?‌ Flatsome is just a perfect top-of-the-line WordPress theme for you that available on ThemeForest. Flatsome is one of the highest-selling WooCommerce themes with 118,805 sales until today. With Revolutionary Drag and Drop Builder and integrated Wireframe Kit which allows you to get tons of mockups and pre-build page templates, You can design as you need without any coding knowledge. This theme is also SEO Optimized and Super Responsive so your viewer can have the best-using experience. Today we will see if this is worth as it says. Feature List
Free Lifetime updates!
UX Builder.
Fully Responsive Layout
700+ Google fonts included
Integrated Wireframe Kit.
MailChimp Integration
Translations included
SEO Optimised
Mobile Compatibility
Pretty much inevitably, people usually use mobile phones to order something online. So, if you are initiating a website to sell products online, your website must have to be mobile-friendly. WooCommerce Website creation is Flatsome's sphere. That's why this theme is insanely mobile friendly.
We have tested different demo to check mobile-friendliness. It seems this theme has capabilities to fit with any screen size. We tried this theme on different apple and google phones to check its compatibility and Results are extraordinary. We didn't notice any misplacement and carousel issue. Logos and icons were well placed and the buttons were just there where it should be.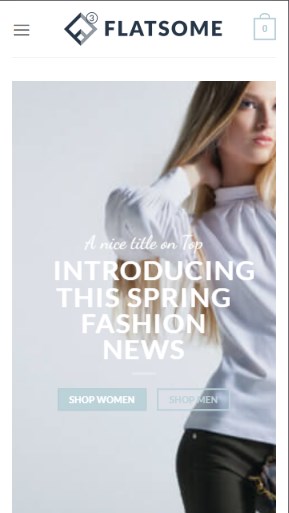 Google's mobile compatibility analyzer also gave us an optimistic report about Flatsome Theme. So we can say there is no issue in this theme regarding mobile-friendliness.
Create Amazing Websites
With the best free page builder Elementor
Start Now Design Review
Designing is one of the most important things for a website. The more creative your web identity is, the more you can get people's attraction. It happened so many times that people visit a well-designed webpage just to see it again and again. Flatsome has so many variations and lots of pre-built, beautifully graced template. The entire theme is very convenient so that your visitors won't have to hassle much to find their needs.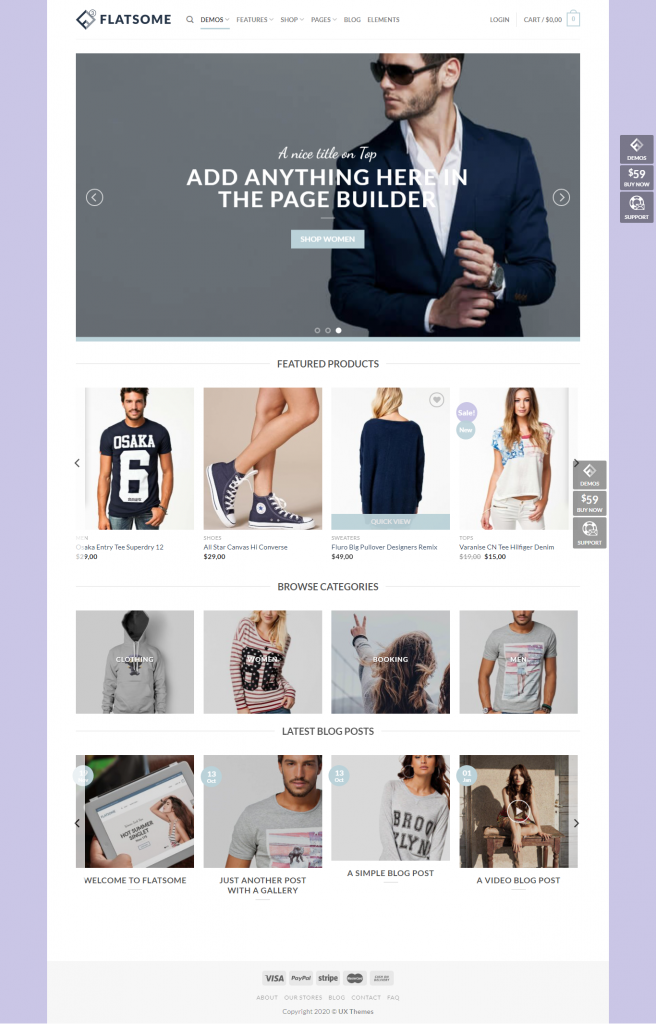 We have checked every business demo and WooCommerce store page, and we haven't found any design-related issue. Flatsome has astonishing parallax effects on the header section. The built-in Wireframe kit, UX builder, and Flatsome Studio allow you to create stunning webpages. The theme optimization is excellent so that you will have an eye-soothing user experience. The theme color, Photo Size, block placement, icons, and background design are very impressive.
Speed Test Review
The speed test is a significant technical indicator. We have run the speed test of Flatsome on Pingdom, and the result we perceived was Top-Notch. We consider 3-second loading speed is average. Flatsome took 1.23 seconds to complete full page loading, which is prodigious. We are dazzled with the score. All the images are optimized, and design-related codings are minified. Though the speed depends on the user's documents and management, We can say this theme is fast like a flash! It doesn't need any progression. SEO Review
We had seen the "SEO Optimised" tag on the feature list. It's very vital nowadays to have an SEO optimized website to compete with your competitor. Based on the result of SEO Site Checkup, Flatsome received 70 out of 100, obtaining 34 checkmarks.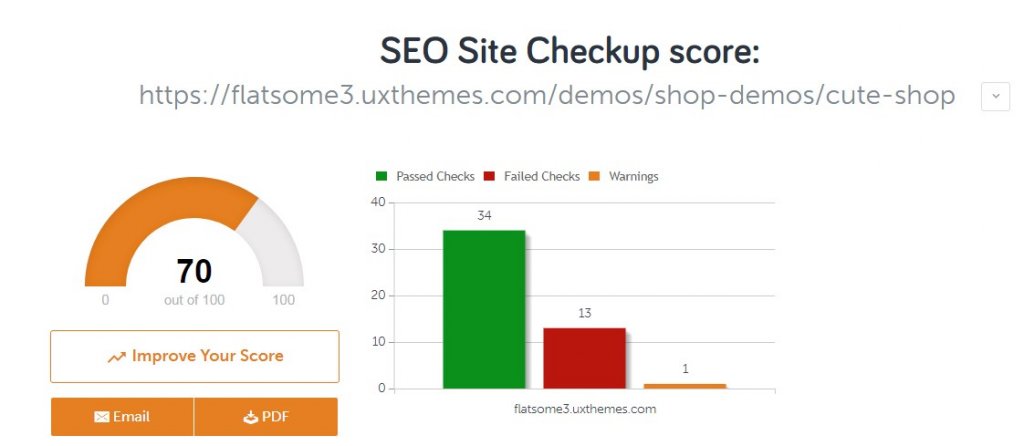 It needs improvement in areas like SEO friendly URL, Meta description, Keyword Usage, etc. But that ultimately depends on the user how he exploits these features. And as we know, WordPress developers support us always with several plug-ins; you can resolve these challenges with SEO relevant plug-ins.
Rich results are experiences on Google Search that go beyond the standard blue link. They're powered by structured data and can include carousels, images, or other non-textual elements. Over the last couple of years, Google has developed the Rich Results Test to help a website structured data and preview its rich results.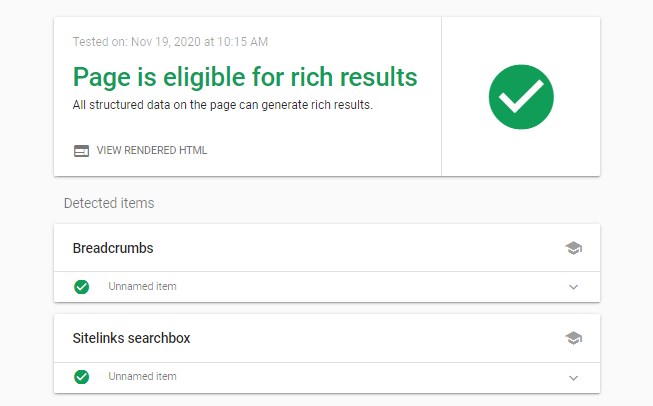 Looks like Flatsome is eligible for rich results. From various demos, we have chosen a random one and tested rich result eligibility on a blog page. The result is positive means your website will have a higher possibility to reach a vast amount of people via this.
Customer Support Review
Flatsome is a mainstream WordPress theme structured on WooCommerce. We were scrolling through more than 20,000 public statements in the comment section. It's bewildered us with the Authors supportive role. Whenever someone is writing down their problems, they are getting fast and valid responses from the theme devs. They are very active and responsive, like their theme.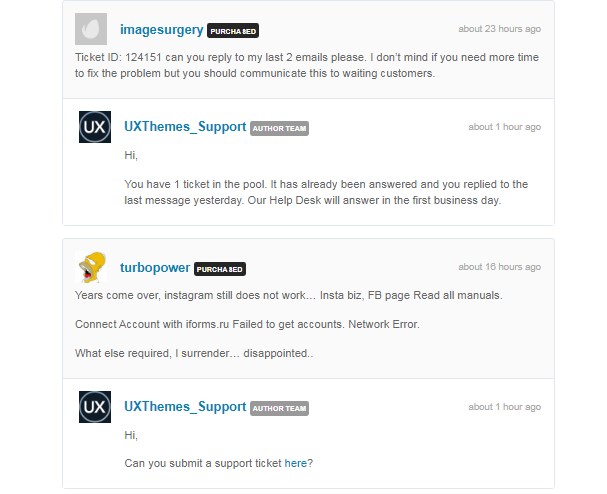 We can see Flatsome has held its place as #1 best selling WooCommerce theme for a long time. This theme is seven years old and still wheeling over WordPress theme lovers.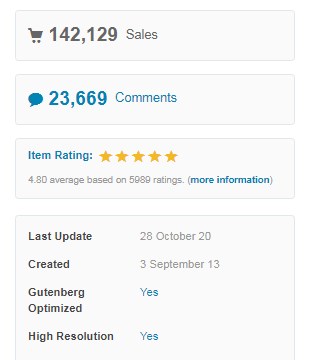 Supported Plugins
We haven't found anything much about Flatsome plug-ins on their ThemeForest profile. But from the features, we can say this theme predominantly has WooCommerce 3.5+ support along with Drag and Drop Page Builder, Wireframe Kit, Flatsome Studio, which they claim as a framework itself.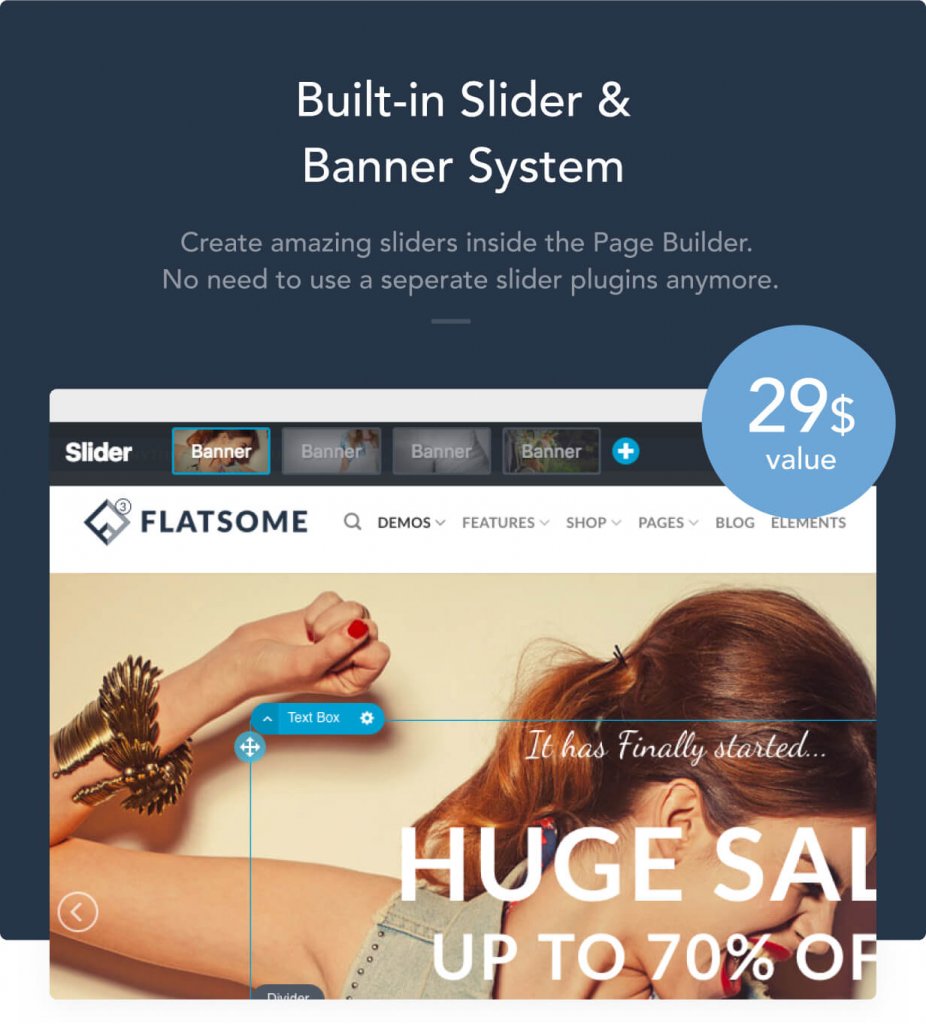 Summarize
We can say Flatsome is the most exceptional WooCommerce theme ever created. Like others, it also has some things that need improvement. But this theme does just as what it says. Flatsome is a heavenly theme for those who are looking for a handy theme for there online store.