Many years ago, fast food replaced the conventional food idea. As time goes on, people's workload has also increased. In the hustle and bustle of the city, the number of people who cook their regular food is deficient. So one of the favorite food items of most people is - fast food. Today we will also review a WordPress theme called "Fast Food." The Fast Food theme is specially made for takeaway food shops, food carts, kebab houses, juice shops, drive-through, etc.
Fast Food WordPress theme has WooCommerce support, and its UI is very minimal and smooth so that everyone can use the website very easily, quickly. The theme has all the awesome page designs made with the lightning-fast Bold Builder and customization facility through numerous shortcodes. It has an integrated cost calculator to simplify daily calculations, and the theme is WPML supported.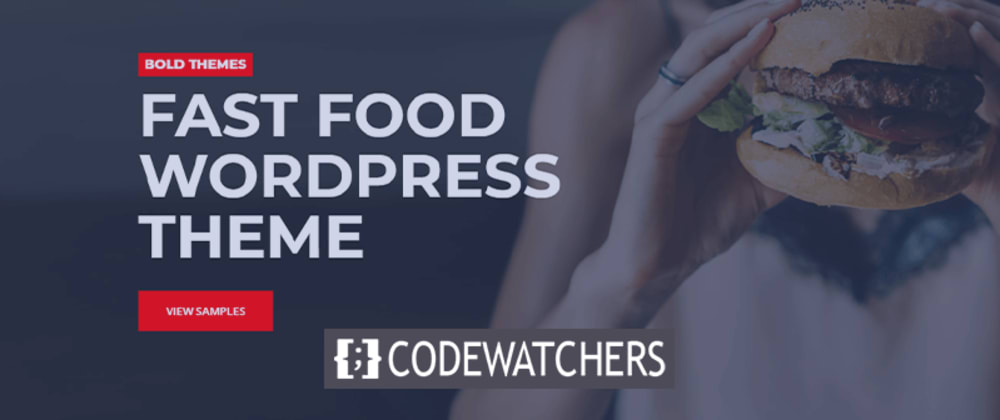 Feature List
Responsive and retina ready
WooCommerce supported
WPML Supported
Left and right sidebar
Google fonts included
Short codes for static & blog pages.
Bold Builder Support
Child theme ready
WordPress Native customizer
Cost Calculator
Well Documented
Different header layout
Child theme ready
Mobile Compatibility
People nowadays use mobiles more than computers because now almost all kinds of daily work can be done with mobile devices. Since mobile is a convenient tool, statistics show that the lion's share of websites is browsed from mobile. So we check the mobile compatibility of each WordPress theme because it lets us know how efficiently they can present themselves on mobile devices.
The mobile user interface of the Fast Food WordPress theme is quite smooth. The parallax effect in the header section works fluently. The logo and header menu placement is pretty accurate. All images and text components can fit nicely on different sized screens, leaving no element of the entire page omitted. We looked around several sections, and we found no problem anywhere. The whole theme is entirely responsive, so visitors will not face any problem in mobile browsing.
Elementor Black Friday
Enjoy Amazing Deals Up to 50% Off
Start Now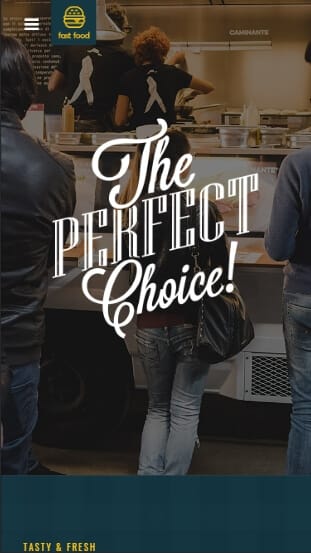 We have also checked the capability of the theme in Google's mobile compatibility testing. Google has also recognized the fast food WordPress theme is mobile-friendly.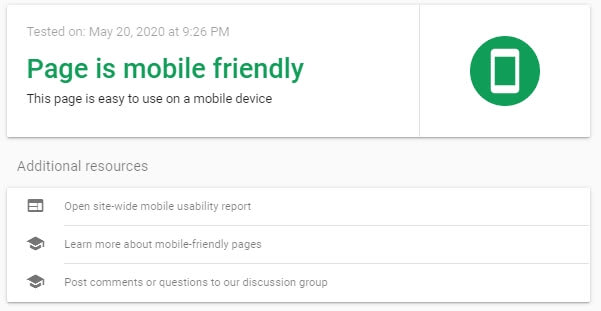 Design Review
When visiting a website, the first thing that comes to our notice is the design of the website. Audiences rely heavily on the design of a website because when the design is simple, it is easy to find the necessary information. Again, if the design vision is not beautiful, the website will not be attractive, so it becomes difficult to get visitors. That's why everyone prefers a simple but engaging designed WordPress theme.

We prioritize Element, Simplicity, and Responsiveness in design reviews. The fast-food WordPress theme is quite smooth and responsive when it comes to designing. The four types of home page layouts are all designed to be quite attractive. Bold Builder is used in this WordPress theme which allows you to design beautiful pages. With the design variation of the home page, there are blog pages, food menu pages, and shop pages and different pre-designed designs, so that you can easily choose your own design and decorate your website. Fast Food WordPress Theme has a built-in cost calculator and WooCommerce support. There is also an online reservation system so that customers can book tables online from the comfort of their own home. The fast-food WordPress theme carousel is very smooth, and all the element placements are done quite nicely, so we didn't see any problem.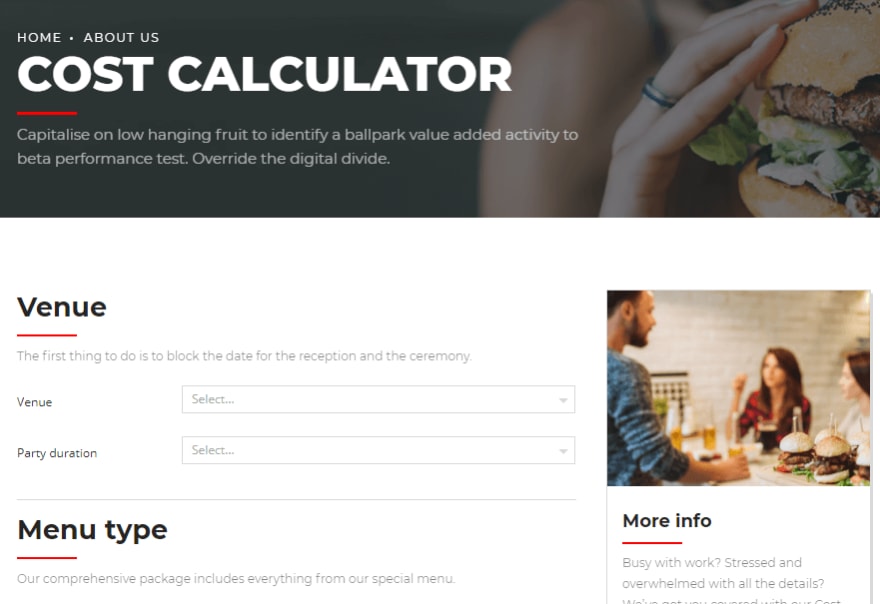 Speed Test Review
Choosing the right theme for your website is a fundamental cause; the chosen theme must serve the purpose of your website. You have to make sure that the WordPress theme is easily customizable and with high speed. The theme has a significant influence on the overall quality of your page. It also affects the number of conversions and the bounce rate. It is measured that ~57% of users leave a page if it loads for more than 3 seconds.
We have tested the WordPress theme in Pingdom, and The Fast Food WordPress theme took a little over 4 seconds to make full page loading, and the overall score was 72, which is entirely satisfactory. The total weight of the home page is 2.3 MB, which is quite lightweight.
Page's score can be further improved if we do some simple modifications. The higher the HTTP request on the page, the longer the loading time, so the request has to be reduced. You must also use a cookie-free domain. No worries, you can easily make these modifications. You can do this easily with the help of Page Speed ​​Booster or any other Cache plugin.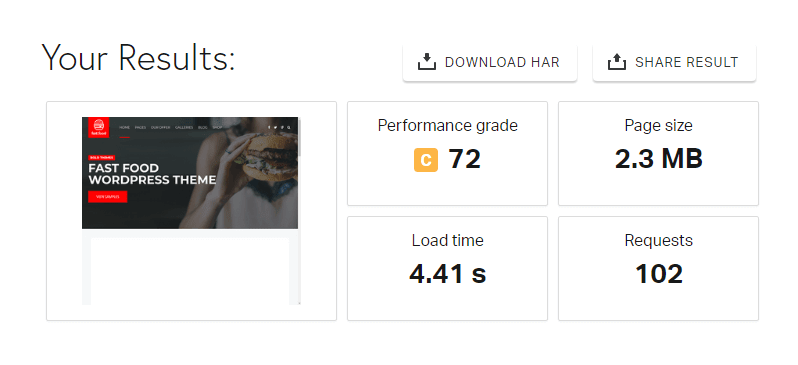 SEO Review
SEO is vital for your website to be in a good position in Google. There are billions of sites all over the world, and a few of them are on the 1st page of Google's search list because they are SEO optimized websites. If you want to make your website one of the best sites, then SEO is a must.
We checked the Fast Food theme's SEO on Neil Patel's website, and the score came to 82 without any external data input, which is a high score. Ensuring the use of sitemap files, SEO friendly URLs, image ALT tags, meta descriptions, and keyword tags will significantly increase the count, which will be very helpful for the website's Google ranking.
If you want, you can easily do this small but effective modification through SEO tools.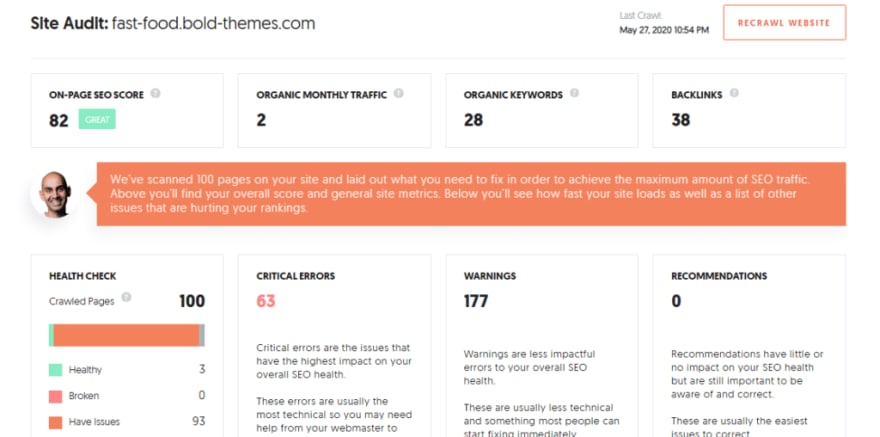 Customer Support Review
Customer support is one of the essential parts of any business. Bold themes are working to provide necessary consultation towards Fast Food  WordPress theme customers. They usually reply within one business day, and they have a determined plan to help their customers with all kinds of available assets. We have been in their comment section and here are a few of them.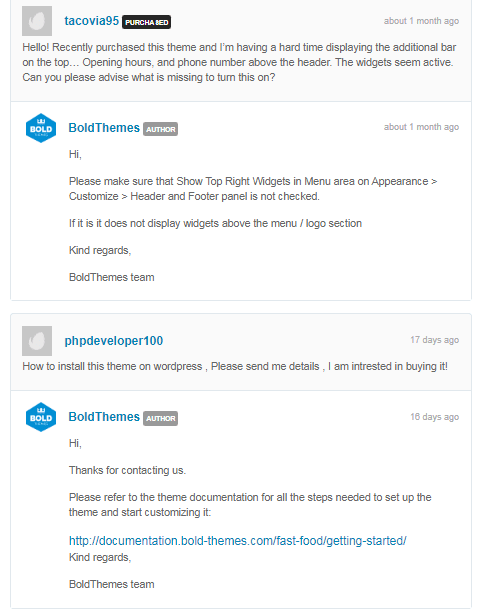 In the same vein, the Fast Food theme has won its purchaser's hearts with impressive design and handy customizability. Also, with great customer support experience, people rated this theme 4.82, which is a pretty high number.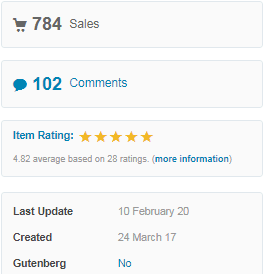 Supported Plugins
Fast Food theme developers used their own Bold page building plugin that will let you create your pages according to your need. It's a free plugin with premium-level features. It has 30+ content elements with lighting fast speed. So undoubtedly, this will help in needs. Also, this WordPress theme has a cost calculator and an online reservation system. This is a WooCommerce theme with WPML support.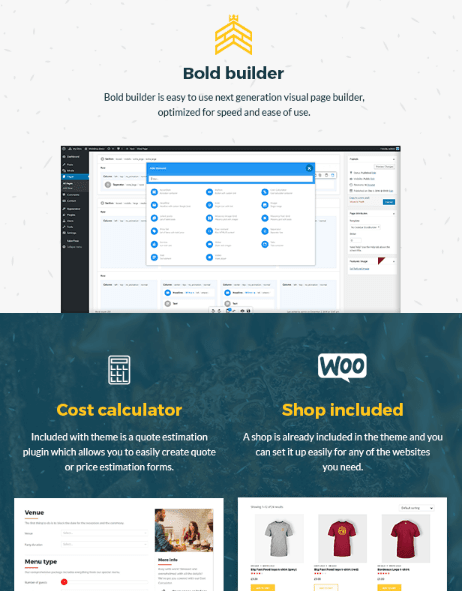 Summarize
The Fast Food theme is quite easy and minimalist for public use. Its designing, customization, features, customer support - all have won the hearts of buyers. However, nothing is perfect in this universe, so there are some flaws in this WordPress theme. But if you can make a few tweaks on the way it has been said, the theme can undoubtedly be an excellent choice for everyone.