Eventchamp - Multiple Event & Conference is one of the simple but sumptuous looking for WordPress themes, and it has a good reputation among event themes. Eventchamp is suitable for event listing, conference, event, congresses, convention, activity, exhibition, meetup, organization, seminar, summit, ticket, and workshop sites. Eventchamp has an event search system, event listing, event management, venue management, speaker management, schedule management, and many features. You can sell tickets with online and offline payment methods. More than 90+ payment methods exist in the Eventchamp WordPress conference theme. Those payment methods come with the WooCommerce plugin, so your site will be compatible with WooCommerce. This theme is fully Responsive, Retina ready, and SEO optimized. It is also built with the WP Bakery page builder with an Advanced theme customizer. All elements are enhanced to look fabulous. It is a multifaceted theme. Let's look at the main features of the Eventchamp - Multiple Event & Conference WordPress theme.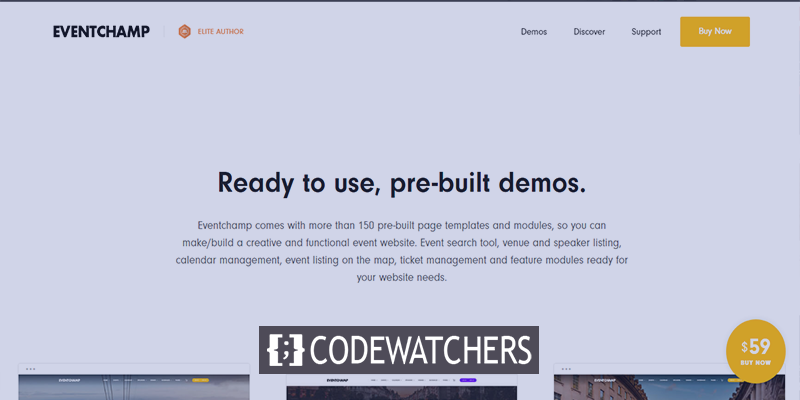 Feature List
Onepage and Multipage Layouts
100% Responsive Design
SEO Friendly
Advanced Event Search System
Event Repeater
bbPress Integration
Management Module
Template Studio
Breadcrumbs
Image & Video Galleries
WP Bakery Page Builder
Revolution Slider
Advanced Theme Customizer
Gutenberg Compatibility
Event Import and Ticket Selling
Social Media Integration
Venue Management
Payment Gateways
Advertisement Options
RTL & LTR Support
Mobile Compatibility
Nowadays, a website must look beautiful on mobile devices. The authors made sure Eventchamp looks great both on mobile, desktop, and retina screens. We are about to test this on different devices because many people don't carry laptops with them while going to an event, so mobiles and tablets are the only suitable objects.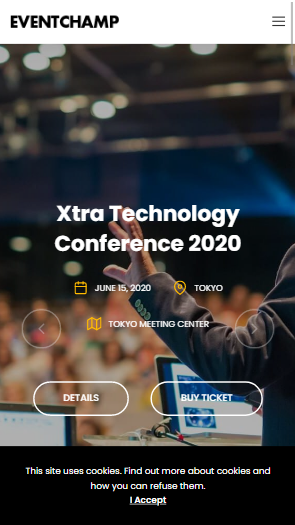 We have multiple options to justify being responsive, and we decided to go with random demo websites. The demo website runs fine on all sorts of devices. We think developers paid proper attention to make this theme mobile-friendly cause it has smooth animations, parallax effects, and element blocks. Icons and texts are center-aligned. There is no animation and effects on the mobile version, but honestly, the website does look charming even without them.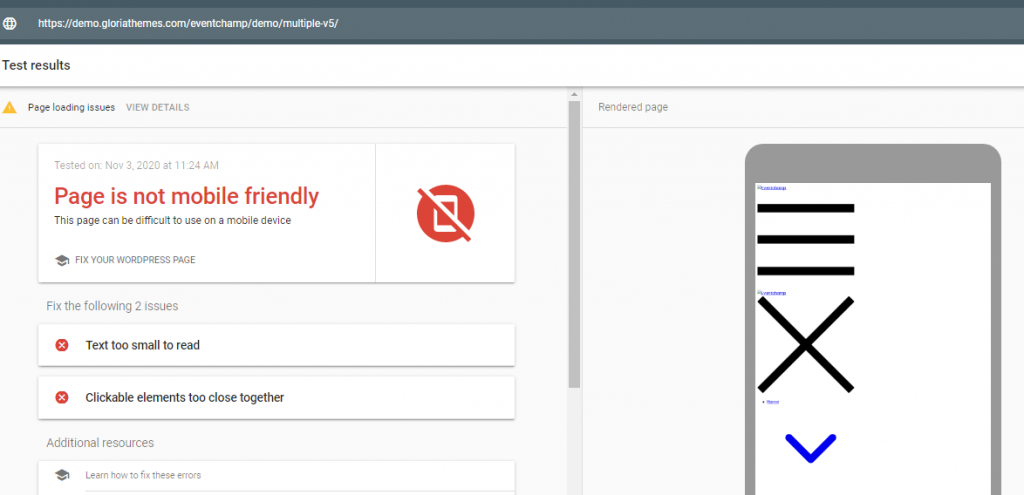 We also tested with the demo website on Google's mobile compatibility checker. Google shows that Eventchamp has some page loading issue due to stylesheet and javascript, but it's a mobile harmonious WordPress theme, and you can see that clearly from our screenshot. Don't worry, and those issues can be solved easily.
Design Review
Website design plays a distinguished role in buyer appeal. When a customer tours a website, the design of the site first clutches his eye. 94% of people reject a website in just under 4 seconds because of a destructive or disliked design. The layout of your website can either improve or damage the product you are trying to serve.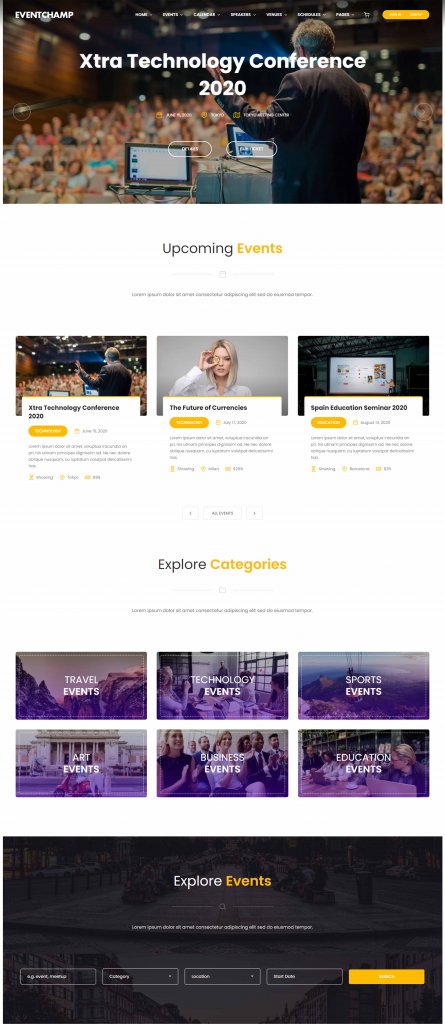 When you have a well-maintained site, people can rely on you. Eventchamp is an event/conference based theme, so it carries the theme of that event. Eventchamp comes with many features, demos, elements, and layouts. Advanced theme options panel and WPBakery page builder is existed in Eventchamp WordPress event listing theme. You can edit the pages with the drag and drop method also, and you can customize the theme with the theme options panel. Example: Colors, fonts, layouts, post styles, loader, event management, etc. You can use the theme with one page or multi-page. The theme has Google Street View; peoples can wander your event area on your site! Event counter, sponsor management, bbPress integration, blog system, and other features.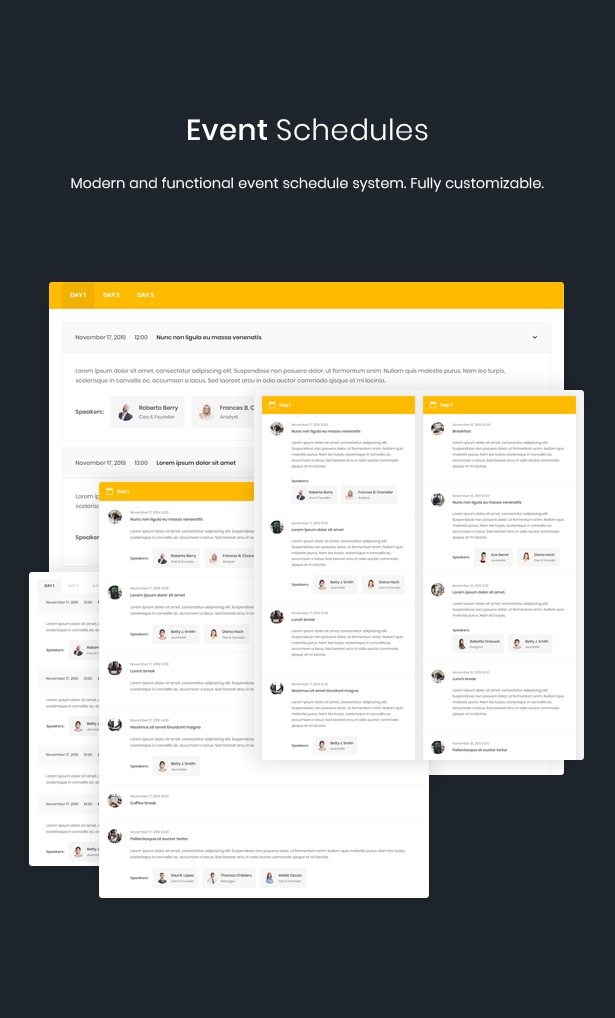 Speed Test Review
The speed of the WordPress website is one of the major things for users. Now's super-fast paced growth of business situation needs it drastically. We should push our WordPress websites loading speed highest of three to five seconds unless we can drop the top gross of traffic sources. Also, We already know that Google announces an update on its existing terms and policy every year. An essential factor here, Google wants the websites to remain as fast as possible; otherwise, it doesn't provide the ranking. And you may know, for your business extension, how necessary the ranking factor is!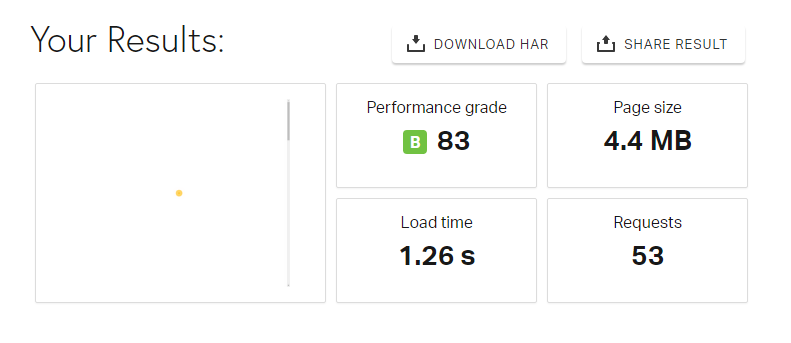 We have checked the speed of the Eventchamp - Multiple Event & Conference WordPress theme on Pingdom, and the result is impressive. It scored 83(B) out of 100 and took 1.26 seconds to load completely, which is very impressive. The website's speed is fast enough despite having many photos that take more time to load as it is an event-based WordPress theme. Still, there is room for modification. The HTTP requests from one URL to another needs minimization. You can reduce the full page loading time this way. Also, a few JavaScript modifications will help to uphold the total score. No worries, W3 Total Cache is a beautiful tool, and it can boost your website's speed.
SEO Review
WordPress themes usually come with SEO favorable positions. WordPress powers' expansion may spread beyond 30 percent if people tend towards and focus more on SEO. SEO is one of the central divisions of WordPress theme development. WordPress usually makes a website that is almost SEO based. If you want to uphold your business in a more noticeable position, it must be a must thing. From picture presentation to products and services, all include the SEO optimization on the website.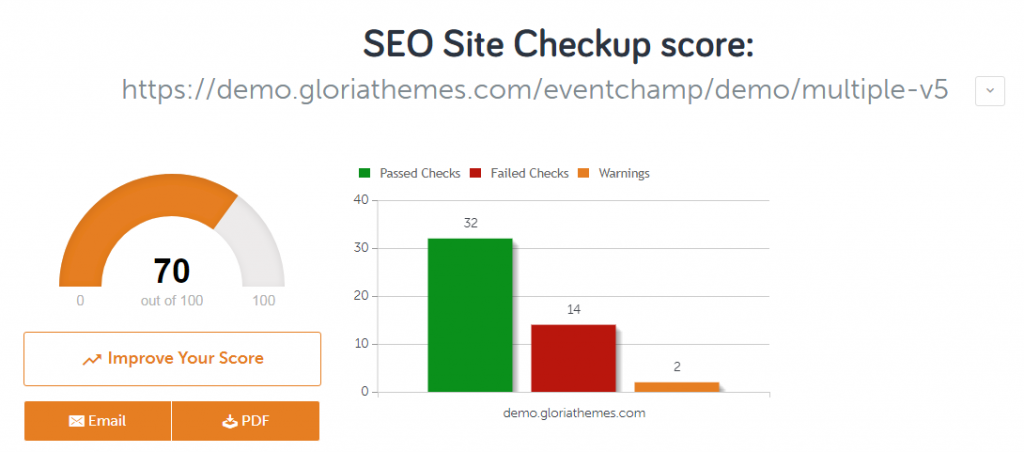 According to SEOsitecheckup, Eventchamp has 70% SEO friendliness. It is a remarkable score for demo sites. We have analyzed the result and found that The demo has no SEO friendly URLs, and no keyword appears on the meta-tag section. It doesn't have heading tags, image ALT tags, Google Analytics script, sitemap files, and social media integration. The purchaser usually modifies these things cause it depends on the purpose of the website. You can quickly solve these problems with the Yoast SEO plugin; it has both a free and premium version.
Rich results are actual activities on Google, such as search results, that go beyond the standard blue link. Rich results can include carousels, photos, or other non-textual elements.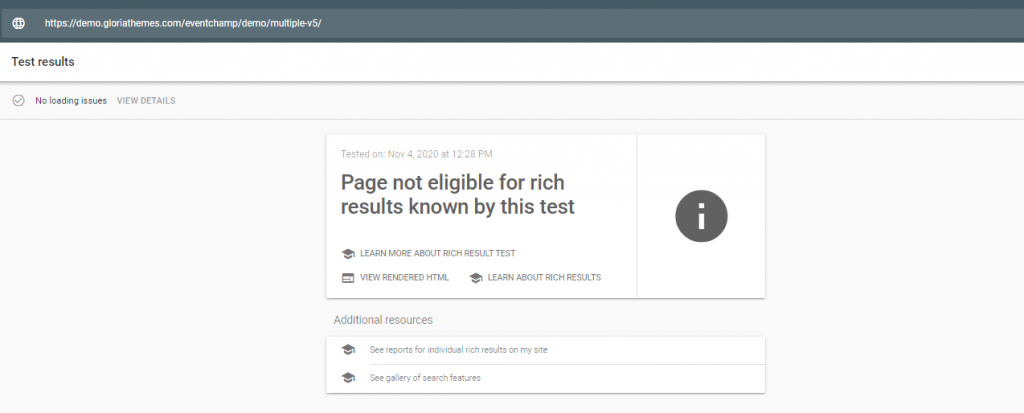 As we can see, Eventchamp is a WordPress theme not eligible for rich results. For an event theme, search engines should highlight such conferences and the organization offering cause people usually look for them based on their interests.
Customer Support Review
Customer service is important to your business because it grows interest in consumers and derives from them. By providing top-notch customer service, enterprises recover consumer acquisition costs and generate a loyal following that refers to conserve as case studies offer testimonials and reviews.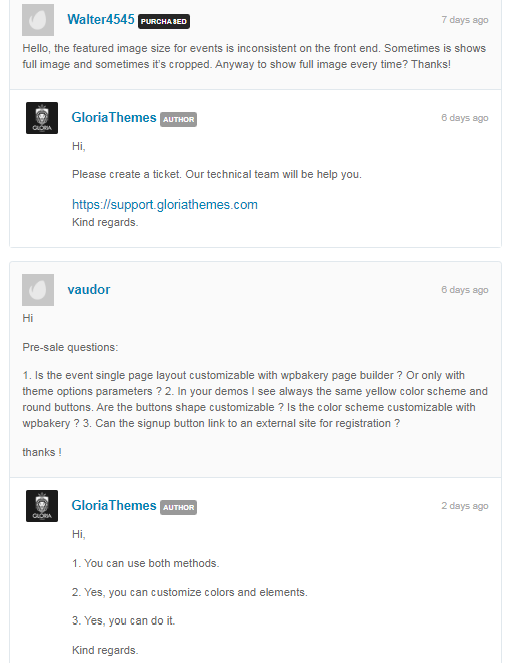 The Gloria Themes authors are in charge of the Eventchamp WordPress theme, and they are doing their job pretty well. We have gone through their comment section, and they are very dedicated to customer service. As an Event-based theme, the selling ratio is quite noticeable.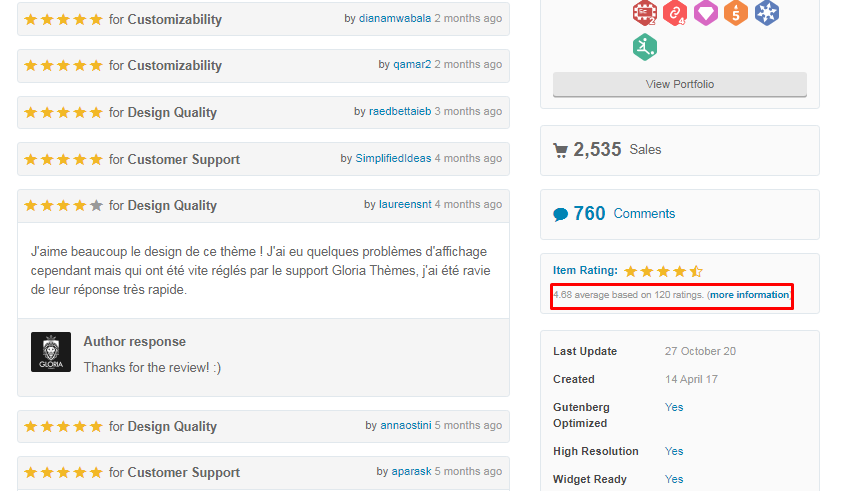 This Event/Conference based WordPress theme has an average 4.68 rating, which is fantastic. We have explored the rating section and saw that most people appreciate the developers for design quality, customizability, and customer support.
Supported Plugins
Eventchamp - Multiple Event & Conference WordPress theme does have different sorts of plugins, including the WP Bakery page, Revolution slider, Countdown slider, Contact form 7, Mail chimp, etc. Honestly, there is no need for excessive plugins. Since it is an event-based theme, a specific range of people will know and visit this site, and the ability to serve them is built-in with the theme. This theme is in compliance with GDPR with a cookie bar integration. It's a multilingual translation friendly theme with Social media support. It must be admitted that the authors' brilliant move is by choosing only the necessary plugins for the theme.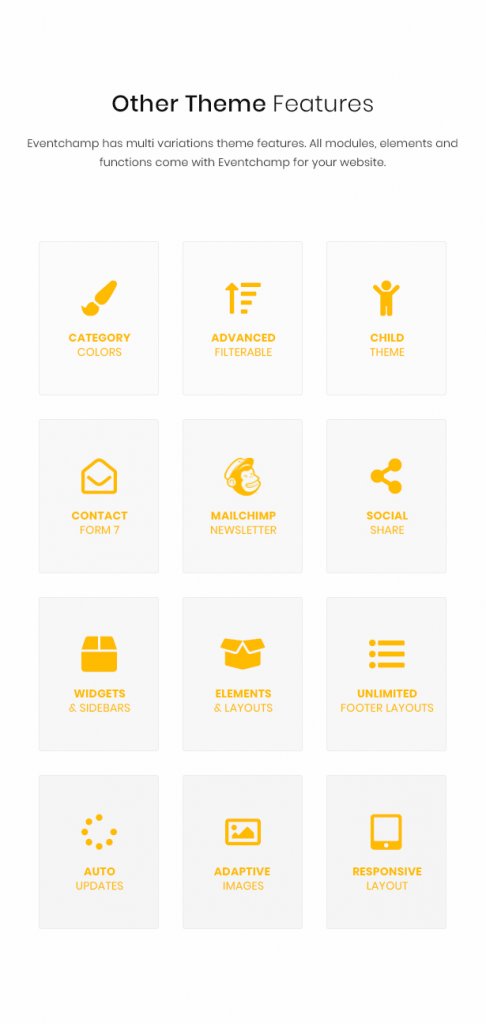 Summarize
The Eventchamp - Multiple Event & Conference WordPress Theme is a wonderful choice for any commercial/family/official/reunion related gathering. After judging from all aspects, the theme is entirely self-contained. Some adjustments are needed to bring the theme to the forefront. If you are a design fan and want to draw customers with a touch of royalty on your web, then this theme will be perfect for you.