In today's world, we do practically everything online. We also use online for shopping-related work. From mobile accessories to household furniture, even clothes are sold online nowadays. Today we are going to talk about Eva WordPress Theme - which is specially made for clothing business, but it can be used in many ways. Eva WordPress theme is packed with all the fantastic features, including fast pace with reliable design, responsive layout, excellent header, mega menu navigation, off-canvas facilities, and beautiful quick view.
Based on the Foundation Framework, the EVA theme has premium plugins like Visual Basic and Revolution Slider. The theme supports WooCommerce 4.x and multiple languages ​​and currencies. Let's take a look at the main features before going to the full review.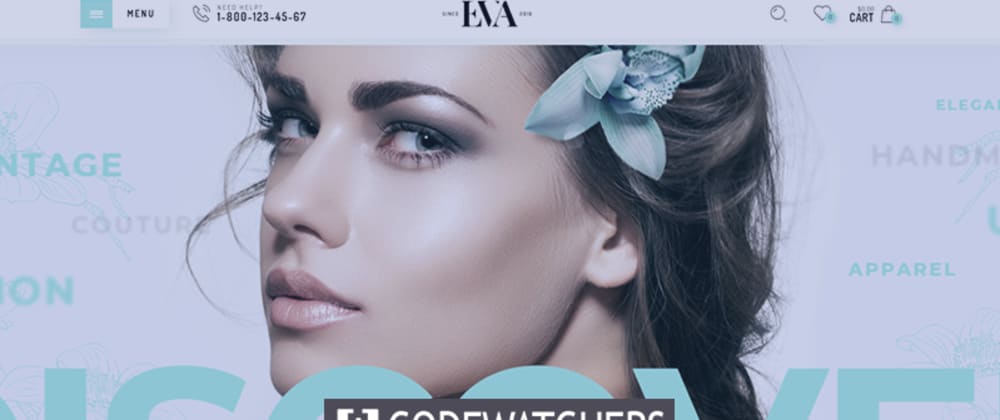 Feature List
WordPress 5 Ready
Catalog Mode Option
YITH Wishlist plugin support
WooCommerce 3.9
WPML Supported
Mega Menu
Off Canvas Cart, Menu
One-click Demo Import
Visual Compose Page Builder
Revolution Slider Plugin 
Catalog Mode Option
Extensive Documentation
RTL Support
Unlimited color settings
Fast Search
Off Canvas Sidebar
Mobile Compatibility
New mobiles are being imported in the market every day, and the number of mobile users is also increasing. Nowadays, you can't think of any website without mobile-friendliness. Mobile users generate more than half of Internet traffic. So you have to make a mobile-friendly website by thinking about this considerable population; otherwise, there is a possibility of losing a vast amount of visitors.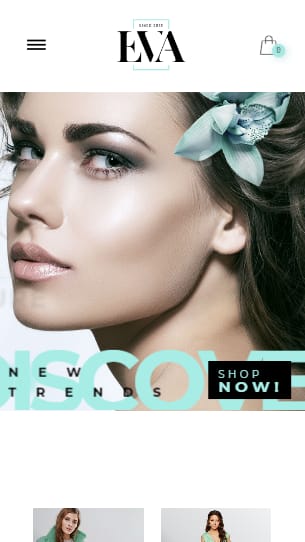 We have run the demo website on many different sized mobile devices to check the compatibility of the Eva WordPress theme, and the theme has performed quite good everywhere. Images and text blocks fit accurately on all devices. No indentation or padding issue was noticed. The mobile version has been designed differently from the desktop version through dedicated web coding so the visitors can have a genuine and premium theme user experience from mobile browsing.
DIVI SUMMER SALE Once per year you can get Divi at a special price with 20% discount, and it will only be available for a few days. Don't miss out!
Download Divi We also performed Google mobile compatibility test to check if Eva can respond fast enough during loading. Google also certified this WordPress theme is compatible with mobile devices. In summary, the mobile adaptability of the tested theme is suitable as a whole.
Design Review
Developers have to be extremely careful about designing because about 40% of a website's traffic depends on the design. Visitors feel comfortable browsing the site if the design is beautiful and attractive. Eva WordPress theme is entirely successful with the design because its design is quite captivating. A header with an interactive parallax effect on a white background and a minimalist slider underneath it will impress anyone.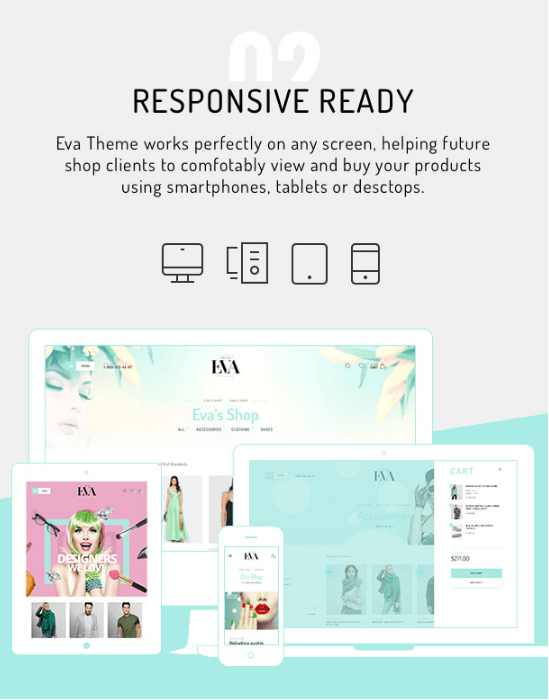 With the Eva theme, you will find many unique features such as off-canvas carts, menus, and searching - which will make your shopping experience more enjoyable. You can see the product details by hovering through the quick view system. Also, the design of the blog page is lovely, and the article viewing experience is quite lively.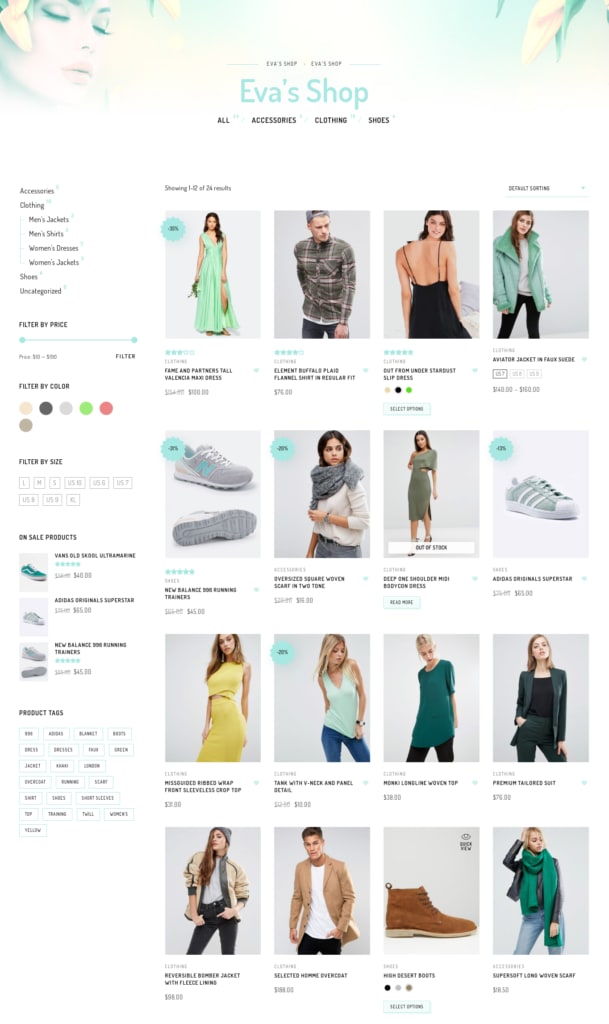 Premium plug-ins like Visual Basic Composer and Revolution Slider are provided for theme design. You can use the drag and drop feature to sort all the pages of mind-blowing designs which will enhance the beauty of your website many times over.
Speed Test Review
Who doesn't like speed? Due to the advancement of civilization, we have got speed in involuntary life, and now we don't want anything slow. The pace is a very eminent factor when it comes to web browsing because we avoid websites that take longer than expected to load. Even Google considers speed as one of the criteria for search engine ranking.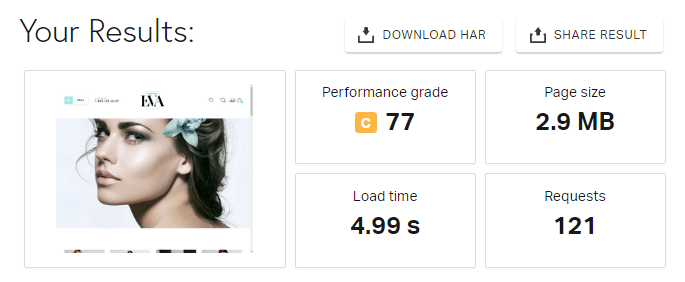 We have tested the Eva WordPress theme on Pingdom to check how fast this demo website can finish loading. The demo website of the Eva theme took 4.99 seconds to complete its loading, and the lading page weights 2.9Mb. We consider a three-second loading speed as an ideal, and it seems like Eva is a bit ahead of the standard score. The overall rating is 77, and that's impressive. Decreasing the number of page components and merging Javascripts can help a bit to lift the score. Also, We can see the website made 121 HTTP requests which are responsible too for higher loading time. No worries. Simply use a premium Cache plugin, and you can easily tackle these without any prior coding knowledge.
SEO Review
Search engine optimization is essential for any website because it is the only key to rank any website among the best sites. Google pays the most attention to SEO cause it shows how enriched any website when it comes to serving pieces of information. It extends users' experience and helps the site to get organic reaches.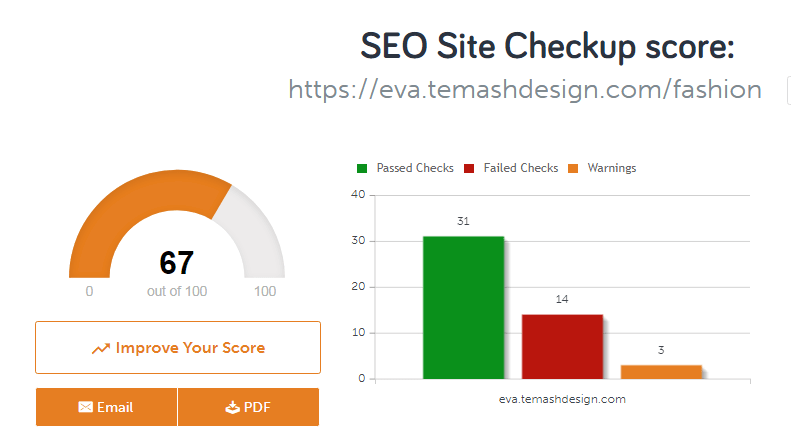 We have checked the SEO capability of Eva theme on SEO Site Checkup, and it obtained 67 out of 100, and that's a handsome score. It failed in 14 tests and got three warnings, as you can see from the image. The demo website doesn't contain meta descriptions, keywords, sitemap files. It's using inline CSS and doesn't have image Alt tags in every photo, and the URLs aren't SEO friendly. These issues can damage your SEO score brutally. So use an SEO tool like Yoast SEO plugins to resolve all these problems.
Customer Support Review
Customer service plays a vital role in any business. If you pay attention to your customers and serve them according to their needs, they'll remain loyal to you and will remember you whenever they are in need. Also, excellent customer service can turn potential customers into regular buyers. Temash developers support Eva WordPress themes, and only the purchaser and author conversations are available in the comment section. It will block us from knowing how they behave with potential clients. But we must admit, authors are dedicated to resolving customer issues.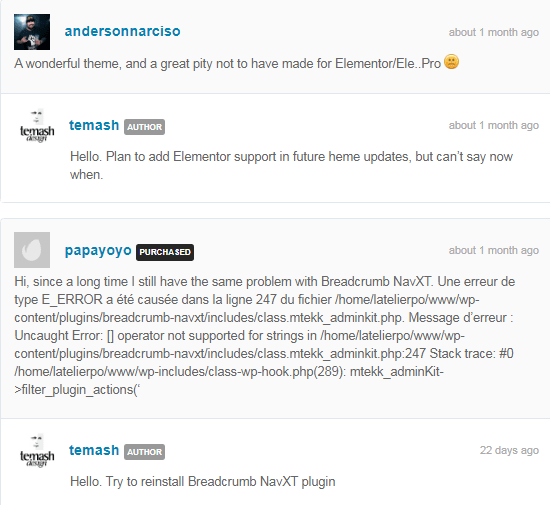 We have seen mixed reactions from customers in the review section, but the range of positivity is more substantial. Few people claimed to get not expected customer support from authors, but otherwise, the design, coding, and customizability are commendable. Eva themes have 4.73 ratings, and that's a pretty good score.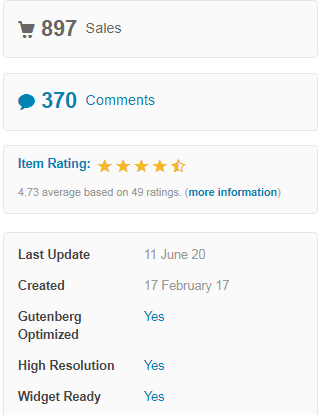 Supported Plugins
The Temash developers are cautious about the light weightiness of the Eva WordPress theme. So they tried their best to put fewer plugins. You'll have Visual Basic page builder that will let you create stunning pages using drag and drop features, and Slider Revolution will allow you to build awesome sliders. Also, there is a YITH Wishlist plugin support that will make shopping easier for your customer. The Eva theme is WooCommerce and WPML supported.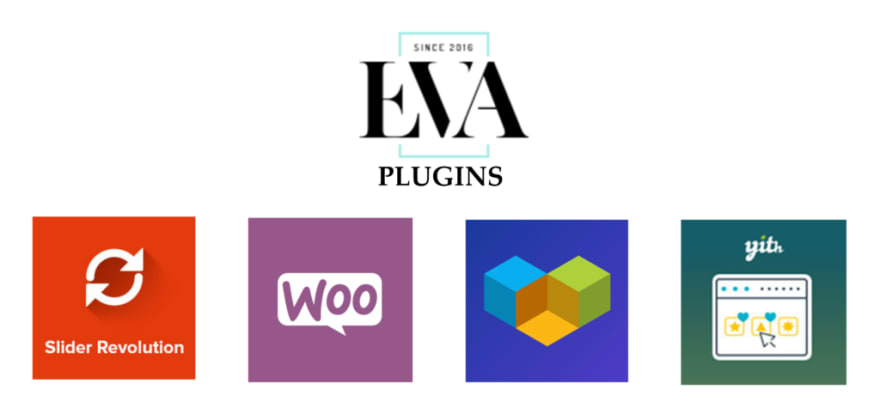 Summarize
After getting much info about The Eva theme, we can say that it is a prominent theme for any fashion WooCommerce Website. It's unique and gorgeous with powerful functionality. If you take a bit of trouble to modify it as we mentioned above, we can guaranty you that you will be compelled to appreciate your own decision.