You are in construction, building, or any form of engineering, and you want to showcase your services on the Web; today we have "Emarat", a WordPress theme that was developed precisely for that. Thanks to this theme, you could create whatever building & construction business (building, cleaning, plumbing, industry, factory, etc.). However, as beautiful as it seems, this theme was only created a year ago and deserves an in-depth analysis to ensure its reliability. You will, therefore, accompany throughout this analysis which promises to be very interesting.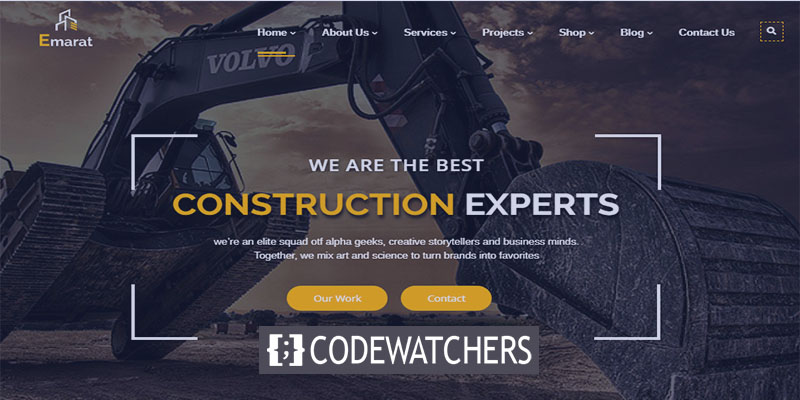 Feature List
One-Click Demo Install
WooCommerce supported
Seo Friendly
Fully Responsive
Translation ready (contains .po/.mo files)
Mega Menu Supported
Child Theme Compatible
Responsive Filterable Portfolio
Cross Browser Optimization
Advanced Typography Options
Mobile Compatibility
The fact that a site can function properly on mobile devices is very important for most users these days. Whether for entertainment or work, it's more practical with your smartphone or tablet since you can move anywhere with it. It is in this wake that we tested the Emarat theme.
Thanks to our Mobile-Friendly Test name analysis program, we have found that this theme is fully functional on a mobile device.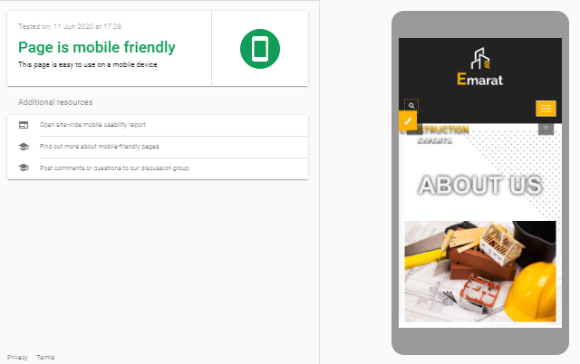 Emarat has a responsive and Retina ready design. Indeed, the content adapts perfectly to the size of the screen. The rendering is very good (pixelation, font, animations, and images), the navigation is fluid, and the ergonomics allow an easy grip with one hand. The mask menu is not very discreet, but operational. We also have a "Back to top" button for easy access to the header since it is not fixed. In short, we enjoyed the Emarat theme on mobile devices.
DIVI SUMMER SALE Once per year you can get Divi at a special price with 20% discount, and it will only be available for a few days. Don't miss out!
Download Divi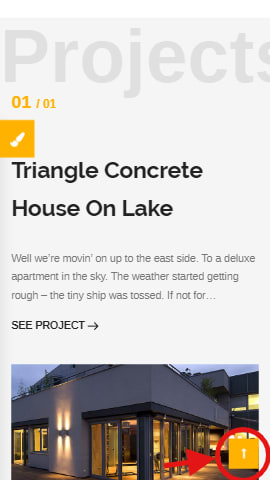 Design Review
What makes a site beautiful is its design. The author of Emarat is very interested in this detail. this is what comes from the observation that we were able to make. The design of this theme is really well done; a feast for the eyes.
When we open the page, we are entitled to animation during the loading time before the page itself is displayed: it is a guy in technician clothes. It is original and fits well with the niche. This is something that will quickly put your users in the bath. Once the page is opened, it shines brightly with this bright yellow mixed with either black and white depending on the sections. Again, the mixture of colors fits perfectly with the area highlighted.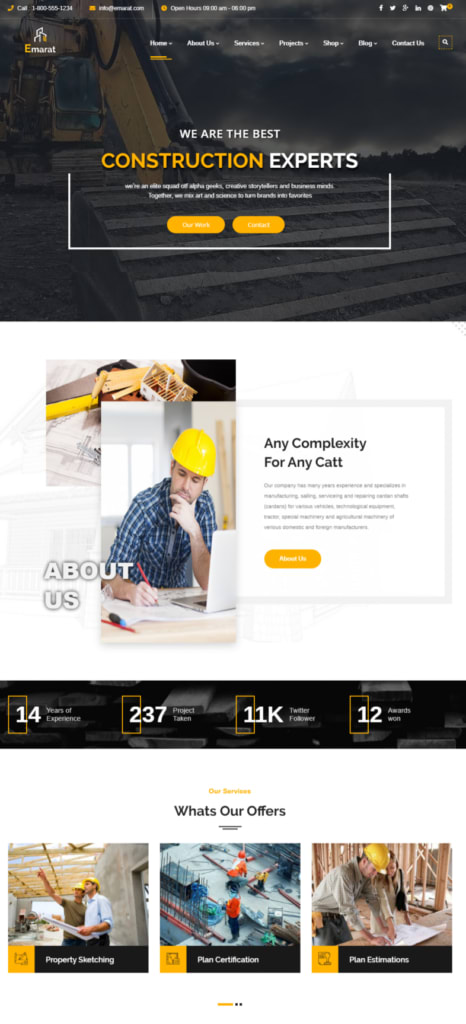 However, the author gives you the possibility of replacing the most noticed color, in this case, Yellow, by others proposed on a foldout menu. By trying, other colors, of course, that it can change the atmosphere, but with the good images and the architecture of the site, we can still stay in the field of Construction. The design thus offers customization options that will not distort it.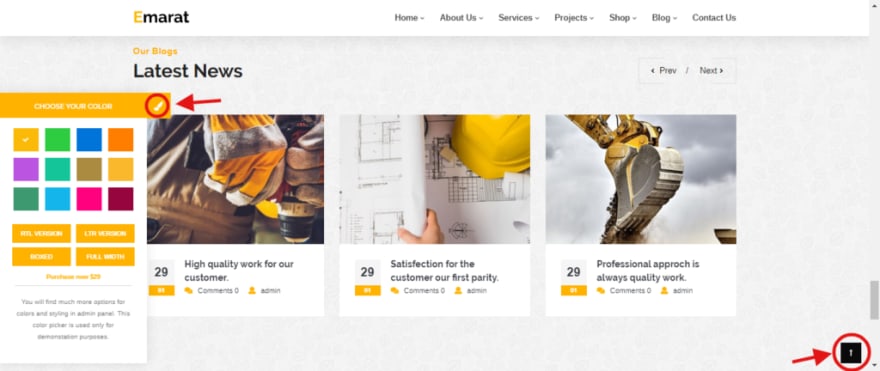 To facilitate navigation, the theme has a fixed header and a "Back to top" button. It really looks like a perfect design for a Construction website.
Speed Test Review
As beautiful as a site is, if you get bored, you end up getting bored. And what could be better for boring than slow loading? Speed ​​is a criterion that weighs heavily in the success of a website.
According to GTmetrix, the Emarat theme loads completely in just over 7 seconds. It is quite disappointing! Statistically speaking, most people find a site boring when it loads in more than 3 seconds. So, 7 seconds, you imagine the carnage.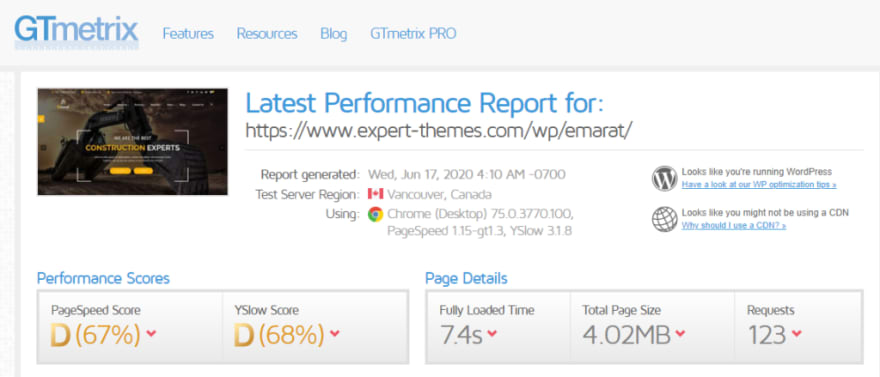 However, we must not forget that this is only a demo intended to give us an overview of what your site will be. The author may, therefore, have neglected this aspect. One of the main causes of this poor result is the images integrated into the theme.
The heavier the images, the slower a site becomes. That's why you have to be careful. You can for example optimize your images before adding them to the site. This process will have a positive impact considered on the loading speed. You can also take care of your Cache which by accumulating slowly slows down your site. With these tips, you will be able to get a reliable average speed for the success of your website.
SEO Review
The technical aspects of Emarat have probably been overlooked for its author. After speed, it's SEO's turn to display a not so shiny face. SEO optimizations are however very important to ensure the visibility of your site through a good positioning on the results of search engines. Many parameters are taken into account; and according to the score posted by SEO Site Checkup (54/100), the Emarat theme is very limited on this point. Perhaps also because it is only a demo, but we find it a shame.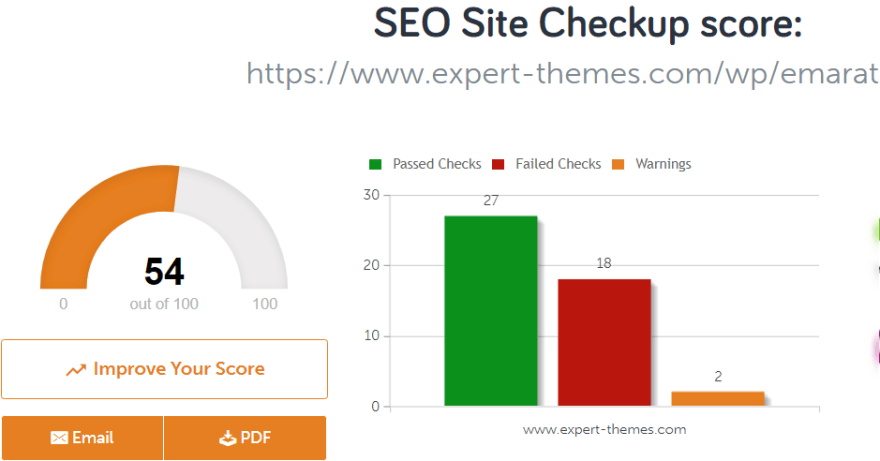 On the other hand, you have the possibility of correcting the tire for your site. It would then be necessary to make the necessary optimizations. Among the problems we have noted, the most serious concern Meta Description, Keywords Usage, Heading Tags, CSS Minification, etc. The most effective way to deal with this problem is to use a plugin. There are quality SEO plugins that could help you with this.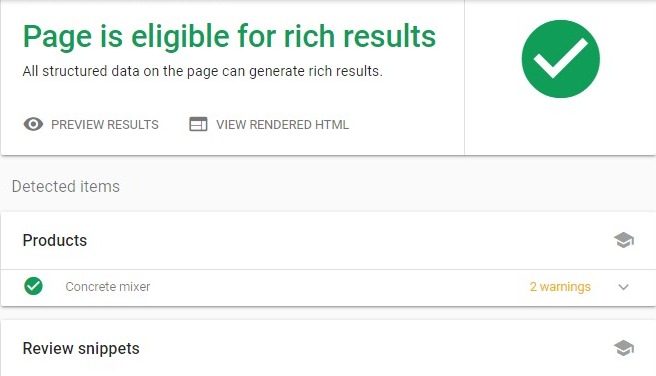 Fortunately, Emarat has a major advantage: it supports rich results (products, rich snippets, etc.). It will be possible for Google to offer additional information about your products and services directly in the search results.
This is a criterion that Google bots appreciate and use to improve your SEO.
Customer Support Review
Even if this theme is only one year old, the team behind it seems quite experienced. This is seen through the support that is provided to users. We note a delay of 24 / 48h for the treatment, as well as a lot of professionalism in the management of concerns.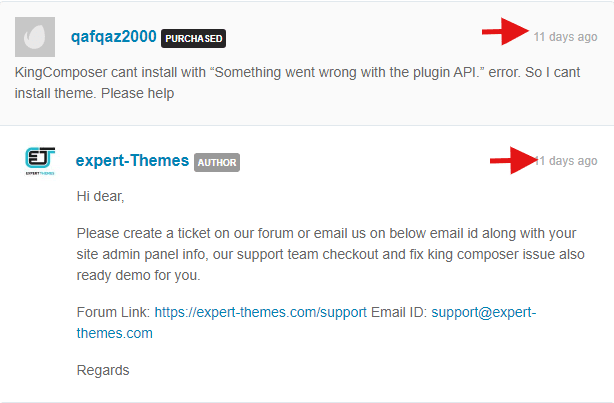 This quality assistance earned praise for the theme from satisfied users. In addition, the theme regularly offers updates to always improve its product a little more.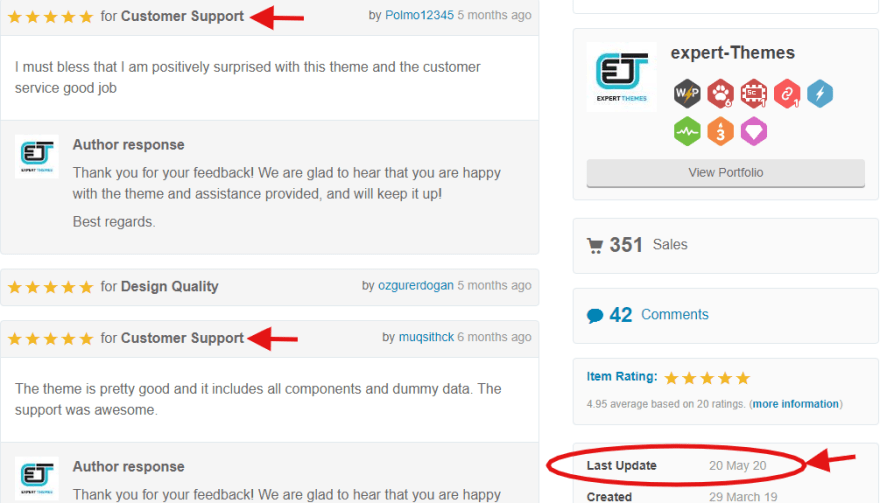 Supported Plugins
The Emarat WordPress theme will save you money because it supports quality plugins including WooCommerce. You can easily integrate an online store into your site with this plugin. We also find Slider Revolution or even King Composer.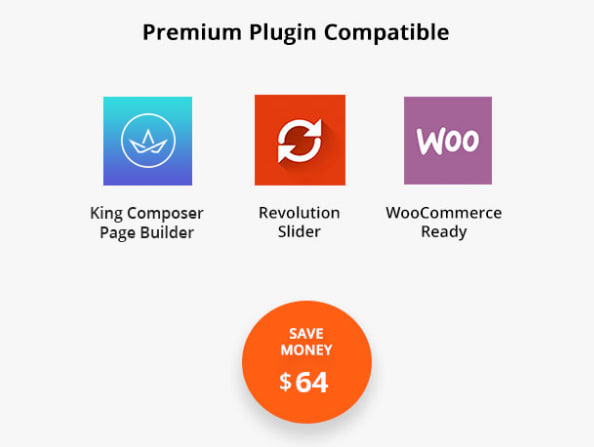 Summarize
In conclusion, Emarat is a theme with very great potential. It has been able to assert itself in a year of existence and it is not for nothing. Its strong point remains this magnificent and professional design; as well as foolproof customer support. With such arguments, how might this theme not appeal to you? So try to see it!