The WordPress Theme Eduma might at the first approach look like a regular LMS Theme. However, the first impression we had on it wasn't true, because Eduma has a lot to offer. Eduma is a premium WordPress theme that can be used to create amazing education websites, thanks to the features it offers. We've have been exploring this WordPress theme, as well as how the support is provided by the author, in order to give feedback on what you could expect. You'll also learn at the end whether it worth buying it.
Let's get started. Feature List
20+ Pre-build Demos
Ultra SEO Optimzation
BuddyPress Support
Drag  & Drop builder
Event Manager
Rebrandable
Mega Menus
Mobile Friendly (responsive)
Various Payment Gateway
GDPR Compliant
Mobile Compatibility
Obviously, our first test will be made over the mobile compatibility. We would like to remind you that, this is actually one of the arguments used by Google to rank websites. Your website should, therefore, be mobile compliant. This is also recommended by WordPress.
The mobile review we've made over Eduma has been quite satisfying. In fact, we've noticed that the website stretches to fix the device's width.  The Good point was the menu hidden on mobile.
Create Amazing Websites
With the best free page builder Elementor
Start Now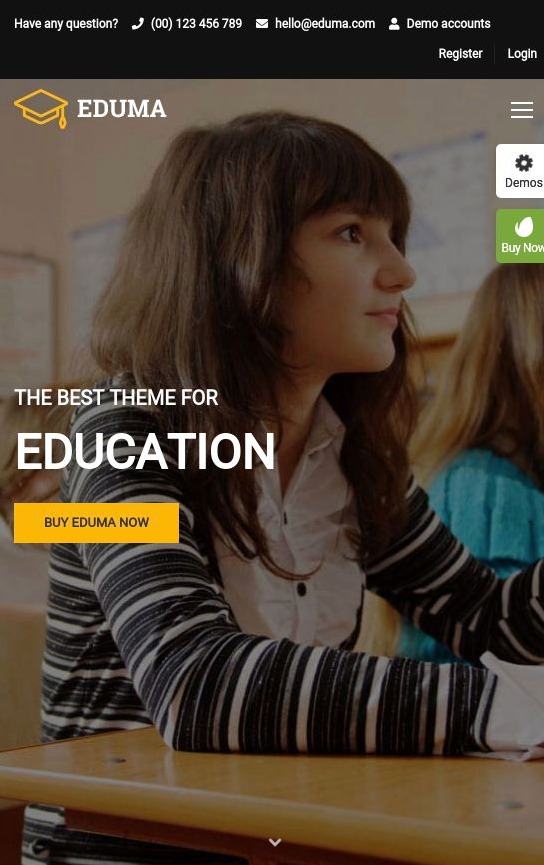 We've also tried to use it on a more large width such as those used for tablets and notebook. In short, the experience is not that disappointing. We got exactly (or almost) what we were expecting.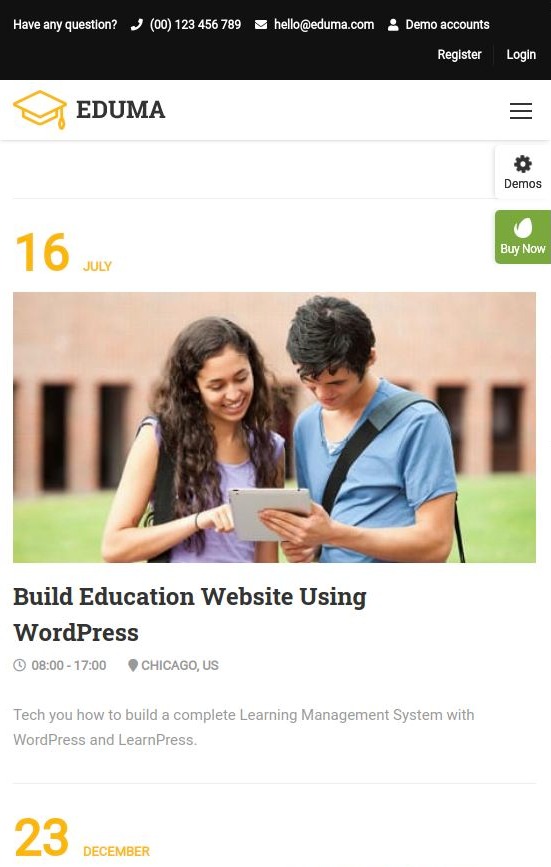 We have however noticed that on smartphones, the footer doesn't necessarily split into 2 sections. It might be a nice solution like that, but sometimes it leaves an empty space on the right side.
Design Review
Well, who said that the design doesn't matter. For such theme, what your students or teachers will see first, will contribute to a better or bad user experience (UX).
The Design review we had on Eduma has been based on the only demo offered by the author. The base colors are Yellow, White and Dark. The theme mixes all these colors to have a perfect color mixture.
Some of the images have a transparent dark overlay, that helps to put more focus on the texts.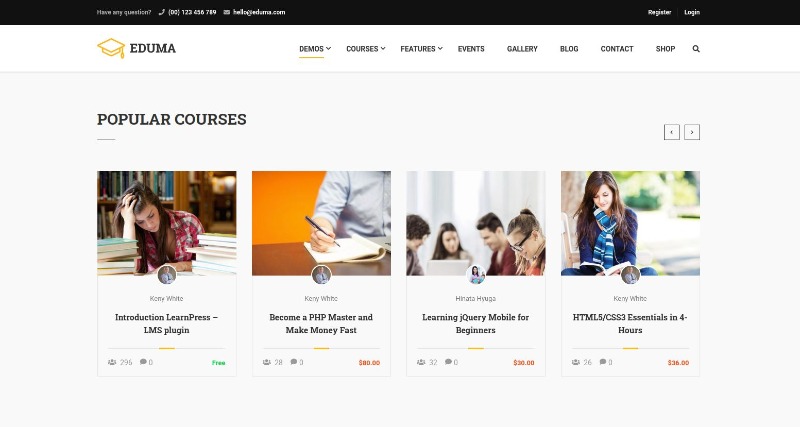 We won't forget to mention the animation available on the theme. One of these animations which caught our attention was the footer's revealing animation.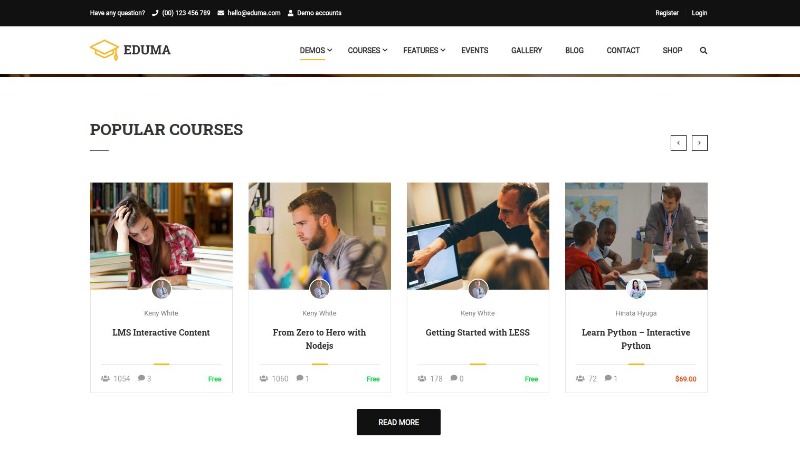 Somehow, we have also been seduced by the mega menu header, which looks great on a high video background. A mega menu is a good UI component helps you to display useful grouped items in a fashion way and Eduma does it.
Speed Test Review
Where is the guy who said: "My website is fast because it loads in 5 seconds". Hell no, your website should load in less than 3 seconds. Nowadays, we're no more patient. It has to be fast. Fortunately, Eduma looks great based on the test we did on the speed.
The website looks 43% faster than most websites. While this might look like a somewhat acceptable result, I would like to remind you that this score could be changed if the right tools are used (i can point to Smush It). In fact, the score depends on various elements that are specific for the demo and that might not be available on your end website.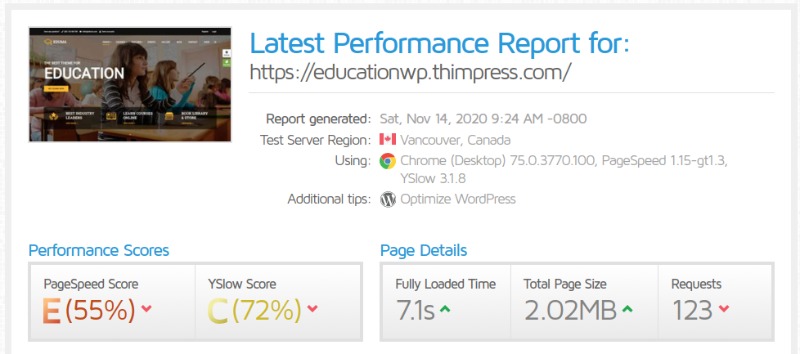 SEO Review
SEO is one of the most interesting aspects of a theme that should help you decide if you should go with it or not. The more a WordPress theme is SEO-Friendly, the fewer efforts you'll put on the SEO configurations. Eduma had a good SEO score with some errors.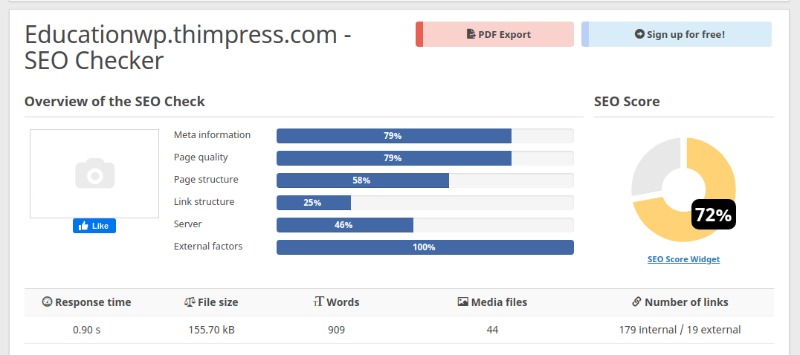 Most of the result was related to the speed of some pages. indeed it looks like some pages took some while to load. I just want to remind you that the speed of a page depends on various factors. One of these is the image you add over the theme. While this theme looks more beautiful with images, you should, however, avoid using too many unoptimized images.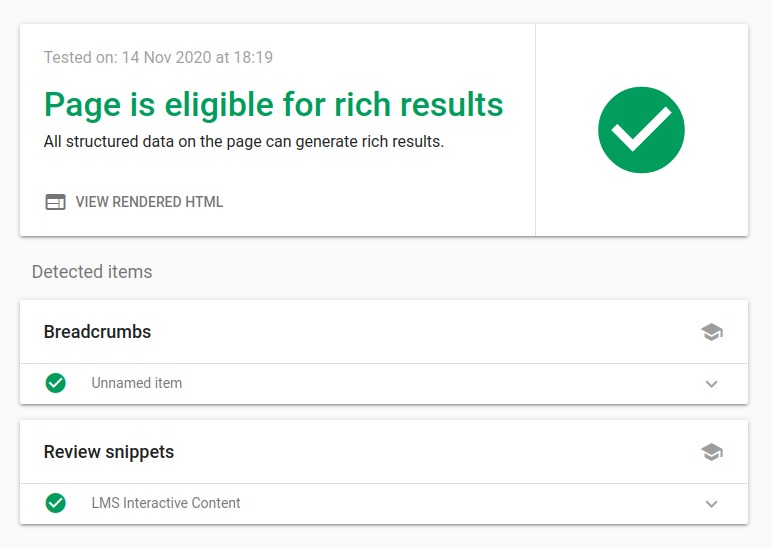 While testing the SEO section, we've noticed Eduma support Rich Results for Product and Review snippets. Rich Snippets are actually very useful to ensure a useful information displays right from Google Search page (SERP). It can be useful to increase your CTR (Click-through Rate).
Customer Support Review
Alright, what happens if you have an issue with the theme? How does the author handle support? Well, one of the things we've noticed is that the theme is quite popular. Sometimes (not always), popular authors can't reply just in time to the queries that you might address. Indeed, by exploring the comment section, we noticed that the author wasn't replying just in time to queries. However, this could be caused by the tons of customers requesting support frequently.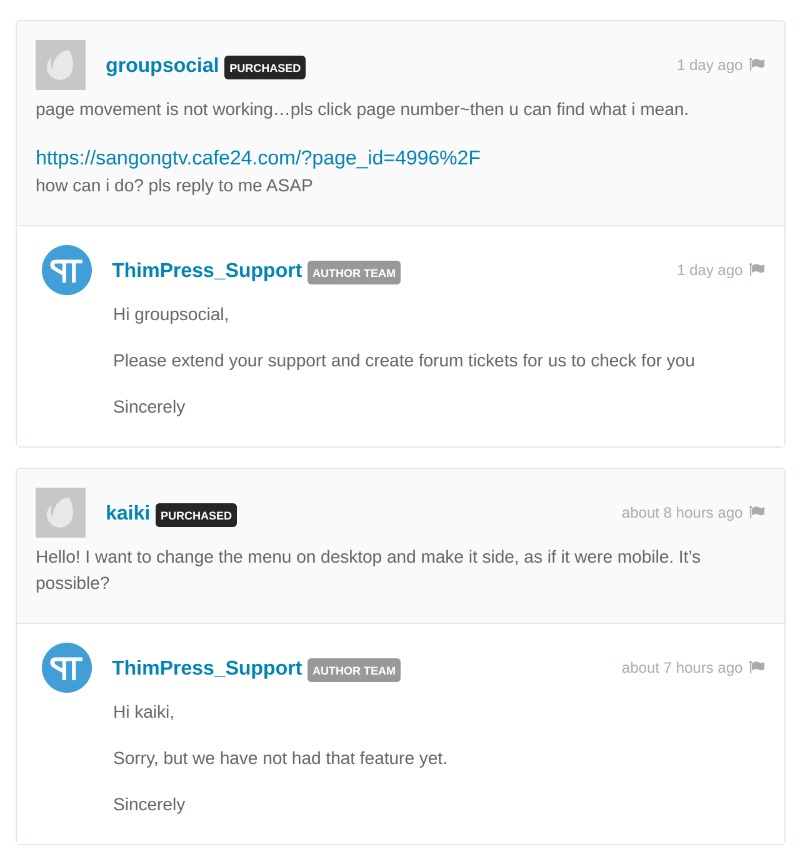 I believe we cannot make our mind only on the way the author answer to requests. The most important is customer satisfaction. The ratings say a lot about: 1454 reviews for 4.87/5. Do you think these reviews are wrong? Supported Plugins
A good looking, faster, and SEO friendly theme is nice, but what does that really offer as a unique feature? The compatibility is one of the points that need to be covered. Eduma stands proud because it's compatible with WooCommerce (for sellings LMS products), bbPress (did you say forum ?), a page builder (Elementor, Visual Composer), membership Pro and some others interesting features.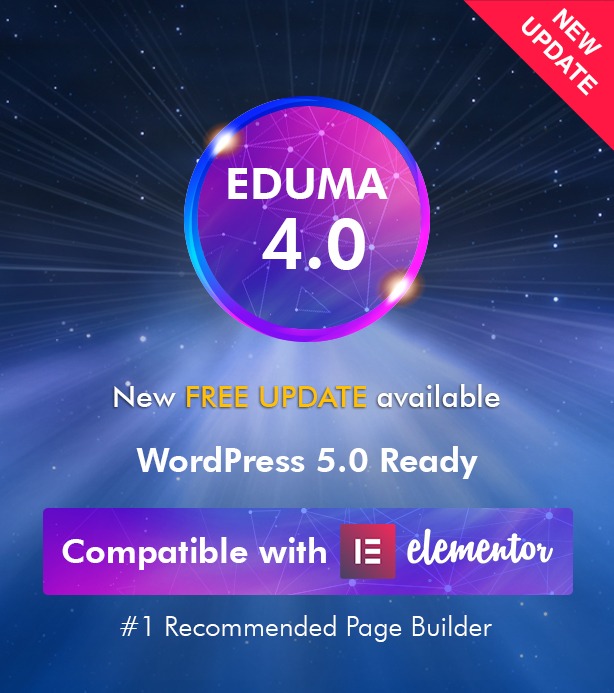 Summarize
Definitely, Eduma is a good candidate as an LMS WordPress theme, and whether you're a teacher willing to create a professor website or willing to create a website for a school or university, Eduma should back you up.
The tests we've been through has been more than satisfying. The demo has been however a bit confusing since we might have expected to have a website pointing to different demos, but it's not huge issue. Do I recommend this theme? Yes obviously, if your niche is LMS.