Today, we are interested in education, whatever its form. If you are keen to offer some type of training as a service, nothing better than a good website to promote your structure. And we have a WordPress theme that can perfectly suit your requirements. This is eCademy, a theme developed not long ago but which is already quite popular. We have been interested in the design of the demos it offers and we will have the opportunity to see all of this in detail through this review.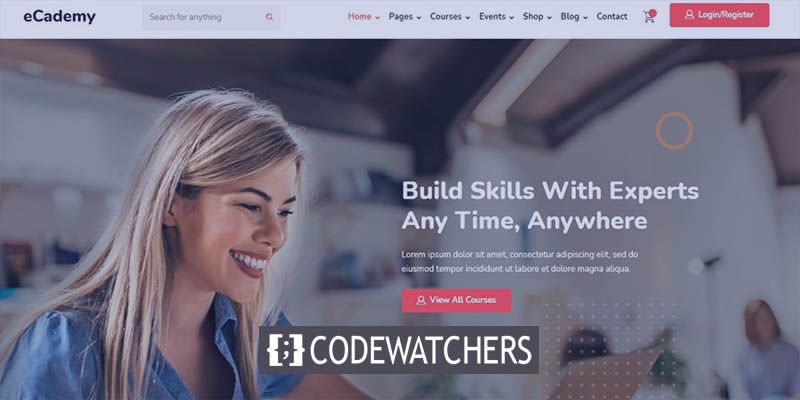 Feature List
9+ Demo Variations
Learnpress & Tutor LMS
Certificate for Courses (Printing feature)
Grading System Feature
WooCommerce Ready
WP Events Manager
Translation Ready
Event & Single Product
Course Preview Video Player Option
Live Streaming
Mobile Compatibility
Why start there?
Well, in 2020, optimizing the display of your website on mobile is no longer an option. It's a must! Most people prefer services that are accessible online, which they can manage from their smartphone or tablet. This is why the theme that you are going to use on your site must be up to date on this point.
As for our theme under review, we can easily ensure that it offers you this functionality through a test on Mobile-Friendly Test.
DIVI SUMMER SALE Once per year you can get Divi at a special price with 20% discount, and it will only be available for a few days. Don't miss out!
Download Divi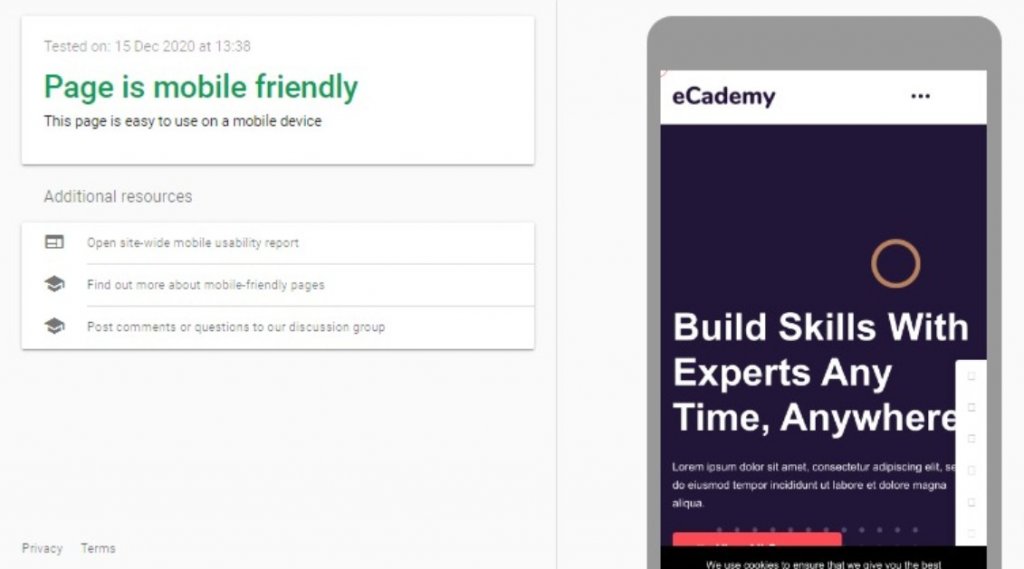 The result is final. The eCademy theme is compatible with mobile devices. We have even seen with the available demo that the layout adapts perfectly to the size of the screen, whether at the level of images or sections. You have a discreet fold-out menu, a "Back to top" button for easy navigation, and many other options suitable for smartphones and tablets.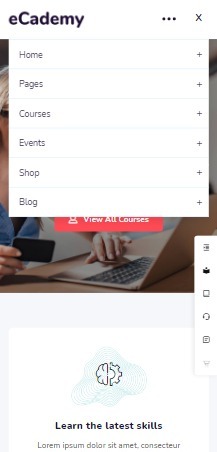 Design Review
It's just as important to look at design as it is mobile compatibility, as this is the first aspect that strikes a visitor to your site. If he doesn't like what he sees, chances are he will go away immediately. This is why the look of the theme should reflect its niche to captivate for the target prospect.
eCademy is an educational WordPress theme. It offers several demos that cover various training areas: eLearning training, Kindergarten, Yoga training, Health coaching, and many more.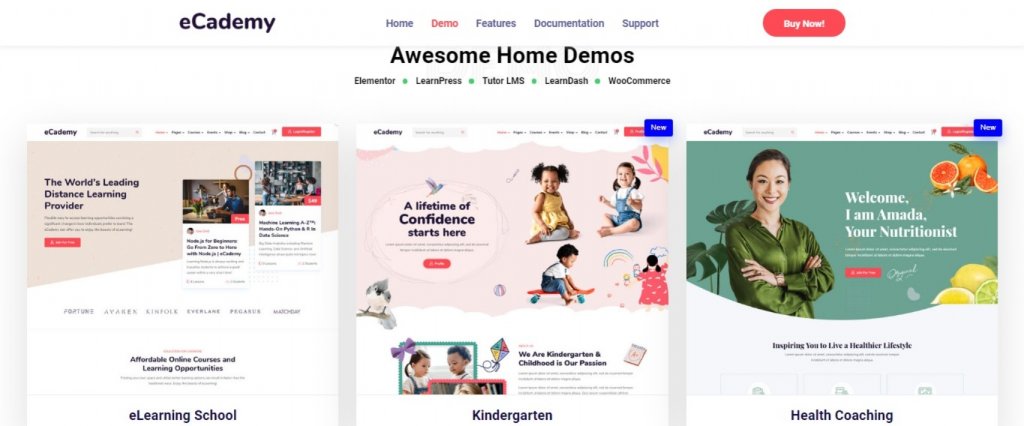 The demo "Yoga Training" caught our attention with its pure and beautiful design. You are clearly in a relaxing atmosphere, with pre-designed sections to highlight your services and the strengths of your business. The colors are well-chosen and harmonize very well (neither too bright nor too sober).
It's clearly one of our favorites; but the others are not left out. We really think you should find your sesame here.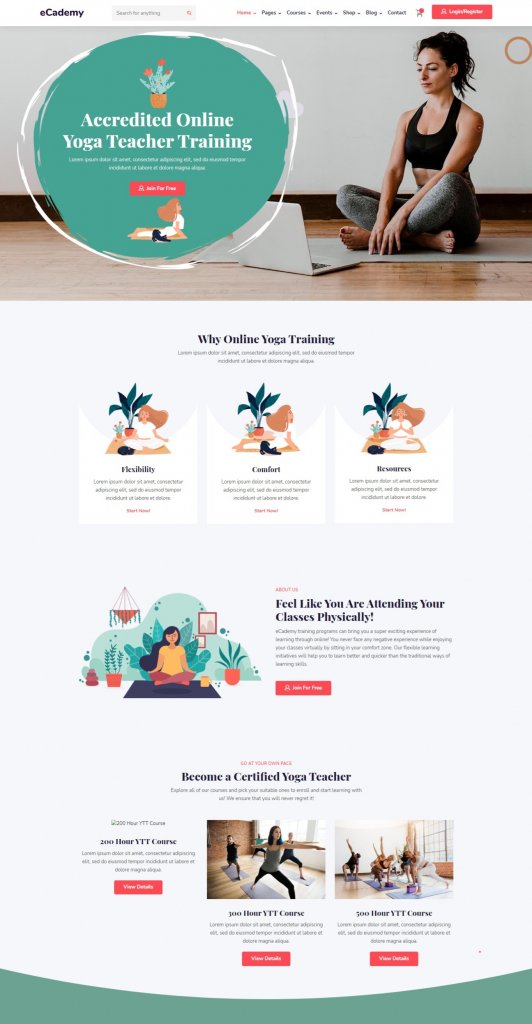 Speed Test Review
If the aesthetic side appeals enough to a user, he still has to be able to feel at ease while browsing through your website. This is where speed comes in, because it has a bit of a backlash on your site's bounce rate, especially when it's not adequate.
It stands to reason that in the digital age, anything slow becomes boring. Well, most people find a boring site after 3 seconds of loading for viewing a page. It very often happens that they close the latter even before it is fully charged.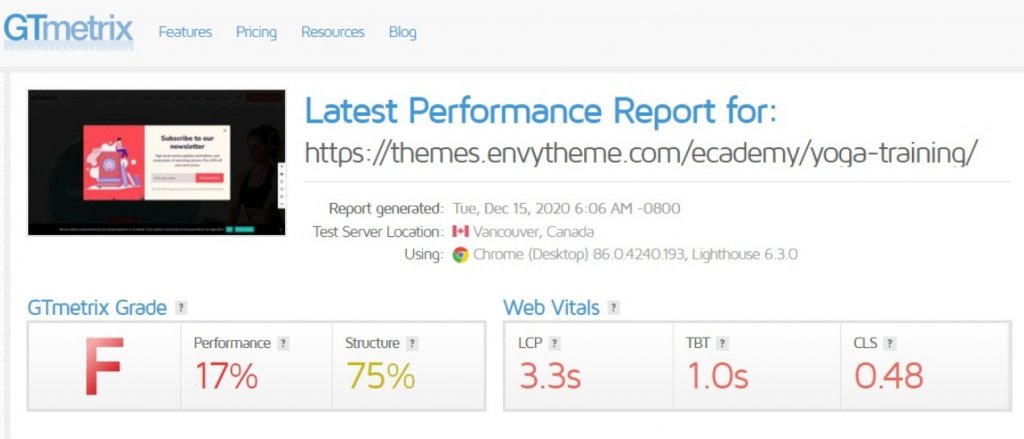 As for eCademy, the result is rather disappointing; to the point where the GTmetrix program awarded a grade of "F". But apparently, the bulk of the problem would be with the server. Therefore, with some optimizations, especially at the image level, you can get a more interesting result.
SEO Review
In terms of SEO, we also have a fairly mixed result. The score is relatively low, although it is above average. This assumes that there are a number of optimizations that will need to be done when building your website.
Note for example that the available demo lacks has "robots.txt" file. This file can protect private content from appearing online, save bandwidth, and lower load time on your server. A missing "robots.txt" file also generates additional errors in your apache log whenever robots request one. Besides this problem, there are many others that you can however easily correct with WordPress SEO plugins like Yoast SEO.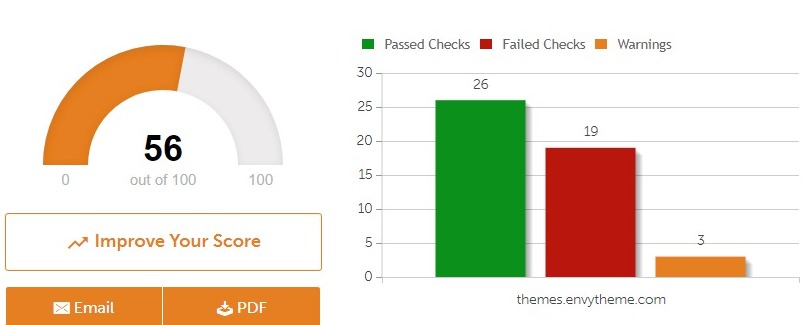 Fortunately, eCademy supports Rich Results and it will have a positive impact on your site's SEO. Google may offer additional information to Internet users on the results pages and thus attract more traffic to your site. We are confident that this feature will allow you to effectively promote your products and services.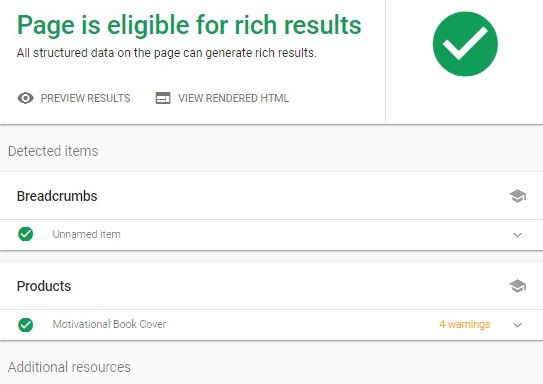 Customer Support Review
What kind of support can you get using the eCademy theme? This is what we have tried to analyze at this level.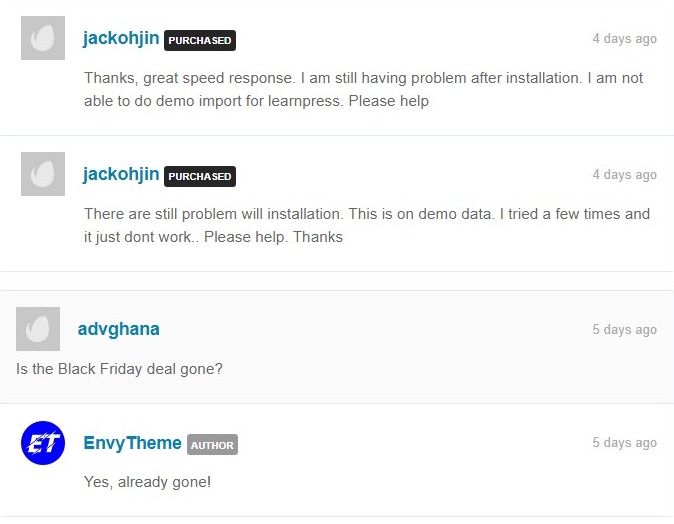 We note that customer support is certainly one of the key assets of this WordPress theme. Concerns are dealt with in a prompt and courteous manner. Most of the users are satisfied that the team has to do everything to find effective solutions.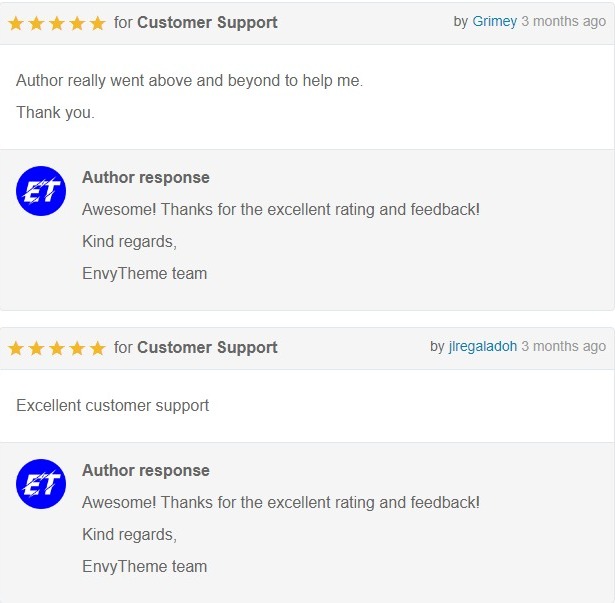 In addition, the author takes great care to regularly offer updates in order to maintain his product up to standards.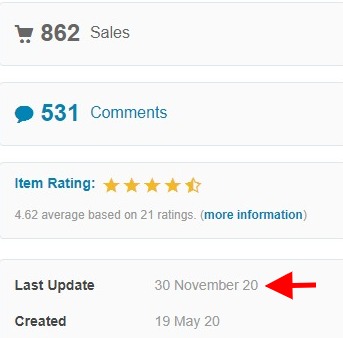 Supported Plugins
The eCademy WP theme comes with Zoom plugin support for live classes. It also supports LearnPress, Yoast SEO, bbPress, and WPML plugins.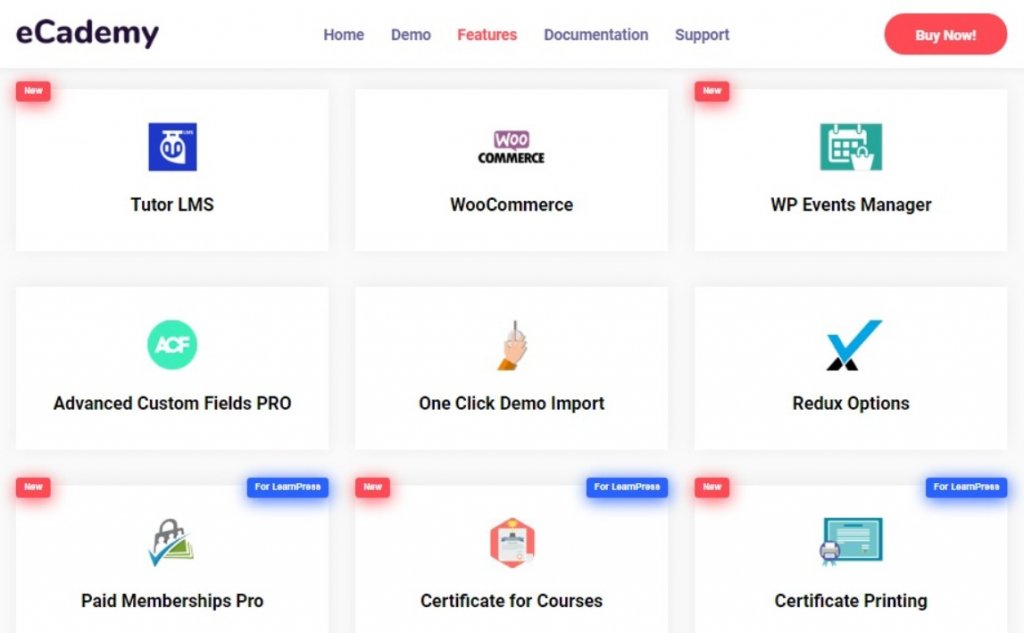 But above all, this WordPress theme is compatible with WooCommerce, the leader in setting up an online store. Courses, in particular, can be purchased through the WooCommerce payment option.
Summarize
Ultimately, eCademy presents itself as a quality WordPress theme that is suitable through its design for any type of training site. Visually, it is very beautiful and attractive, both on mobile and desktop. However, some technical aspects need to be reviewed although we can take credit for the fact that it is a demo and not a full-fledged site that has been tested. Finally, we recommend this theme which we find rather promising, especially given the quality assistance provided to users.
If you liked this article, it would be interesting to share it on your social networks. In addition, you can be up to date with our publications by following us on Facebook or Twitter.