Cloux is a multipurpose and straightforward WordPress theme that has been made for game companies, game listing sites, eSport team & organizations, game review & blog sites, application company, and game shop sites. But you can also use if for other blogging websites. It has advanced theme customizer and powerful page builder support. It has You can use the theme for a variety of purposes, including creating gaming news sites and establishing online identities of your eSports clan.
Cloux is an attractive WooCommerce theme because of its numerous features, along with all the awesome page layouts. If you want to create a simple but gorgeous website for your techno blogging, personal gaming clan, or news organization, then Cloux is the perfect theme for you. Before going to the in-depth review, let's take a look at the key features of this theme.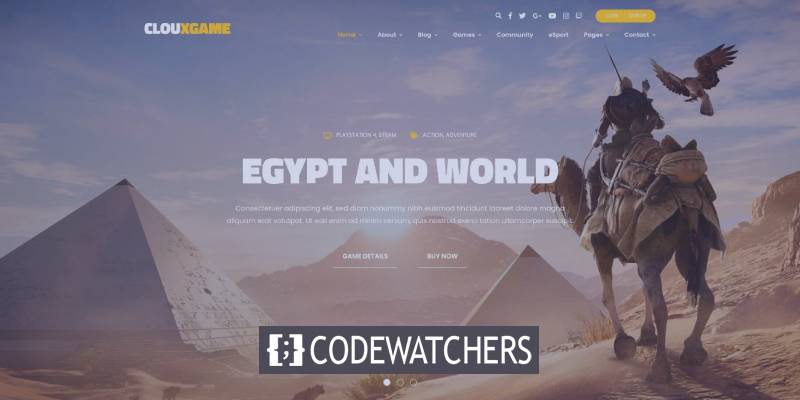 Feature List
8 Gorgeous Homepage
eSport Features
WooCommerce Integration
Blog System
Multilingual Integration
Responsive Design
SEO Friendly
Colors & Fonts
Gallery & Sliders
Dynamic Image Sizing
WPBaker Page Builder
Advanced Theme Customizer
bbPress Integration
Contact Forms Integrations
MailChimp Integration
Membership System
Social Sharing
Widget Importer
Support
Online Documentation
Mobile Compatibility
More and more mobile devices are flooding the market every day, revolutionizing the way people use the Internet. And the need is growing for more attractively designed and coded WordPress themes that work well across all of these devices. Mobile consistency lets the website harmonize with any screen size ratio.
We have checked the Cloux's mobile compatibility. The theme will run nicely on all devices available in the current market. All elements of the theme are set up perfectly on any device and no part of a page component is cut off the screen or overflows over another element. All the pages had thin padding on both sides which made the theme look very nice on mobile devices. But a small suggestion, that is - increasing the font size of the blog page would be easier to read web content.
Create Amazing Websites
With the best free page builder Elementor
Start Now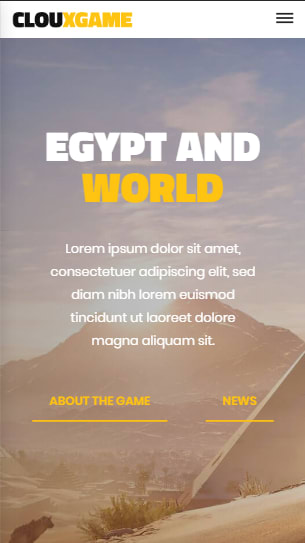 We performed Google mobile compatibility test to check the fast responsiveness of the demo website and there we see that the theme is capable of making a website completely mobile friendly. So we can say that you don't have to worry about the mobile compatibility of the website when you use the Cloux theme.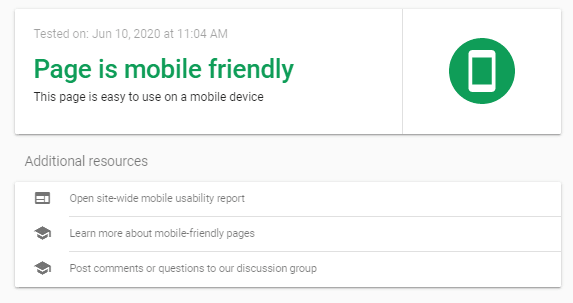 Design Review
When your audience visits your website, the exterior design of the site gives them their first impression of your business. They will judge your business within seconds. If your website looks unappealing or antiquated, your audience will immediately have a negative impression of your business. So designing is an essential factor because it impacts how your audience perceives your brand. Good web design helps you keep your leads on your page.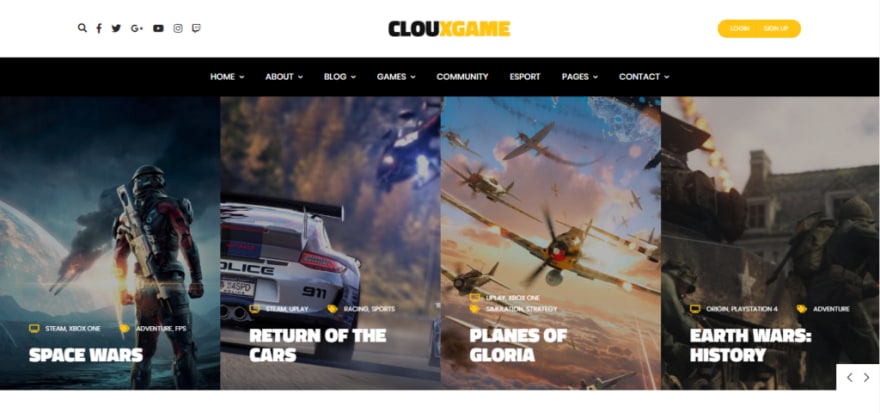 Cloux's user interface is quite clean, but since it is a blog site WordPress theme, its landing page is informative and full of essential elements. Cloux comes with an advanced theme customizer that allows you to change every individual component of the theme. You can comfortably sort your reviews by category because the theme has a particular system for reviews only. There is also an integrated search system that makes it easy for your visitors to find anything. Numerous widgets and sidebar layouts can meet all the essential needs of your audience.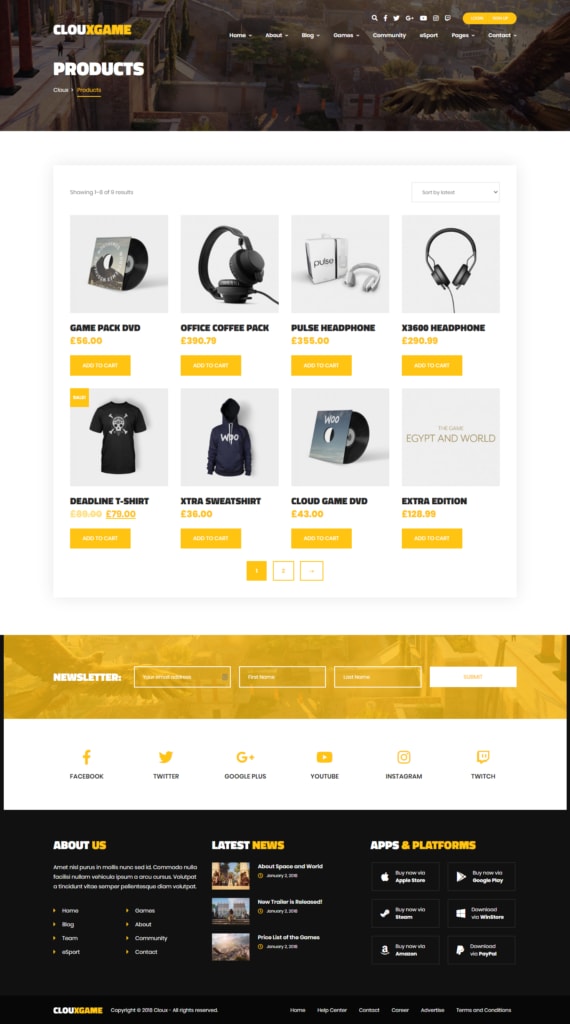 There are built-in Home page, blog style, review style, blog page, categorized game listing, eSports, corporate page style, shop page, contact page, and many more essential pages, and each of which has multiple design patterns. All of them are made with WP Bakery Page Builder. So it is safe to say that Cloux's design served its purpose.
Speed Test Review
When you get to a website that takes a lot of time to load, how does that make you feel? People usually leave that website out of anger or frustration. Smartphone users are most likely to wait up to 3/4 seconds for a website to load. Then they move to another site. Google knows very well that if fast-loading websites are not included in the top list in search results, then there will be no value in Google's ranking chain. Therefore, it is recommended to have less loading speed for all the websites.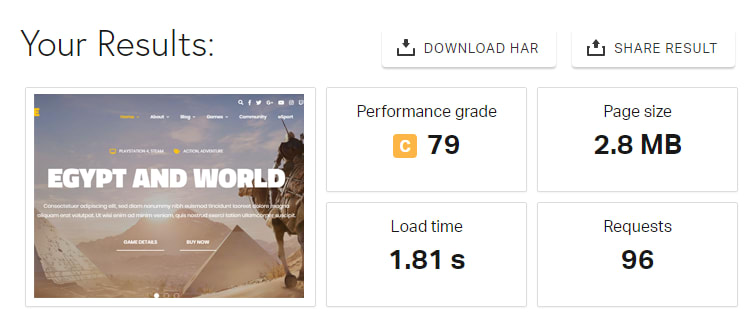 We are very impressed with the results of Cloux's speed test. We checked the speed of Cloux's demo website on the Pingdom website, and the theme completed full page loading in about 1 minute 81 seconds. Due to the lighter page size, which is 2.8 MB, we have this marvelous score. However, the overall rating is 79, which means the theme still needs improvements. If we compress page components such as style sheets, Java scripts with the help of Gzip, then it is possible to reduce the loading speed of the page further. Wordpress users are privileged to have a massive plugin store, and you can find different Cache plugins that can help you with these issues.
SEO Review
SEO gives a better user experience to your audience and upholds your website among the best. Google gives more attention to those websites that are SEO friendly and contains legit information. SEO is a long term strategy, and it gives you more engagement and traffic. If you get an SEO friendly WordPress theme for your website, this will be a real boost to your marketing.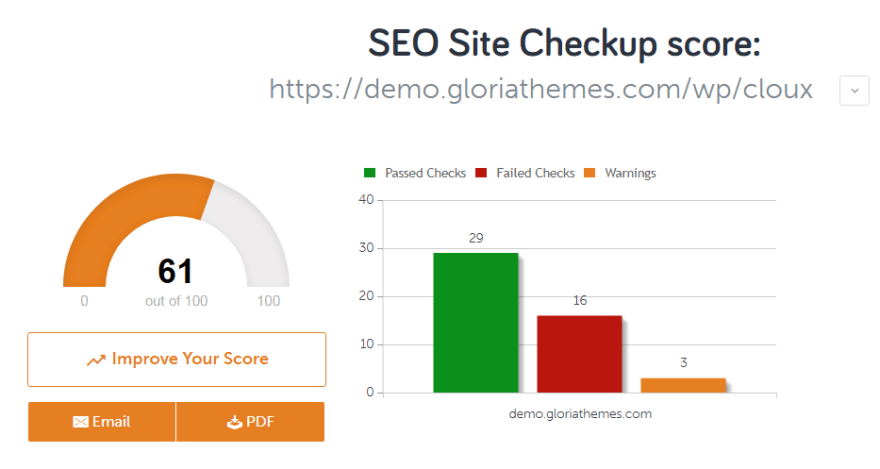 SEO Site Checkup is an excellent online tool that helped to check Cloux's SEO credibility. We found this theme above-average with a score of 61 out of 100. It failed 16 SEO parameters and got three warnings. There are no meta description tag, initial keyword appearance, heading tags, image Alt tags available of this demo. Also, it lacks robots.txt file, sitemap file, and Google Analytics script. You must use a favicon on this website, and it's using inline CSS, which can damage SEO performance.
SEO depends on data provided by site owners, so it is your job to fix these issues. Want to get a higher SEO score but don't have coding knowledge? Thanks to WordPress developer cause they build some Amazing SEO Plugins. You can use them to resolve all your SEO related problems effortlessly.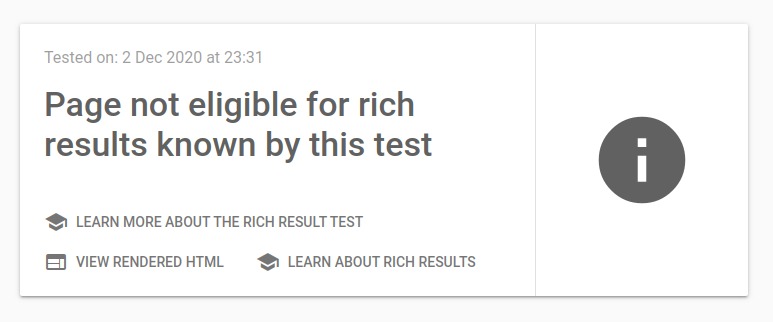 Unfortunately, while checking if ClouX is compatible with rich results, it looks like Google hasn't detected any structured data. We've noticed ClouX offers games reviews, at least we've expected this page to have structured data. So bad!
Customer Support Review
Gloria Developers is working to support the Cloux WordPress theme. Support systems play a vital role in any business promotion and expansion. The main goal of the Gloria developers team is to give a fair solution to the customer's complaint and deliver the product in the future according to their needs via updates. However, they need to be more attentive at the support center because we have seen that a few peoples are commenting to check their problems cause they aren't getting any response even after creating a support ticket.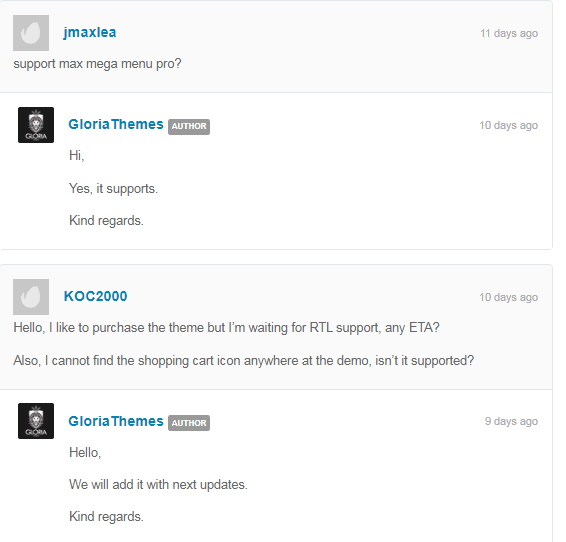 Cloux has a 4.69 rating based on people's reviews. Excellent design and flexible customization facilities have really made this theme admirable towards its consumers.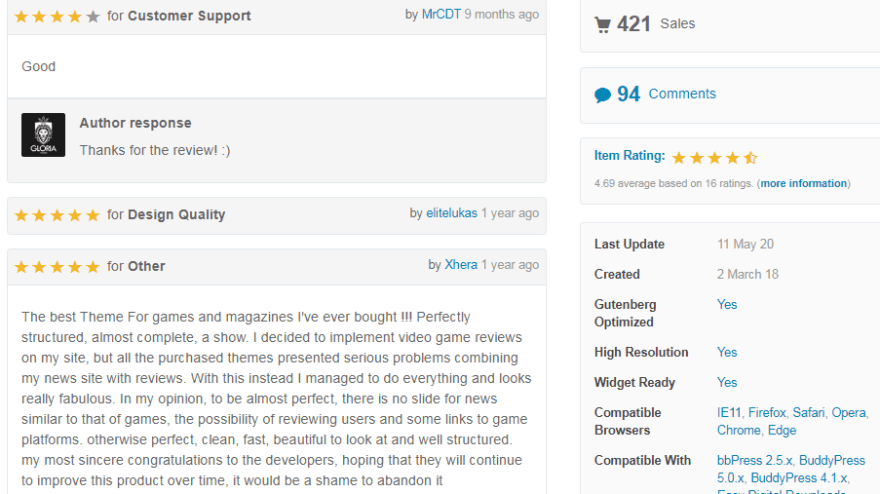 Supported Plugins
We have four amazing plugins integrated with the Cloux WordPress theme. WP Bakery page builder is a premium and well-known page builder that will help you to create outstanding webpages with its element library. As this is a blogging based theme, We have a bbPress plugin that will help us to create forums to discuss topics served by the website. We have Mailchimp integration to send regular content updates on newsletter subscribers inbox. And last but not least, We have WooCommerce integration to run an Online shop. All these plugins are bundled with theme packs, and you have the authority to use other plugins as your need.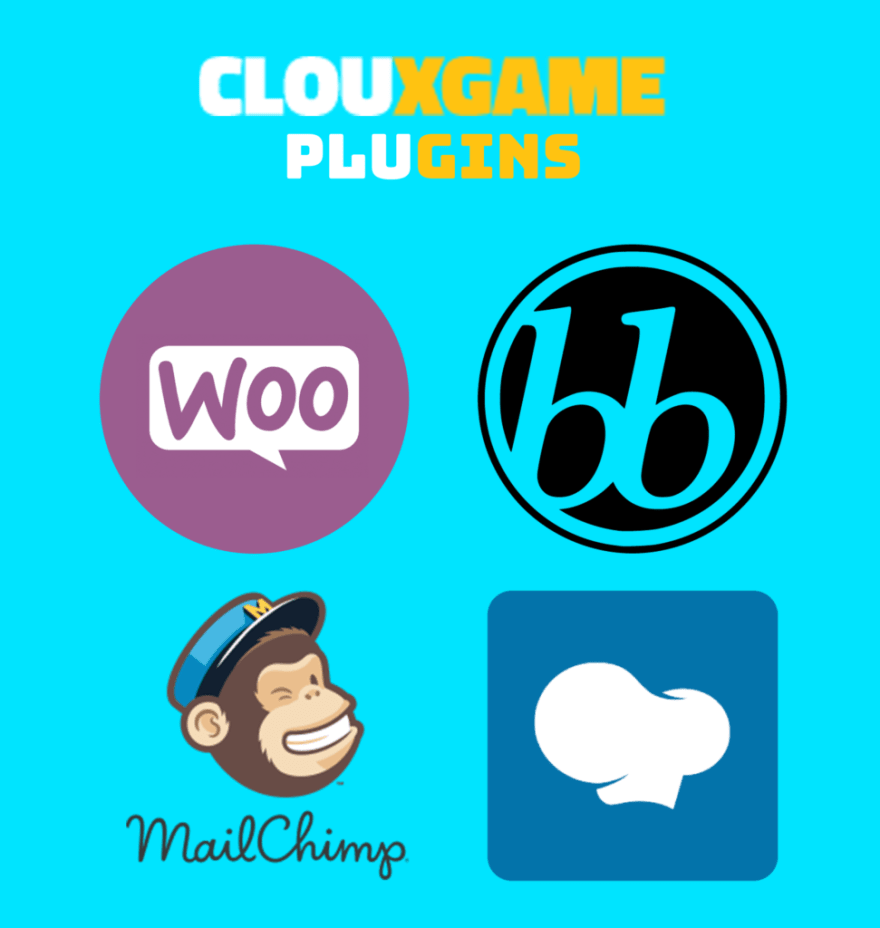 Summarize
The Cloux theme offers more functionality, particularly in subject matter terms than many noticeably more expensive items. It has all the qualities of a gaming or technology review and shops web site that anyone can ask. With some minor modifications that we mentioned through the survey, this can be the best choice for your blogging website journey.