Today, many platforms for good works exist on the web. And even if you want to create one too, it's not always easy. The big difficulty concerns the specific tools that would allow you to set this up. We have discovered for you Charity Hub, a WordPress theme designed for the creation of non-profit platforms, NGO, donation, church, or fundraising. We have taken the trouble to study this theme in great detail and we invite you to see what it has to offer.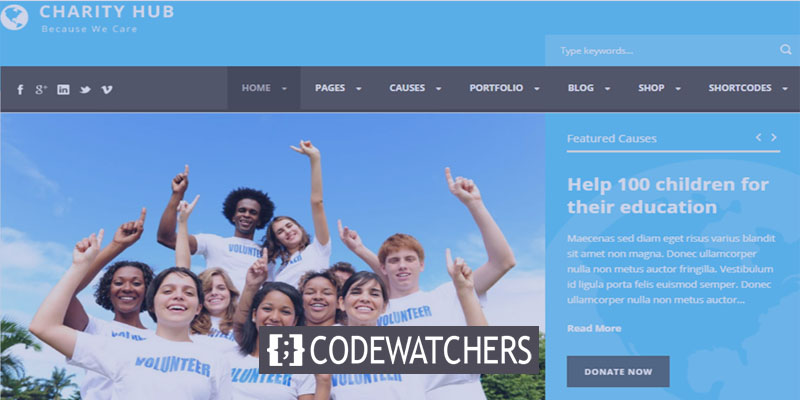 Feature List
Sidebar size customizable
WooCommerce supported
Fully Responsive
Boxed/Full Width Layout
Page Builder Setting Shortcut Button
Optimized Code & SEO
Mega Menu included
4 Portfolio Styles
Parallax/Color Section
Youtube video as background section
Mobile Compatibility
A theme compatible with mobile devices is in keeping with our times. Indeed, whether for work or entertainment, most people prefer to use a mobile device because they can use it anywhere.
The Mobile-Friendly Test site allowed us to test the mobile compatibility of the Charity Hub theme. We are indeed dealing with a completely responsive and retina ready theme. The content adapts completely to the screen size.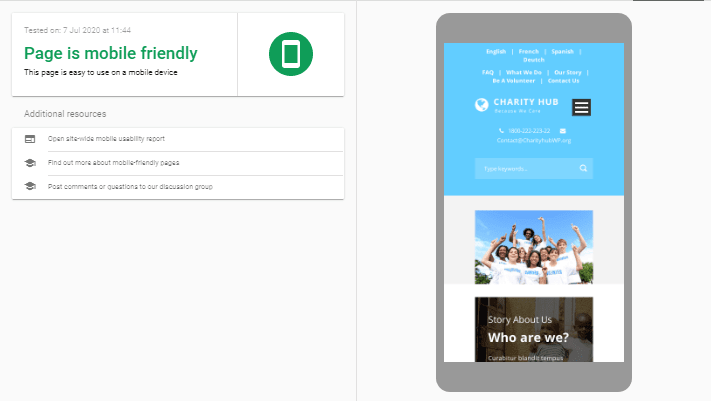 We also took the trouble to test some technical aspects of the theme. The functionality is optimal; your users can easily donate from their smartphones. Navigation is as smooth as on Desktop. Small flat, the visual aspect especially at the header. It may be subjective, but we find that when the header is too loaded with information, it's a bit messy. It's not very ergonomic, and even less aesthetic.
DIVI SUMMER SALE Once per year you can get Divi at a special price with 20% discount, and it will only be available for a few days. Don't miss out!
Download Divi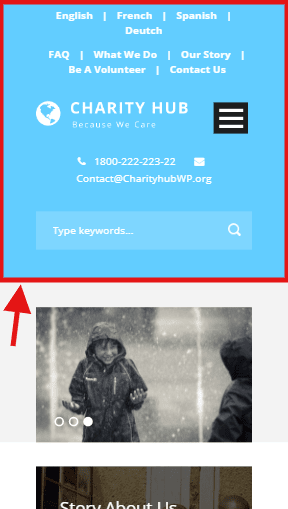 Design Review
Obviously, this author has preferences for fairly sober colors (black and blue especially), like the photographs used on the front page. This does not make the site dull and unattractive. The design itself is quite elaborate, with the correct section layout. It is a design that can accommodate any type of site, so it should suit what you are looking for as a website.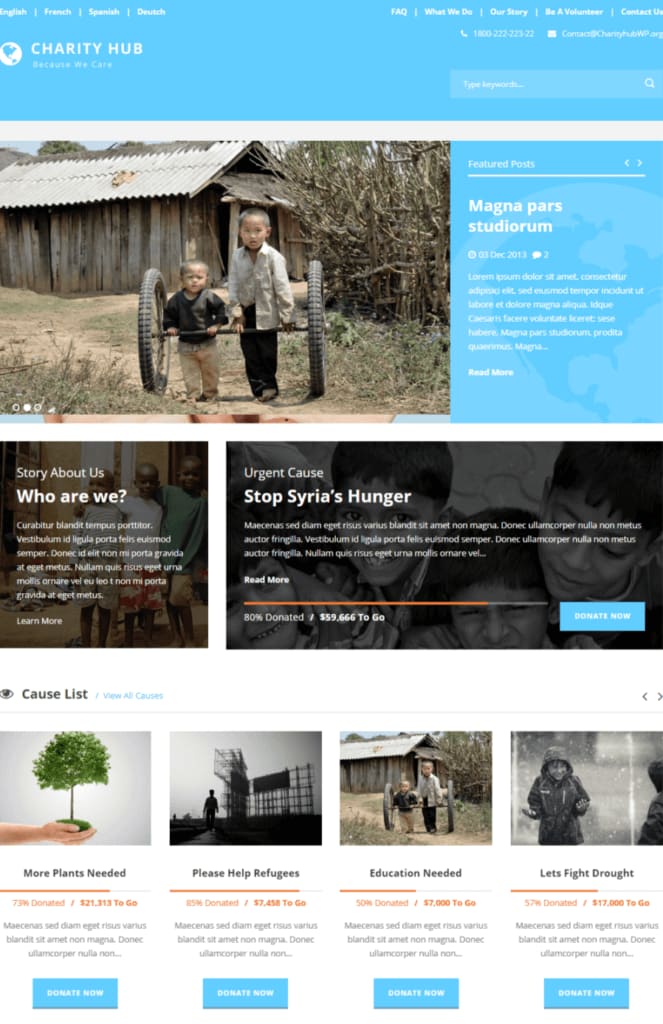 Charity Hub comes with many awesome features such as 'parallax/color/fullwidth' section, better column/row management. You can even import buttons such as "What we do", "Our Story", "Be a volunteer". You also have a mega menu, boxed / full style, scalable container, and much more… Basically, a rich and completely customizable design.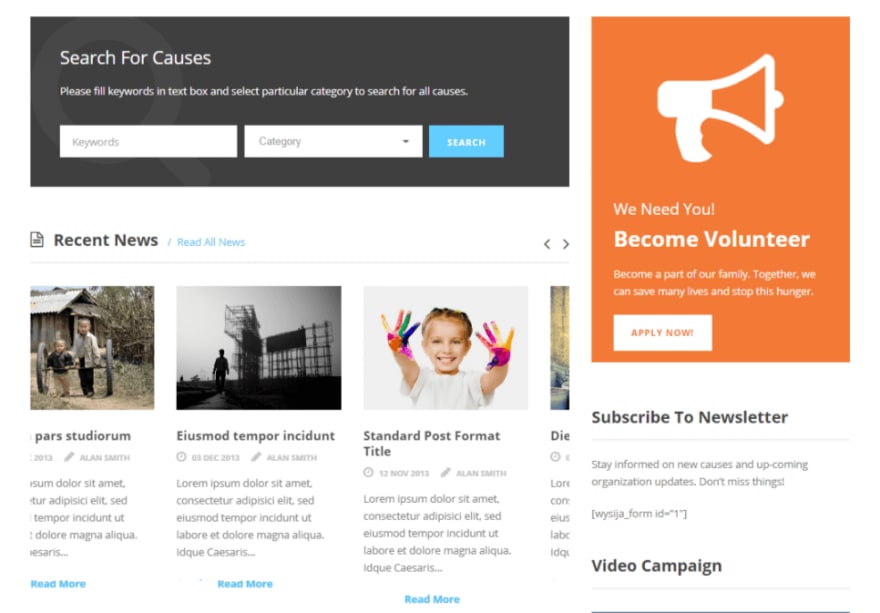 Speed Test Review
Now let's take a look at the loading speed of your site. Most users prefer a website to take 3 seconds or more to load in order to navigate. Beyond 3 seconds, the bounce rate is considerably increased. For this test, we used the GTmetrix program.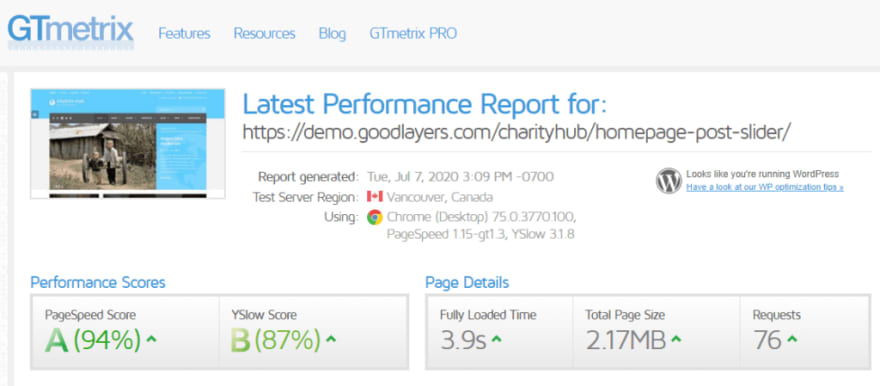 As we can see from this result, the Charity Hub theme loads on average in 3.9 seconds. Well, it's not bad at all, especially considering that this is just a demo here. In other words, with just a few tweaks, your site will perform well at this level.
The most important thing is to pay close attention to the images that you integrate into the site. They can negatively affect page loading speed. Here are some plugins that will help you compress your images to optimize the performance of your website.
SEO Review
A website that claims to be popular must not only be efficient in terms of speed, but it must be able to be seen by as many users as possible. So, the search engines will put your site forward on their platform according to the SEO parameters of it. The more your site is optimized, the better it will be ranked and the more visibility it will have. We used SEO Site Checkup to assess the SEO level of our topic.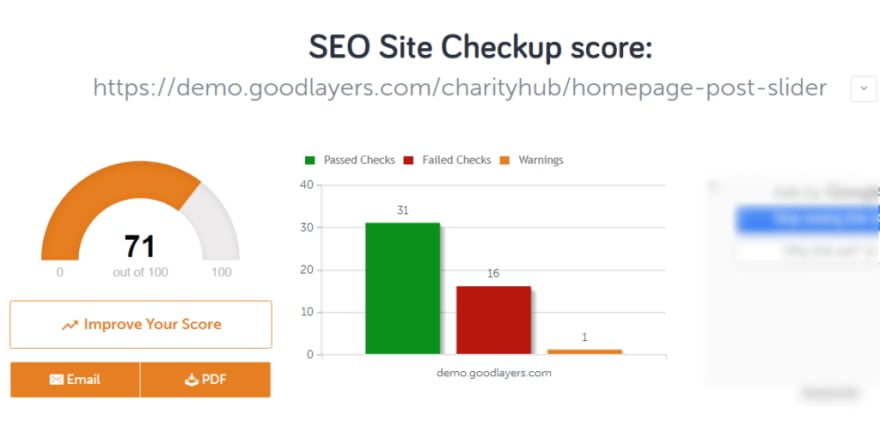 It is clear that the WordPress Charity Hub theme should allow you to create a site that will be highlighted by the search engines. Indeed, with an SEO score of 71/00, we understand that most of the basic optimizations have been taken care of by the author. Of course, it's not perfect, but for a demo, it's already not bad.
The few errors that we noticed mainly concern the meta description tag that is missing on some pages, the lack of sitemap files, and other errors related to keywords, heading tags, etc. To learn more about sitemap files, here is an article that should help you. In short, these errors can be corrected when creating your site. The most effective way is to use SEO plugins. This saves you from having special programming skills.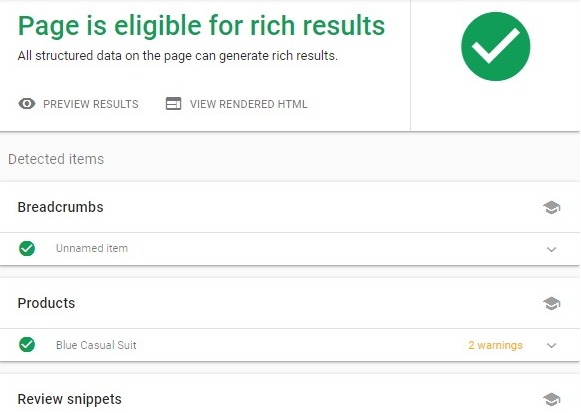 We ran another test on the Rich Results Test site. It allowed us that several elements of this WordPress theme can be used as results enriched by Google and thus improve your positioning on the search page. Among these elements, we find products, breadcrumbs, as well as review snippets.
Customer Support Review
Nothing better than a high-performance support team to allow you to take control of any tool on the web. The same goes for themes. This is why we have observed how the team behind the Charity Hub theme supports its users.
From what we could see, the treatment is rather quick. It is usually done in less than 24 hours. In addition, the team knows how to put itself at the service of the user to provide him with step-by-step assistance. Good point!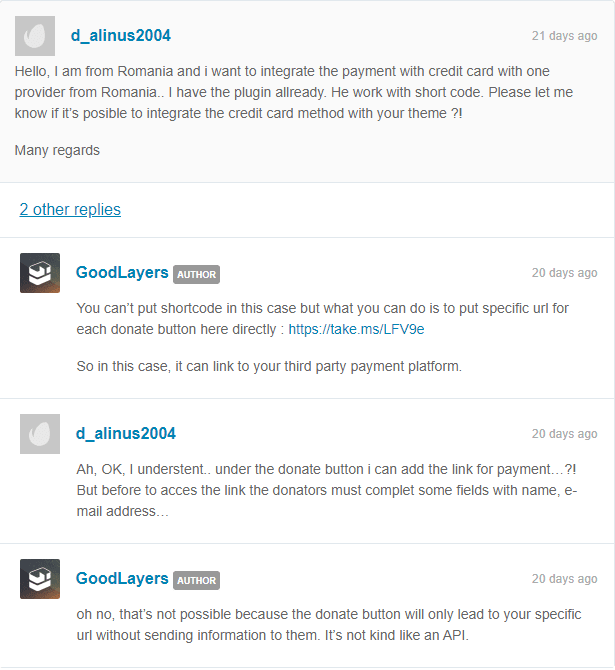 In addition, although Charity Hub is a fairly old theme (since 2014), its author still pays particular attention to this day. We can see this through the updates that are regularly provided. The last one was less than two months old.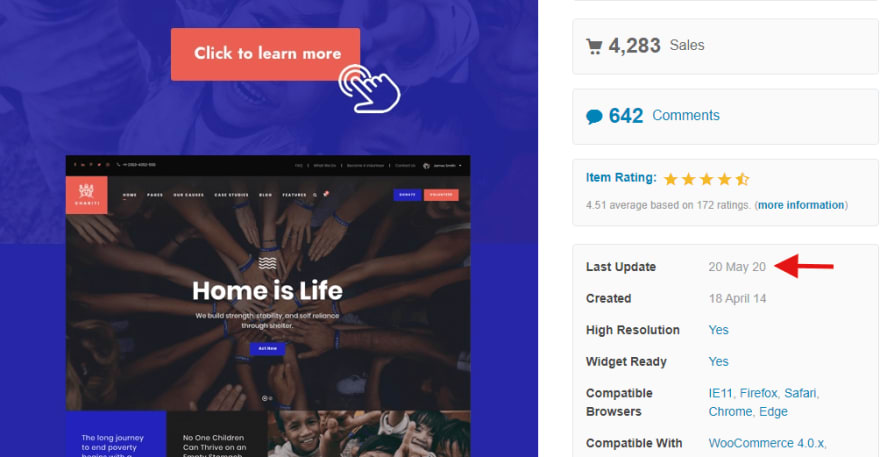 Supported Plugins
Even though the extensions seem optional for many sites. Nevertheless, they can be very useful.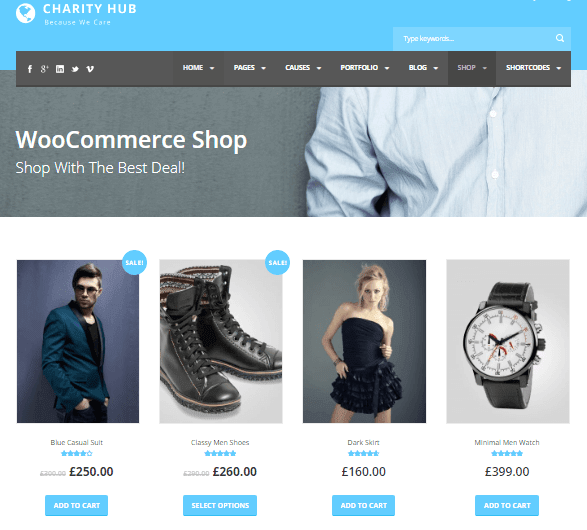 The WordPress Charity Hub theme is compatible with WooCommerce, the benchmark plugin for online store creation. In addition, we have WPLM, thanks to which you can make your site multilingual.
Summarize
In short, we have to admit that we are dealing with a fairly complete WordPress theme. With this theme, you have the elements necessary to make your future site a success (professional design, good SEO, quality customer support, etc.). We can only invite you to create your non-profit website with peace of mind.