Who wants to promote charity online? Maybe you? In this time of crisis marked by the Coronavirus pandemic, there is a great need for this type of project. For you today here is Charity Foundation, a WordPress theme developed for the creation of non-profit websites (charity, humanitarian aid, Fundraising, etc.). This non-profit theme offers demos with an attractive and rich design. But is it as interesting in-depth as it seems? This is all that will be the subject of our review.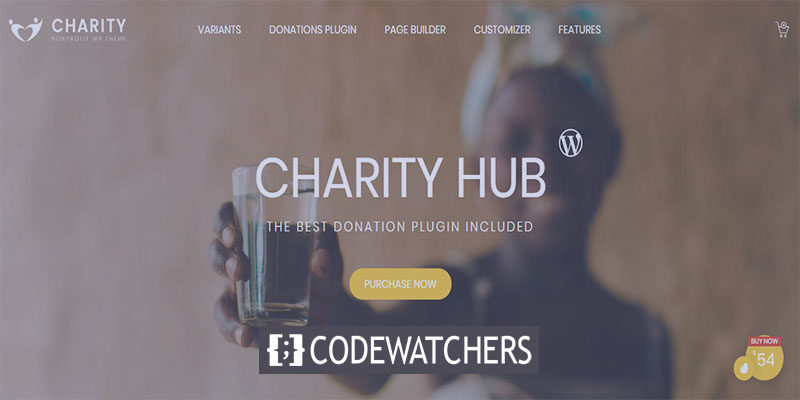 Feature List
6 Unique Home Variations
Fully Responsive
WooCommerce ready
Seo Friendly
Custom Donation plugin
Smooth transition effects
Powerful Custom Admin Panel
Cross Browser Optimization
WordPress Live Customizer
Detailed Documentation
Mobile Compatibility
We are in the digital age and almost everyone has a smartphone or tablet. A website that claims to be popular these days must be accessible on a mobile device, otherwise, it loses most of its potential traffic.
Thanks to Charity Foundation, this traffic is within your reach. Indeed, we were able to confirm that this WordPress theme is indeed responsive.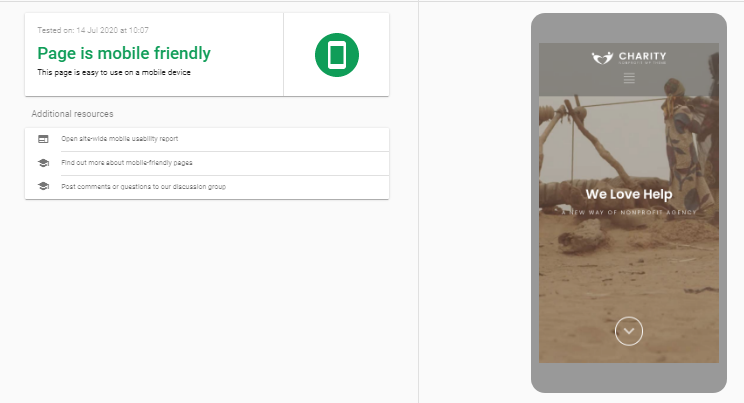 We took the trouble to test some demos on various devices, especially those with small screens. On the iPhone X for example, we can see that the layout has perfectly adapted to the size of the screen. Whether it is images, animations, or texts, they are well centered and pixelated.
DIVI SUMMER SALE Once per year you can get Divi at a special price with 20% discount, and it will only be available for a few days. Don't miss out!
Download Divi
Navigation is generally smooth, although a few times we have felt a slowness of execution. For ergonomic reasons, we find it a pity that there is no fixed menu or "Back to top" button. It would greatly facilitate navigation between the pages of the site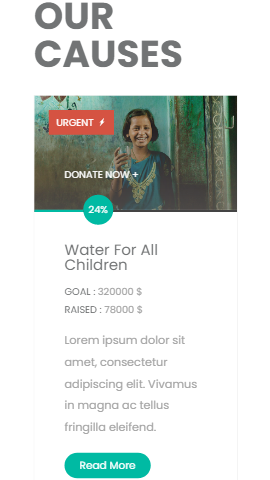 Design Review
When we open a web page, we are first impressed by what our eyes see. This is why design is so essential for a website. As part of our review, we were therefore interested in the quality of the design of the Charity Foundation.
Charity Foundation is a WordPress theme that provides you with several pre-built demos with designs as beautiful as they are unique. If there is a common point in the design of these different demos, it is the Human side. It is well highlighted and that is why with any of these demos, you can create a Charity site as well as your Church site. In short, everything related to humanitarian aid is reflected in the features of this design.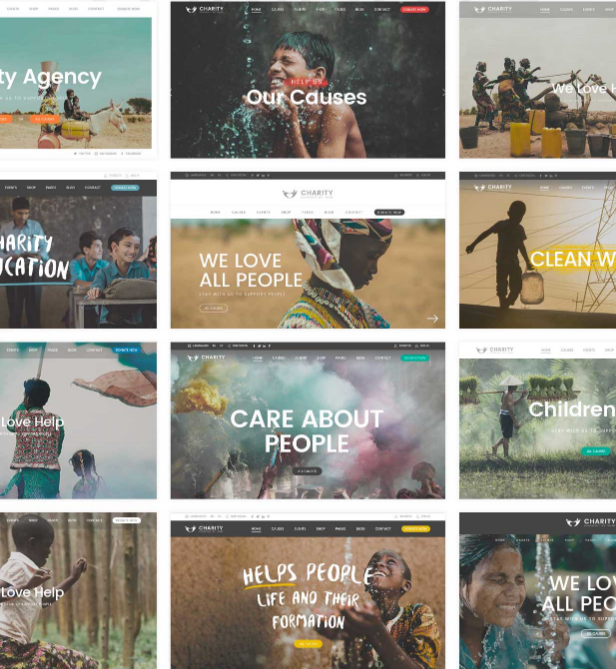 On one of the demos, you can see that there are not really any predominant colors. What brings color to the theme are the images in each section. The layout is made so as to highlight them; which makes the whole very beautiful and friendly.
The template of this WordPress theme offers you several interesting components like a lot of price layout, page services, contact, shop, and many others. You can customize your site to your liking, very easily because Charity Foundation is compatible with the WordPress plugin Visual Composer.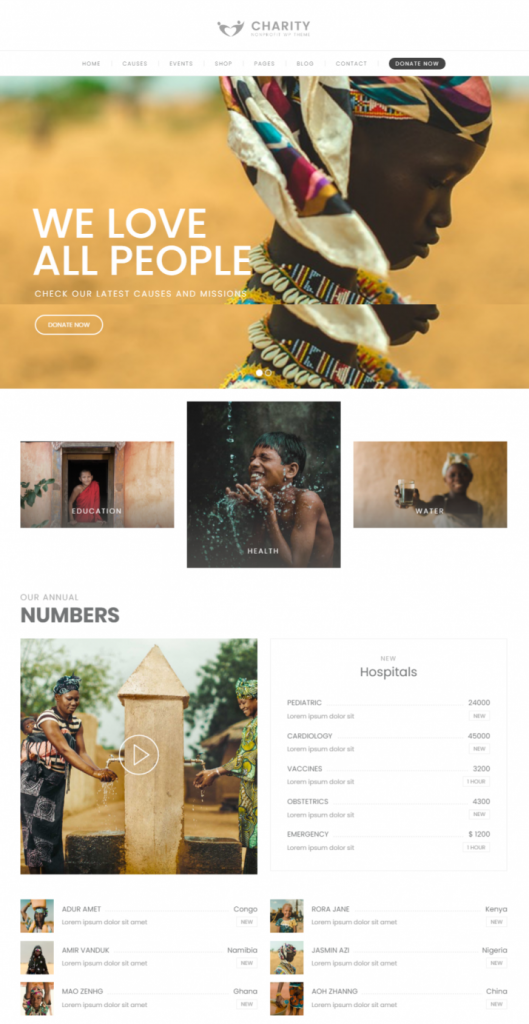 Speed Test Review
After the design, how fast can we navigate the site? This is the other determining criterion for any website. Most people find it annoying to spend more than 3 seconds waiting for a web page to load. This usually results in a high bounce rate.
What about Charity Foundation?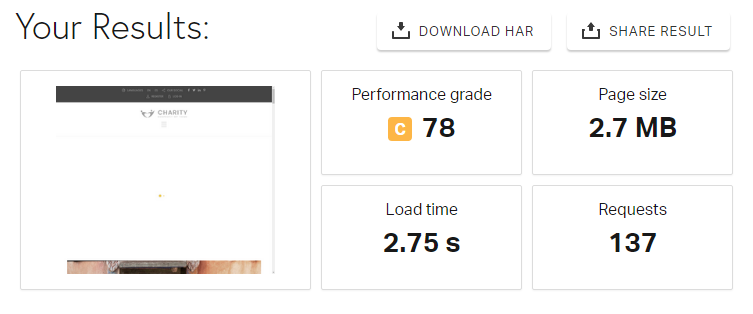 According to the Pingdom site, this WordPress theme has an average loading speed of 2.75 seconds. It's not far from the limit but it's still a good result. You will, therefore, have to be careful to maintain, if not improve, this time by creating your website.
We recommend that you include scaled images on your site, as these are generally the ones that most affect the loading speed of a site.
SEO Review
SEO optimization is a technical criterion that search engines take into account when determining the positioning of a site on search results. It is therefore an element directly linked to the visibility of your site.
With an SEO score of 60/100, Charity Foundation exempts you from certain configurations. It is a score not too bad if we take into account the fact that test was carried out on a demo and not a full site.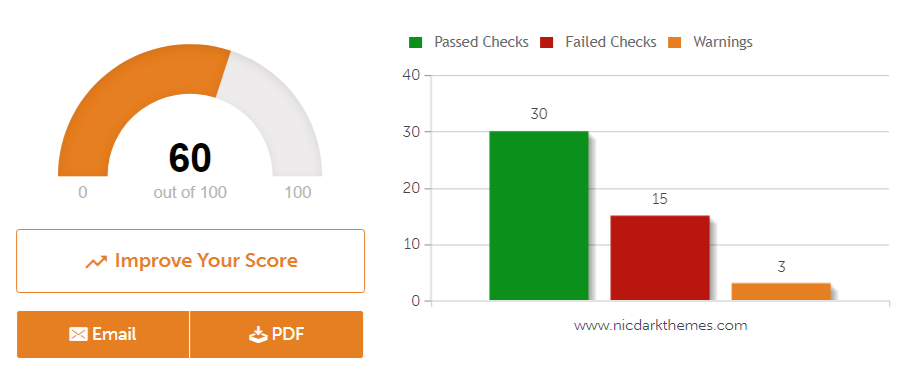 This means that you will just have to pay attention to some shortcomings of the demo to get a well-referenced website. There are errors in SEO Friendly URL, CSS Minification, Meta Description, Keywords Usage, etc.
If you are not a coding professional, we advise you to use a WordPress plugin to correct these errors. There are many SEO WordPress plugins that can help you with this. This is the case for example of Yoast SEO.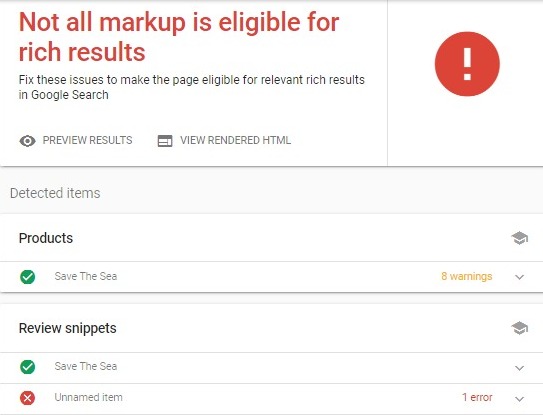 Charity Foundation supports Rich Results. This means that your website will be displayed in the search results in a way that gives as much information as possible about what you are offering.
This is a great feature for SEO and the popularity of your nonprofit site.
Customer Support Review
We are now interested in the support that is provided to users of this WordPress theme.
Behind Charity Foundation, we find a dynamic team of developers who provide 24/7 customer support. Comments are taken care of within 24 hours in general, but it can happen on it takes 48H, even 72H.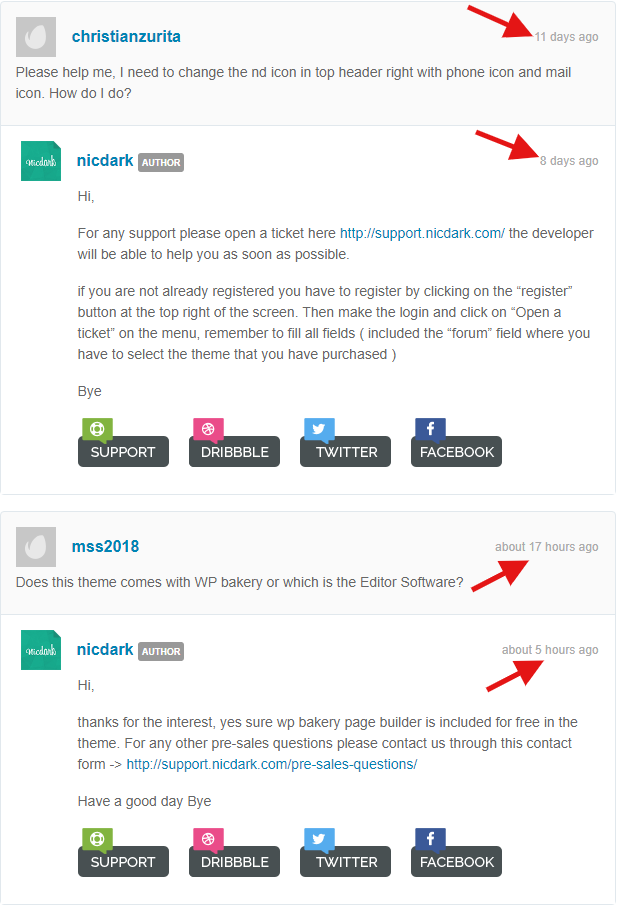 Charity Foundation's customer service supports both visitors and customers. This is also very important since it increases the conversion rate. Some visitors did not fail to express their satisfaction. As for updates, they are constantly provided to maintain the WordPress theme. The last go back to last April.
Supported Plugins
Charity Foundation provides its users with a Custom Donation plugin that will integrate a donation management system on your website.
Apart from that, this non-profit theme is compatible with WoooCommerce, the leader when it comes to online store creation. We also find Contact Form 7, WPML, Events Calendar, Visual Composer, and many others.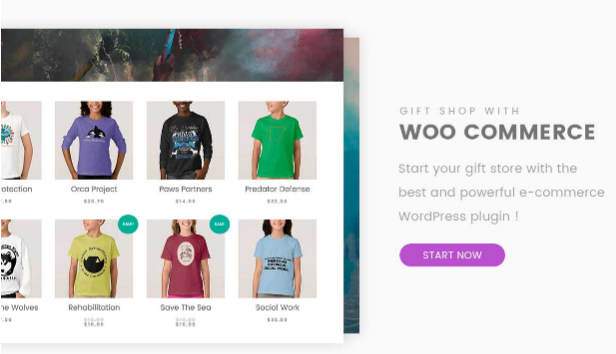 Summarize
To summarize our review, we can see that the Charity Foundation is a WordPress theme adapted for all kinds of Charity, Fundraising, Nonprofit, NGO, Church, and other non-profit charity projects website. You have a responsive and SEO optimized theme, with a rich and diverse design, and attractive features. We think you can find satisfaction with this wonderful WordPress product.