Booth - Event and Conference Theme is a newly released theme that aims to make it as easy as possible to build a professional events website with WordPress. Excellent event WordPress theme designed specifically for events and event organizers. It comes with an advanced event management system to add multiple events and conferences on your website easily. Booth has 9 prebuilt homepages that you can use to present the statement of your event. This WordPress theme thas a huge list of shortcodes and bundled premium plugins like Slider Revolution, Visual basic composer, and Timetable responsive schedule. Developers claim that it is a responsive, SEO friendly, and versatile feature-rich WordPress theme. Let's take a detailed tour of the Booth WordPress theme and learn about its various aspects. But before that, let's take a look at the main features.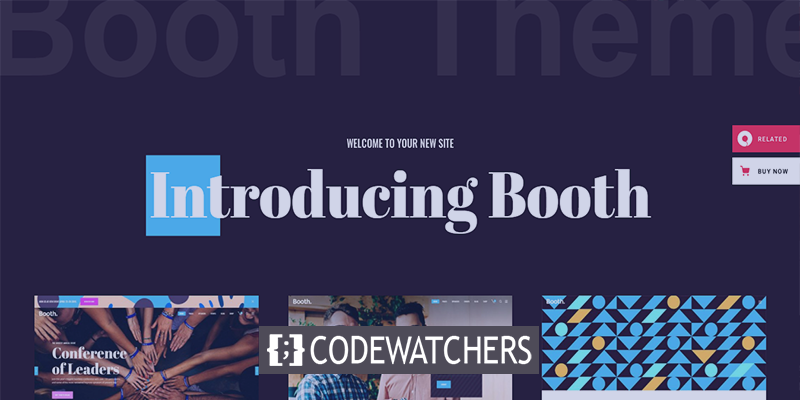 Feature List
Powerful Admin Interface
Highly Customizable
Retina Ready
Fully Responsive
Predesigned Pages
Visual Composer Plugin
Slider Revolution
Timetable Responsive Schedule
Day/Night Mode
Header Variation
Huge Shortcode Library
Custom Post Formats
Parallax Sections
Integrated search functionality
Customizable Footer
Useful Widgets
800+ Google Fonts
Various Icon Pack
Translation Ready
SEO Optimized
Mobile Compatibility
Now all the websites are mobile-friendly because many internet browsers are done every day from mobile. Since Booth is an event / conference-related theme where the theme of different types of events has to be represented, this WordPress theme and the ability to reach all types of people have to be kept simultaneously is very important to be mobile compatible.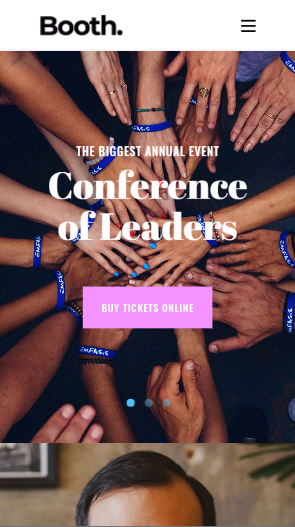 Since we have 9 different home page options, we are randomly picking one and checking mobile compatibility. The design of the whole website on the mobile screen looks just as great as the desktop. The position of the logo and the three-bar drop-down menu is quite appropriate. There is a back-to-the-top button at the bottom of the screen, which is very useful for mobile versions of large webpages. In addition to this, we have explored different blog styles and gallery options. There are no inconsistencies anywhere, and we have to admit that the developers have made the theme extremely mobile-friendly so that people from all walks of life can visit this website with any size screen device.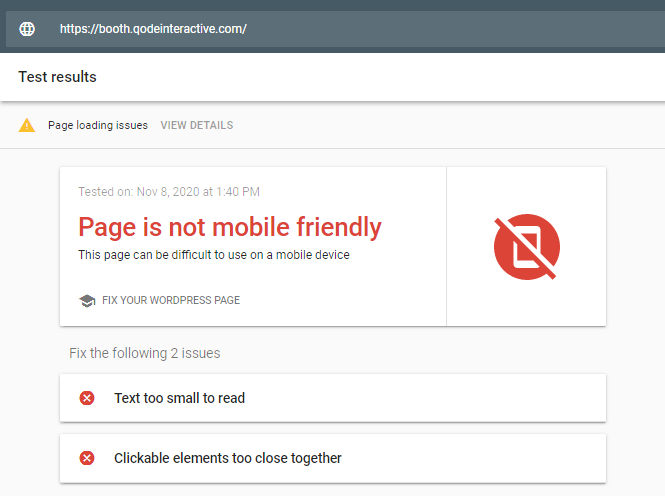 We went to Google to check the mobile compatibility of the Booth WordPress theme. There is nothing to be disappointed by looking at the pictures. It often happens that even after being extremely mobile-friendly in the manual hands-on test, Google's bot rejects a lot of themes in the automatic test. This is because of the missing of some particular CSS scripts and JavaScript. Although it says that fonts are small and clickable elements are dense, and that's why the page is not mobile-friendly, but the main thing is the absence of scripts. There is nothing to worry about, you can talk to the theme support center and have the issues resolved, which is optional.
DIVI SUMMER SALE Once per year you can get Divi at a special price with 20% discount, and it will only be available for a few days. Don't miss out!
Download Divi
Design Review
A mixture of relevant page templates and useful features helps make Booth a theme that should provide all the components required to create a successful events website with WordPress. Booth's pre-built homepage layout that you can import into your WordPress dashboard in just one click includes many elements to help you promote your event online, all wrapped up in a professional-looking design. Thanks to this, if you want to launch a site for a conference or other type of corporate event, Booth should work well.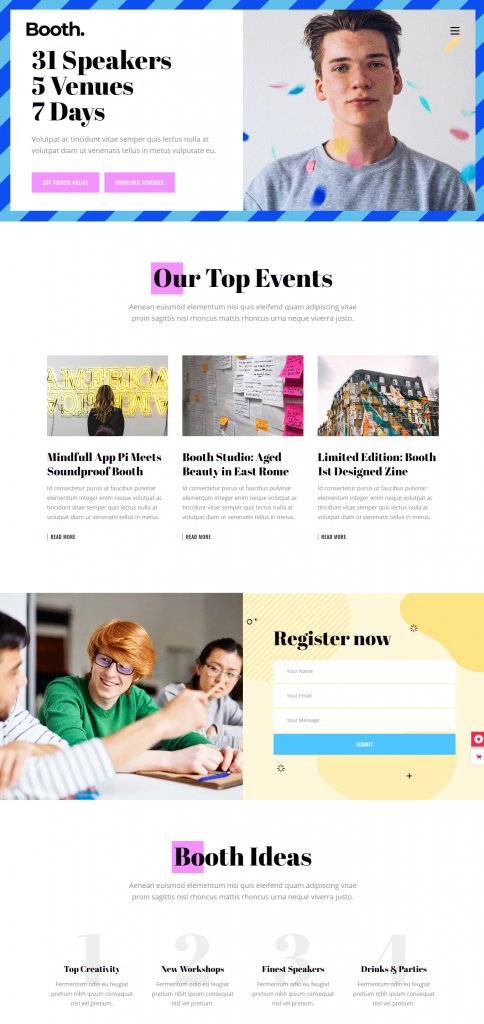 If you take a look at the demos, you'll see that the front page of your event website can display the title, date, and location of your event in a very prominent position. As visitors scroll down the default homepage layout, they can see photos promoting your event, the main speakers' profiles, summaries from previous events, and blogs about different aspects of the events. You can arrange event registration and schedule proving from the home page. Isn't it very convenient?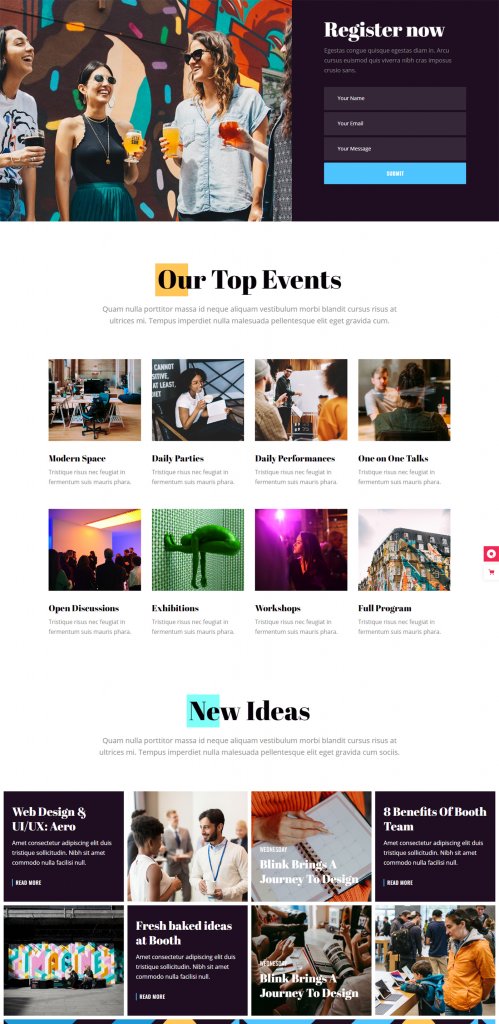 For events with sponsors, displaying the logos and other details of those patrons is taken care of by the relevant homepage section. As you might expect from a popular events WordPress theme, you can add call-to-action buttons to your site to encourage your visitors to buy a ticket. The other templates in the Booth package make it easy to publish all the content that a good event website needs, such as information about accommodation, the venue, code of conduct, and more.
Speed Test Review
We live in an age of mechanics, where time is highly valued. So we prefer fast things, so it is important to have a good internet website browsing experience. Better website loading speed plays an important role in the ranking of search engines like Google. So having a good website as well as designing and loading speed is also an important point.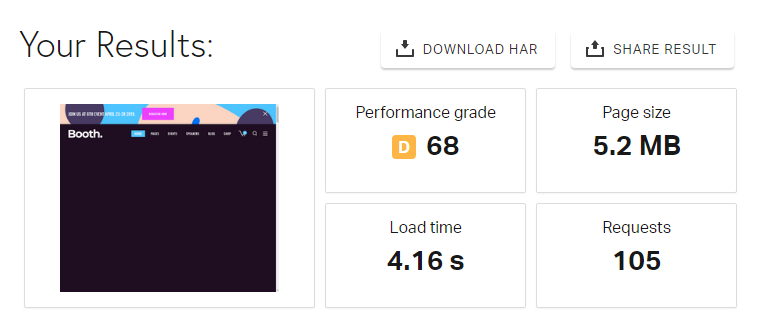 We have tested the Booth WordPress theme on Pingdom, and it scored 68(D) out of 100. It took 4.16 seconds to finish loading. Since 3 seconds of the loading time is considered ideal for website loading, it is much longer. Because every millisecond is counted. The overall page size is 5.2 MB, which is more than expected. Why did the score come so low? The answer lies in higher HTTP requests and the presence of multiple scripts and stylesheets. The compression of scripts decreases response times by reducing the size of the HTTP response. Gzip is the most popular and effective compression method currently available and generally reduces the response size by about 70%. Approximately 90% of today's Internet traffic travels through browsers that claim to support gzip. When the browser requests a static image and sends cookies with the request, the server ignores the cookies. These cookies are unnecessary network traffic. Although the current score and loading time is quite admirable, one can speed it up with plugins. The Booth WordPress theme is compatible with all kinds of WordPress cache plugins.
SEO Review
You might be creating great content that's very knowledgeable and treats every aspect of a particular topic, but this will never be placed higher on google unless It is search engine optimized. On-page SEO affects your ranking in the Google search engine. The Booth theme is coded, respecting the principles of SEO.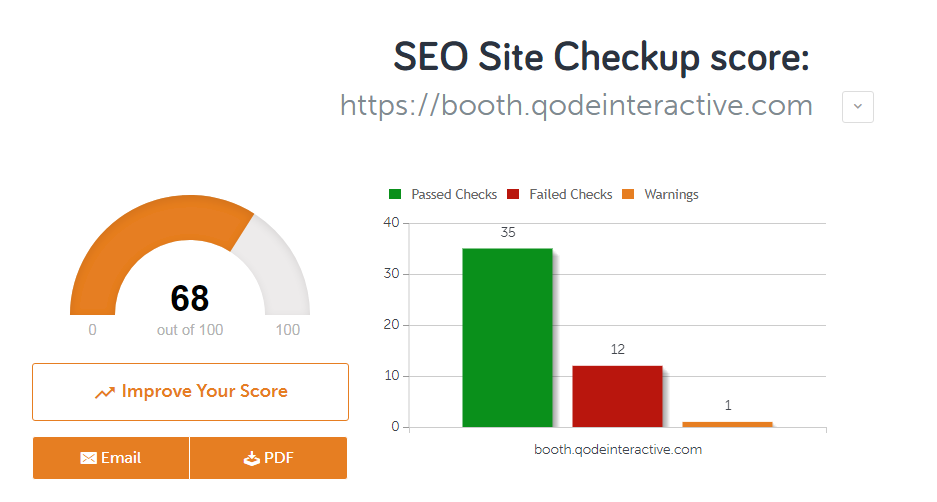 We have tested the Booth - Event and Conference Themes SEO capability on SEO Site checkup, and the score is convincing enough. It scored 68 out of 100. We can see the demo website passed 35 tests but failed in 12. So, there is room for plenty of adjustment. The site is needing meta description, keyword usage, heading tags, and Google Analytics script. The demo website also uses inline CSS files, which is not suitable for SEO, and the demo website URLs aren't SEO friendly. Don't worry, and you don't have to be an expert to solve these. Use a premium SEO plugin, and you can blow these issues away.
Rich Snippets (also known as "Rich Results") are normal Google search results with further data displayed. This additional data is usually drawn from Structured Data found in a page's HTML. Common Rich Snippet types include reviews, recipes, and events. Rich results are more important because it presents a summary of the website to the user in the search rankings. So, if the user sees the results in a concise form and realizes that there are things according to his needs on this website, he visits the site, which will add to an organic reach.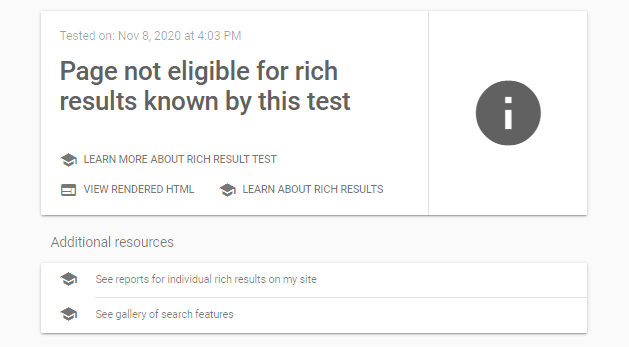 We can see that the Booth Event WordPress website is not eligible for rich results. Because Page's resources could not be loaded properly. Image is mentioned here as a resource, but it can be CSS script, JavaScript, and so on, depending on the website. It is important to know that Rich Results is one of the most important things for getting a good ranking on Google.
Customer Support Review
The Booth WordPress theme offers a top-notch support system. Once you buy the Booth theme bundle, you'll have their premium support with it. You can go to the help forum anytime and ask your doubts there. The average reply time is 24 hours. Moreover, you get a lifetime of free updates and bug fixes from the authors.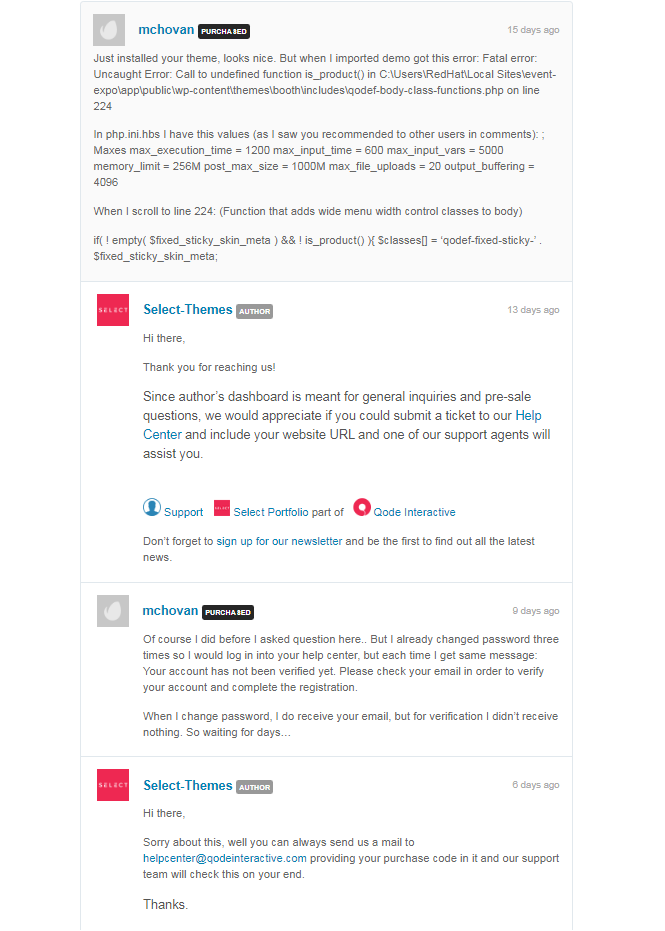 Booth is a newly launched theme, and we have visited the comment section. Here are some comments from that thread.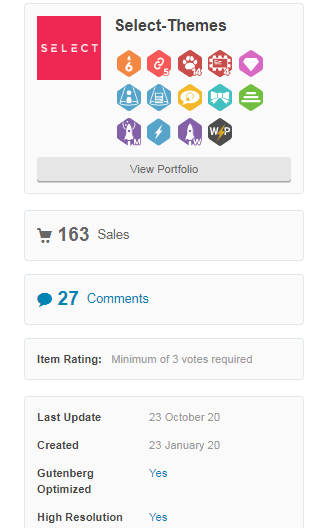 The review section has not revealed yet cause the minimum quota of ratings hasn't reached. But we can tell you that the amount of dedication the authors team is here for the long run, and this theme will be a good one for your website.
Supported Plugins
There is an openhanded bonus for everyone who purchases this awesome theme. You get access to three premium plugins whose total price is $119, but you get them free of cost with this theme. Visual Composer, Slider Revolution, and Timetable Responsive Schedule premium plugins come free with the theme pack. Also, this theme is WooCommerce, WPML, Contact form 7, and RTL supported.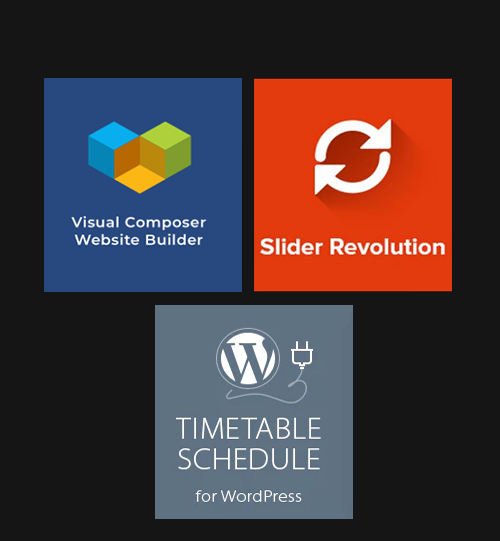 Summarize
Keeping in mind all the above features of the Booth WordPress event/conference theme, this is one of the most fantastic themes on WordPress that are best suited for their mission. This is a single purpose theme and assists various niches; therefore, it is a significant theme. The characteristics you get at the price of one theme are fascinating. Consequently, it is an excellent package and is advised.