Avante is a very recent WordPress theme that aims at Consulting Agencies. It comes with a lot of predefined demos and templates, that can help you to build your website, not from scratch, but with the best examples provided by the author. With Elementor as exclusive support, building your page layout will be enjoyable.
In today's review, we'll explore Avante and see whether it worth the $59 it claims. Let's get started.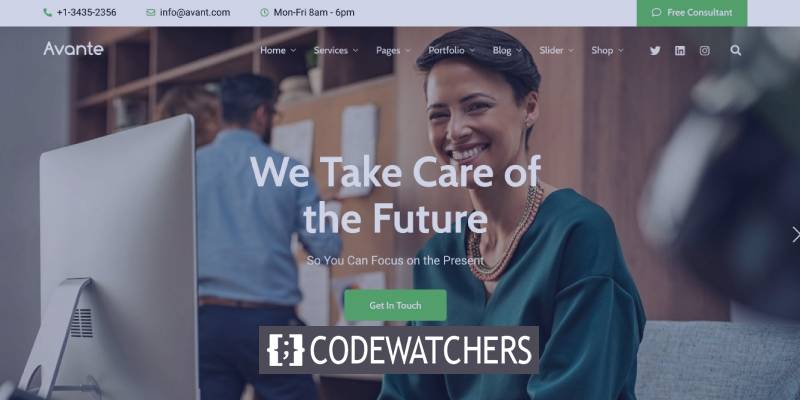 Feature List
Compatible with Elementor
Can be translated
Fast Support
Slider Layouts
Portfolio Layouts
9+ predesigned demos
Social Integration
Search Engine Optimized
Multiple Blog Options
Adjustable Background
Mobile Compatibility
It's no more a secret that, testing a WordPress theme involves starting tests on mobile devices (mobile-first test). In fact, if you frequently check at your Google Analytics reports, you should see that many users come on your actual website using mobile devices (tablets & smartphones). It's then required to point out whether Avante is compatible with various small devices.
We'll start this review with the healthcare demo. At the first attempt, we've seen that the header is well designed with information that stacks above each other. On the scroll, it hides and the website header remains visible. We have however noticed nothing weird.
Create Amazing Websites
With the best free page builder Elementor
Start Now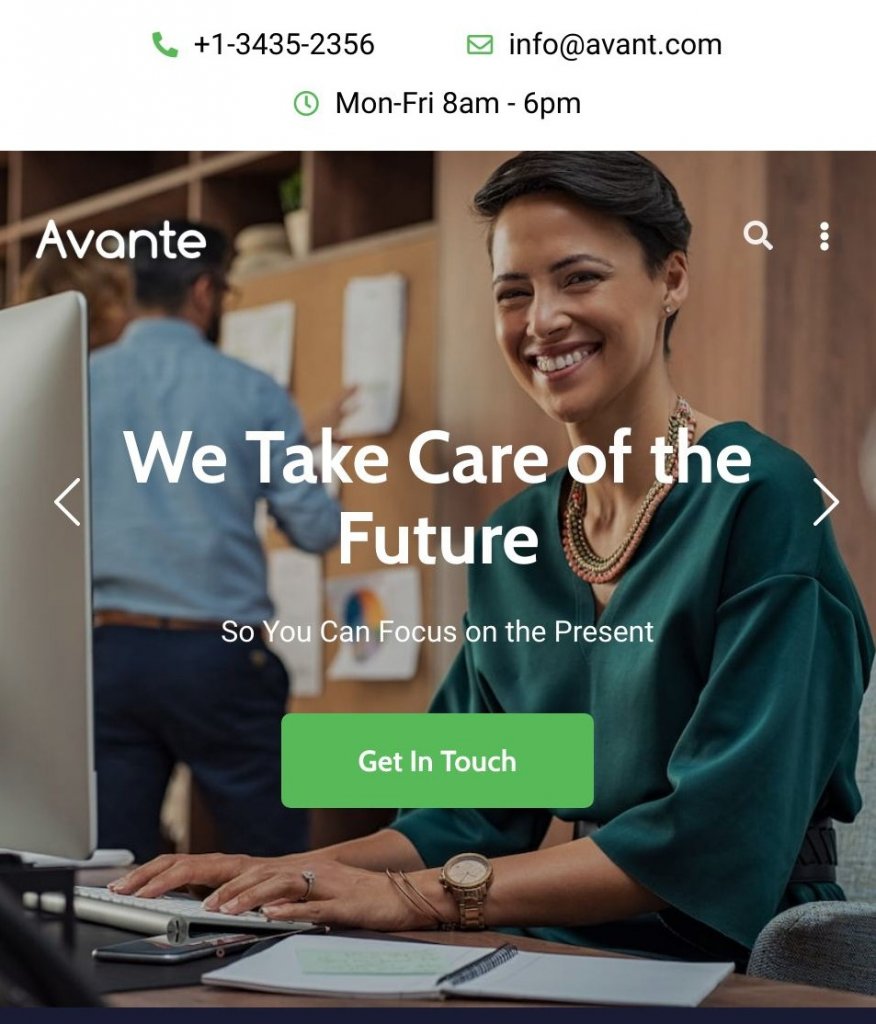 Besides that, the overall UI seems to fit correctly to small sizes. Most of the components available on desktop remain visible on mobile devices and that's nice.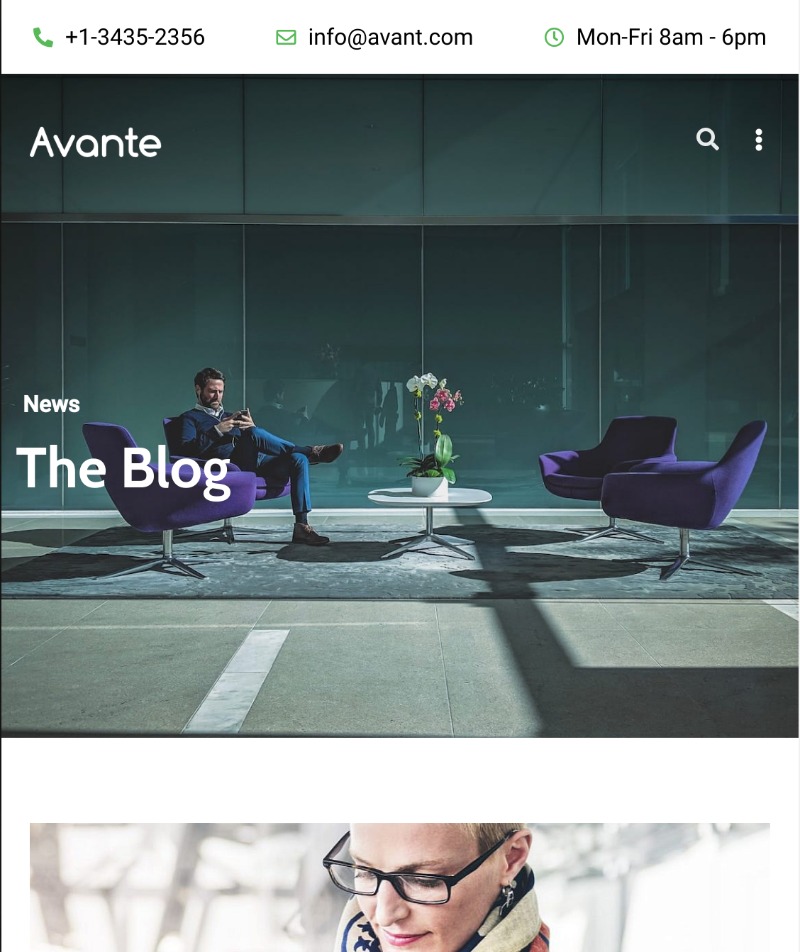 We've liked the blog layout which is minimalist and simple on mobile devices. It's possible to see clearly all featured images. On a single post, you can clearly see the comment section which fits the screen size. We had the same feeling about the shop, which works pretty well on small devices.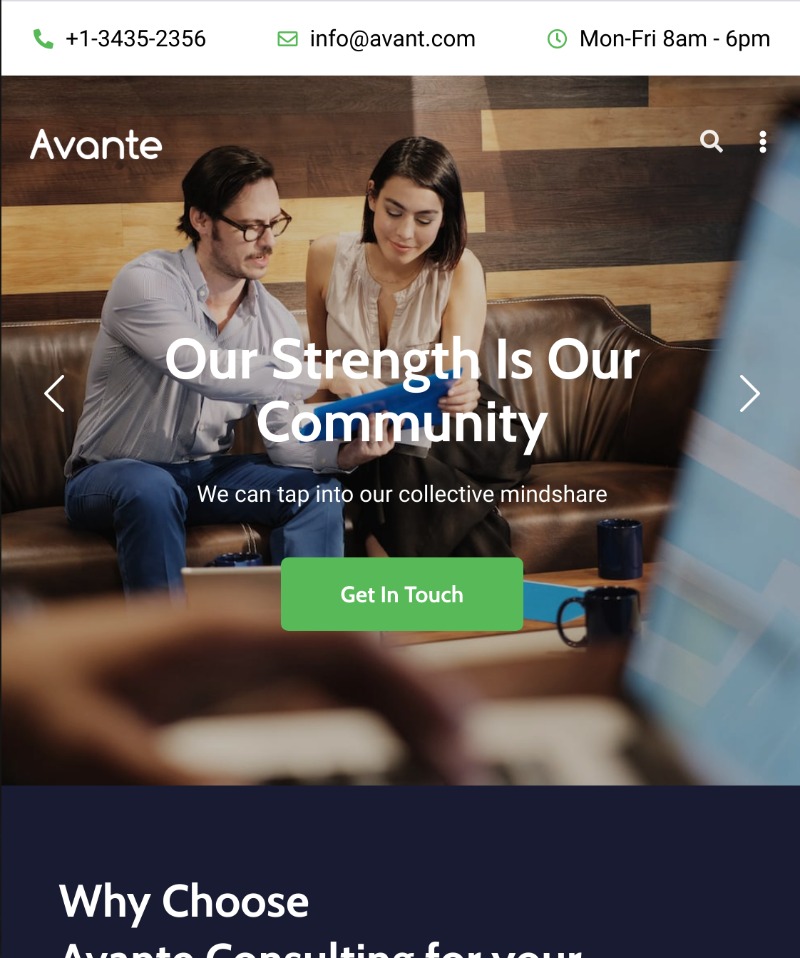 Design Review
What your visitors see, is the design of your website. So the design should then be a mixture between catchy and handy. Avante does well having a very minimalist design. We've liked the color palette with green, gray, white, black and sometimes yellow. With the predefined color set, at least your visitors won't be hurting their eyes by exploring your website.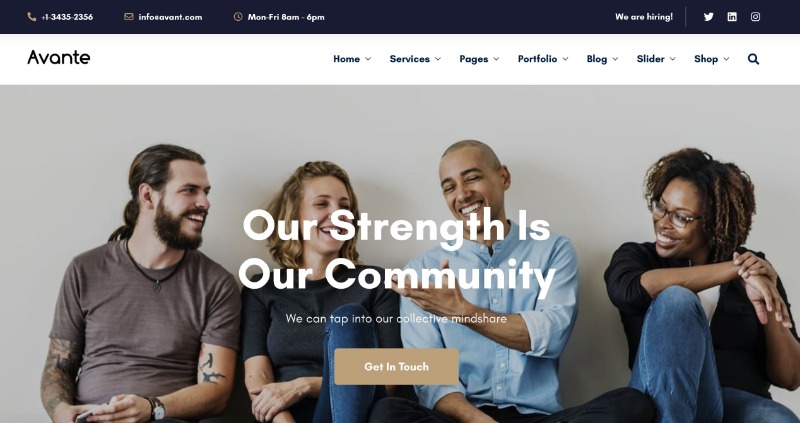 Speed Test Review
In fact, we have been really surprised while testing the speed of Avante. We all know images are part of the assets that make a website slow (especially when they aren't optimized). We've tried Avante on Pingdom Website Speed Test and the result was quite interesting.
With over 2.86Mb of images, the theme has loaded within 4.8 sec which is a bit not acceptable. Based on what we've seen, most of the images provided are optimized. The result might be different from your end (since you might not use the same images). The performance might therefore result from a bad server. That's why we usually recommend best servers.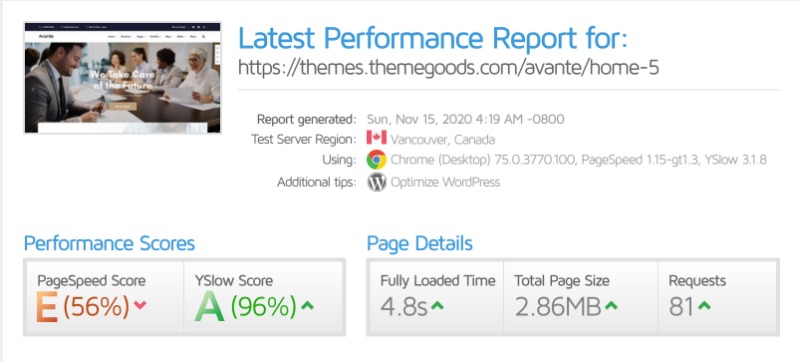 SEO Review
The first test we've run on Avante is the Rich Result compatibility. A rich displays useful information for a specific element (product, recipe, course) right from Google. This could be useful to encourage users interaction. Fortunately, Avante support rich results for Products and Products reviews. We haven't been able to see it working on the blog.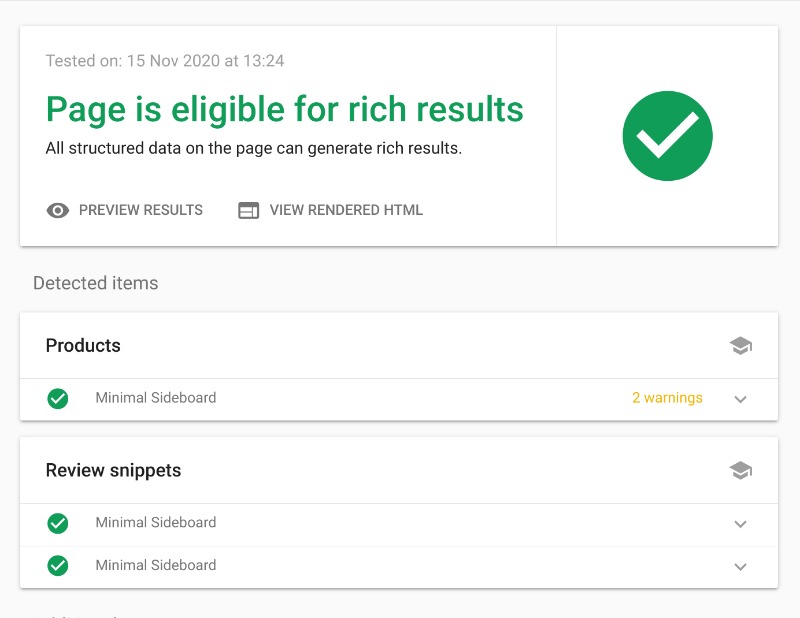 The SEO test wasn't that bad. We can say that 65/100 it's more than the average. The test we have performed has met some issues with the HTML markup. For instance, the home page didn't include the Meta description, which is important for the SEO. It seemed also that the tag H1 was missing overall the page that has been crawled. An H1 refers to the heading of a website. Seo browser tends to use it as a reference of the page title. Customer Support Review
Whether the theme has or doesn't have any issue, it's important for a customer to know he got his back covered by the author. Who wants to buy a working WordPress theme which becomes deprecated 1 week after a major WordPress update? No one, yeah exactly.
Avante support is very responsive. Typically you have an answer during the same day you post your question. While some authors (support staff) usually send the customers to a forum, where they have to register and perform many actions before receiving help on how to toggle an option, on Avante, you receive guidelines directly in the comments section.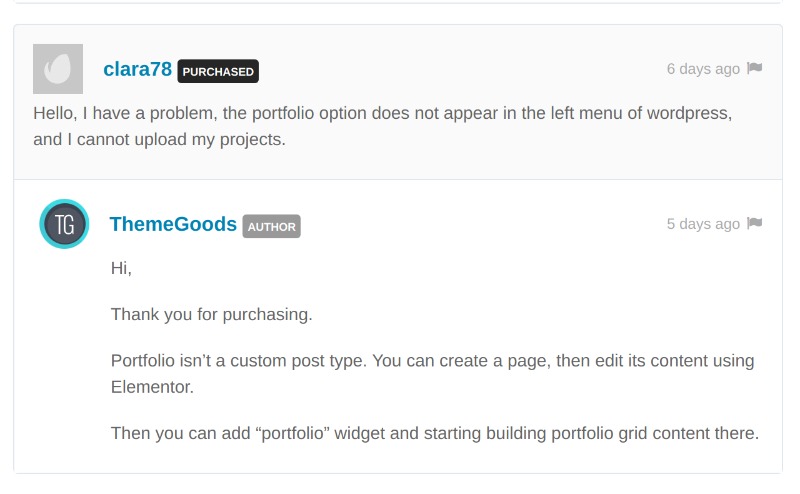 It's true the theme is recent, but so far it has received 5/5 stars (that's a good start). Based on what we've reviewed, we're pretty sure this WordPress theme will receive outstanding updates to improve the existing features. And that's already the case as the theme is frequently updated.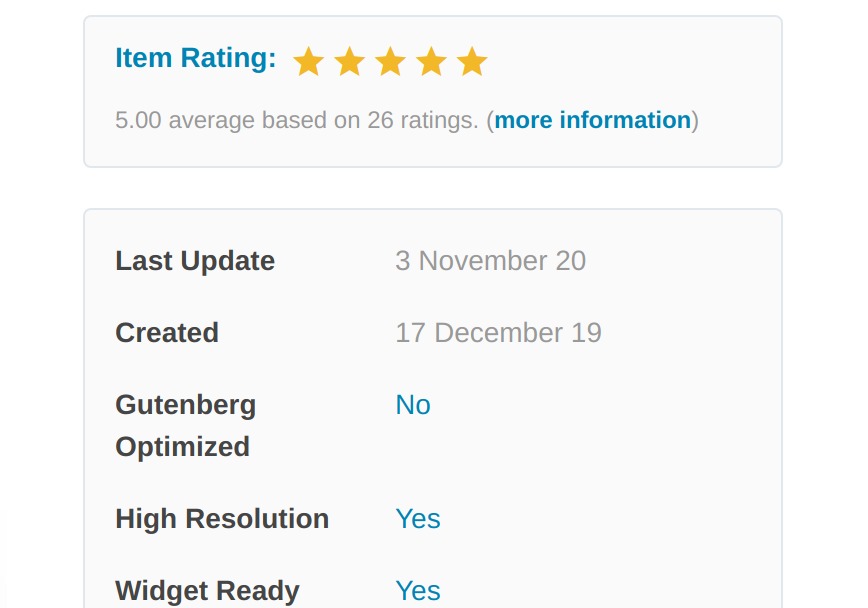 The ratings look natural and we believe somehow it's because the support and the theme are doing a very great job.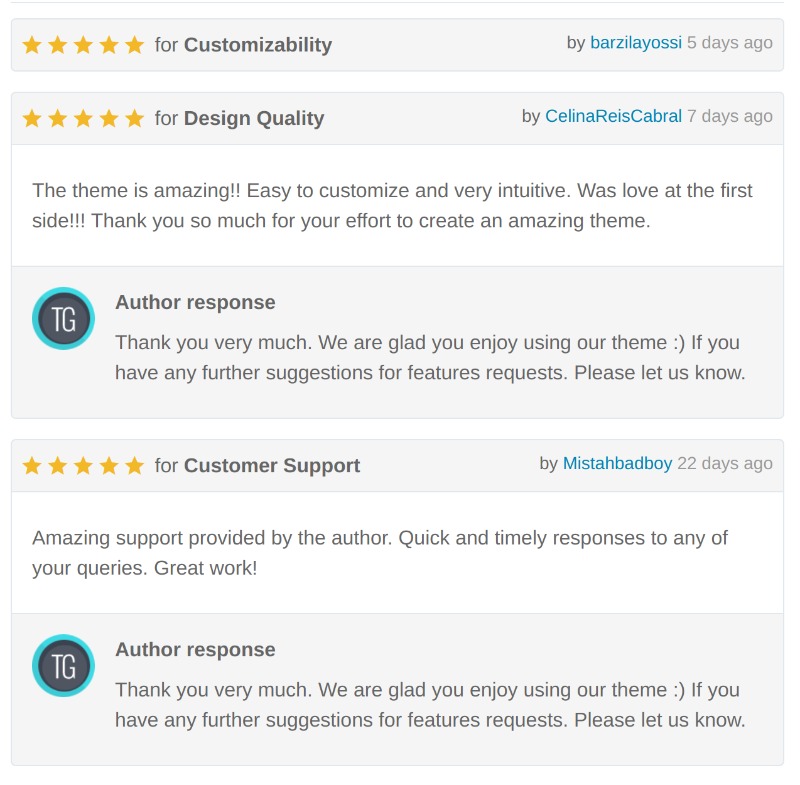 Supported Plugins
Avante has an acceptable list of compatible plugins. If some customer will buy this theme to start a new project, some others will try to integrate this theme with their plugins. What we could be sure about, is that Avante is compatible with WooCommerce & Elementor. Both of these are enough to create a working online Store/Consulting website.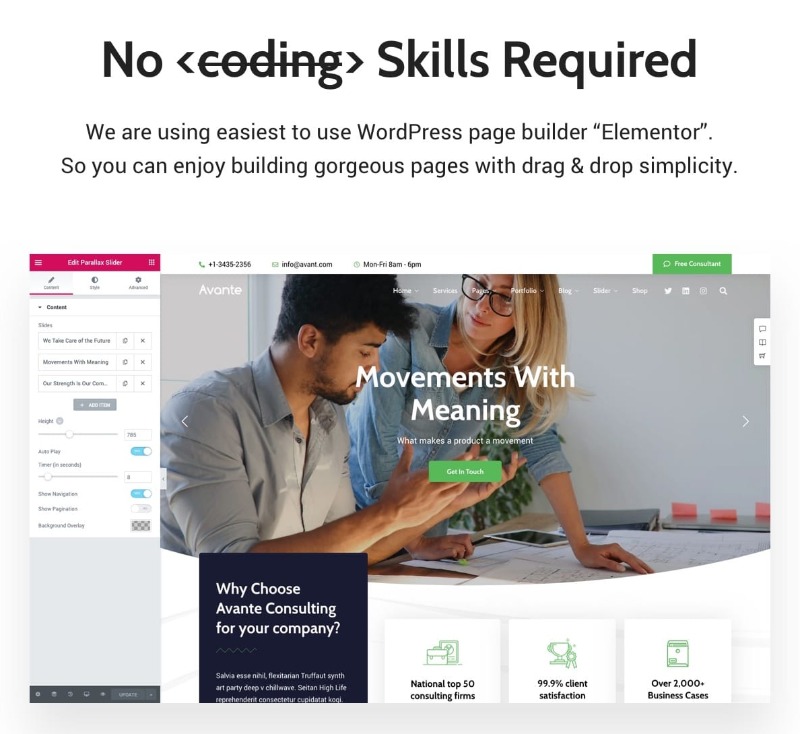 Summarize
Finally, does it worth $59? Definitely it does, this WordPress theme has everything to have a complete working website. The feature we've definitely liked is Elementor's support. We won't mention the design which is great (despite some minor issues). We hope the author will keep improving this theme.