Today we are interested in a theme created in 2014 for everything related to health and medicine: "Apicona". The name is atypical but the theme is quite popular with more than 2000 sales already recorded. However, popularity is not always a guarantee of quality, especially since its good days may already be behind. This is why we will make an in-depth analysis of it. Let's see together if today this theme still throws as much.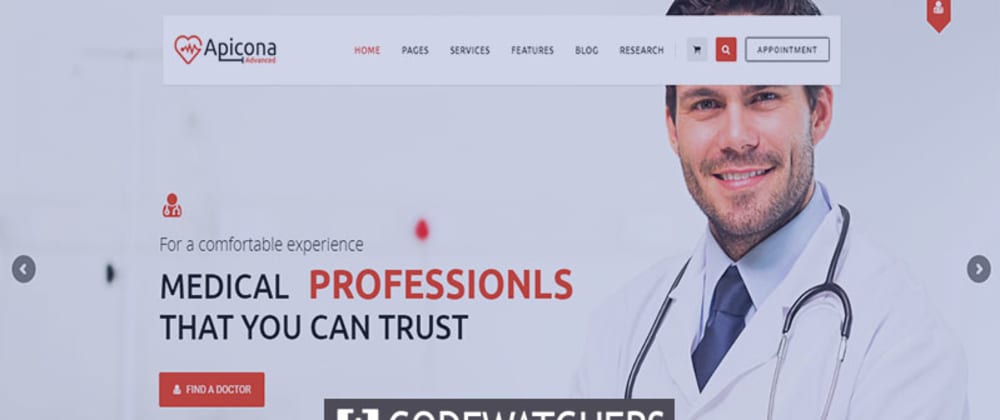 Feature List
One-Click demo content import
15+ page loader animations (GIF)
Easy to customize
Fully Responsive
600+ Google Fonts
Free Lifetime Updates
SEO Friendly
Google analytics
WPML supported
Well Documented
Mobile Compatibility
We tested the Apicona theme on several mobile devices including the iPhone X or the iPad. The goal here is to make sure that you can get the most visitors to your site. You know, the majority of your visitors will probably use this type of device because it's easier to work and have fun wherever you are.
From what we could see, Apicona perfectly meets your expectations with a magnificent rendering. From the images to the animations, everything worked correctly for any screen size. Navigation is as fluid as on desktop and the organization of the content makes everything very ergonomic. Suffice to say that your users should not complain at this level.
We noticed that the header is not fixed, but it doesn't really affect the user experience. Especially since the author has provided a "Back to top" button for easy access.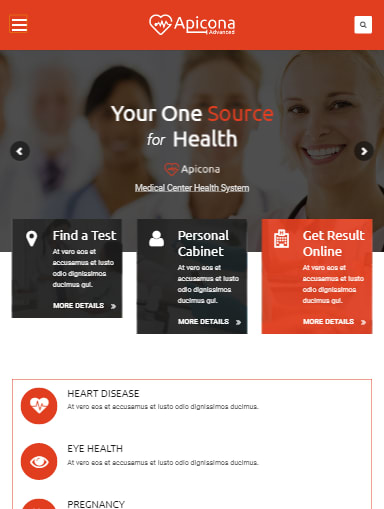 Thanks to the test carried out on Mobile-Friendly Test, we can, even more, reassure you of the mobile compatibility of this WordPress theme.

Design Review
Design is the first visual element that strikes a user on a website. So it must be able to mark him to make him want to come back.
Regarding the Apicona theme, we have a clean and professional design. Which is perfect for a theme like this. No need to be flashy, but above all friendly, welcoming, in order to put the visitor at ease and encourage them to use our services. And that's exactly what Apicona does. We can see on the images and animations chosen this warm and friendly side.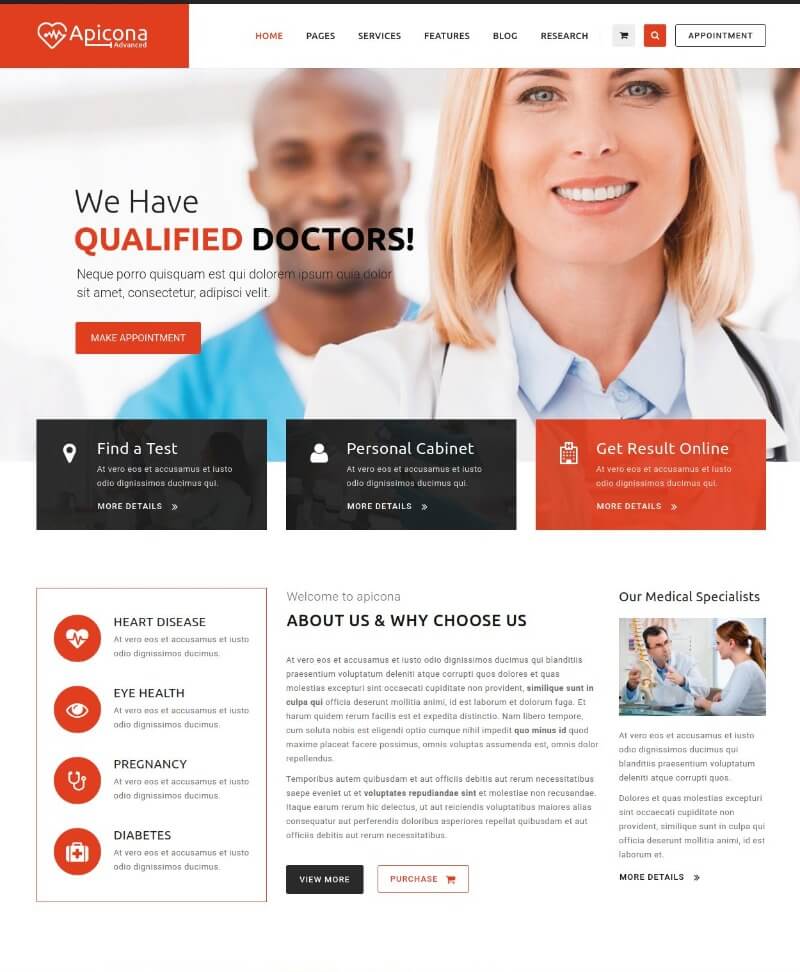 The chosen color scheme is quite atypical for a medicinal theme (white, orange, black) but it looks good. It is original and it even brings a little warmth in our opinion.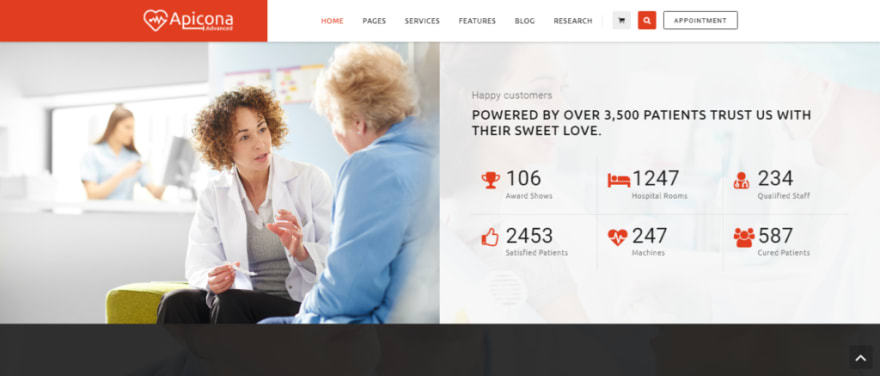 Speed Test Review
It is not only the aesthetic side that interests users on a webpage. The performance of the site in terms of loading speed is very important to retain them and thus increase its conversion rate. Conversely, a site that is slow to load can annoy visitors and make them flee. In general, a site must load in less than 3 seconds in order not to negatively influence the experience of its users.
According to the test we carried out on the Apicona theme, with one of our favorite tools namely PingDom, it takes on average 8 seconds to allow a page to load completely. It's long! Especially if we meet the required standards in this area (3 seconds). Suffice to say that in the current state, your future site could suffer. Fortunately, there are ways to make some improvements that don't require major coding skills.
By examining, for example, certain components, we can advise you to make some compressions with Gzip. Compression reduces response times by reducing the size of the HTTP response. And Gzip is the most popular and effective compression method currently available and generally reduces the response size by about 70%. Approximately 90% of today's Internet traffic travels through browsers that claim to support gzip.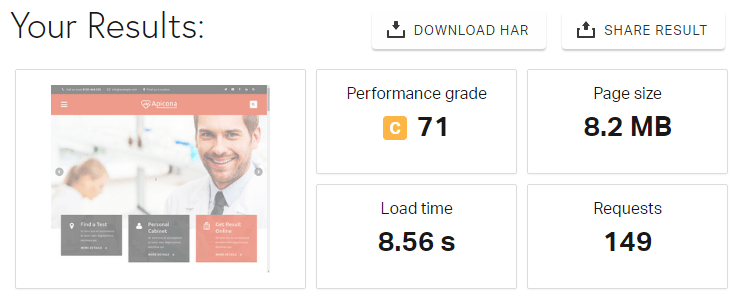 SEO Review
If on the side of speed it is not too much, on the side of referencing, Apicona displays rather a proud pace. The NeilPatel gives it a score of 82/100. Not bad isn't it? Well, there are still a few critical errors to review.
We notably noticed a lack of a valid SSL certificate. SSL certificates are digital certificates that enable an encrypted connection and authenticate a website. They provide your visitors with the reassurance that they will have a safe connection between your site and their device. Moving from http to https on your site is now considered to be something that can help boost your rankings as it provides a more secure, and therefore better, experience to your end-user.

Customer Support Review
A theme as old and popular as Apicona has an already well-oiled system in terms of customer support. We have almost nothing to complain about. The concerns are handled promptly, courteously, and most users appear to be satisfied.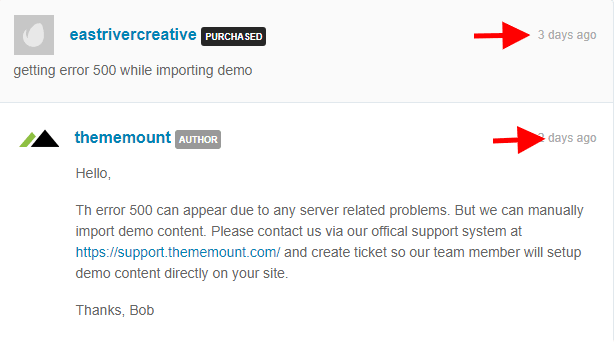 In order to ensure a good experience for its users, the author constantly offers updates, both minor and major. In almost 6 years, the theme has seen more than 20 updates, with the last one dating from this year 2020.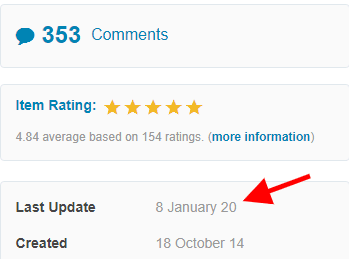 Supported Plugins
This theme supports many quality plugins that will enhance your website. You can, for example, integrate a shop thanks to the famous WooCommerce. You can create several types of sliders with Revolution Slider.
In addition to these two, there are also other famous plugins like WPLM, Visual Composer, WPBakery Page Builder, etc.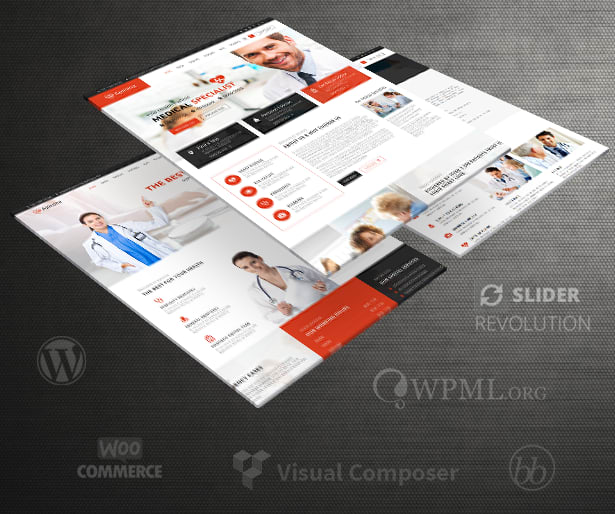 Summarize
In sum, even if this theme seems quite expensive, nothing its popularity for years shows that it is clearly worth it. We confirmed this in detail through our analysis. Now it's up to you, but it is clear that we suggest you try.