Gaming is always a beneficial medium for entertainment. Besides playing cricket, football, volleyball, basketball, etc., e-sports is very popular nowadays. Today we will talk about the Alchemists WordPress theme. This WordPress theme is designed for use on all types of gaming websites. The theme has all the benefits, including live game updates, blog section, product selling pages, team member introductions, etc. This theme has SportsPress plugin support, which will make it very easy to create a professional sports website. The theme also uses WP Bakery Page Builder, which allows you to design the page as you wish with just drag and drop. The theme has all the great features that make your website more attractive. Let's take a look at the key features. Feature List
One-Click Demo Installation
80+ PSD Files Included
Google Fonts
SVG Icons
WordPress 5.3 Compatibility
100% Responsive Design
Bootstrap 4
SCSS Syntex Based Theme
Redux Theme Option
Custom Sidebar
Built-in Mega Menu
WP Bakery Page Builder
SportsPress Plugin Support
WooCommerce Support
RTL Compatible
Unlimited Color
Multiple Blog/Post Layout
Translation Ready
Social Counter
Lifetime Updates
Mobile Compatibility
The nature of the internet is changing in our daily lives and today we are able to use the internet in many ways that we did not even think of 10 years ago. A gaming-related website must be mobile-friendly because mobile compatible websites attract people. Mobile compatibility also increases the average stay time of the site. We've run the Alchemists gaming WordPress theme on a variety of devices to see if the theme can fit all types of the devices screen size, and we've chosen eSports Demo for this check-up.
The Alchemists theme took a little longer than usual to load on mobile, but we'll talk about that in the Speed ​​Test Review section. After watching the theme on mobile you will just say one thing - Wow! Great. Faster user experience and better design - both will catch your eye. Text and photo blocks can nicely adapt to the screen size of all types of devices. We have not seen any misplacement or padding issues.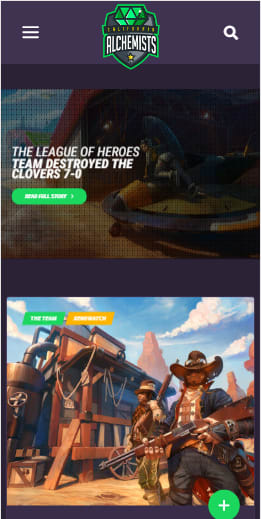 We visited several sections including the blog page, team page, shop page, and found no inconsistencies anywhere. We also checked the mobile compatibility of Alchemists on Google Mobile Compatibility and the result is affirmative.
DIVI SUMMER SALE Once per year you can get Divi at a special price with 20% discount, and it will only be available for a few days. Don't miss out!
Download Divi
In summary, the mobile compatibility of the tested theme is good as a whole.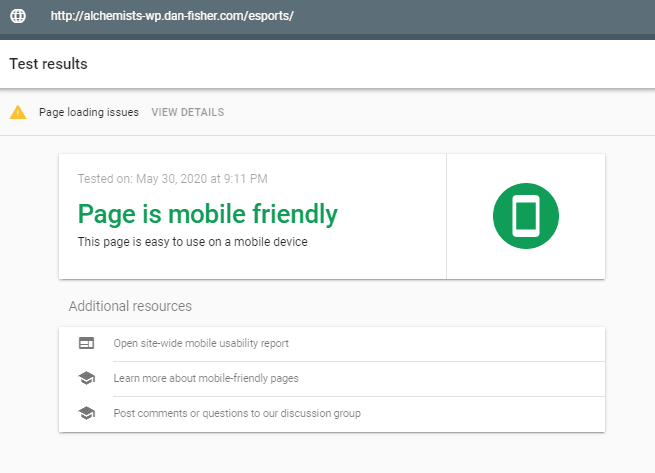 Design Review
Considering the needs of the visitors, the Alchemists gaming theme has all kinds of systems, including match fixtures, league tables, player profiles, current news, score tables, product sales, etc. This theme has all the elements to create your dream sports site because the SportsPress plugin has been used in this theme. Extraordinarily beautiful templates and perfect element placements - make this theme even more captivating.
Designing is a vital aspect of the WordPress theme because designing comes first to attract a visitor. Alchemists' designs are captivating. Since we are reviewing the eSports demo, it has two home page styles — one is a slider with a parallax effect and another blog page type. A section of the main header menu has the opportunity to display the menu component with multiple articles - this is unique.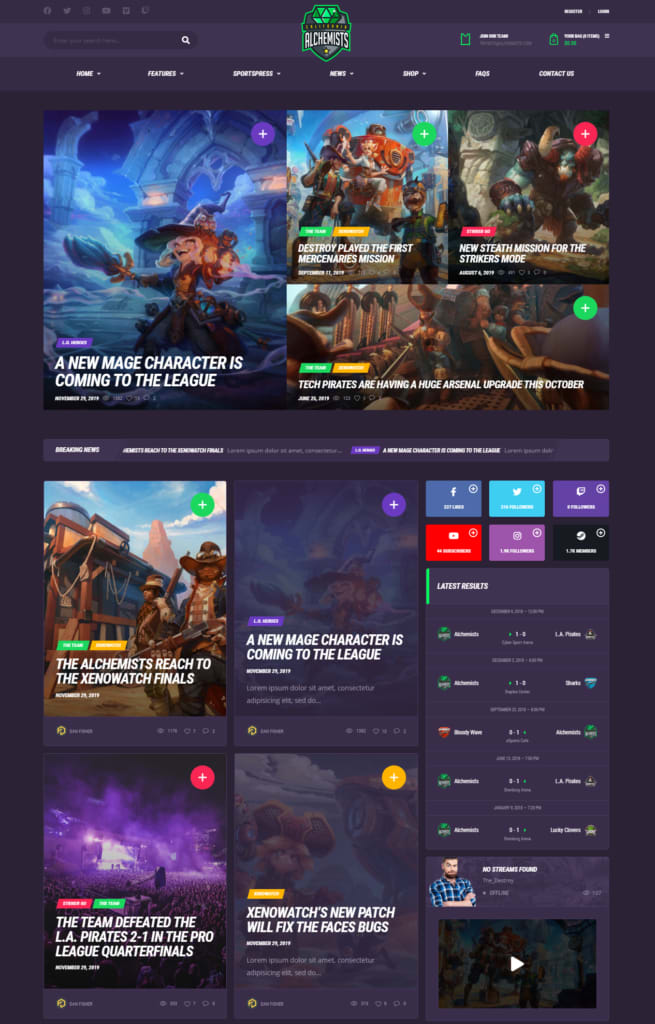 Every element from the logo to footer block - has been crafted with great care. With Visual Basic Composer, you can easily design the page as you wish through drug and drop. The theme pack comes with SVG icons and many PSD files so that you can customize the design according to your need with small changes. In designing, Alchemists will not let their buyers to compromise.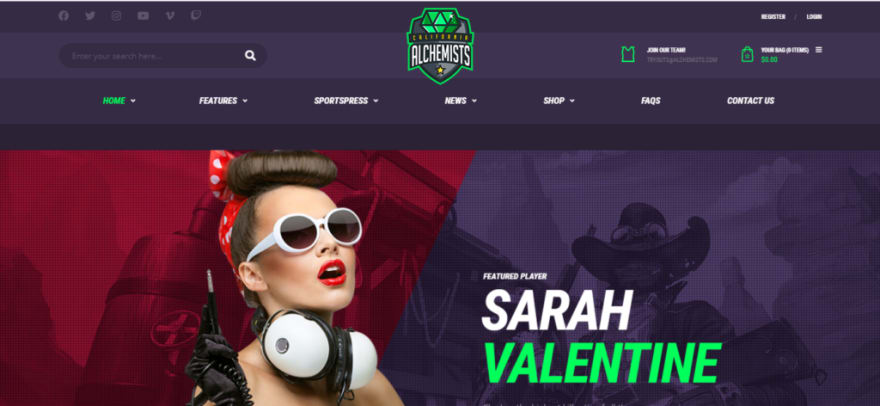 Speed Test Review
Who doesn't want speed in life? We all know that speed makes our lives faster. Speed ​​is also a very important factor in the case of a website because the faster the website loads, the more information the visitor will be able to get in less time. Since sports are so closely associated with our daily lives, a massive number of people visit sports websites every day.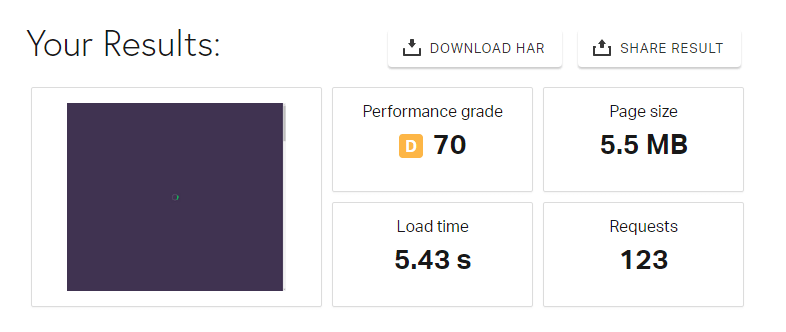 We checked the Alchemists' speed test on the Pingdom website. Remember when we said during the Mobile Compatibility Test that loading the theme was taking longer than necessary? Proof of that, we went to the speed test. The total score of the theme is 70 out of 100. The demo site took 5.43 seconds to load fully, which is 2/3 seconds longer than expected, and the page weight is 5.5 MB.
The main reason for this increasing loading time is the use of larger-sized images and unscaled images. Also, the use of leverage browser caching will increase the speed of the site. Problems can be solved easily with image compression plugin and cache plugin.
SEO Review
Many times you may have heard that SEO is a vital tool in digital marketing, but even if you have a good idea, your idea about the full use of SEO may not be complete yet. SEO not only makes your website visible to visitors, but it is also one of the most significant ways to increase your website's earning and gathering. It presents the prospectus of the site as an opportunity for the customer. It also plays a crucial role in brand recognition, relationship building, and putting you in an authoritative position as a trustworthy expert.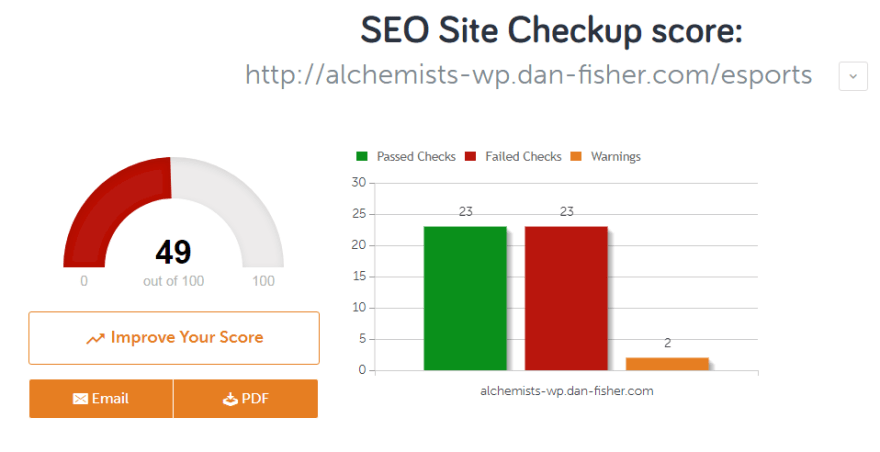 We checked the SEO score of the demo theme through the SEO Site CheckUp website. Sadly the Alchemists WordPress theme did not deliver the expected results in SEO. There is no meta description tag, keyword tag, image Alt tag, heading tag in the theme. There are no robots.text files and site map files in the demo. Also, the URLs aren't SEO friendly and the demo does not have a Google Analytics script. That's why the score came 49 out of 100 which is disappointing.
But never fear cause the solution is here! You can use an SEO Plugin to enhance your website's SEO score. All you need to do is - a little bit of research and data input. The better SEO result you'll get, the better chance to see your website among the best.
Customer Support Review
The Alchemists theme is created and supported by dan_fisher. They usually take one day to reply in the comment section - that's why we have seen so far. Customer support is an essential element of any product-based business cause an excellent service can create returning buyers, and this will turn potential clients into purchasers. We did not see any shortage of dedication from the author team while providing support.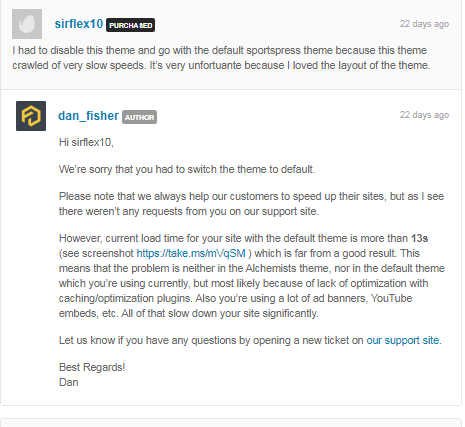 The authors are giving solutions as much as possible according to the needs of each person. As we mentioned earlier about the speed, a buyer said about that, and the support team had given a beneficial and logical solution.
Alchemists WordPress theme has got an average rating of  4.99. So we can say this theme is being hailed in the rating section for designing, support, customization, and code quality. Everyone is applauding the theme because the Alchemists have won everyone's hearts with their merits.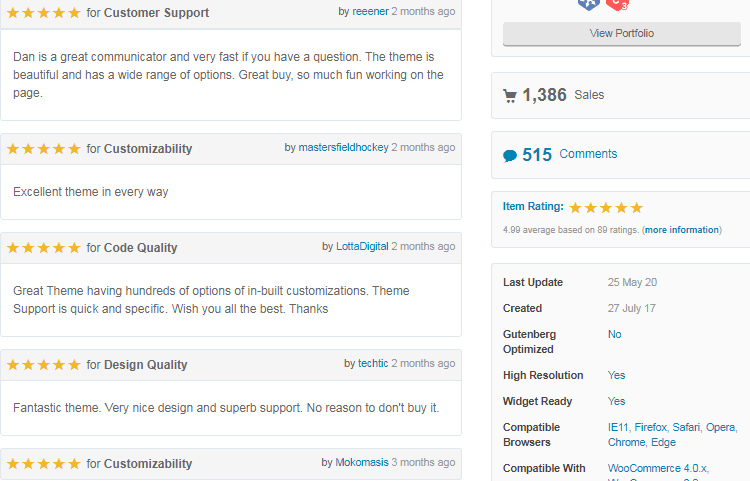 Supported Plugins
The Alchemists WordPress theme uses selectively essential plugins. With WP Bakery Page Builder Plugin, you can design any page you want with the sweetness of mind as it has more than 50 custom blocks added. There is a SportsPress plugin through which you can get all the web elements and widgets related to sports. Every demo site has the necessary social site integration system. The theme is WooCommerce, and RTL supported. There is also the opportunity to use third-party plugins as desired by the customer.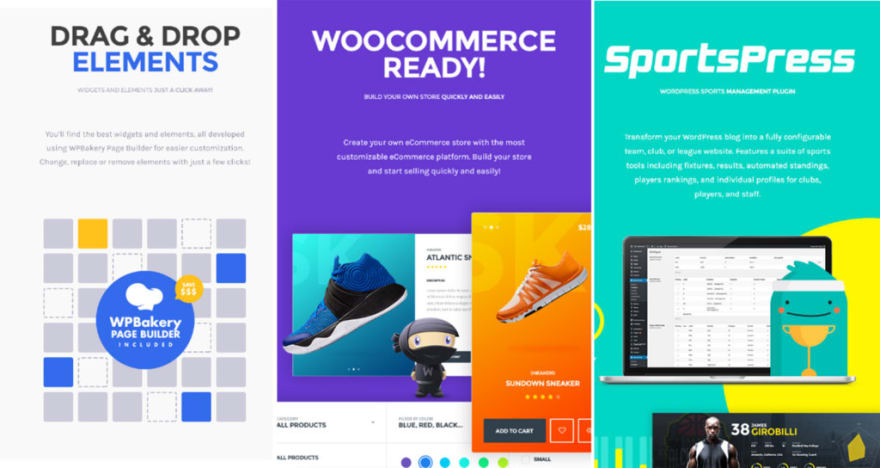 Summarize
The Alchemists theme is a very visually pleasing theme worth trying. Apart from SEO and loading speed, no other issues came to our notice. Designing, coding, support, plug-ins - the Alchemists theme is quite successful in all aspects. This is an excellent theme for any sports-related website if the buyer is confident of solving the problems mentioned above.