Are you ready to be impressed? Impreza is a name that has been chosen for a WordPress theme and it's no coincidence. After a review, we could say we have been impressed, not only because of the design or the entire features, but mostly because of the entire devotion the author put on this item. If the devotion is not what could impress you, let's explore together all that you'll get with the WordPress Theme Impreza.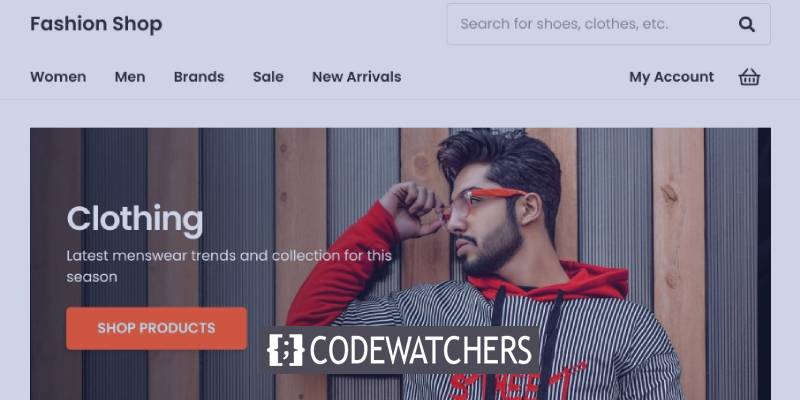 Feature List
1-Click Demo Installer
220 Pre-Made Design
Header Builder
Gutenberg Compatible
Lifetime Updates
Visual Builder Compatible
300+ Options
Grid Builder
4 Addons included
Developer Friendly
Mobile Compatibility
2020 will definitely be one of the years where the mobile-first Website and Template will have the priority over others. This is mainly because we all got a smartphone and we use it on a daily basis. If you want to build a website, you need it to be Mobile-Friendly.
Let's then start a test with an Agency demo. The demo we have chosen had a background video on Desktop, but one SmartPhone, well... the background turns into an image, this is a good point mainly because mobile users care about their data. The first sight... Excellent, minimalist just what is needed. You have a side mobile menu (hidden), a well-aligned logo and centered information.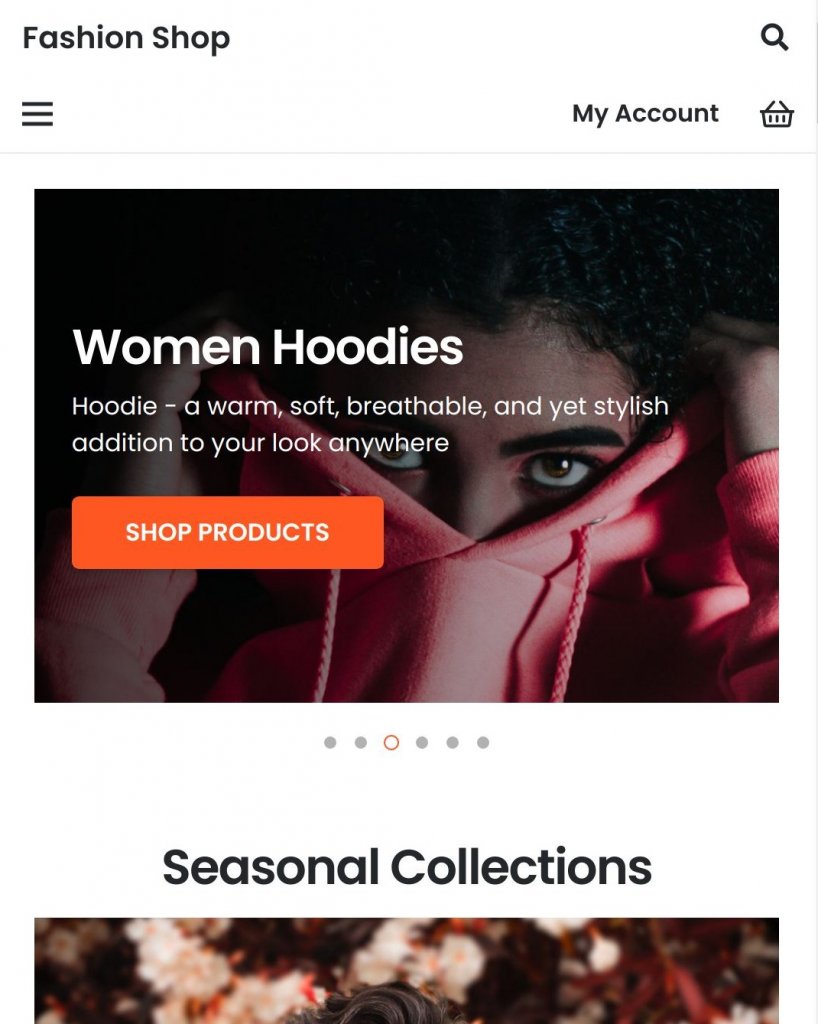 We liked the fancy animation that runs when you click on the mobile menu. There is some cool parallax effect when you're scrolling down. While we believe however some titles are too big, we're pretty much sure at 100% it's something you can customize.
Create Amazing Websites
With the best free page builder Elementor
Start Now
The mobile review can also be tested through tools such as "Mobile-Friendly Test" provided by Google. We did a test for the restaurant demo, and so far the result is nice enough.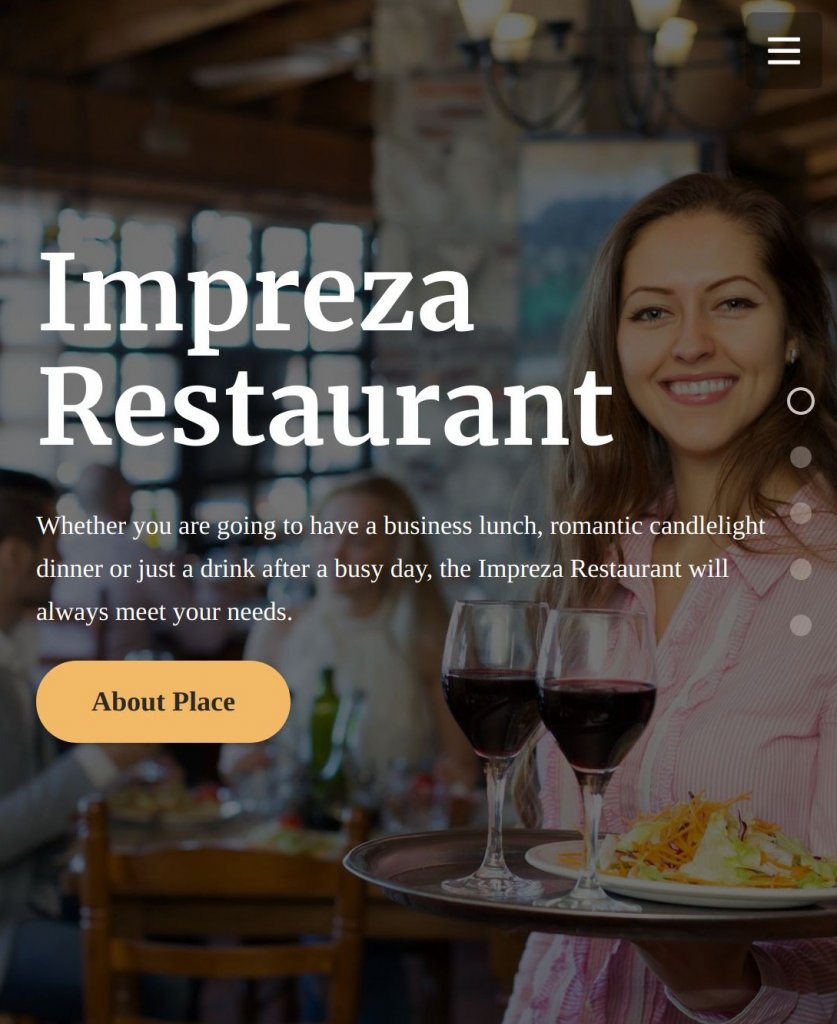 Design Review
The Design is also what makes you take a decision on whether you should pick a theme or not. By design, we aren't just covering fancy colors or components, we're also covering User Experience. Regarding the UI, it's quite nice. The author didn't want to blow up our eyes with a lot of distractions. The colors are nice enough and since you have the theme options, you can still customize it.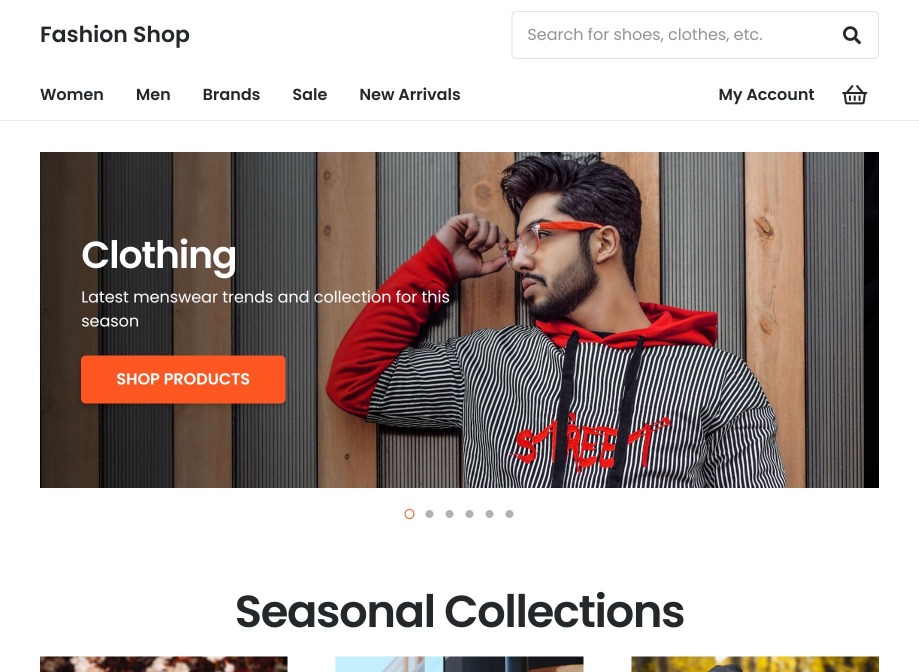 It's pretty interesting to see how good the item demos are. From what we can see, you won't really need to start your website from scratch. The available demo gives a real website like feel. That's the feeling we got exploring the restaurant demo.
Speed Test Review
Does the speed test is important, Obviously yes it is. Impreza has a speed test review on the item description page on ThemeForest. Indeed, the author claims a PageSpeed Score with a "B" score (100%), the same for the YSlow score. Let's check it out.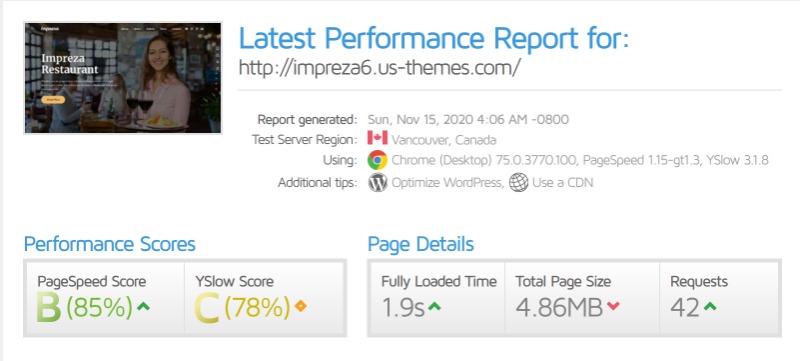 Well, they are pretty right on the score. They go "B" for either the page speed and the YSlow score (even though the percentage is different). There aren't many themes out there that can claim to have such a good speed test score on GTMetrix.
This definitely underlines how professional the theme has been crafted. And just for that, it's a fair argument to use this WordPress Theme.
SEO Review
Okay, the Speed is good, what about the SEO? Remember, the SEO actually matters, especially if you want to be found on the Search Engine. The test we'll about to perform, cover the internal theme structure. Note that, you might need some additional plugins to enhance your SEO score, but out of the box (without any plugins), here is the theme SEO score.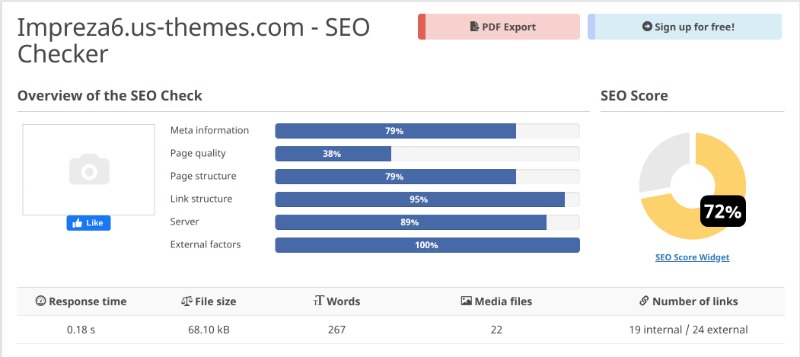 Okay, the SEO checkup score is not that bad. In fact, it's above average. As we've mentioned before, some of the SEO aspects of your website might be changed with dedicated plugins such as "Yoast SEO".
We're reminding that because of the issue faced on the SEO checkup is the missing description meta tag, missing social media integration, URL canonicalization. So, for the SEO in addition to the features provided with the theme, you should consider using an SEO plugin as well.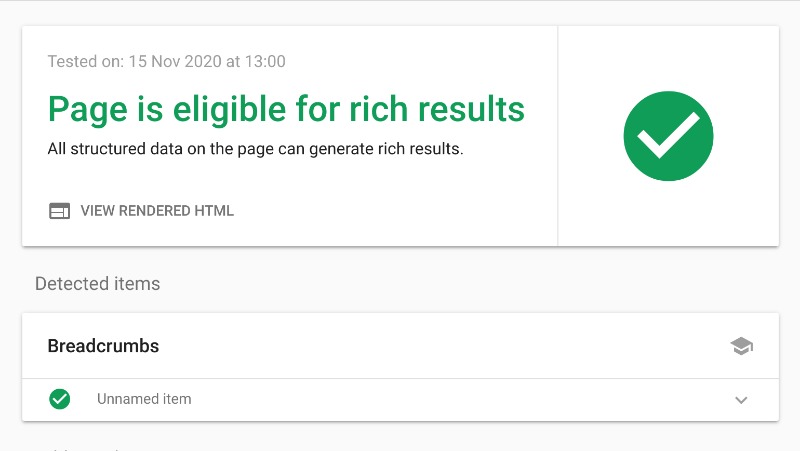 The last test we run on Impreza was to check whether it supports rich results. Fair enough, it's supported. However unfortunately, only Breadcrumb Rich Result seems supported.
Customer Support Review
No one likes to be abandoned to his fate when he buys something that he doesn't master. Customer Support is therefore important as on Themeforest, you can easily be frustrated if the author doesn't work enough on solving issues or adding new and trending features.
After having reviewed Impreza supports, we can say that the support is active. The author will make sure to answer the same day you post your issue (you might not immediately get a solution as you need to post your issue via their contact form). But, for very light questions, which don't require license validation or sensitive information sharing, you can get an instant answer.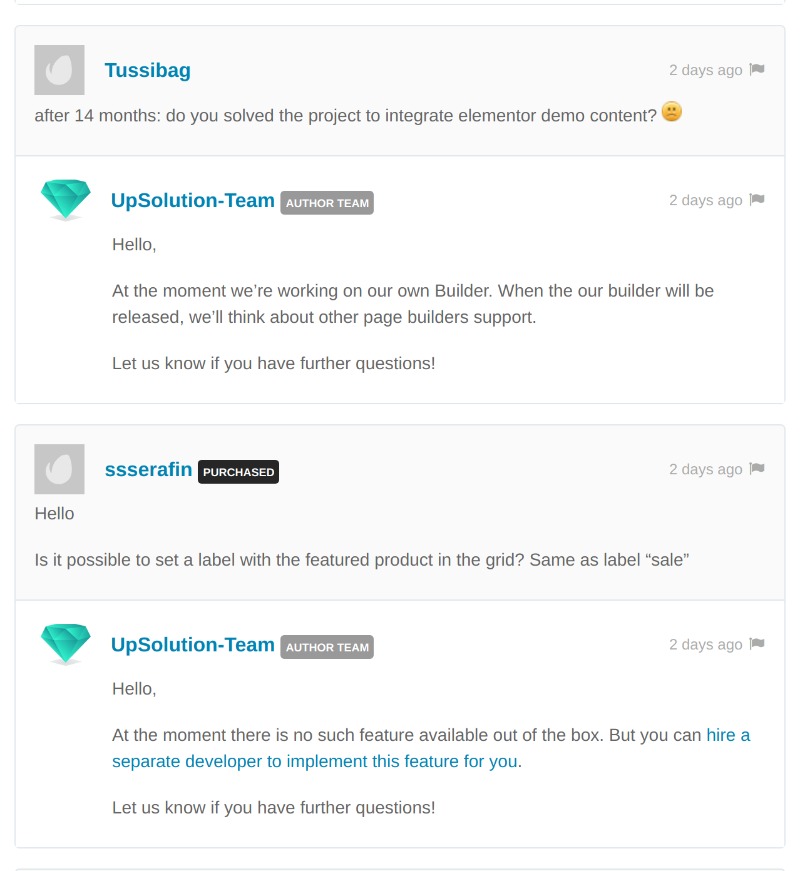 With almost 2100 reviews, Impreza has a note of 4.89/5. We don't believe they are fake. More customers like this theme and it's definitely for a reason. A quick overview of the ratings points out: Customizability and Flexibility. We believe for those willing to create any type of website, it's important.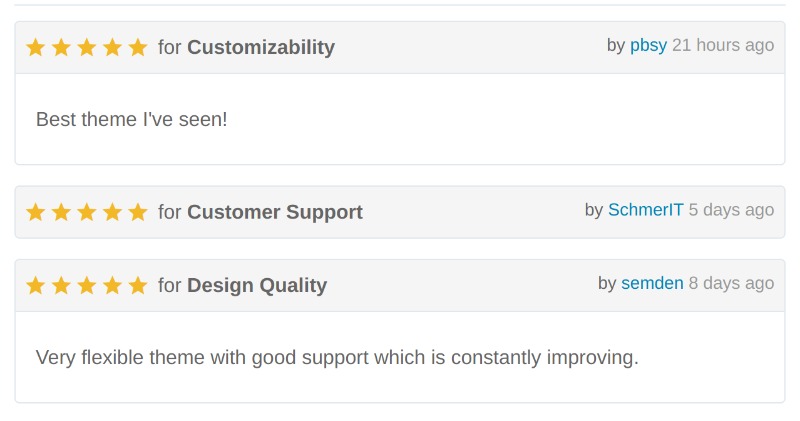 Supported Plugins
Now, what are the plugins that supported or even provided along with Impreza? First of all, we can say Visual Builder is supported, We've also noticed on the comment that the author mentioned compatibility with WooCommerce 4.0. For those seeking a translatable WordPress theme, Impreza support WPML.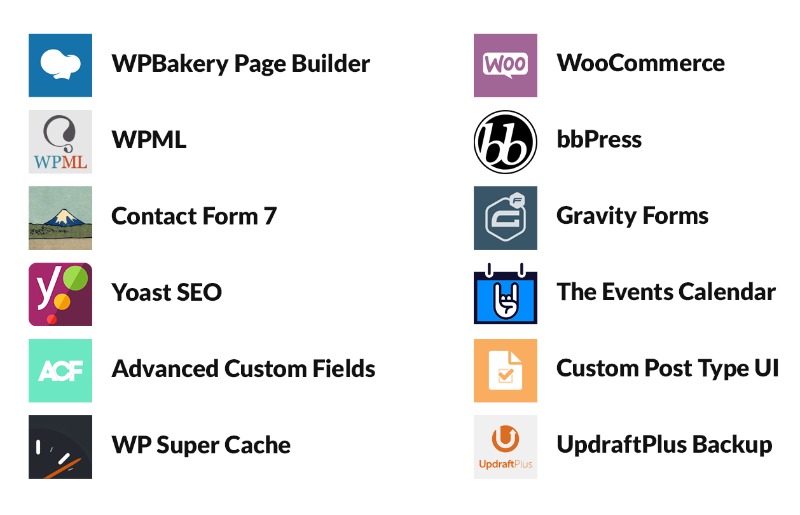 According to the author, You'll get a WPBakery Page Builder (Visual Builder) copy, Ultimate Addons, Revolution Slider, and Font Awesome Pro
Summarize
Well, there is a lot to say about this WordPress theme. But, if we can resume what we've said above... Yes, you can and should buy this theme.
If you have a WordPress theme running with some information, you can test the theme with a backend without even spending any penny. How? The author provides a site demo where you can create your setup and start using the theme for testing purposes.