Whether you're in need of simple or sophisticated AI add-ons for WordPress, the dominant content management system (CMS) provides a wide array of choices. When combined with the premier WordPress hosting service, AI enhances the speed and efficiency of constructing and supervising your website. To be more specific, AI-infused WordPress plugins offer assistance in areas such as content generation, image creation, search engine optimization, integration of live chat, and coding. With this notion in mind, we've assembled a compilation of five dependable AI WordPress plugins. Additionally, we will explore the advantages and address some of the most frequently raised inquiries regarding plugins driven by AI.
Top 5 AI Plugins for WordPress
When looking to leverage the capabilities of artificial intelligence for WordPress websites, these are among the top five AI plugins to contemplate incorporating.
WP Forms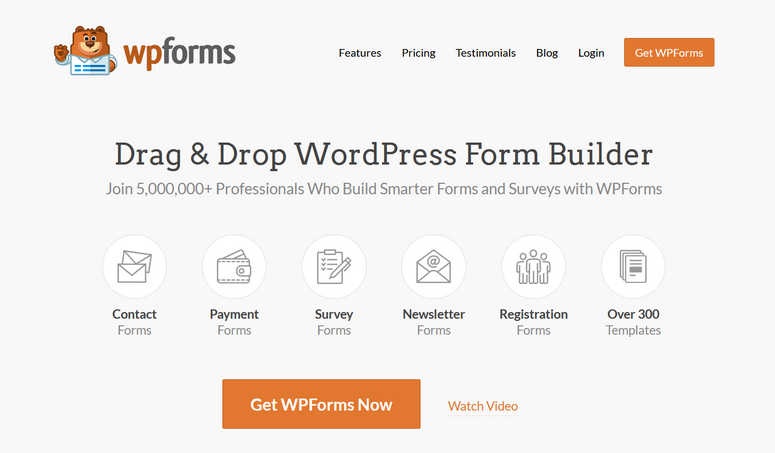 WPForms, a popular form builder plugin for WordPress, goes beyond just creating website forms. While its main purpose is to make different types of forms like contact, payment, surveys, and more, it also has a surprising use in SMS marketing.
Using WPForms' easy drag-and-drop builder, anyone can quickly add new fields to forms, including a section for phone numbers. You can choose if this phone field is optional or required, depending on your marketing goals.
Once you gather leads with WPForms, you can automatically send them to your email service provider (ESP), like SendinBlue or Drip. This makes managing SMS contacts smooth. WPForms becomes a system that sends new contacts straight to your SMS manager.
With your SMS contacts on your chosen platform, you can create SMS sequences to guide subscribers through your sales process. This helps you connect and engage with your audience by sending targeted SMS messages that match their interests.
Key Features
Pre-built form templates
Drag and drop builder
Easy to install
Responsive and mobile-friendly
Entry management
Real-time notifications
Uncanny Automator Uncanny Automator is a plugin that's incredibly useful for just about everyone, and that was even before it gained AI capabilities.
This robust plugin allows you to set up workflows to automate tasks without needing to know how to code. For instance, when a customer makes a purchase, it triggers a specific action, like sending an email or adding them to a mailing list.
Now, with the addition of AI, things get even more impressive. You can create automations for AI to generate blog posts, tweets, and other conten
It's a strong AI WordPress plugin that can deliver substantial results for your WordPress site.
Key Features
Robust webhooks
Own your data
Unparalleled support
Full meta support
Unlimited usage
Debug record
AI Engine The AI Engine WordPress plugin allows seamless integration of AI services like OpenAI's ChatGPT or Microsoft Azure into websites. By entering the API key in the plugin settings, users can harness AI for content creation, including blog posts and product descriptions. The plugin also features an AI-powered image generator.
The Playground feature enables experimentation with AI-based translation and correction, which is particularly useful for multilingual websites. Access this via the Meow Apps shortcut → AI Engine → Playground, or through the WordPress dashboard's Tools section, Playground.
This potent plugin tracks AI service usage, allowing users to set limits and tailor AI behaviour to their site's style. Note potential costs for API usage and compatibility with PHP 7.4 or higher before installation.
Key Features
Fresh and engaging content
AI Copilot
Fullscreen, popup, and window modes
Internal API for you to play with
ChatGPT chatbot
Whisper API
All in One SEO All in One SEO (AIOSEO) stands out as the ultimate WordPress SEO plugin, trusted by over 3 million professionals to optimize their websites for better search rankings. Recently, AIOSEO introduced an exciting integration with ChatGPT, making it effortless to generate high-quality post titles and meta descriptions.
To use AIOSEO's AI Title/Description Generator, head to AIOSEO Settings at the bottom of your WordPress post or page. In the 'Post Title' and 'Meta Description' fields, you'll find a robot icon. Clicking it reveals various suggestions—click the plus button next to your choice to add it to the SEO meta fields. With AIOSEO's ChatGPT integration, creating captivating SEO titles and descriptions for higher search rankings becomes seamless.
AIOSEO offers more powerful features, including TruSEO on-page analysis, automatic internal linking, XML sitemaps, rich snippet schema markup, and more.
Key Features
TruSEO On-Page Analysis
Rich Snippet Schema
Local SEO
Smart XML Sitemaps
Video SEO Sitemaps
Social Media Integration
Tidio Tidio is an advanced chatbot platform designed for dedicated client servicing. Designed to be used for any customer service related task in small or medium sized businesses. Tidio's services include live chat, helpdesk, multichannel management, service analytics, etc.
Among these services is Tidio's AI Chatbot - Lyro for live chat. It is basically a conversational AI chatbot, which you can easily train with information about your business's services or products, and is capable of providing human-like conversational support in client servicing. Lyro AI is trained for natural conversations and can generate about 70 percent more sales leads than human client service.
In addition, Tidio integrates platforms like WooCommerce and Shopify, enabling this chatbot to provide a conversational shopping experience. In the free option of Tidio, its features can be used for a limited time. But based on the kind of advanced services that Tidio produces, its premium subscription can be an ideal investment for any e-commerce business.
Key Features
Offer personalized assistance
formulates complex answers
drag-and-drop visual editor
engage your potential customers
Doesn't require training at all
send valuable information to your CRM
Wrapping Up
Artificial intelligence and machine learning are shaping everyday life, and the WordPress community is embracing this trend. Plugins are incorporating these technologies, offering tasks like language processing, content curation, and more. Choosing AI and machine learning plugins can greatly impact your website's performance and user engagement, enhancing experiences and simplifying tasks.