Ajax is a feature that allows you to fetch information from a server without reloading the whole page. It actually launches an asynchronous request to directly contact the server without reloading the page. Combined with a category filter, this function makes the search much smoother and more dynamic on your website. This can greatly simplify the experience for your users by helping them find what they are looking for quickly.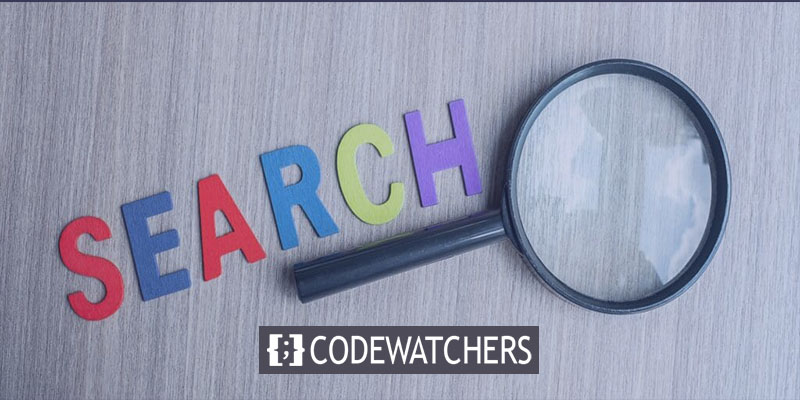 There are many plugins on WordPress that integrate an AJAX search filter into a website. We have selected 8 that are sure to make life easier for your users.
1. Ajax Search Pro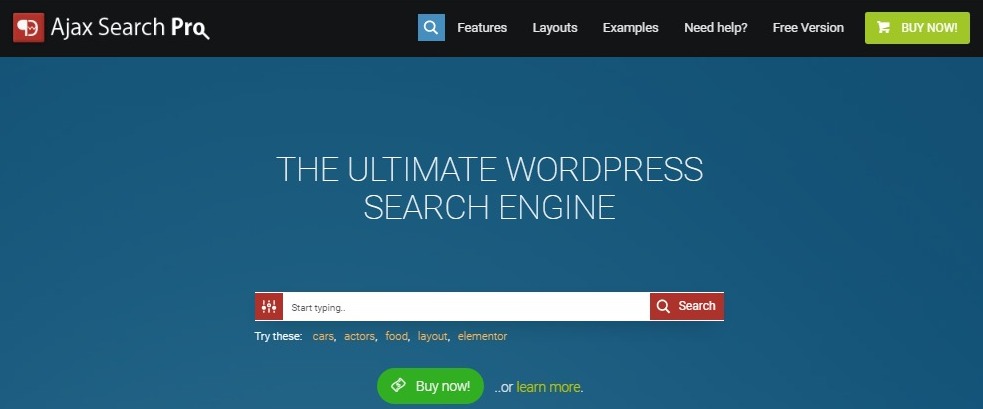 Ajax search pro is a WordPress plugin designed to add a high-performance search system to your website. It is a real search engine for your platform which provides an Ajax Live search. This makes the search experience for users more comfortable.
In addition, the plugin provides you with shortcodes and widgets compatible with page builders, such as Elementor, WPBakery Page builder (and Visual Composer), Divi Page Builder, and others. It can act as an Elementor Live Posts and Products widget filter.
Key Features
Many content type supported
WooCommerce supported
Four built-in layouts
Widgets and shortcodes supported
CL Pricing Plan included
Mega Menu included
Powerful theme options
Parallax Animation
2. DHWC Ajax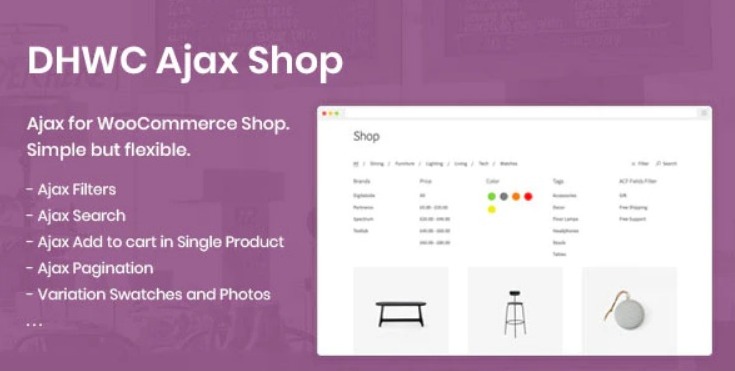 DHWC Ajax is a powerful Ajax Search plugin suitable for online stores. This plugin helps your customers and visitors find the exact products they want in seconds. This will inevitably increase the conversion rate of prospects on your site.
Indeed, thanks to this tool, your users can search for Delon products in various criteria: categories, tags, attributes, and price range. Obviously, the search function is instantaneous.
DHWC Ajax is compatible with WooCommerce, so any type of online store is taken into account. It is also compatible with other extensions like Product Archive template and Single Product template of Elementor Pro. Interesting isn't it!
Key Features
Easy to install and configure
WooCommerce supported
User-friendly
Filter product with choice fields types
Support AJAX product Search
Multi widget filters styles
Support Product brands
Work with any theme
3. PWF WooCommerce Product Filters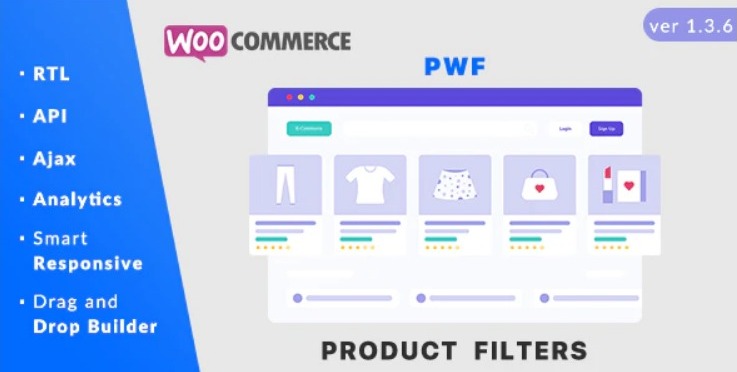 We are now dealing with one of the youngsters on our list. PWF WooCommerce Product Filters is a WordPress plugin available on the CodeCanyon platform for only a year. However, it is not left out in front of the older ones.
One of the advantageous attributes of PWF WooCommerce Product Filters is that it has a well-thought-out caching system for improving loading speed, along with a drag-and-drop form builder. It also integrates the display of variable products only if the attributes selected by the customer exist in stock.
PWF WooCommerce Product Filter is fully responsive and retina-ready. So don't worry if your customers are using mobile devices more.
Key Features
Fast Ajax
WooCommerce supported
Push active filters into a friendly URL
Drag and drop form builder
Advanced caching system
Code Performance
Unlimited filters
Translated Languages: English, Arabic, Persian
4. WooCommerce Tabbed Category Product Listing - Pro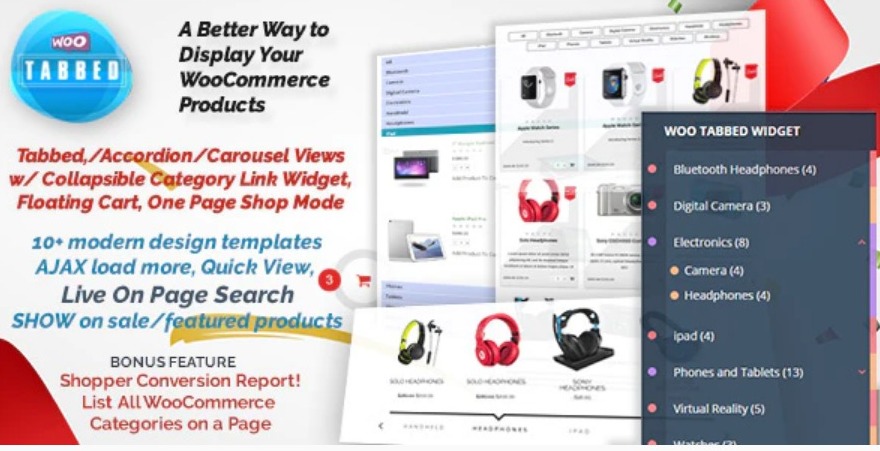 WooCommerce Tabbed Category Product Listing is a WooCommerce add-on that specializes in designing an organized directory of your products. Indeed, it is a real system of product categorization you have in your hands here. So you can present all your product categories as a tab, accordion, or carousel on a single page.
This premium plugin has an Ajax feature of Live On-Page Product Search. Thanks to it, your visitors will be able to very quickly find what they are looking for in your store.
WooCommerce Tabbed Category Product Listing provides you with a lot of other useful features like Ajax Load More, extensive customization options, and lots of advanced settings.
Key Features
10+ Design Templates
WooCommerce supported
AJAX Load More Products
Live, On-page Product Search
Shortcode for Products
Floating Ajax Quick Cart
Shopper Conversion Statistics
Lifetime Free PlugIn Upgrades
5. WordPress Content Filter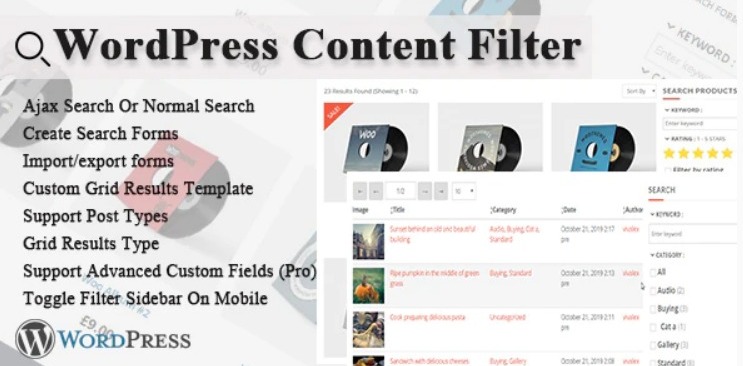 This is a WordPress plugin designed to add a custom filter system to your website. Thanks to this extension, you can integrate a filter into various elements of your site such as publications, pages, product attributes, product categories, personalized taxonomies, prices, etc.
The WordPress Content Filter plugin provides you with two options for displaying search results. We can choose between the redirection or the Ajax function integrated into the plugin.
Key Features
Easy to customize
Unlimited different search forms
Advanced Custom Fields
Search form sidebar on mobile
AJAX or Redirect to display results
Custom CSS
Cross Browser
WPML ready
6. WOOF - WooCommerce Products Filter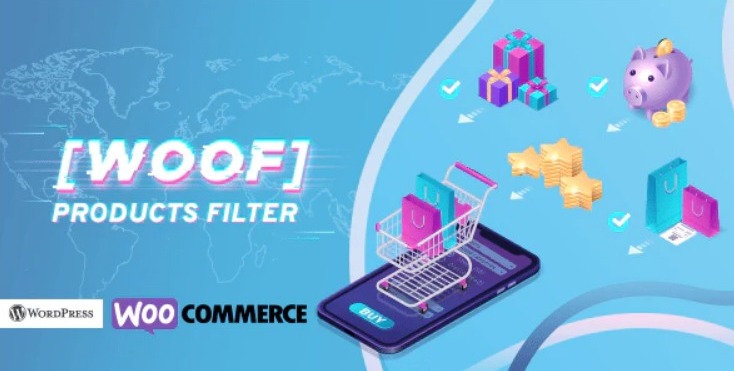 An extension of WooCommerce, WOOF was developed to add an instant search feature to your WordPress site.
Indeed, this premium plugin provides you with a powerful, flexible, simple, and robust Ajax product filter. Your visitors can instantly search for products by categories, product attributes, tags, product taxonomy, or even price. The search technology created especially for WOOF makes it possible to make an instant search whatever the number of products without reloading a page.
In addition, WOOF gives you access to search statistics on your site. You can always analyze research data and understand what interests your customers the most. And of course, this data will help you grow your business.
Key Features
Products searching by AJAX
Dynamic products recount
Filter WooCommerce products by Meta Data
Quick Search
Load more scrolling
Price filter as range-slider or as drop-down
Display statistics for analysing
7. Reactive Search Pro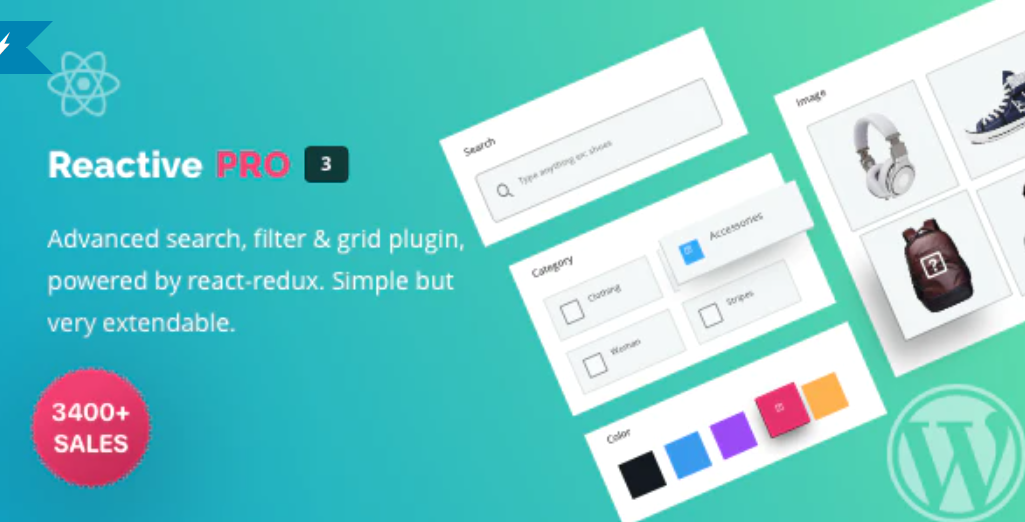 Reactive Search Pro is a simple to install and very extensible WordPress search plugin. It integrates a search filter into your site that supports posts, locations, media, taxonomies, and many other types of personalized posts.
It is a fully customizable plugin with over 15 attributes and features. In particular, it has a drag'n'drop search page builder. You can also set the search option in the top bar of your site; which makes the plugin even more powerful.
Key Features
+ 15 Search attibute
Autocomplete Map
Easy to use and customize
Drag'n'drop builder
WooCommerce supported
Popup More Filters
Multi language enable
Documentation and Support
8. Category Ajax Filter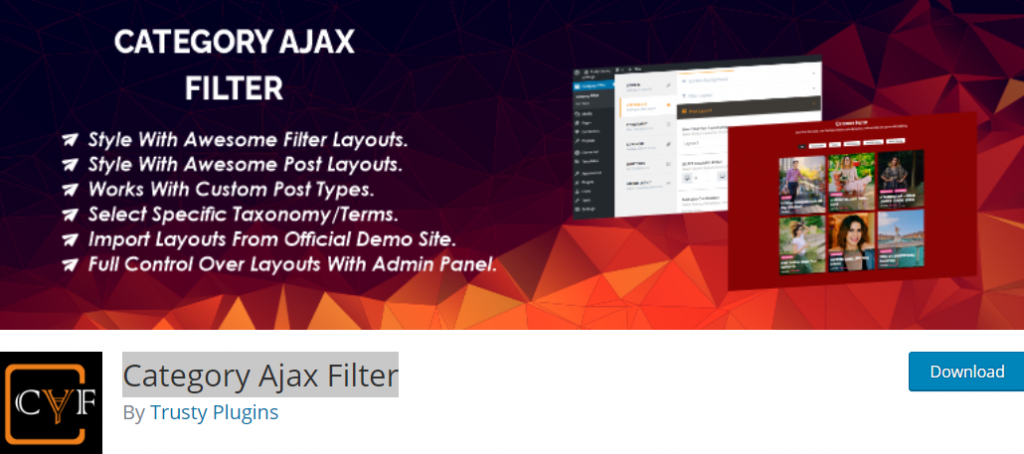 Category Ajax Filter is initially a free plugin, but quite popular on WordPress. It also has a very good reputation with many users; which prompted us to test it.
It allows you to add a custom filter anywhere on your site with a simple shortcode. Take advantage of ajax to filter posts with many pre-built layouts.
This module gives you the possibility to customize your search filter as you wish; especially in terms of color scheme and layout. Once you're happy with your settings, you can copy the shortcode and add it to any post or page to view your posts and category filter.
Key Features
5+ More Post Layouts
Sort Posts Settings
Load More Posts
Multiple Checkbox Filter Layout
Google Fonts List Added
More Filter/Action Hooks
Translation settings
Search Field through posts
CONCLUSION
In short, it is clear the importance of an AJAX search filter and the impact it can have on the traffic of your WordPress site. Because, in fact, users who are satisfied with browsing your site will inevitably come back and will tend to share your content with their acquaintances.
Speaking of sharing, we invite you to do so for this article if you like it so that as many people as possible can enjoy it. We are available on Facebook and Twitter. Do not hesitate to write to us🙂.