It is very important to be able to inform your users when there is an event, a promotion, maintenance, or the like on your website. In order to keep them focused on the date ahead, what could be better than a countdown? This helps your users to prepare well for what is to come. At the same time, it will boost your traffic, because it creates enthusiasm on your site.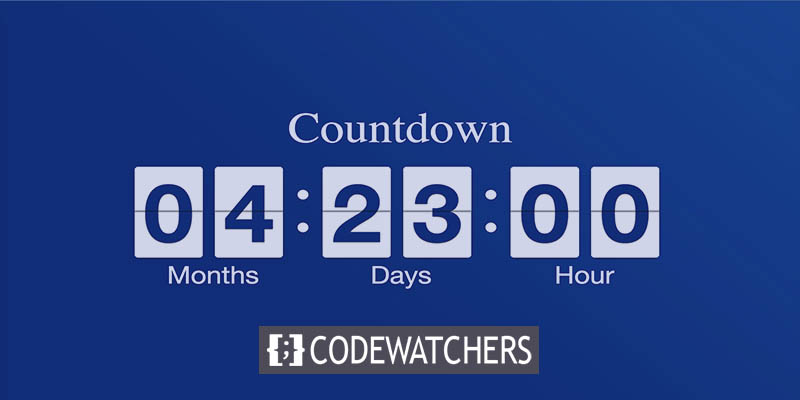 Well on WordPress, there are plugins specifically designed to help you add countdown timers to your site. In front of the multitude of these, we made a selection of 8 plugins that we considered suitable to satisfy you in this regard. We, therefore, invite you to discover them immediately.
Download Divi The Best WordPress Theme
The Most Popular WordPress Theme In The World And The Ultimate WordPress Page Builder
Download Divi
1. Countdown Timer – Widget Countdown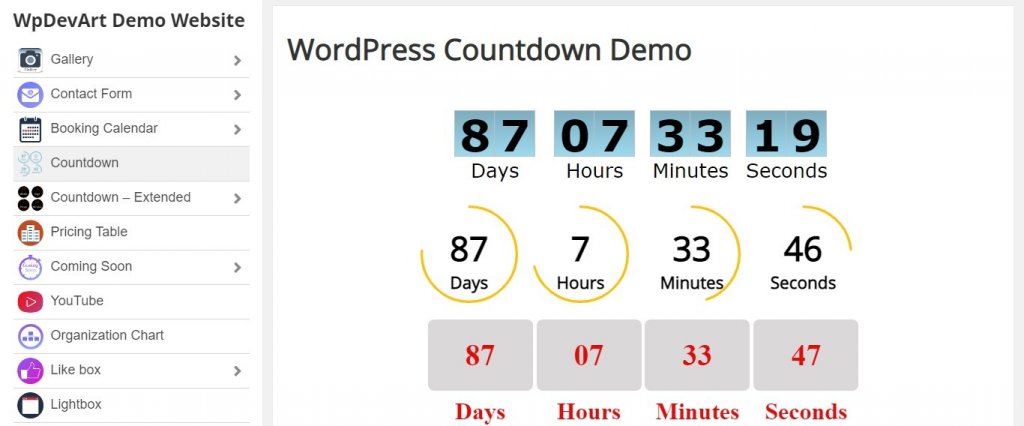 The first on the list, Countdown Timer, is a WordPress plugin specifically designed to allow you to create a nice and functional timer. In just a few minutes, you can make beautiful Timers available to your users.
It is a very accessible plugin, which you can integrate into articles and pages, or even use as a widget in your sidebar. It offers you the possibility to type your own text in the day, hour, minute, and second fields. Likewise, you can schedule actions after the time limit expires.
Countdown Timer is basically a free plugin, and quite functional as well. But if you want more options (eg the ability to choose the size, background, and color of the text), the pro version is available.
Key Features
Easy install and use
Fully Responsive
Ability to create unlimited Timers
Ability to use on pages/posts and widgets
Ability to select the action after time expired
Ability to type message after time expired
Ability to choose the position
Uses CSS3
2. Countdown Timer Ultimate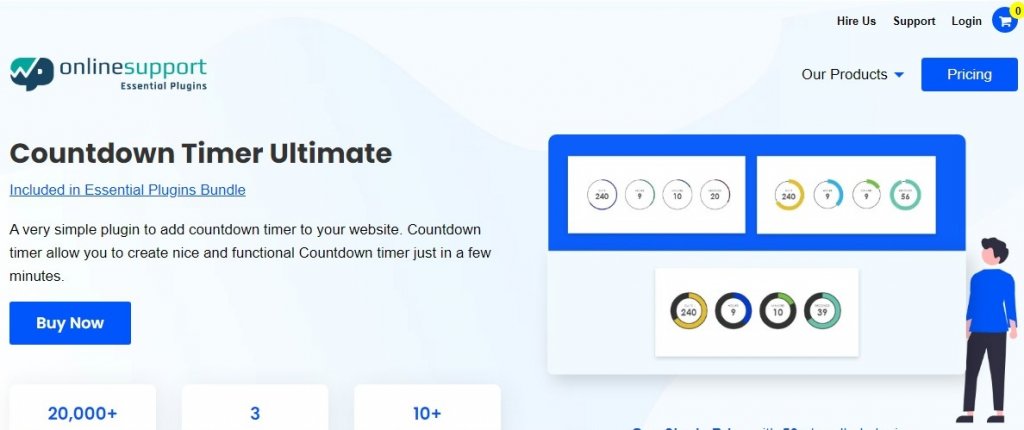 Countdown Timer Ultimate is another free WordPress plugin to easily design flashy timers for your website.
The customization models offered by this tool are very attractive and in our opinion constitute its great asset. You can especially change your timers into rotating circles with a very beautiful background color. Thanks to an editor provided with sliders and selectors, the customization of your timers are accessible and even attractive.
Key Features
Fully Responsive
Unlimited Countdowns timer
Countdown in pages / posts
Change background color and width
Change rotating circle background color and width.
Change the text in the timer
Set different background colors for timer elements
3. OptinMonster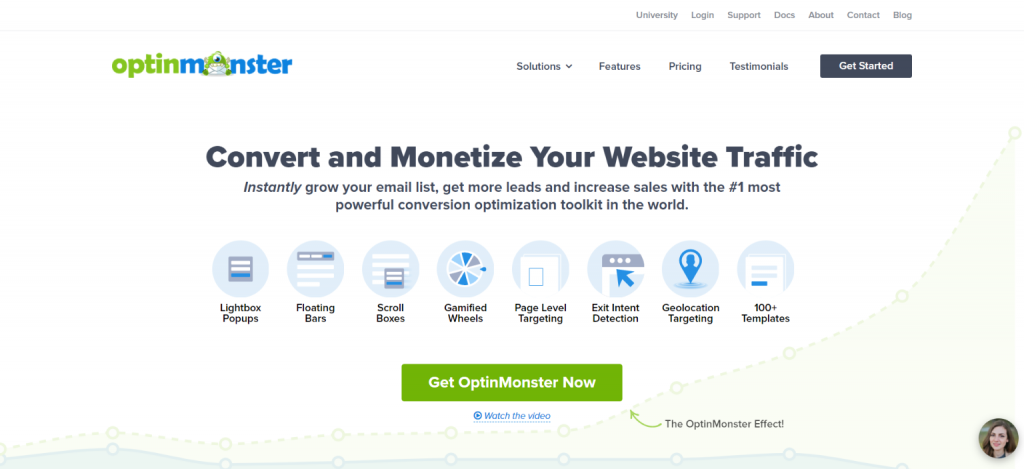 OptinMonster is a WordPress plugin designed to help you generate leads and boost your conversion rate on your website. It's very convenient but what really interests us is the Countdown Timer functionality that the plugin has.
Indeed, with OptinMonster, you can easily create personalized countdowns thanks to a Drag & Drop interface. Thus, it is possible to add countdowns to different pages of your site, even to events such as activation campaigns.
OptinMonster allows you to create multiple types of countdown campaigns, such as ad bars, pop-ups, full-screen mats, etc.
Key Features
Add countdown timer without any coding
Drag and drop interface
Fully customizable timer
Create both static and evergreen timers
Floating bar
Position your countdown
4. Evergreen Countdown Timer Marketers who offer sale, rebate, or any other similar offer will be happy with the product we are now going to showcase. Evergreen Countdown Timer is a beautiful plugin that allows you to design various types of timers in no time on your WordPress site. This includes unlimited evergreen timers. I have to say that this type of timers is ideal for marketing campaigns.
Evergreen Countdown Timer gives you the option to add content to the timers using shortcodes. In its free version, you will find black and white colors, as well as 24/7 support. On the other hand, the premium version comes with quite impressive features, such as the possibility of following visitors by their IP address or by cookies; which is very convenient for all marketers.
Key Features
Standard and Evergreen countdown timers
Ability to detects visitors
Easy to use
One-time timer to all your visitors
5. HurryTimer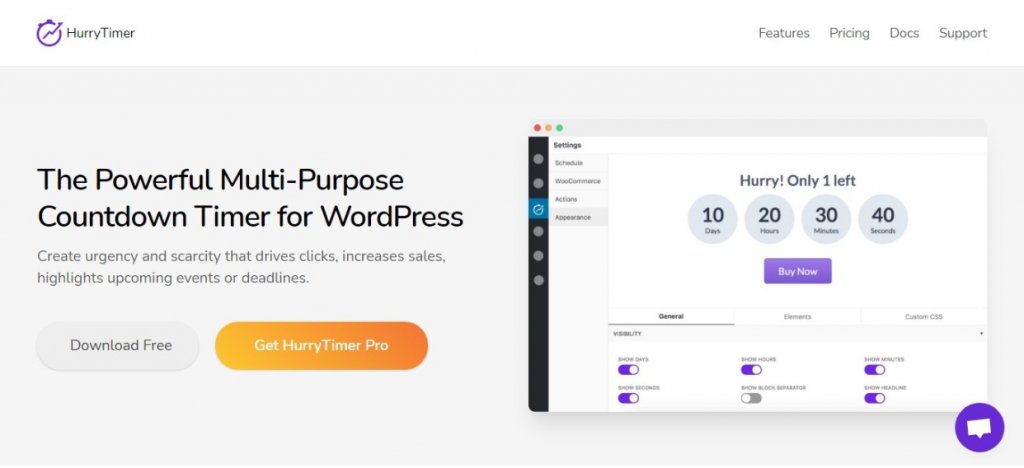 HurryTimer is a WordPress-friendly countdown software that offers a variety of choices in creating and using your timers. It is particularly effective for marketing campaigns. You can thus create recurring campaigns, campaigns with a fixed deadline, or even Evergreen campaigns (that is to say that each visitor has his own countdown, regardless of his local time zone and when he visited your site).
This plugin also allows you to configure timers to run a countdown between two fixed dates. This is useful if you want to prepare in advance for an upcoming sale.
Key Features
Evergreen & Regular countdown timers
Integrated with WooCommerce
Auto-Restart
Live design customizer
Cookie & IP detection technique for Evergreen campaigns
Call-To-Action button.
Scheduled Campaigns
Plan actions after the deadline
6. SeedProd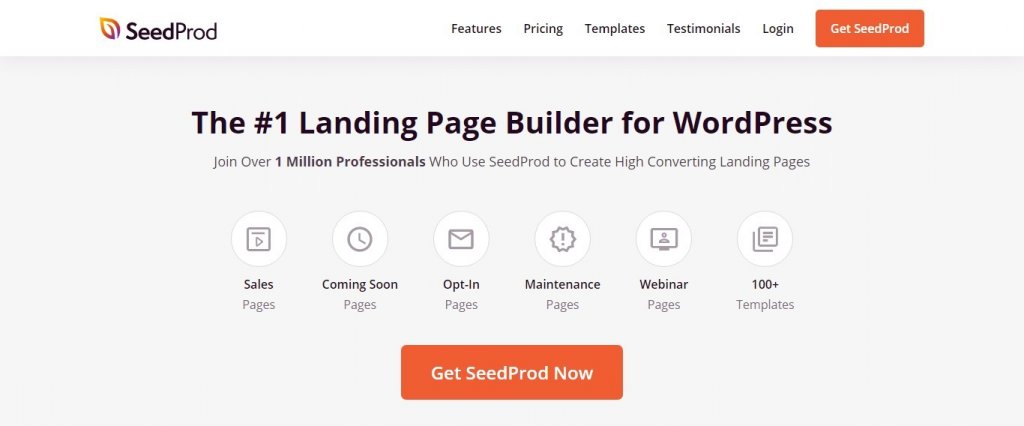 The SeedProd plugin is a very effective tool for designing powerful and easy to use landing pages on your WordPress site. It has a countdown timer feature allowing you to add a timer to your landing page. It is therefore the perfect tool when you want to put your site in Coming Soon or Maintenance mode.
SeedProd offers flexible customization options. Customize your timer exactly the way you want it. You can even change the color and typography of your timer to match the look and style of your brand.
Key Features
Works with any WordPress Theme
Drag & Drop Page Builder
Easily add Custom CSS and HTML
Responsive and Mobile Ready
Customize the Look and Feel
Multisite Support
Create a Variety of Landing Pages
7. Divi Countdown Timer Module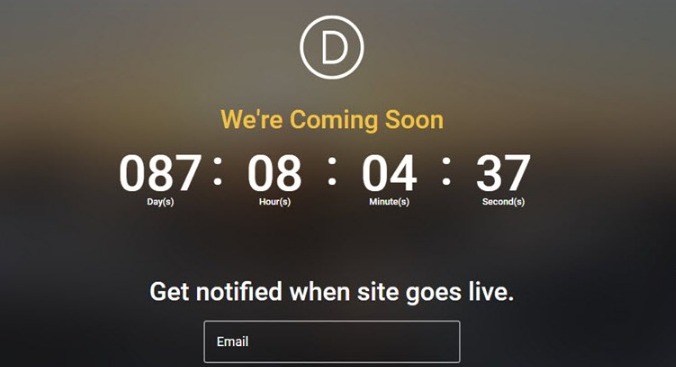 As the name suggests, Divi Countdown Timer Module is a module integrated with the DIVI plugin that allows you to create a visual timer with a countdown to a specific date. Of course, you can thus announce the number of days, hours, minutes, and seconds left until an event.
Thanks to DIVI Builder, this module offers you a wide range of customization. Adjust the text, numbers, separators, colors, borders, size, box-shadow, etc. as you want. You can also customize visibility, transitions, position, and scrolling effects.
Combined with a "blank page", the plugin can help you get a great "coming soon" landing page or maintenance mode page.
Key Features
Multiple countdown types
Coming soon feature
Incorporates shortcoes
Highly customizable
8. Countdown Builder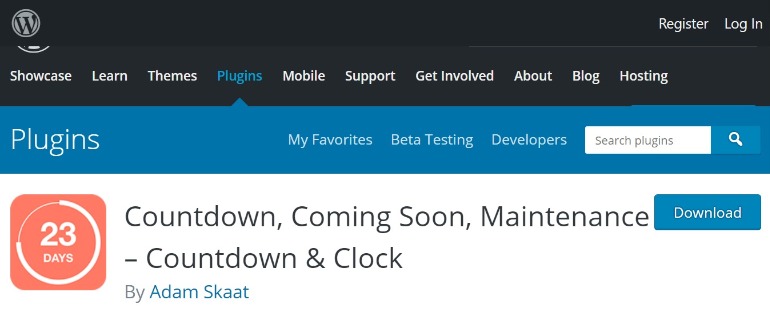 The last one on the list provides you with simple countdown timers with several different styles built in. We have circle countdowns, clock countdowns, and even a page to come.
Using a block editor and shortcodes, you can add a timer anywhere on your site, whether it's on a page or in content. Just go to the WordPress block editor and select the "Countdown" block (under "Widgets").
Countdown Builder also lets you customize various areas of your timer, including font size, labels, and animation style.
Key Features
Circle countdown & popup
Flip clock countdown & popup
WooCommerce countdown
WooCommerce coupons
Coming Soon page
Simple and Sticky countdown
Summarize
So what do you think of this dedicated WordPress countdown list? We believe there is a bit of everything whatever type of site you have that requires a countdown. Anyway, we invite you to express yourself in the comments if you liked it or if you have any suggestions.
In addition, if this type of content interests you, you can follow us on Facebook and Twitter to be informed in due time of our publications.