Price tables are a very effective way to offer your products and services on your WordPress site, especially for online stores. They are particularly practical because they integrate call-to-action buttons for your customers.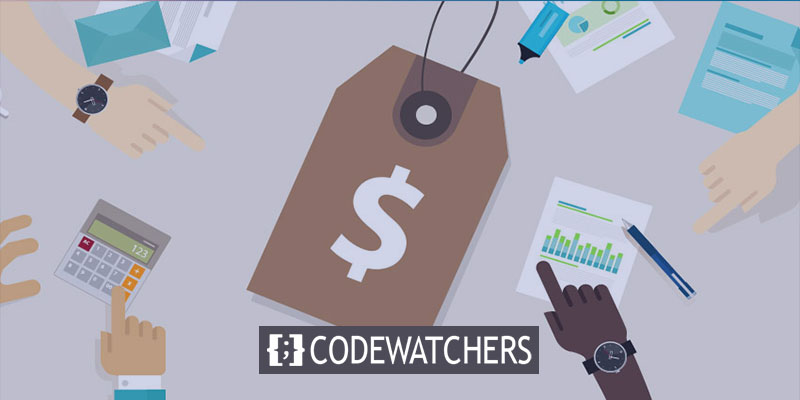 The easiest method to add a Pricing Table if you are not comfortable with codes is to use a plugin. There are also several that can help you in this direction. Here are 7 that we have selected especially for you.
1. Woo Product Table Pro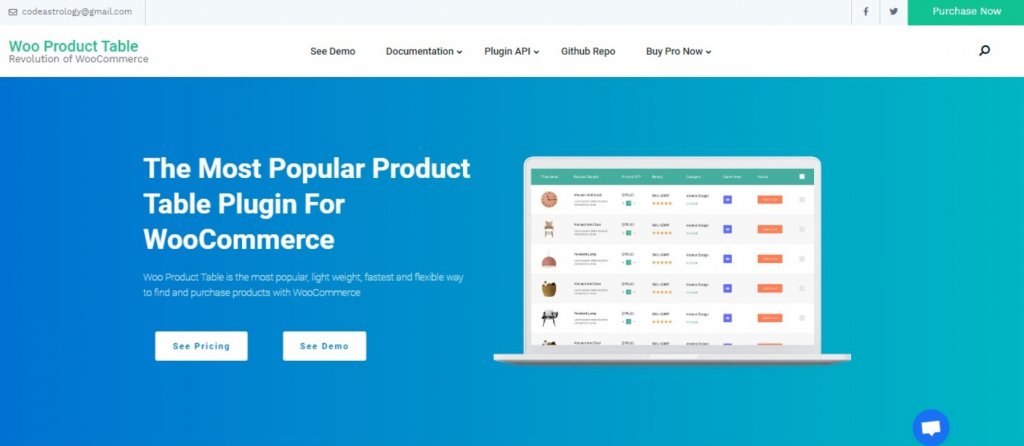 Woo Product Table Pro is a very efficient solution to display your product information in tabular form on your WordPress site. It is particularly useful when you want to display the price table of your products and services for your users. Suitable for any type of online store, it fully supports WooCommerce. You can use it for wholesale stores, product catalogs, order forms, and more.
This plugin comes with a simple, customizable shortcode generator that does not require any programming knowledge. It thus offers to display the products of your store on a page by shortcode in table form.
Key Features
Fast Speed
WooCommerce supported
Ajax Pagination
Shortcode Generator
100% Mobile Responsive
Mini Filter
2. Pricing Table It is a stable and functional tool that allows you to create and publish fully customizable and responsive pricing tables on your WordPress site in minutes. It's a 4-year-old plugin today but still relevant thanks to feature updates.
With Pricing Table, effectively position your prices to increase your sales. It offers a simple visual and graphical presentation of tables with comprehensive purchase information for easy reading. You also have many customization options to enhance the visual appearance of your pricing tables.
Key Features
3 predefined layout types
Responsive widget width
Mobile optimized
WooCommerce supported
Totally customisable
Ribbon option
The option of displaying price caption
3. Table Rate Shipping by Class, Weight, Price, Quantity & Volume for WooCommerce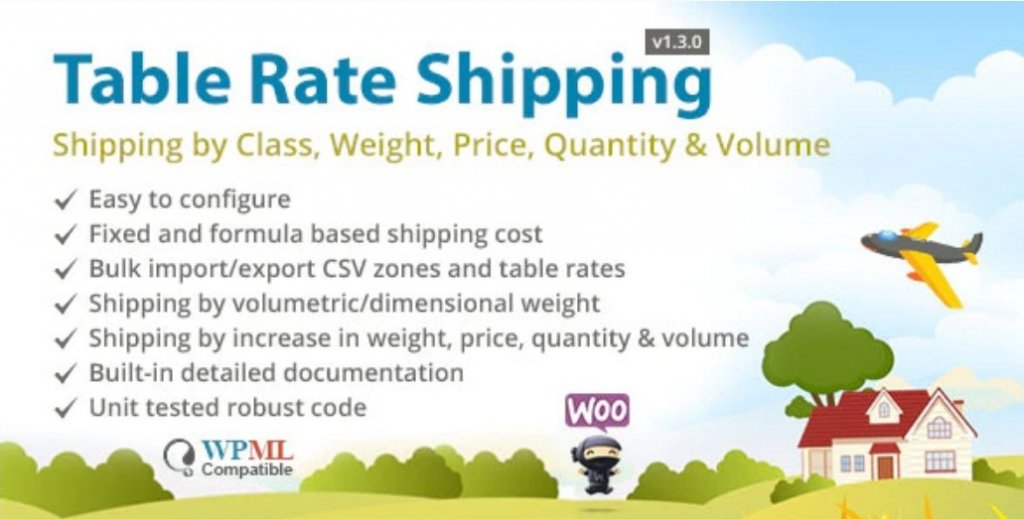 Table Rate Shipping is a WordPress plugin designed to add a shipping cost evaluation table to your website for products in your online store.
This table is based on various criteria. Among these, we find class, weight, price, quantity, or even volume. Thanks to this table you can calculate the shipping costs of the products according to these criteria, and this way quickly and easily. The increase or decrease of a value on one of the criteria in the table will automatically influence the shipping costs.
Table Rate Shipping is suitable for any type of online store. It also fully supports WooCommerce.
Key Features
Calculate shipping
WooCommerce supported
Cost Formula
CSV import / export
Define Rule priority
Allows fixed value or formula in Cost field
4. ARPrice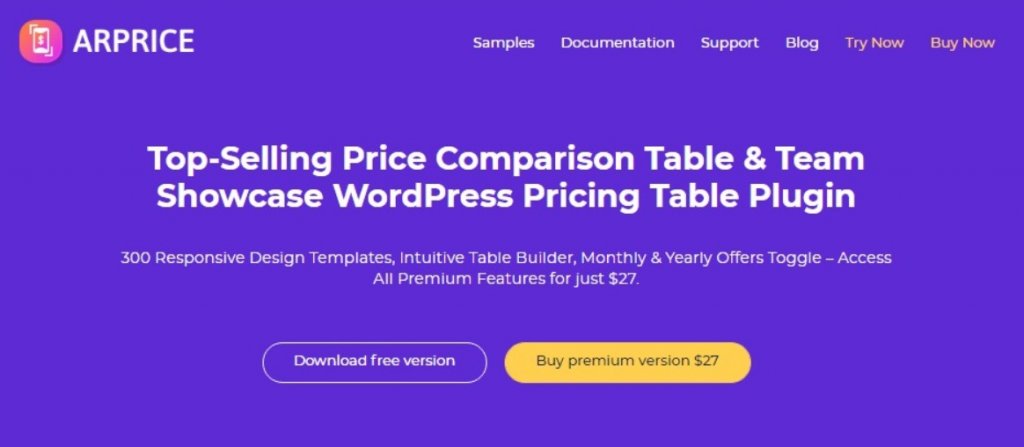 ARPrice is one of our great finds on CodeCanyon. It's a complete WordPress plugin that gives you all the tools to create unique and responsive pricing plans and comparison tables in minutes on your website. It comes with over 300 pricing table models that are all functional and easy to learn.
In addition, you have a beautiful and intuitive dashboard equipped with an impressive real-time editor. Pick a template, then use simple click, drag, and drop tools to customize your table, down to the smallest detail. You can add an unlimited number of columns, change colors, fonts, and icons, add your own images and ribbons, and much more.
Key Features
Responsive Pricing Tables Design
WooCommerce supported
Fully Featured Admin Panel
Animated pricing tables included
Realtime Pricing Table Editor
Detailed Analytics for Pricing Table Views
Support for Paypal Script and other shortcodes
WPML Ready
5. Go Pricing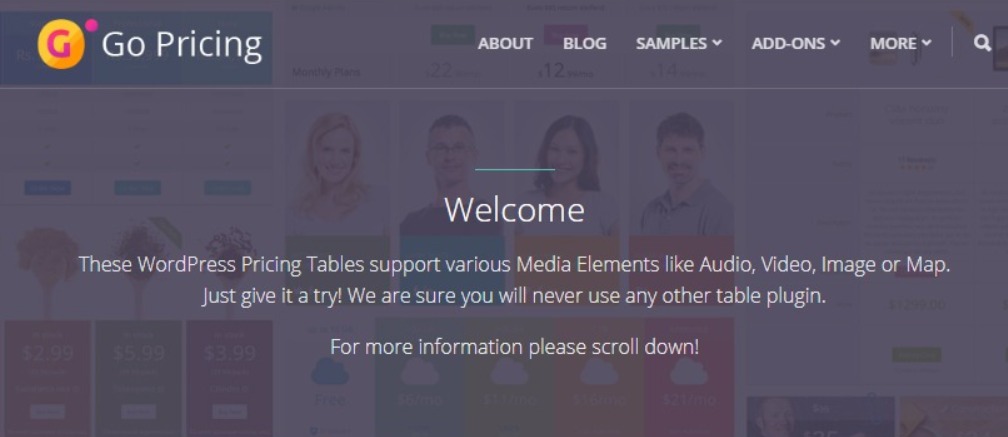 Another great find that we really enjoyed testing. Go Pricing is an advanced WordPress module available since January 2013 on the CodeCanyon platform. Although it is quite old, its current version is the sum of all the experience accumulated to date. The last update dates back to June 2021, less than a month.
It is a highly customizable plugin with a responsive interface. With the various configuration options, you can ensure that your table provides the best possible experience on any device.
Besides, Go Pricing supports different types of media to make your tables more unique and attractive. It can be audio, video, etc.
Key Features
Easy to Use Admin Interface
WooCommerce supported
2000+ Font Icons
Import & Export functions
Various Media Types
Live Preview
Customisable Responsivity
Built-in Plugin Update
6. CSS3 Responsive WordPress Compare Pricing Tables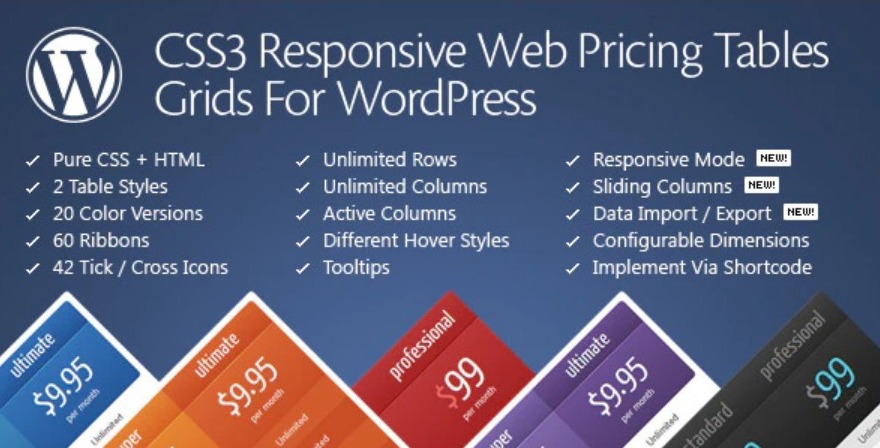 CSS3 Responsive Web Pricing Tables Grids For WordPress is a pack of pure CSS3 Web Pricing Tables provided for your website. They come with 2 table styles and an intuitive Admin Panel to facilitate the type of pricing table you want.
Several options are available with this plugin. You have 20 predefined color versions, as well as customization features: sliding columns, expandable rows, active columns, table cell tooltips, column ribbons, checkmark/cross icons, and much more.
Finally, as you would expect, the plugin is in pure CSS and HTML.
Key Features
Pure CSS + HTML
2 Different Table Styles
Ability To Enable Responsive Mode
Multi Site
CSS3 Tooltips / Hints Included
20 Predefined Color Versions
Hover States 
Documentation Included
CONCLUSION
We hope you enjoyed our selection and especially that it will be useful to you whatever type of WordPress site you have. As you can tell, these are plugins with multiple features and suitable for all types of websites.
If you know of others just as interesting, please let us know in the comments.
We also invite you to follow us on Facebook and Twitter to take advantage of the masculine content.