The main functions of membership plugins are to help you add members to your WordPress site. This is a very important function when you want to offer exclusive content to well-defined users. WordPress thus offers you a variety of plugins that can help you in this regard. Now the question to ask is how do I choose the right plugin for my site?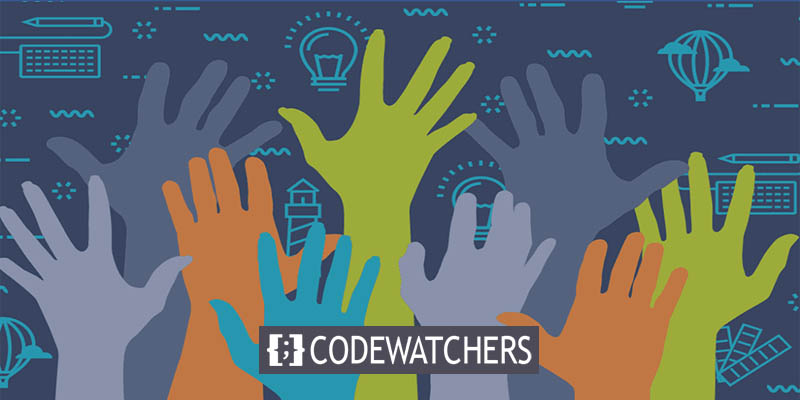 Indeed, choosing the right membership plugin for your WordPress site is vital to your business and its opportunities. For this to be effective, you must:
Check that the chosen plugin is compatible with the other WordPress plugins you use: because some plugins can prevent the functioning of others in the event of non-compatibility, which is why you should test the plugin locally before integrating it into your website live.
Identify the specific features you need: because the plugin you are going to choose must be able to satisfy you
Check that the plugin is easy to use: it is important that you know how to use the plugin you have chosen
This is the reason why we have made a small selection of membership plugins among which you should be able to find your account.
1. WooCommerce Memberships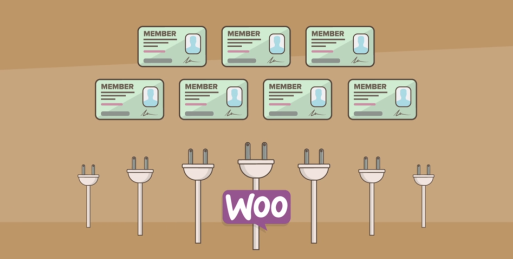 WooCommerce Memberships is a plugin designed to work with WooCommerce stores. It allows you to limit the sale of products and services to registered users on your e-commerce site. In particular, it gives you the possibility of creating memberships and configuring their lengths, prices, and privileges.
WooCommerce memberships also give you the ability to add new connected shipping methods to each subscription type, as well as tier-based discounts.
Key Features
Flexibility in creating membership plans for your WooCommerce store
Reward your members with special discounts
Content dripping
Include memberships alongside product purchases
Restrict content or products depending on membership levels
2. MemberPress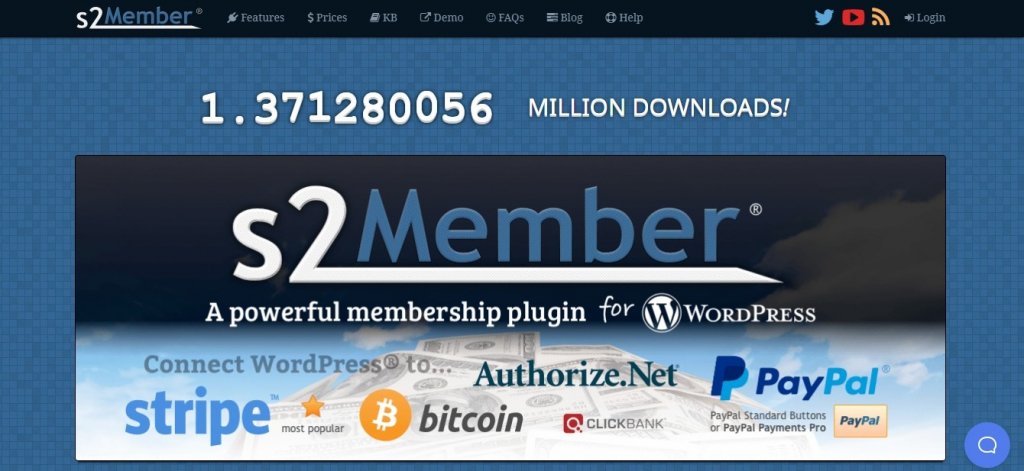 MemberPress is one of the most accessible and popular WordPress plugins for membership site-building. First of all, it has the advantage of being very easy to configure. To get started all you need to do is install the plugin, configure your payment gateways, create different membership levels, and add some products. Then, start inviting people to join.
Additionally, thanks to its Content Restriction feature, you can maintain control over what members can see based on their membership status/tier. You can Restrict user access to pages, posts, custom post types, categories, tags, and much more.
Key Features
Easy Setup
Built-in Courses addon to create, manage, and sell online courses
Compatible avec popular email marketing services such as AWeber, Mailchimp, Constant Contact, MadMimi, and GetResponse
Supports both PayPal and Stripe payment gateways
3. LearnDash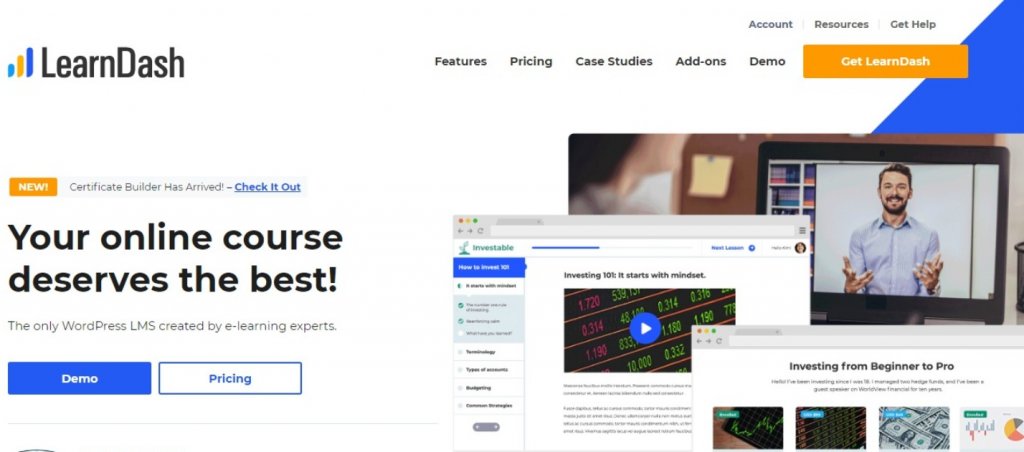 LearnDash is a super flexible and extremely easy to use WordPress LMS plugin. It comes with advanced membership modules and tons of integrations. Its major asset in our opinion is its accessibility to all. It's pretty easy to set it up and add content. The plugin comes with advanced tools to easily organize your membership content into levels, groups, etc.
With its Content Restrictions feature, LearnDash allows you to easily hide any content and restrict it to different groups of members. In addition, you have tools to create very engaging membership sites with quizzes, user badges, course-specific forums, certificates, user profiles, and more.
Key Features
Easy to set up and use
Drip content feature allowing you to roll out content to users at regular intervals or at the end of levels
Integrations and payment gateways (WooCommerce, bbPress, Slack, etc.)
Ability to create and sell online courses
4. Restrict Content Pro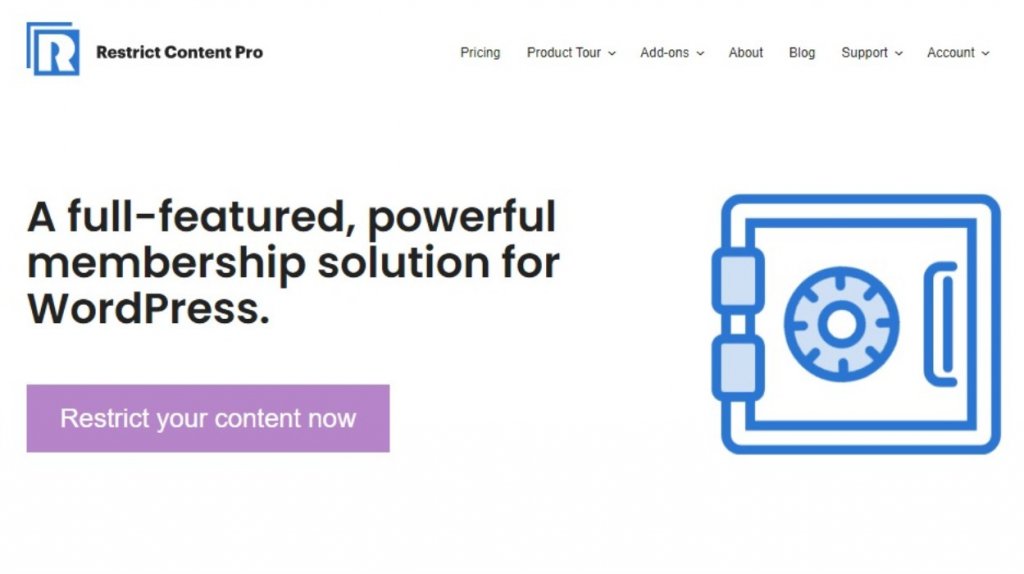 Restrict Content Pro is a lightweight WordPress membership plugin that gives you all the features you need to build a complete membership site. In particular, you have the ability to create an unlimited number of subscription levels and assign them a price, optional registration fees, frequency, and user role that members will receive when they register on your site. membership. Members can easily upgrade and downgrade, and new subscriptions will be automatically prorated.
Another great thing about this WordPress gem is that it offers promotional tools. Your registered users can take advantage of exclusive discount codes to use on their subscriptions when they register on your membership site. So you can create an unlimited number of discounts, configure them as a flat or percentage discount, set expiration dates, and even limit the number of uses.
Key Features
Easy installation and configuration
Flexible Subscription Levels
Promotional Tools
Integrated Payment gateways like PayPal, Stripe, Braintree, 2Checkout, and Authorize.net
5. aMember Pro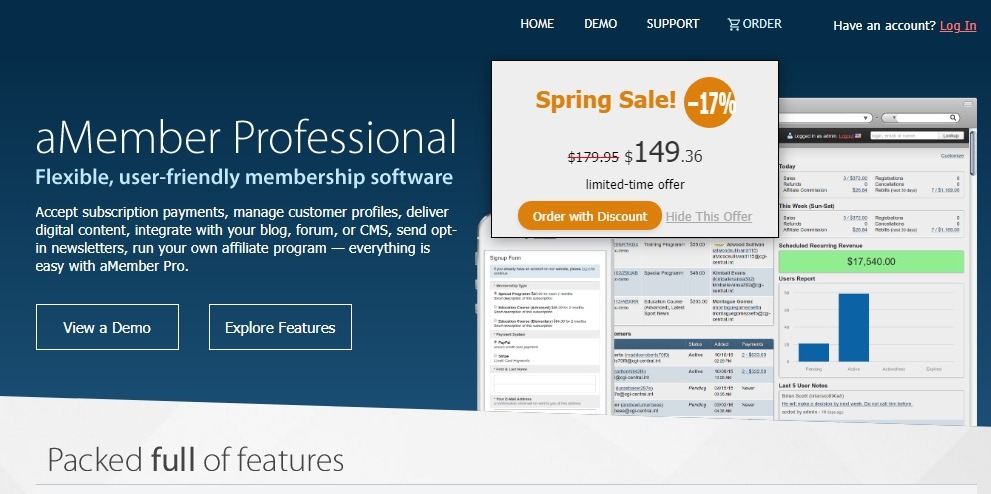 aMember Pro is another feature-rich membership plugin designed to help you build any kind of membership site you want. Keep in mind that this is not a native WordPress membership plugin (which can cause compatibility issues with your plugins and theme). And despite its somewhat outdated interface, this solution will help you easily design a fully functional membership site.
For example, you can integrate memberships at several levels on your site. Create unlimited subscription levels, add as many products as you want, and set dynamic prices for products and subscriptions that users can choose from. Convenient!
Key Features
Comprehensive Membership Management
Built-in Modules like email newsletter option, help desk, affiliate management, shopping cart, and many more.
Automated customer registrations
Access to dozens of payment gateways,
6 translations (German, Spanish, Greek, Russian, French, and Chinese)
6. Paid Memberships Pro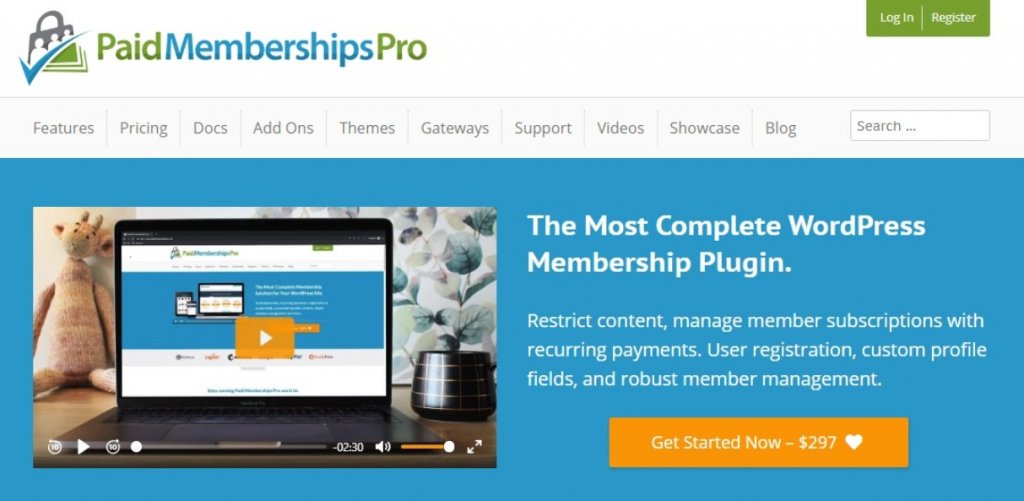 Paid Memberships Pro is another plugin designed to integrate a membership system into your WordPress site. It is amazing and above all completely customizable to meet the specific needs of your business.
You can with this plugin create unlimited subscription levels with flexible pricing options. It supports no less than 6 popular payment gateways (PayPal, Stripe, etc.)
Key Features
One-click installation and update
Flexible Subscription Levels
Restrict content depending on what you decide
Support for multiple payment gateways
Get access to over 15 custom blocks to use within the WordPress editor
7. Ultimate Membership Pro The WordPress Ultimate Membership Pro plugin gives you the tools to sell subscriptions and memberships no matter what type of site you are running. It integrates with WooCommerce for semi-automatic invoicing and standard product subscriptions. It is marketed as one of the best selling WordPress subscription plugins on CodeCanyon, and that claim is verified.
Multiple subscription level functionality helps your users choose how much they want to pay, while free and trial settings give customers a taste of what you have to offer.
The Ultimate Membership Pro dashboard is sleek and well organized, even for a plugin with so many features. Sometimes people forget how important developer support is when it comes to WordPress plugins.
Key Features
It allows you to restrict pages like posts and WordPress pages
Set up recurring payments on a daily, weekly, or monthly basis
Allow your customers to connect with their social accounts
Drip your content and send email notifications
You can prevent members from sharing their accounts
Conclusion
And There you go! You got it, there is a multitude of WordPress plugins out there, even in a niche like membership. We hope that our selection helped you find the best WordPress membership plugin for your needs.
If you liked this article you can share it on your favorite social networks. Please also follow us on our Facebook and Twitter pages for more content.