During this lockdown period, most restaurant businesses are forced to close either earlier or completely. While this is not a suitable situation, they still need to find a way to keep working and continue to serve their loyal customers.
The way to achieve this is by having a WordPress website, to create an online presence and furthermore offer your service online. This collection has +17 WordPress themes you can use to create a restaurant website.
With the features of WordPress, you can easily create your restaurant website design yourself without hiring an expert. With the following Best WordPress themes for restaurant, you'll be able to :
Create your new site with a responsive and modern design, perfect for mobiles
Showcase your menu with the photos of your best dishes.
Allow your customers to make a reservation online or even order food to be delivered to their location.
This list group the best of the result found on Themeforest to avoid you wasting time looking for what would be the perfect fit for your business need.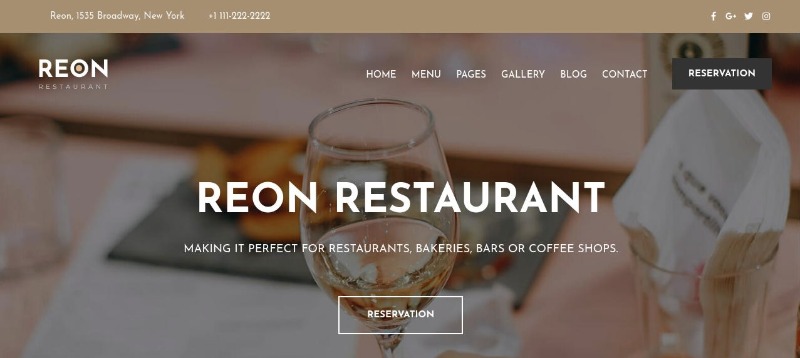 Reon is a quite recent theme in line with restaurant needs. It comes with some interesting demos that will definitely give you some inspiration to get started. With the Elementor plugin supported, you'll be able to craft your website as you need.
With the responsive design, your visitors will be able to reach you from their mobiles. It's integrated with over 800 Google Fonts and over 675 Font Awesome icons. Additionally, the design is optimized for Retina displays and SEO friendly.
Key Features
Steps before buying a restaurant WordPress theme
At CodeWatchers, we do review WordPress themes and there are certain steps you should go through if you want to buy a WordPress theme. We'll also cover the needs for restaurants to make the list complete.
3 - Support is still essential
You might end on a WordPress theme with all that you need (features, mobile-friendly), but it's essential to know that the WordPress theme is still supported by the developer. How do check that? See how frequently this latest submit updates. You can also ask for a question on the comments section of the theme to see the delay of answering you can get with that author. If you're not a developer and aren't satisfied with the author's answer, don't buy the theme (there are plenty of others that will fit your needs).
4 - Well rated themes, sales count
If you have a quite old theme (created back 2016 for example), and it only has 1000 sales, something clearly is not okay. While not all themes must have the same numbers of sales, from 2016 to 2020 it makes 4 years and with 1000 sales that make an average of 250 sales by year which is not enough. The sales count matters and it's a strong indicator the theme satisfies the customers (not every customer rate a theme).
Final Words
We hope you'll find your match on this list of Best Premium Restaurant WordPress theme. If you believe there is theme which is missing, please let us know via our contact form. Don't forget to explore our eCommerce WordPress themes to find a perfect match for your next eCommerce website.