Are you ready to check out our assessment of the best WordPress themes for auto dealerships? And how about increasing vehicle sales, maintaining customer connections, and keeping track of your commissions all at the same time? I'm sure you are, as well!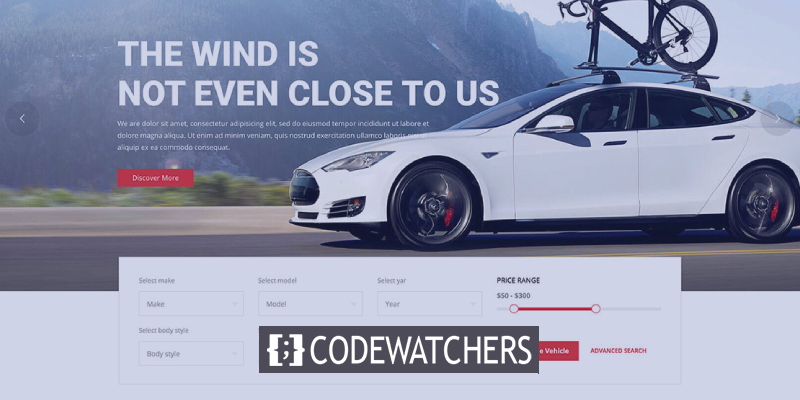 In the past, you had to pay a lot of money to hire a professional to create your dealership's website. But that time is over! There's no need to spend a fortune on a premium theme that you can tweak to meet your business's unique requirements. Don't you feel at ease?
Motodeal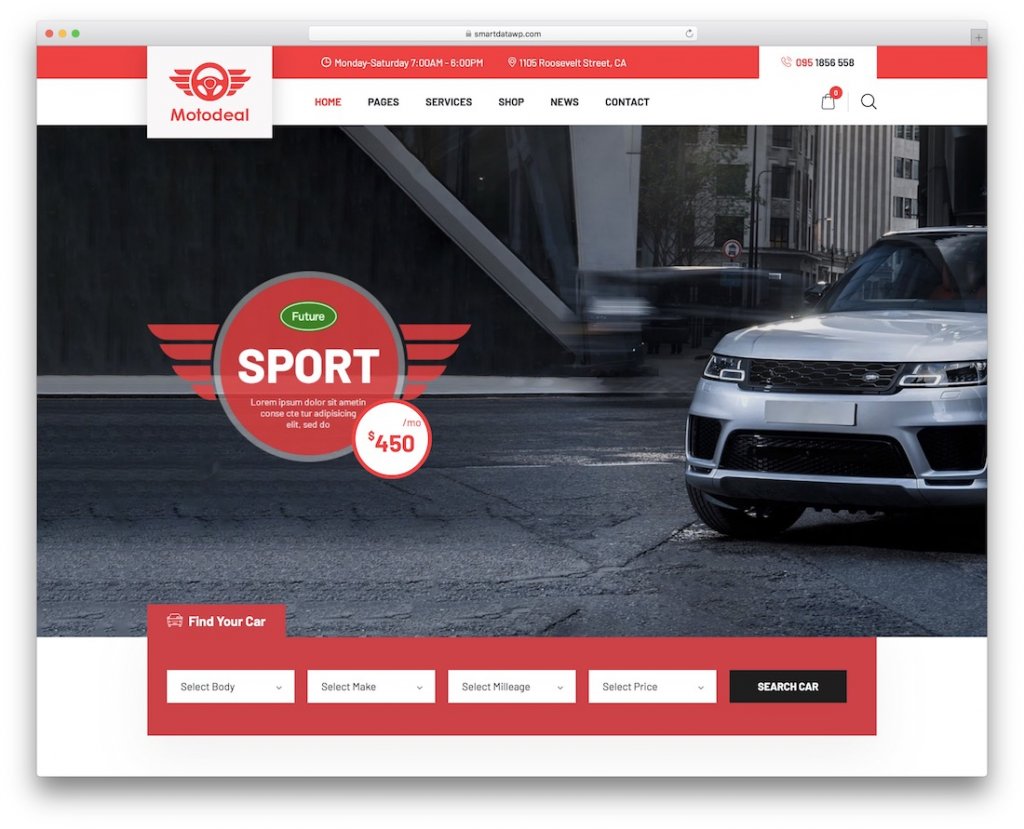 WordPress theme Motodeal is ideal for car dealers, but it can also be used for classified ads. Over 10 professional demonstrations and a slew of other internal pages are included in the set.
However, the codeless, drag and drop website construction method allows you to express yourself in whatever way you want.
Motodeal comes with a slew of features, including over 200 element blocks, reviews, comparisons, testimonials, headers, footers, and signups for a newsletter.
You can also expect new features and be confident that your website will work well for years to come thanks to the regular upgrades provided by the company.
CaLeader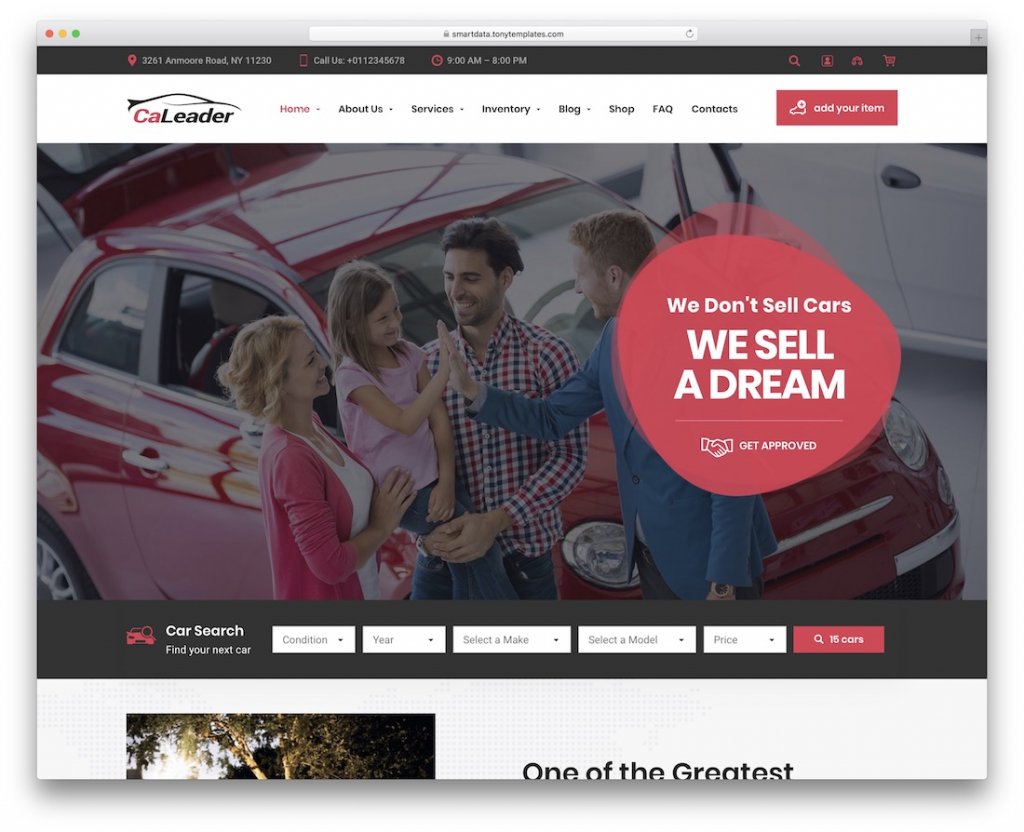 There are three attractive and ready-to-use layouts in CaLeader, a WordPress theme for auto dealers, so you can get started right away with a business website.
Using the Elementor page builder, any of CaLeader's layouts may be completely customized. Instead of having to write code, you can simply drag & drop.
CaLeader is easy to use and everyone can get the most out of it. First-timer and professional alike!
Everything is included in the bundle, which includes numerous color skins, Slick Slider, PSD files, a lot of internal pages, Bootstrap 4, and horizontal and vertical filters..
CaLeader also provides video tutorials so that you can create a website even more quickly and efficiently. Take your vehicle business to new heights with a high-quality website.
CarDealer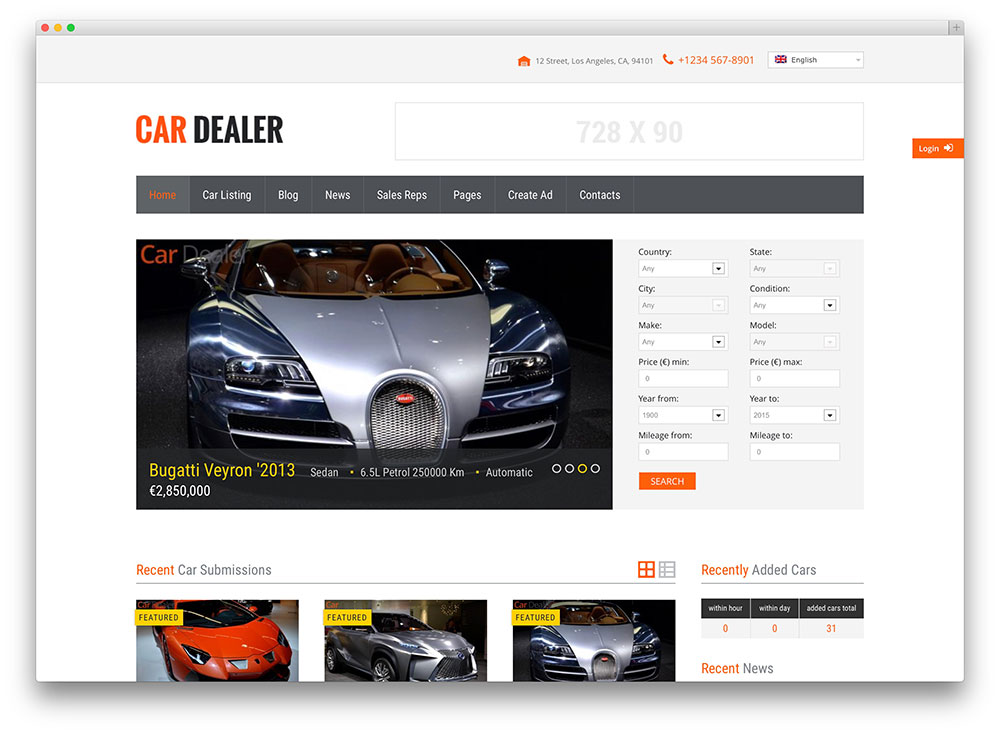 CarDealer is a modern and responsive WordPress theme for auto dealers of all sizes, from large corporations to individuals looking to sell their own vehicles.
Car-buying and car-selling features have been incorporated into this theme's design.
Users and potential buyers can use a Loan Calculator to figure out how much they can afford to borrow. Labels for "Sold" and "Featured" are readily available on it.
This theme also has a robust search function to make it easier for site users and deal-seekers to locate the specific vehicle they're looking for.
Car options editor, dealer type builder/account manager, PayPal module and auto-generated price tables, and inbuilt currency converter are some of the other features of this theme that are included.
Also included is a teme styling panel that allows you to create a unique and bespoke automobile listing site.
Motors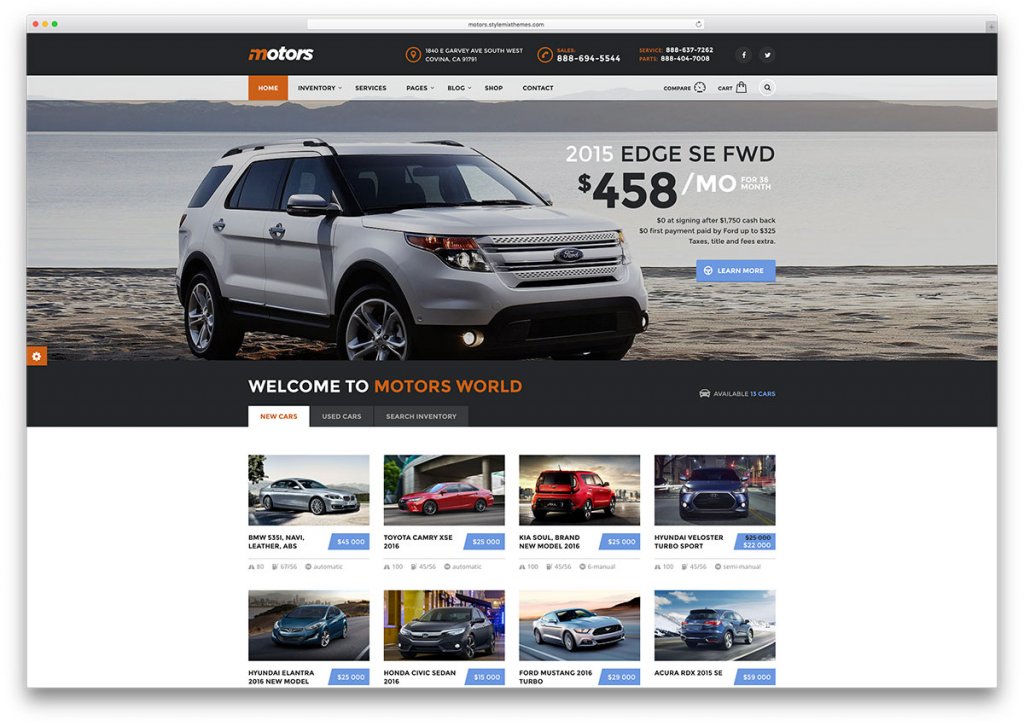 For automobile dealership websites, Motors is an innovative WordPress theme. Clients may create professional-looking pages without the need for technical experience.
The drag and drop page builder has made customizing significantly easier.
With this theme's finance calculator, customers may precisely calculate their monthly payments, interest, and other variables.
In addition, Motors will include a unique feature that displays side-by-side comparisons of vehicles.
To top it all off, it's possible to sell your products and parts online. The (WooCommerce) plugin is essential for this
Full-screen and boxed versions of your website are available. In addition, the Inventory Manager tool allows users to create categories and taxonomies.
Detailed reviews are available for the Motors theme, so check them out.
Auto Image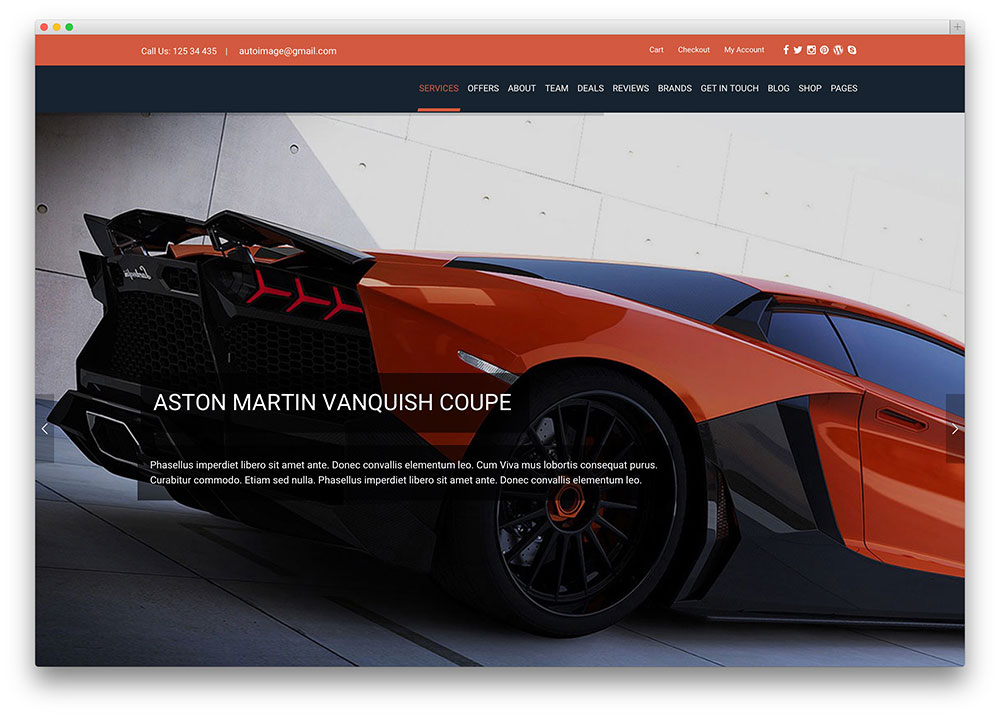 Auto Image is a one-page WordPress theme for auto dealerships that have been specifically created for high-quality websites.
With a responsive layout based on an 1170 grid system, you can rest assured that your site will look great on a wide range of screen sizes.
Customizing Auto Image is a cinch because of its wide range of options. You may also adjust the color scheme, font style, and background color to suit your company's branding needs with the simple theme customizer.
You can use a custom featured image to highlight the automobiles you're trying to sell.
Additionally, you may swiftly establish an internet presence and increase sales by employing high-quality coding and SEO.
A working contact form is also included in Auto Image, in case you want to be contacted by others, such as potential customers.
For the final touch, they used the WooCommerce plugin so that you don't have to worry about setting up an internet store yourself.
Vehica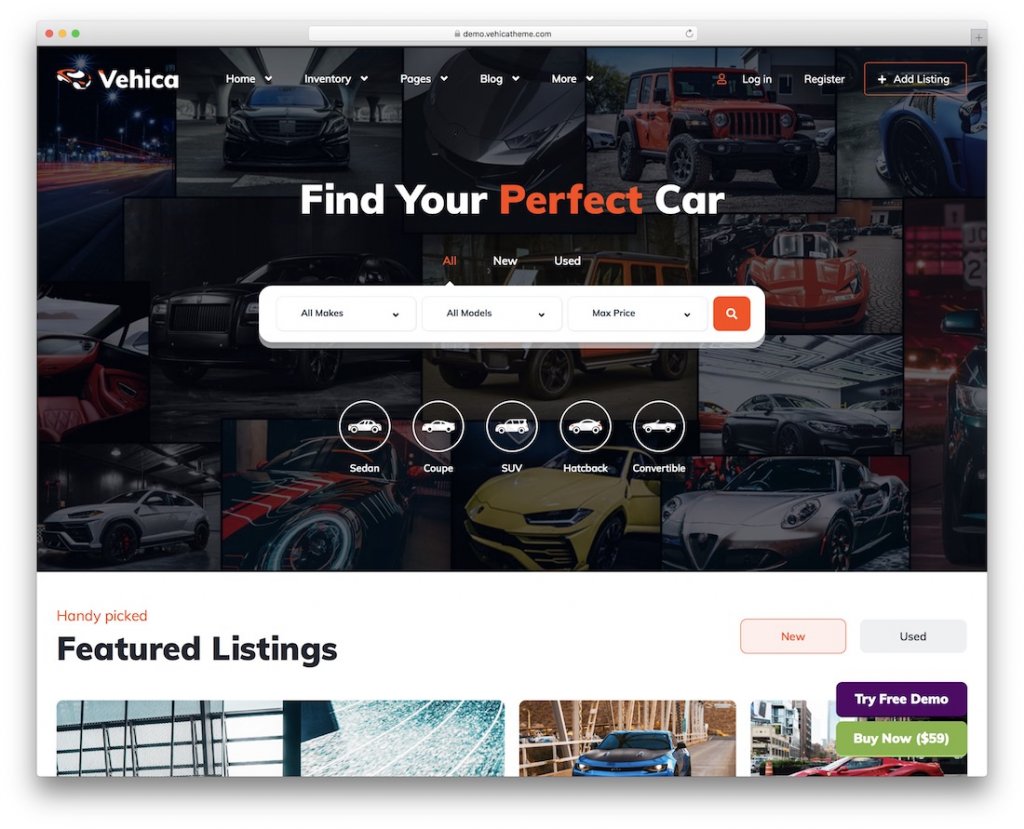 WordPress theme Vehica is ideal for car businesses and vehicle directories. With a variety of page layouts and a wide range of options, this is a fantastic alternative.
In addition, you may always add your own personal flair to the mix.
Vehica provides a number of conveniences, such as user login and registration forms, car submission, favorites, email notifications, and paid submissions.
It also includes a loan calculator, Google Maps, and search engine optimization. If you're still not sure, have a look at Vehica's live demo preview while you're at it.
Autlines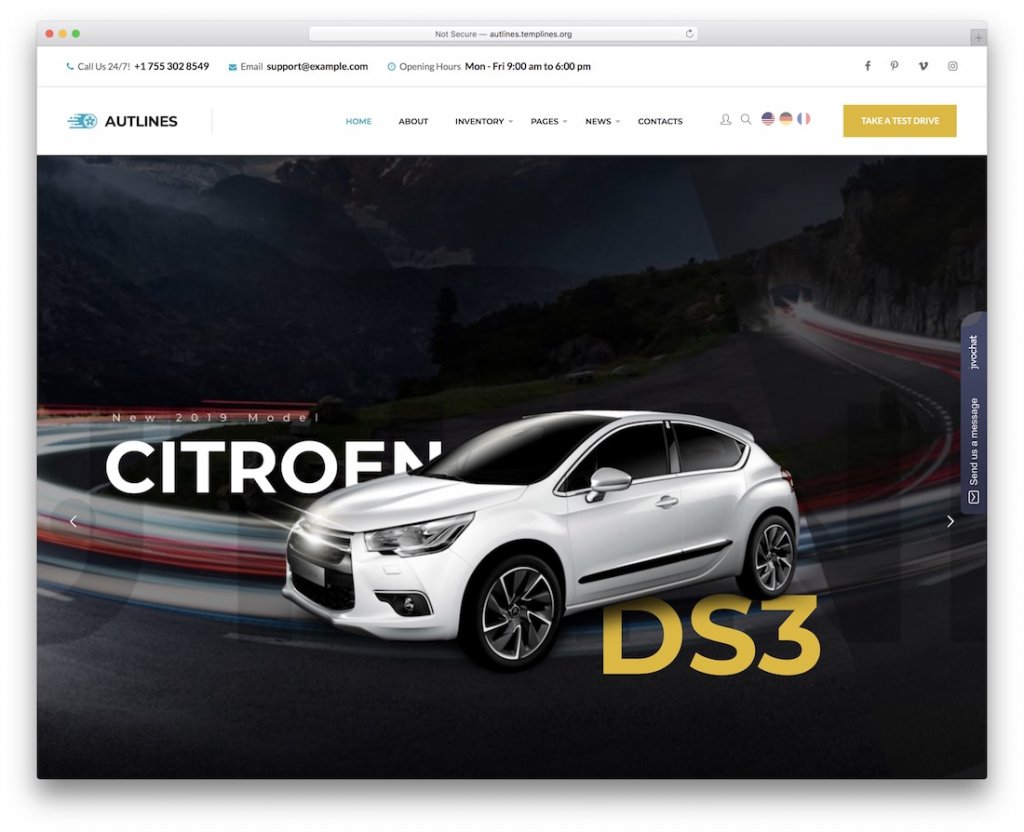 Autlines have no limits when it comes to customization and adaptability. Autlines, on the other hand, maybe readily customized to fit your company's branding guidelines and make your website glow online.
Despite this, Autlines is an excellent tool for getting started on the web quickly and easily.
The WPBakery integration makes it easy to make modifications and improvements to the site.
Autlines is completely mobile-ready and works perfectly on any device. All popular browsers and retina screens are also supported, and the page loads quickly.
With Autlines, you receive a variety of useful features, including slider Revolution, animations, on-scroll content loading, testimonials, and galleries.
Autlines can help you get started if you're ready to take the next step toward a better website.
Avtorai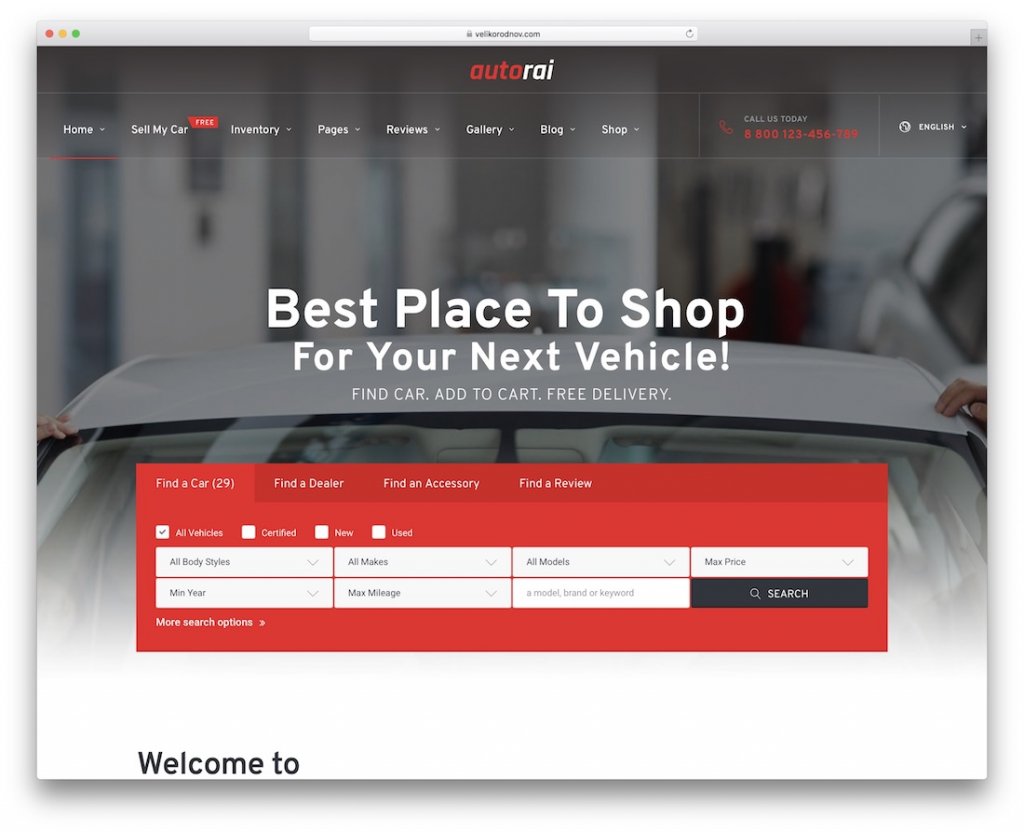 The Avtorai bundle includes four beautiful residences, as well as a slew of other page layouts.
Using Avtorai's default look may be enough for you to get a page online straight away.
But. You have complete control over Avtorai's look and feel, so you can add your own unique stamp whenever you like.
In addition, the one-click installation method gets you started.
All of your options are now open, so you can design a car dealer website that's exactly what you want.
Advanced search tools, a financing calculator, vehicle comparisons and dealer listings with maps are just some of Avtorai's other specialties.
Kalium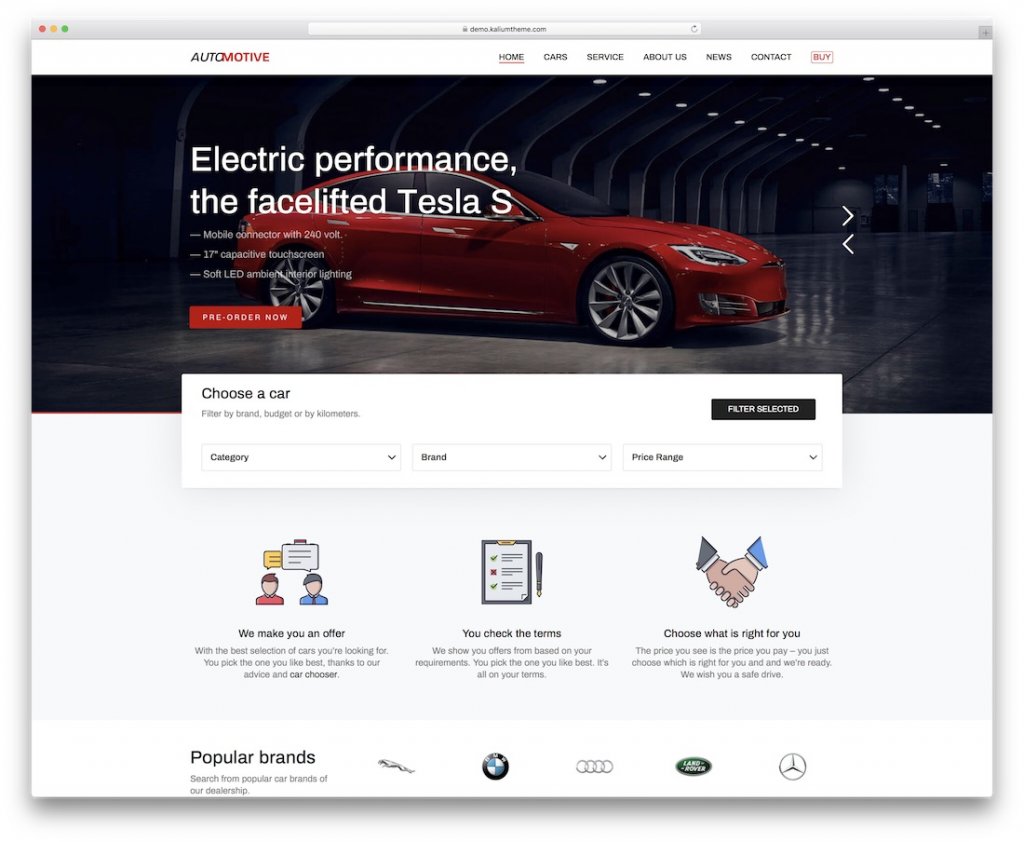 Are you a car dealer who wants to extend his or her customer base and reach a broader audience? One of the most effective ways to market your business is through the usage of a website.
You can accomplish amazing things with a WordPress theme for auto dealers like Kalium. When you have a strong online presence, your image will be elevated to a new level.
Everyone who visits your website will be enthralled by its style, features, and minor touches.
You can use Kalium right out of the box thanks to its excellent demo. With a full-width slider with a parallax effect and a car search option, users don't even have to browse your page to take action..
They can select their preferred brand of automobile and obtain results right away. If you provide them with the best in the market, they will gladly refer you to their friends and loved ones.
AutoPro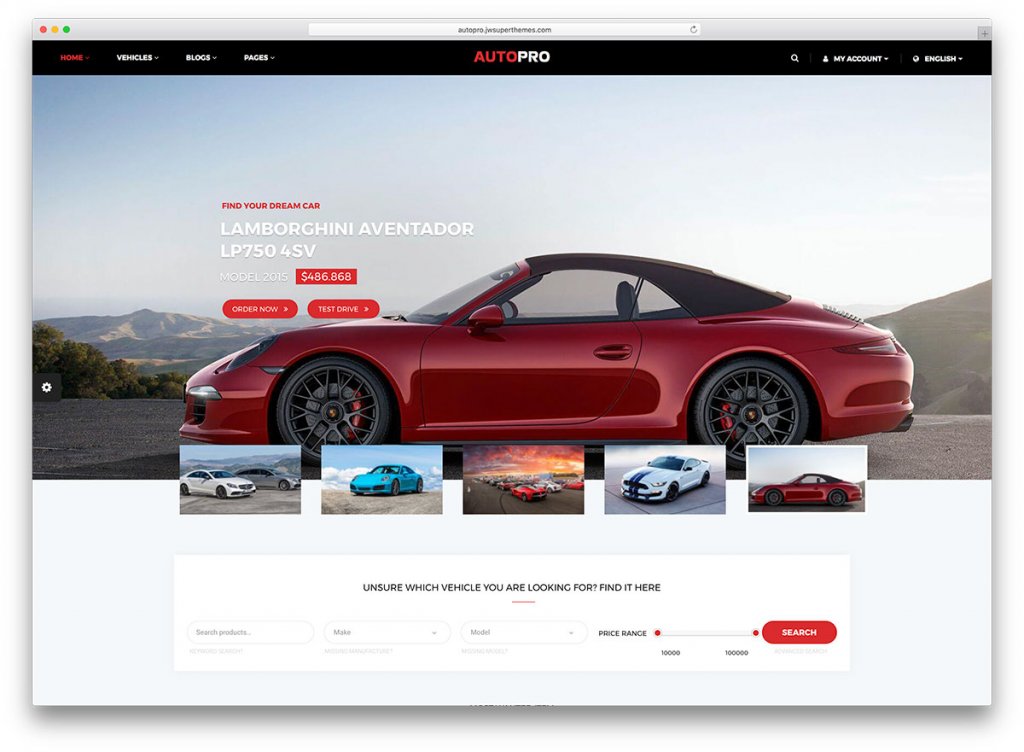 Using the AutoPro WordPress theme, you can create an impressive dealership website.
A comprehensive range of specialized features is available for you to use online to improve your automobiles.
A strong loan calculator and a number of financial aid items are included in the dome of features. WooCommerce is a fantastic plugin that allows you to set up shops and display your products.
You can also request a test drive, a buying budget, or other information. AutoPro is a Bootstrap-based website that adheres to all the latest web design trends.
There is no limit to what WPBakery's page builder with Slider Revolution can do for you.
Custom support and one-click import are also included in the offer, so you can get started right away.
Car Dealer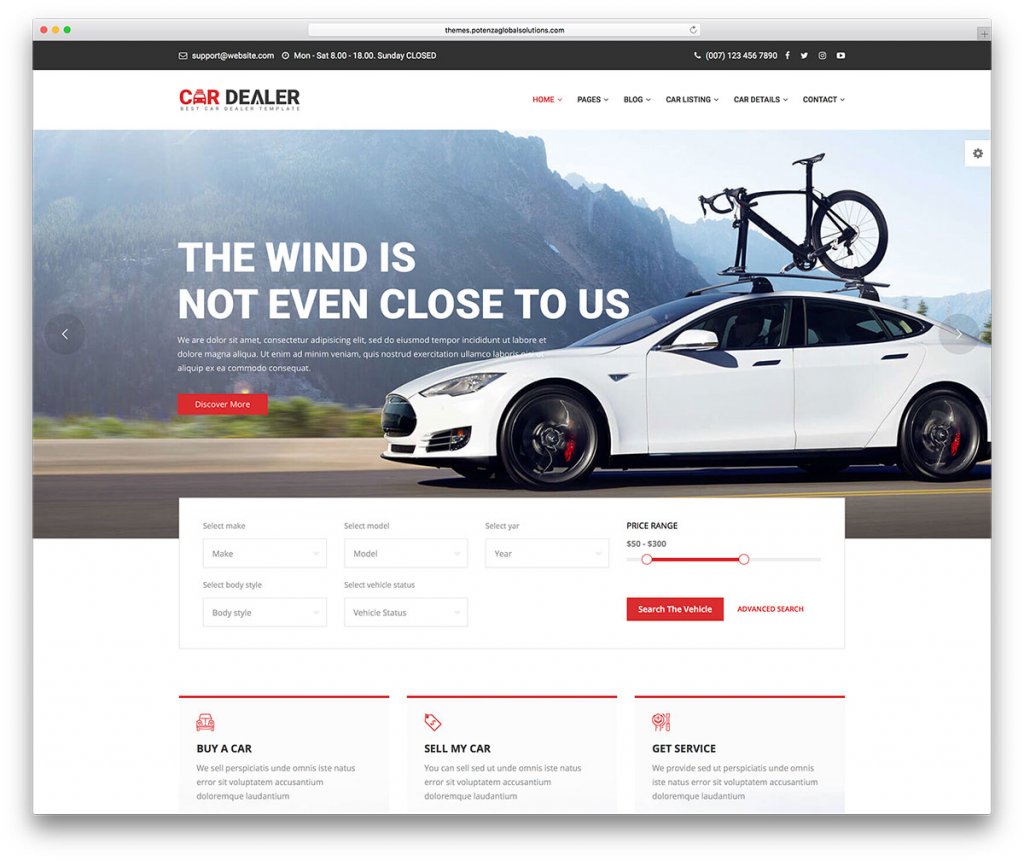 Any business in the automobile industry will find Car Dealer an attractive and adaptable tool.
Structured inventory listings with vehicle comparisons and excellent GEO functionality make it a strong competitor.
Car Dealer allows you to display certifications or reviews from third-party vehicle value services.
Using the slider shortcode, you can display a variety of different categories (on sale or cheapest).
It has a built-in financial calculator to make things easier for your consumers.
Multilingual support and RTL support are included in Car Dealer, which is ideal for multinational businesses. When it comes to adapting images to mobile devices, this is responsive and retina-ready.
Use the one-click installation to get this unique theme! Get in touch with the company's support team to create an enticing website.
Jevelin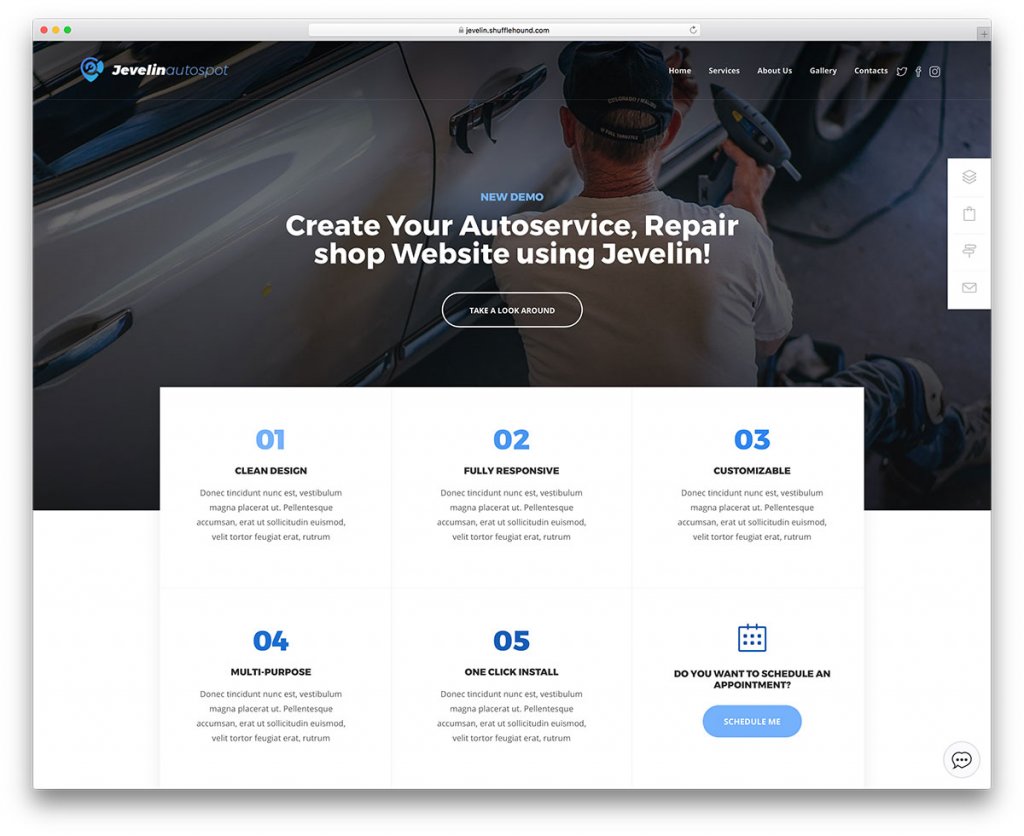 All skill levels can utilize Jevelin, a multi-purpose WordPress theme.
An innovative Mega Menu panel is included, as well as a responsive design that adapts to screen sizes and SEO optimization for search engine rankings.
With its drag and drop website builder and more than 40 custom elements, you can get started right away. Your vehicle dealer website can be designed in any way you choose.
In addition, WooCommerce may be used to create an online shop and product display with carts.
Use Contact Form 7 to connect with potential customers and readers! Google Maps integration makes it easy for customers to discover you.
With Jevelin, anything is possible.
Carena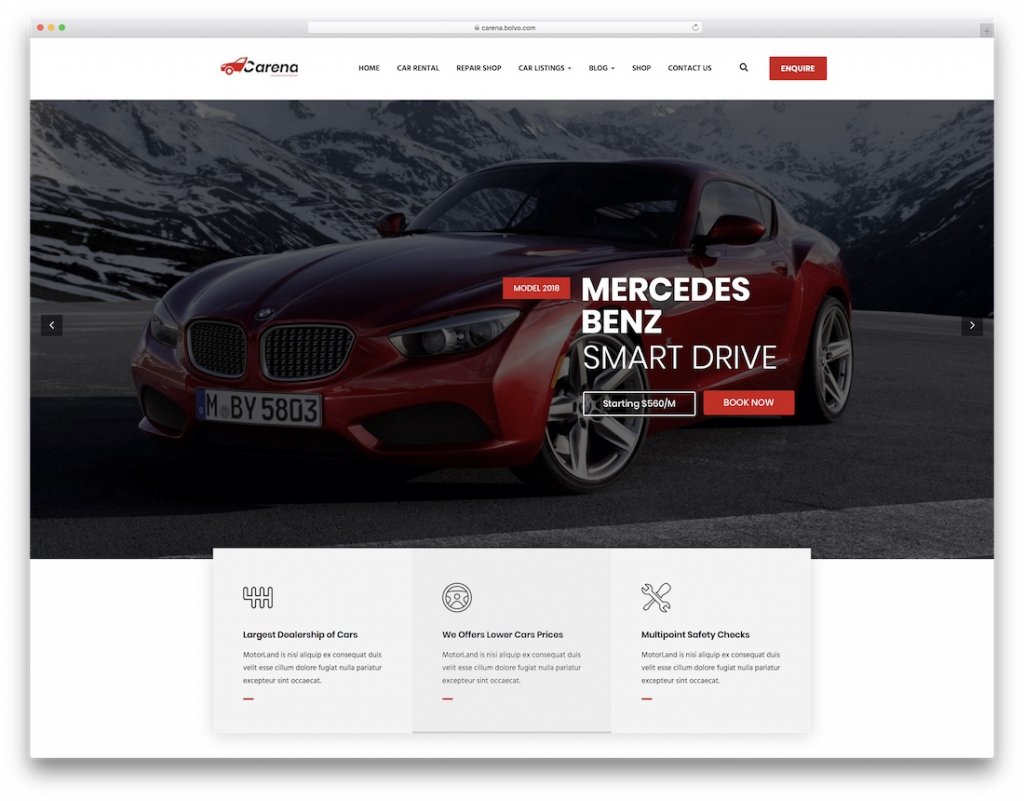 Rentals and other automobile-related businesses may also benefit from using Carena, a WordPress theme designed specifically for car dealers.
Whether you're new to the industry or a seasoned pro, Carena can help you elevate your online presence. It will require time and effort on your part to create a page that will aid in the growth of your business.
You may also try out several demos and take advantage of all of Carena's features for thirty days at a time.
Once you've done that, it's up to you to decide whether or not you'll stick with it for the foreseeable future or try something new. In other words, Carena gives a 30-day money-back guarantee to protect you from any financial risk you may encounter.
Auto Car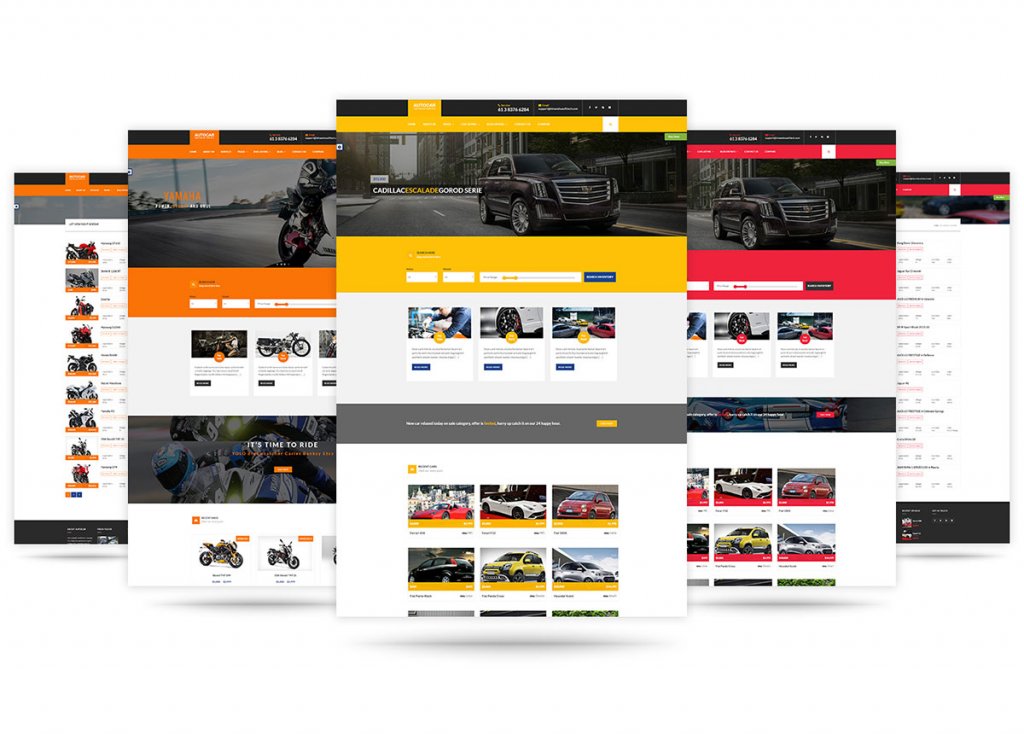 Car dealerships of all sizes can benefit from Auto Car, which is ideal for enterprises in the automotive industry.
It's a user-friendly framework that may be used by web administrators with or without previous knowledge in website design.
Use creative and eye-catching options to showcase your vehicles in the best light possible.
Your high-resolution images will be shown flawlessly on your users' screens using Auto Car, which can transform any vehicle into a work of art.
Your customers can even post their own vehicles for sale on Auto Car's front-end listings feature.
Automotive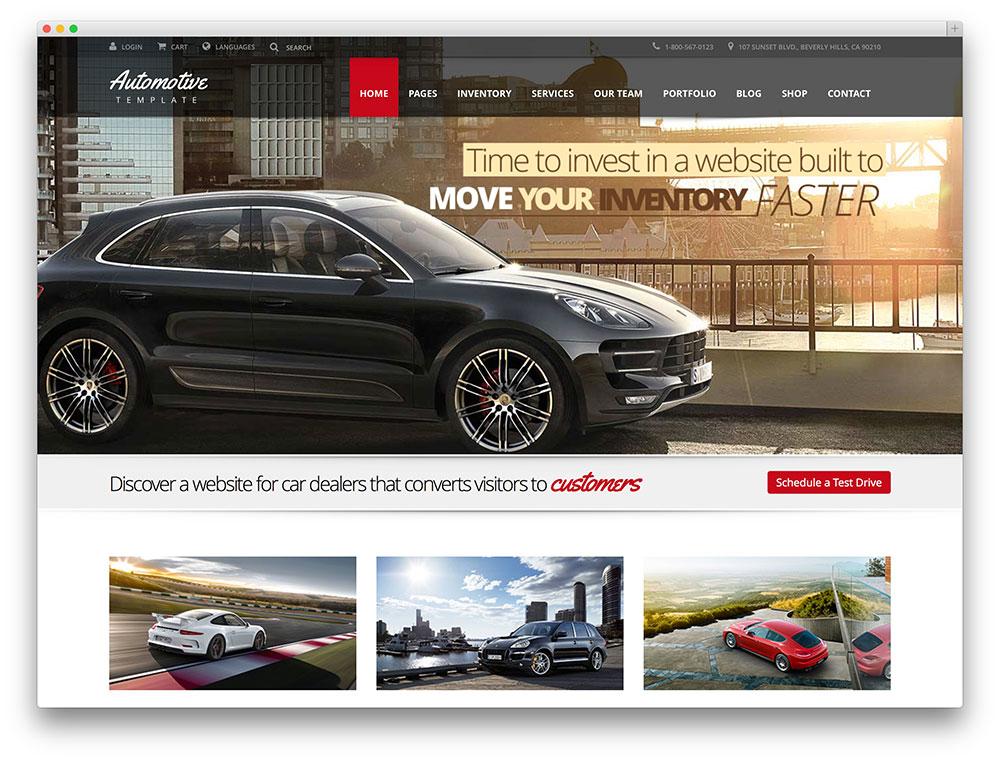 For automobile dealerships and other businesses that deal in automobiles, Automotive is an ideal WordPress theme.
It comes with an infinite number of color schemes, allowing you to construct a website that stands out from the competition.
The theme's creators incorporated jQuery inventory layouts so that users may quickly transition between different representations of the theme's vehicle database. In order to keep your inventory up to date, you can easily add, update, and remove listings for automobiles using the automotive feature.
There is a multi-vehicle comparison option in automotive, as well as printed brochures for inventory listings and a completely filterable inventory.
Use the loan calculator to help buyers figure out how much they can afford to pay for a car.
It also comes with six different gallery layouts, social network compatibility, 32 Photoshop PSD files, Google Maps integration, and is fully compatible with the WPML plugin for multilingual websites as well as WooCommerce.