The COVID-19 (coronavirus) is now on almost all the countries around the world. All states are taking measures to stem the epidemic. One of these measures goes through a well-made sensitization. The internet is the way to go and for that having the greatest tool (WordPress), is the easiest solution especially when it's made with appropriates WordPress themes.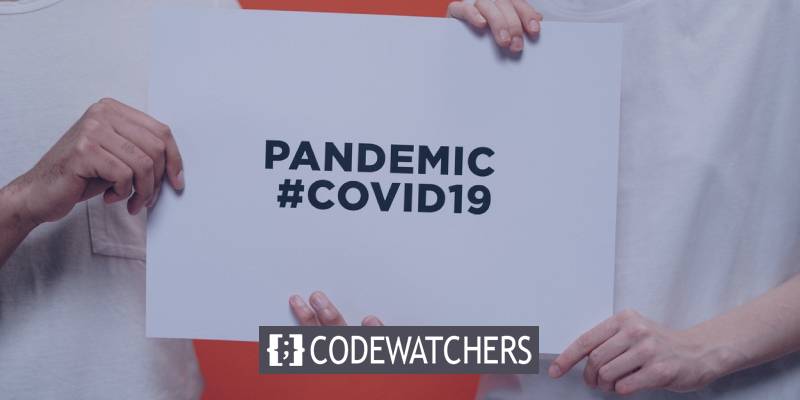 We'll then covert here 10 WordPress themes that you can use right now to create a website to sensitize about the COVID-19 and event some of the themes include a Medical Management system. We'll also point any plugin that could be combined with them to have a full-featured website.
Let's get started.
Mediz - Medical WordPress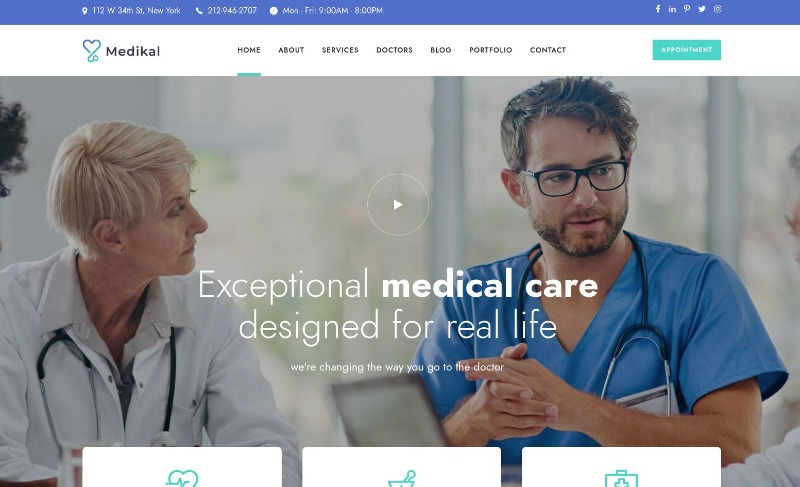 One of the first them that caught our attention is Mediz, a Medical WordPress theme. We wanted to make sure it can help the hospital to handle the massive patients coming up to be handled. One of the features we found handy the Booking calendar, the appointment form and the support of WooCommerce integrated.
The design of this theme is modern enough to be used for a medical theme. It comes with pre-built demos that will definitely be useful to get started without creating everything from scratch.
If there is something we can point out, is that the on each purchase $5 is donated to an organization fighting against COVID-19 (coronavirus). Having that said, here is the list of features you'll get
Key Features
Page Builder
WooCommerce and WPML support
Calendar for Booking
Booking forms for appointments
Professional pre-build demos
Page builder integrated
Optimized for Serch Engine
Revolution Slider included
Medilink - Health & Medical WordPress Theme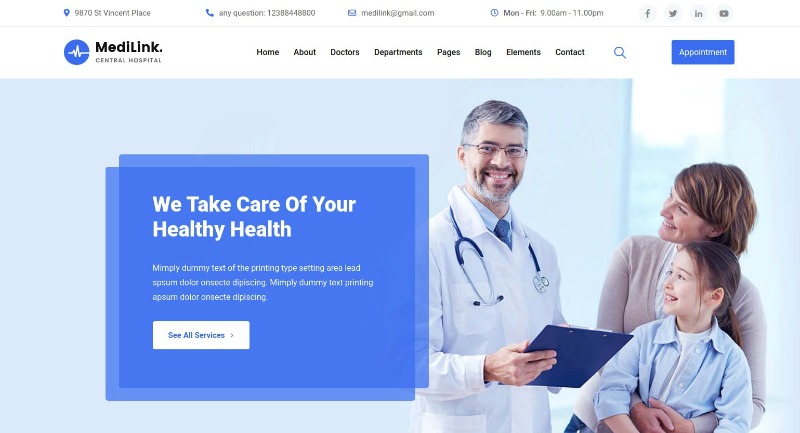 Medilink which is a Medical and Healthcare WordPress theme seems to be another good candidate. It's designed for clinics, hospitals, health-oriented organizations. For a sensitization, you're covered.
The eye-catching pre-build demo will give you all you need to create a working website in no time. The color mixture is fair enough appropriate for the healthcare domain (blue, white). Same as Mediz above, it includes a Schedule Calendar. This is useful to have the doctors organized for the wave of patients coming to the hospital. It also includes an appointment form and various theme layout options.
One of the key support we noticed is "Elementor", which is a Page Builder WordPress plugin. You can also count on compatibility with Yoast SEO to improve your Search Engine Optimization. There is what you can expect from the theme.
Key Features
Elementor Support
WPML Integration
Disqus Features
MailChimp support
Booking Calendar
Appointment Forms
Optimized for Serch Engine
Ready to use demos
Clinmedix - Health And Medical WordPress Theme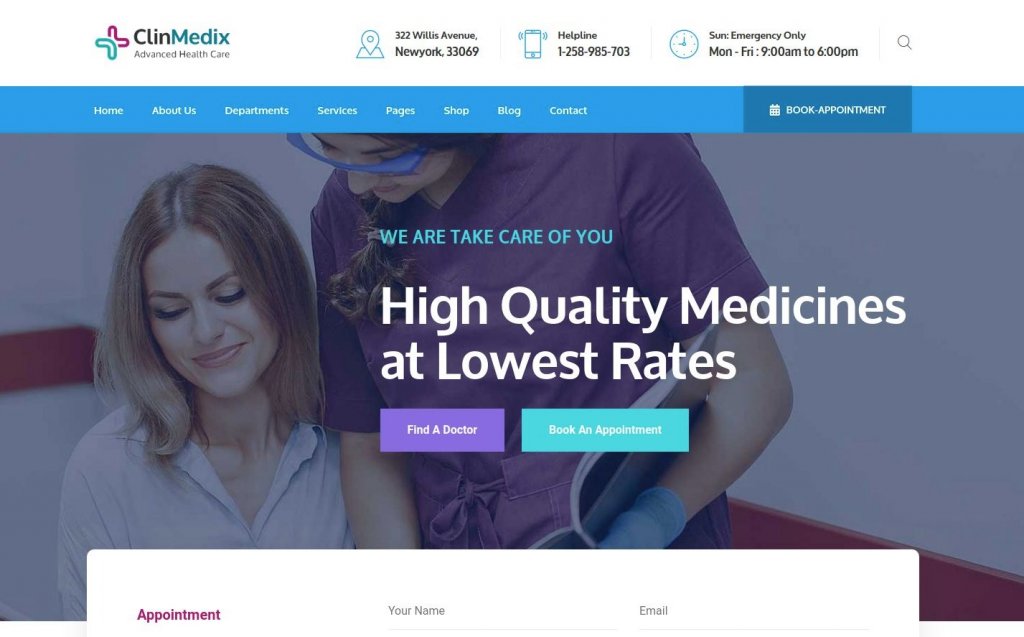 ClienMedix is a quite recent WordPress theme that is made for Medical and Dental services. It has a very beautiful design with a nice mixture of colors. But that's not only why you should choose this theme. You can count on an included appointment Form, a booking calendar and much more.
What looks good with this theme is that there is a demo for almost everything: Pharmacy, Medical Care, Child Care, Cosmetic Surgery, Dental Care. This theme includes also various page layout to showcase your services, doctors, working time and doctors' details page.
For the key features we noticed, there is a fair large amount on which you can count on. This includes Revolution Slider, Contact Form 7. There is are also some other interesting features such as :
Key Features
One-Click Installation
WPML & Translation Ready
Compatible with Contact Form 7
Advanced Typography
Demo Content Integrated
Responsive Layout
Search Engine Optimized
Retina Ready
MediCenter - Health Medical Clinic WordPress Theme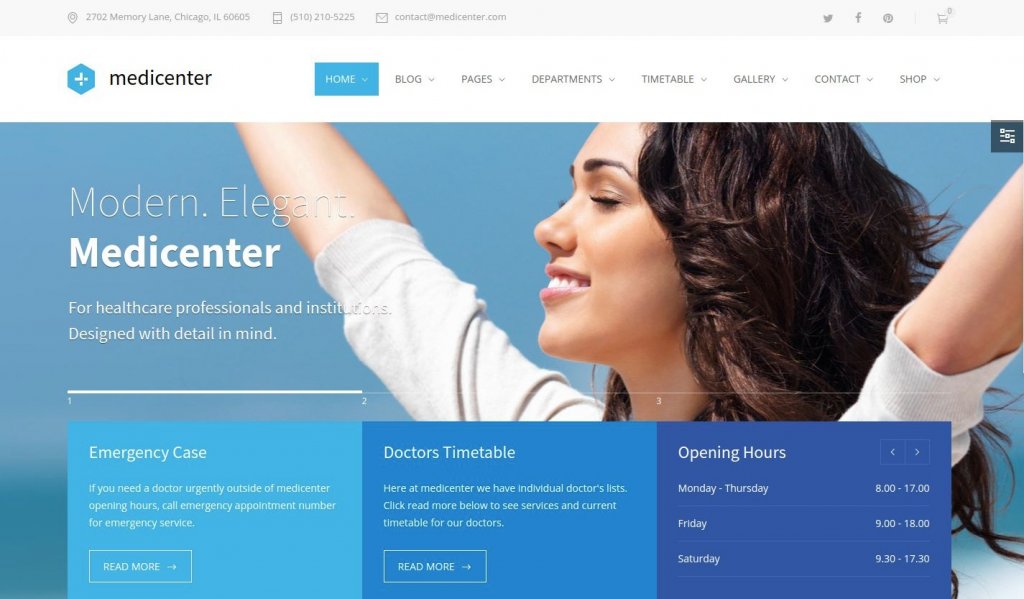 MediCenter is a professional WordPress theme designed for health care institutions, hospitals and everything which involves health services. It's a quite popular WordPress theme since it has around 10.000 sales on Themeforest, and it's still frequently updated since 2013.
Over time, the theme has gained maturity and offers a well-crafted design with a nice color palette. It includes a responsive design so that the patient can still book appointment from their mobile or tablets. It can then either be used for coronavirus sensitization or for Mom & Baby Care.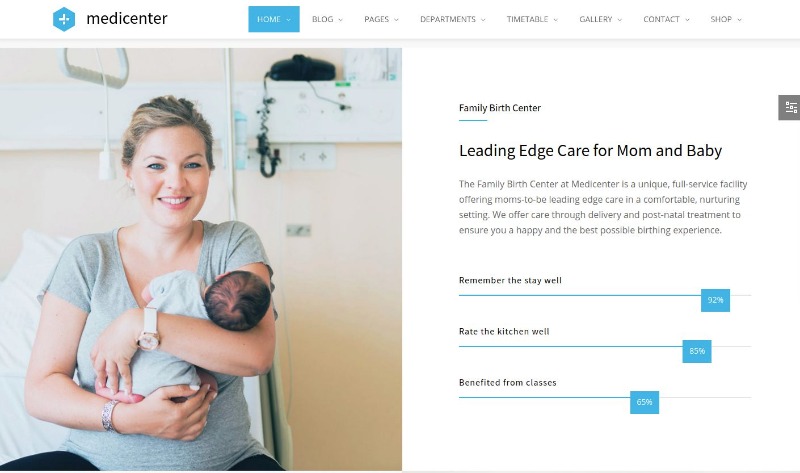 For a $59, you get what you deserve: A ready to use and well working WordPress theme. Here is a list of features you'll get with MediCenter.
Key Features
Responsive Layout
Slider Revolution
TimeTable integrated
Sticky Columns supported
Full-width Sections
One-Click demo
WPBakery Page builder Supported
+60 customizable elements
Pregnancy Medical WordPress Theme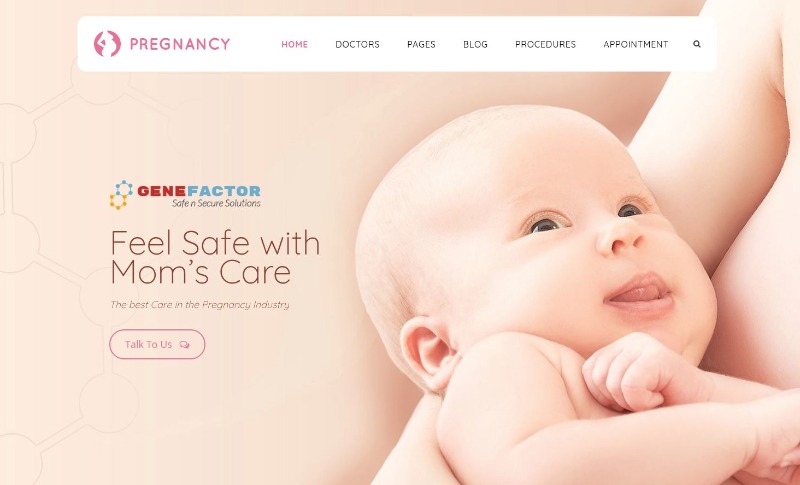 The COVID-19 doesn't target people by gender, so even pregnant women are exposed as well. It's then indicated to provide all information they should care about, and that's what Pregnancy does. It's a Medical WordPress theme that comes with a pretty joyful design for pregnant women.
It includes compatibility with Visual Composer, an Appointment forms doctors list and doctor details with pretty much useful features you can use for the healthcare for pregnant women. While we were reviewing the theme, we first though the theme wasn't responsive, then after a deeper review on phone, we noticed some menu changes their layout to fit the mobile device.
Such as the previous theme on this list, you still have a list of pre-built demos with nice colors and images. With Visual Composer, you'll be able to craft your website without seeking for an expert. As part of the features included, you can count :
Key Features
Visual Composer included
WooCommerce supported
Trimester Chart Shortcode
Cycle Content with description
Doctors list and details
Appointment form
Mega Menu
Contact Form 7 supported
Meni - Healthcare Doctor Medical WordPress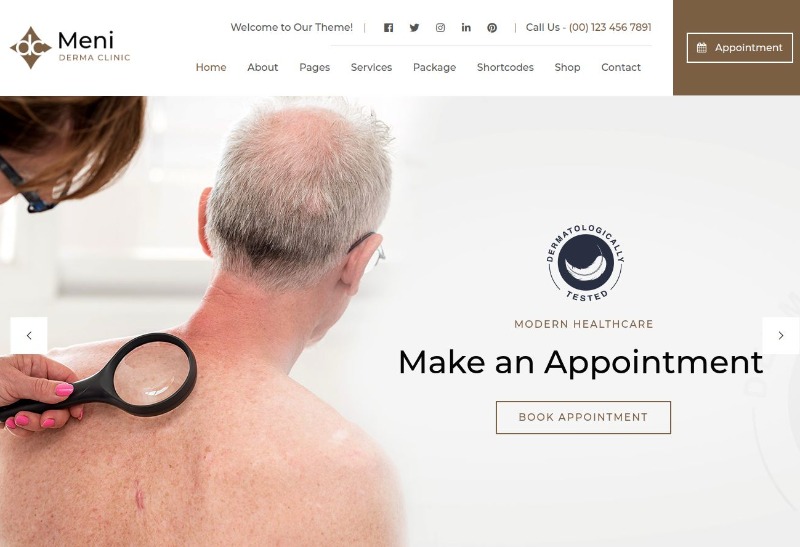 Meni is a WordPress theme designed for Medical Care Services, Hospital Website, Clinical Research and pretty much any service related to health, surgery, pharmacy, and labs. It comes with a quite attractive design with a nice header, home page, and features.
While we can believe at first sight this theme is more useful for the surgery clinic, thanks to the integrated features, we realized that this theme can perfectly be used for COVID-19 sensitization and patients care. With the built-in appointment forms, it will be easier to track your patient. We, however, noticed the support of Events Calendar, but you can also use this plugin LatePoint
However, regarding the design and mobile compatibility, this theme is nice enough to be used for a Dedicated COVID-19 website. Here is the list of features you'll get
Key Features
Google Map Supported
Booking Form
Visual Composer Compatible
Slider Revolution Integrated
Well Designed Demos
Event Calendar Pro compatible
Contact Form 7
Ultimate Addons Included
Inotura - Health & Medical WordPress Theme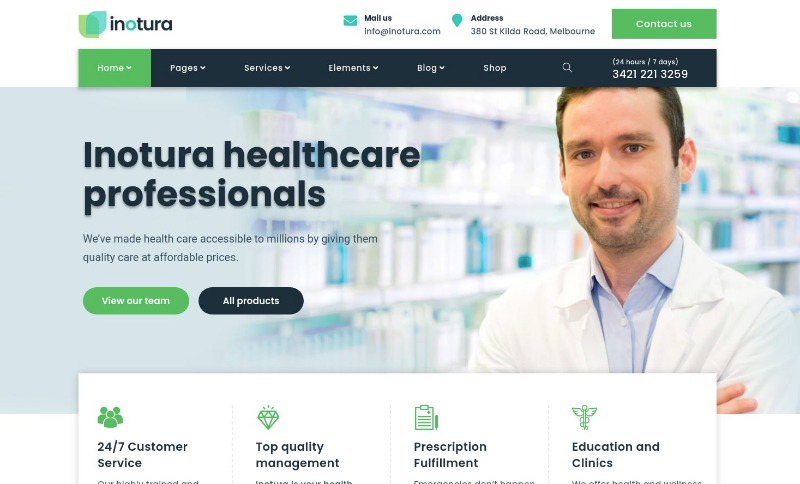 Inotura is a quite recent WordPress theme designed for Health and Medical WordPress theme. It has been crafted by a well-established author on Themeforest. At first sight, the theme covers +6 medical sub-domains, such as Hospital, Pharmacy, Dental, Eye-Care, Chiropractor & Nutritionist. Obviously, every demo is crafted in a professional way with a good color mixture. We reviewed the Hospital demo as that's the purpose of this list.
Regarding the design, on the Hospital demo, we noticed a well-balanced color use (white, black, red and blue). The theme includes a fullscreen video toggle button which displays a video player above the template. There is a fullscreen gallery integrated as well. We liked the way the blog module is displayed and the footer which is rich of space to display useful information.
While this is a quite recent WordPress theme, it still has some interesting features you need to get started with a healthcare website. We'll first note 200 blocks to craft the website, a powerful theme options and quite nice support.
Key Features
Slider Revolution Included
Contact Form 7
WooCommerce Supported
MailChimp Integration
Visual Composer Integrated
Mailchimp Supported
Modern design
Search Engine Optimized
Apicona - Health & Medical WordPress Theme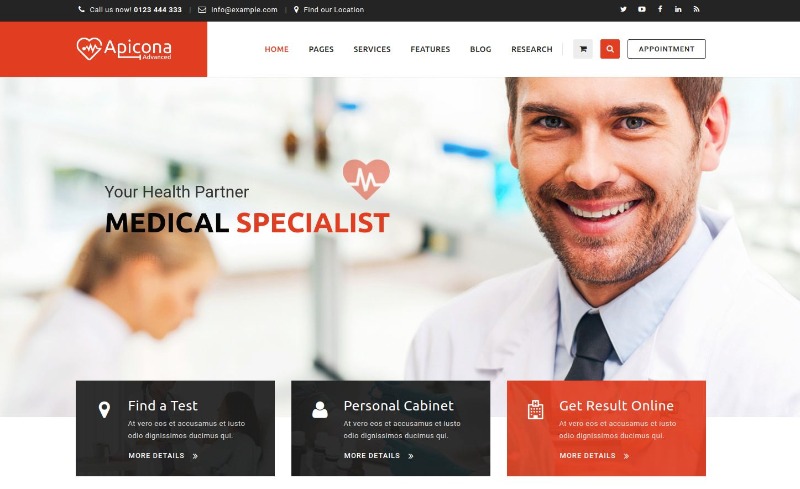 Apicona is a veteran but frequently updated WordPress theme for Health and medical service. While what attracted our attention was the price which is a little bit expensive, we decided to review and check whether the provide features deserve that price.
At first sight, the theme looks modern with a nice color palette. There is nothing to complain about on the home page as all the components are well placed and they are all relevant for the medical service. The compatibility with Visual Composer is seamless, and you have a lot of widgets provided for this latest. Apicona is also compatible with BBPress and offers an event manager.
The review we had was quite satisfying. With 2000 sales, we believe users have chosen this theme for a reason. Even though the price is quite above the standard on Themeforest, we believe it still deserves your attention.
Key Features
Kwayy Widgets
Mega Menus
SEO friendly
Revolution Slider Compatible
4 layout styles
Social Share Buttons
WooCommerce Supported
100+ theme options
Medicor - Medical Clinic & Pharmacy WooCommerce WordPress Theme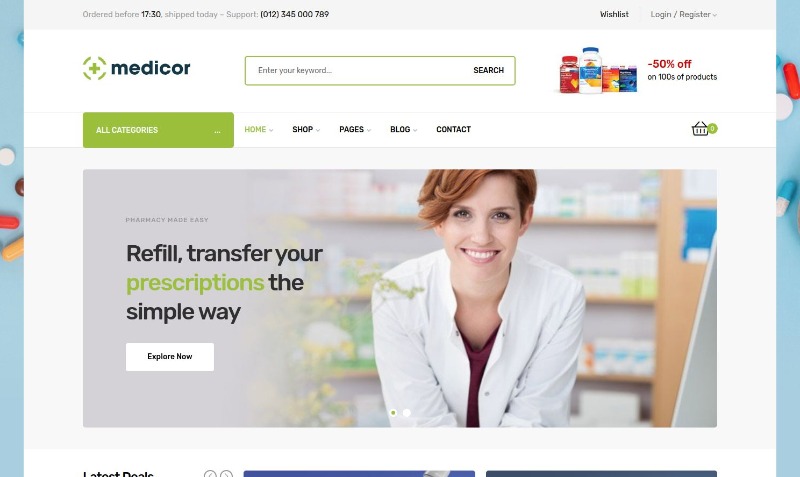 If the other previous WordPress theme focuses on clinics and hospitals, Medicor focuses on Pharmacy since it has exclusive and awesome support of WooCommerce. However, this doesn't mean it can't be used for hospitals. The Store layout looks nice and well-animated on the scroll. Adding an item to the card is made instantaneously without refreshing the page. That's the same for the "Quick View", which loads on the same page.
The voice of the colors is well made. We believe you can still add your own personal touch to the design. The responsivity makes that fully working on mobile devices. With WooCommerce integrated, you can offer services like delivery which is pretty useful during this period where confinement is widespread.
As part of the COVID-19 measures, the theme is on sales (40% off), it is a good deal especially when we consider the features.
Key Features
10 exclusive layouts
Nice product display
Smart store
Flexible mega menus
Product filter
Elegant blog section
Elementor Compatible
WooCommerce Ready
Cloe Brooks -Counseling & Medical WordPress Theme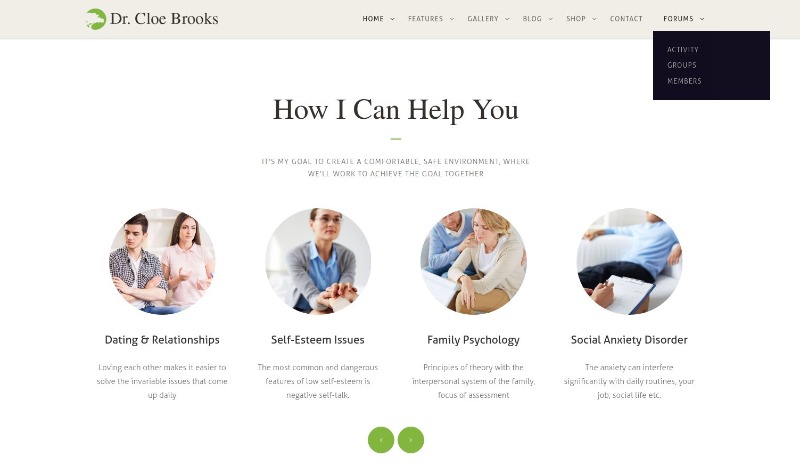 Some people might have lost beloved during this COVID-19 period. They might need psychological assistance from an expert. Cloe Brooks is a WordPress theme designed for psychological services. ti has a well smooth design well chosen for the medical domain. What is showcased here is the Doctor's information and how he can assist you.
The theme, as any on this list, is responsive. It includes a forum, gallery, and blog which all are also well crafted. We liked the store with his minimalist design, which can be used to sell books.
We should remind that this is quite a popular WordPress theme, and here are the features you'll get.
Key Features
Booking Appointments
Appointments Manager
Booking Forms
Pricing Table
Page Builder
Forum Included
WooCommerce Compatible
Gallery and News layout
Responsive Layout
SEO friendly
Summary
While the COVID-19 is taking more ground on the earth it's our responsibility to take all necessary measures to fight against that and save lives. This list of WordPress theme, we hope, will help you to fight against the pandemic, if that's the case, we'll be more than happy. Stay home and safe.