Keeping the users of a site motivated to browse is definitely the sine qua non of success for any website owner. This is all the more true when you have a WordPress site given a great competition that we find there. We offer you quizzes in this regard. Indeed, integrating quizzes into your site will boost the engagement of your users, and in turn, improve their experience.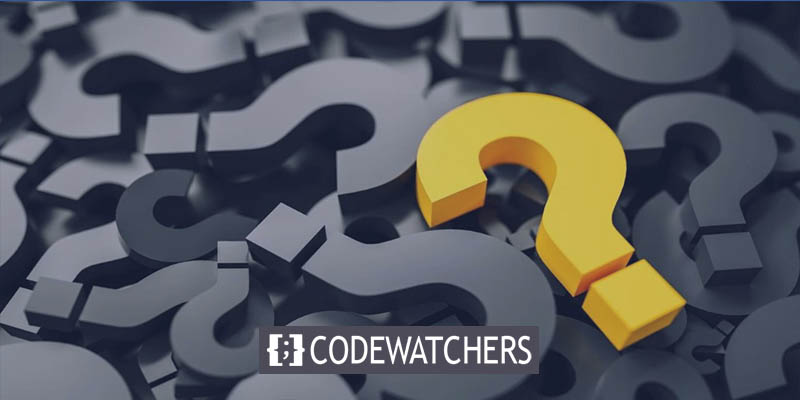 In front of the multitude of plugins that exist on WordPress, we have made a selection of 10 that we believe are both relevant and accessible. Let's discover them together.
Download Divi The Best WordPress Theme
The Most Popular WordPress Theme In The World And The Ultimate WordPress Page Builder
Download Divi
1. WordPress Viral Quiz Plugin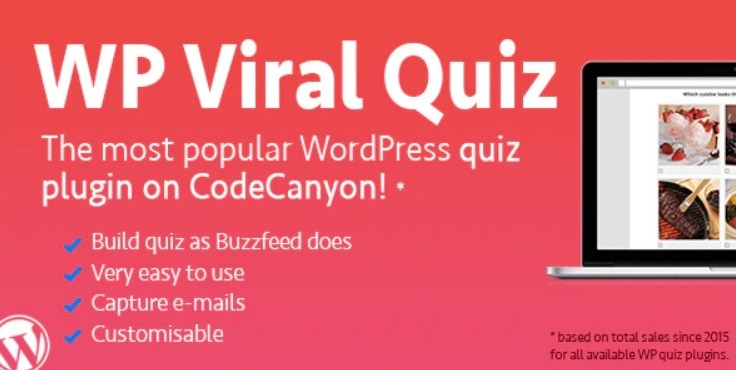 The first on the list is a WordPress plugin designed to make your website Viral through engaging and interactive quizzes. Hence its name WordPress Viral Quiz. This is a fairly popular plugin on the CodeCanyon platform with more than 6800 sales in 6 years of existence. Suffice to say that the author has the measure of his tool and the experience to make it more and more interesting.
This plugin allows you to create two types of quiz: Personality & Trivia Quiz. These types of quizzes tend to go viral on social networks like Facebook and Twitter. Users can also share your quizzes there.
WordPress Viral Quiz provides you with other very practical options, such as the possibility of inserting advertisers around the quiz, or capturing emails so that there are more subscribers to your newsletter.
Key Features
Works on every themes
Personality & Trivia Quiz
Fully Responsive
Multi-pages quizzes
Capture the email of each player
Analysis of traffic and user responses
Highly customizable
Multilingual
2. eForm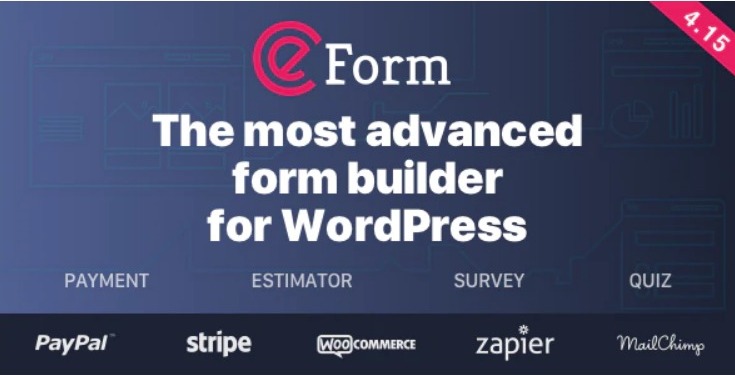 eForm (formerly FSQM Pro) is a versatile WordPress plugin that you can easily use to create quizzes on your website. It provides you with various types of quizzes, as well as a drag-and-drop editor for advanced customization.
Next to the quizzes, you have a perfect price calculator for payment/cost estimates. The form generator integrated into the plugin also helps you to create unlimited forms (login, registration, etc.)
Key Features
Drag and Drop Form Builder
Scoring and Ranking System
Automated Notification E-mails
Reports and Analysis
WooCommerce Integration
PayPal and Stripe Payment Options
Quiz timer with automatic submission
Free and Fast Support
3. Advisor Quiz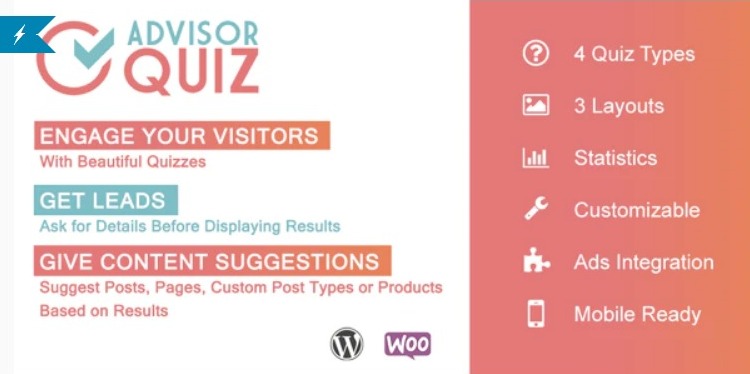 Advisor Quiz is another premium solution to add personalized p quizzes to your WordPress site. In particular, it allows you to introduce content into the results.
You also have at your disposal 3 layouts that you can customize as you wish. Each layout has a set of options that you can change to make the quizzes better fit your website (icons, colors, fonts, labels, etc.).
The author of Advisor Quiz even thought about experienced users who would like to customize their quizzes even more. You can use custom CSS and JS for this.
Key Features
4 quiz types: Content Filter, Trivia, Personality, Count
3 Layouts: Presentation, Image Grid, Minimal
Fully Responsive
Attach Content Suggestions to results
Enable Email Request Form
Enable Social Share Icons
Custom text for Button and all labels
WooCommerce integration
4. Quiz And Survey Master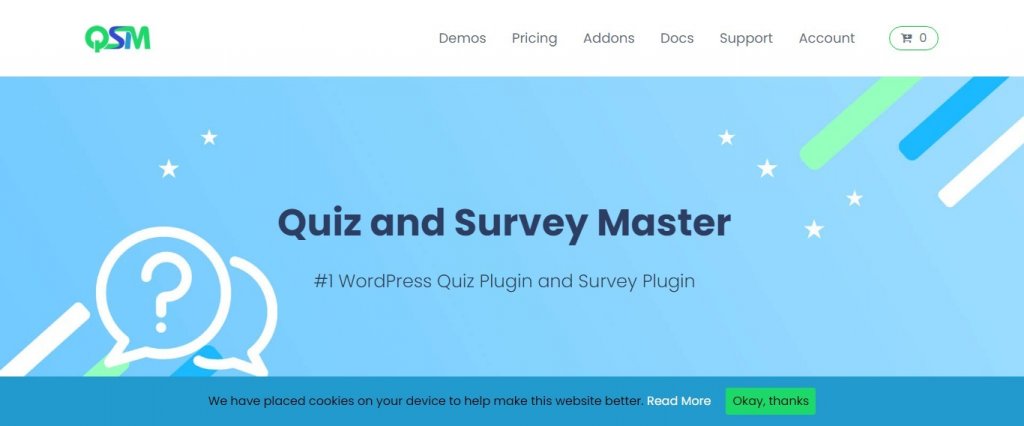 Now we have the first free plugin on our list. But make no mistake about it; Quiz and Survey Master gets the job done and doesn't have much to envy from others.
This plugin was developed with the aim of generating traffic and increasing the engagement of your users. For this, it offers in a simple but attractive design, several types of quiz that you can adapt to your business: Multiple choice questions; True or false; Fill in the blank; Captcha; And much more.
In addition, you have the option to create multiple results pages, so that you can customize them based on the user's score. The plugin comes with email support, certificates, ratings, tips, comment boxes, etc.
Key Features
Customize anything your users will see and engage
Multiples types of quizzes
Emails filter quiz
Score-based results pages
Countdown timer for your quizzes
Social sharing
Create and display math formulas
User login requirements
5. Quiz Cat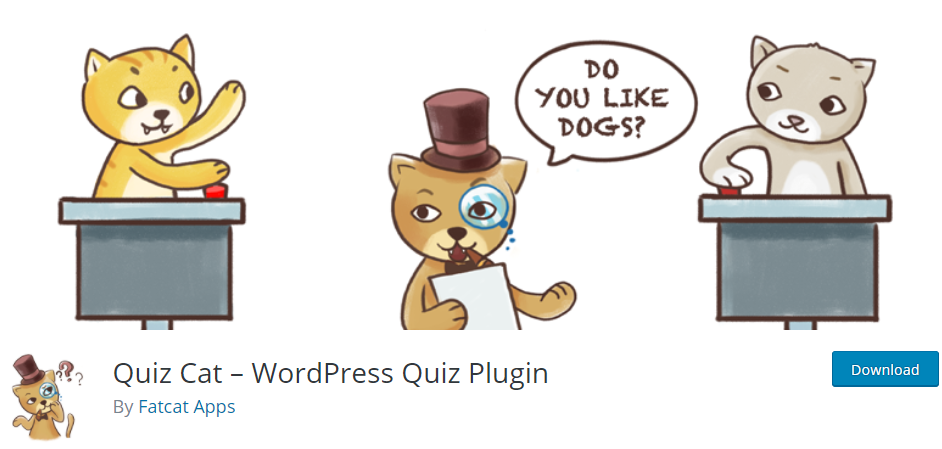 Another WordPress solution that you can use for your quizzes. With Quiz Cat, you have at your disposal an easy-to-use and mobile-friendly interface, to both create and personalize your quizzes. You can easily make these viral.
Speaking of customization, this plugin offers as options the ability to add images to each question and answer. You can also take advantage of an unlimited number of questions. It is also possible to translate the quizzes into just about any language.
What you should know is that Quiz Cat is a free plugin, also available on the WordPress platform. However, the author offers a Pro version if you want to have more advanced features. Among the latest, we have for example the export of spreadsheets, the integration of Facebook Pixel, or even email marketing.
Key Features
Personality quizzes
Weighted quizzes
Zapier integration
Email capture after quiz completion
Enable/disable answer explanations
"Restart quiz" option
Quiz analytics
Social sharing buttons
6. WP Quiz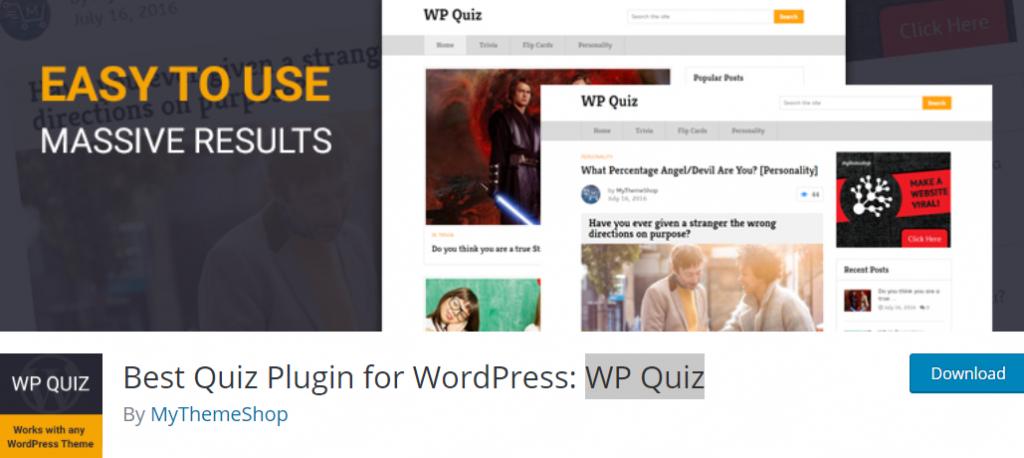 In terms of a free solution, this is surely one of the best quiz plugins we can find on WordPress.
WP Quiz offers 3 types of quizzes: Anecdotes, Personality, and Playing cards. You can of course customize the options of your quizzes, for example by adding images to your questions and answers, or by changing the colors of the progress bar, the animation effects, the font colors, and the background colors.
Plus, it comes with two styling options: Multi-page quiz or Single page quiz. You have the option to automatically scroll and add social sharing buttons.
The Pro version of WP Quiz costs roughly $ 87 and includes additional features such as the ability to export your quizzes and many more.
Key Features
Add Unlimited Quizzes
Responsive Quizzes
Multiple Quiz Type
WPML Supported
Social Share Buttons
One-Click Demo Import
Add Image or Video
Single or Multi-Page Layout
Shortcode Support
7. Modal Survey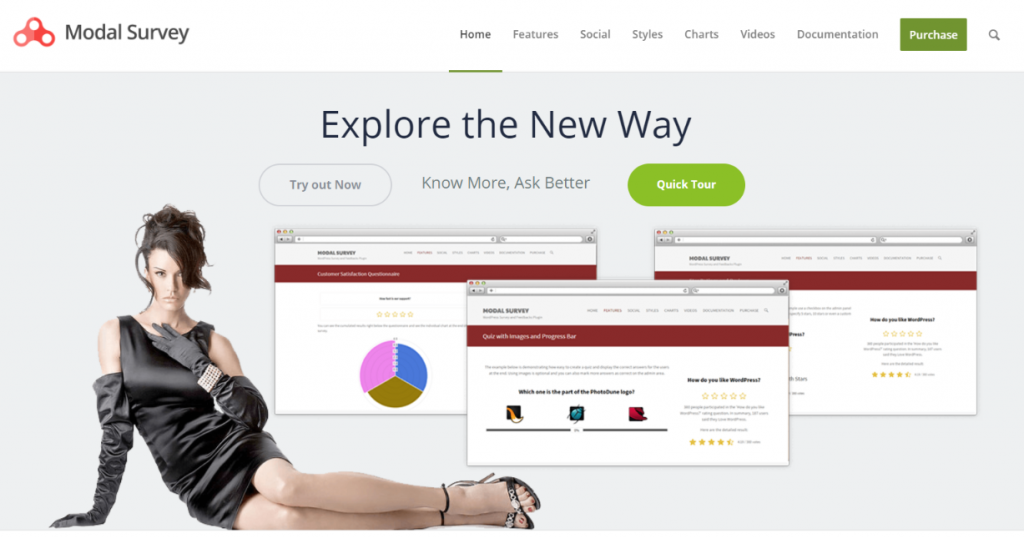 Modal Survey is a WordPress plugin developed to allow users of a website to be heard through surveys, in particular. You can thus develop an unlimited number of quizzes in order to collect information. The results can be displayed in a very attractive way, through stunning progress bars, beautiful pie charts, or simple text display formats.
With Modal Survey, you will be able to increase your sales thanks to surveys and product recommendations. The plugin supports conditional statements, which allow you to display a specific message or redirect the browser to any page based on survey response scores.
Key Features
Visual Builder with Live Preview
Mobile-friendly and Responsive
Parallax effect during Page Scroll
Unlimited Questions and Answers
Social Sharing with Various Styles
Detailed Participants Stats with Charts
8. NEX-Forms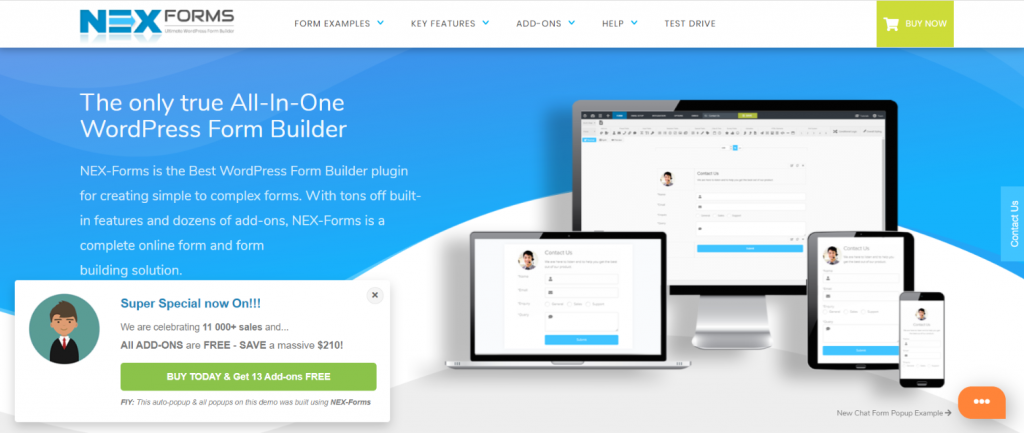 NEX-Forms is one of the best form plugins for WordPress. Indeed, whatever type of form you want to create on your WordPress site, simple or complex, is possible with this plugin.
In addition, it includes not only multi-step forms but also online quizzes. Divide large forms into manageable steps that your users can complete easily. Combine multiple steps, mathematical logic, and conditional logic to create online quizzes.
NEX-Forms provides you with a modern and responsive design to make your users' browser as smooth and interesting as possible.
Key Features
Amazing WordPress Form Builder
Fully Responsive

Drag & Drop
Modern Design
Multiple Email Methods
Multi-Step Forms & Online Quizzes
9. ARI Stream Quiz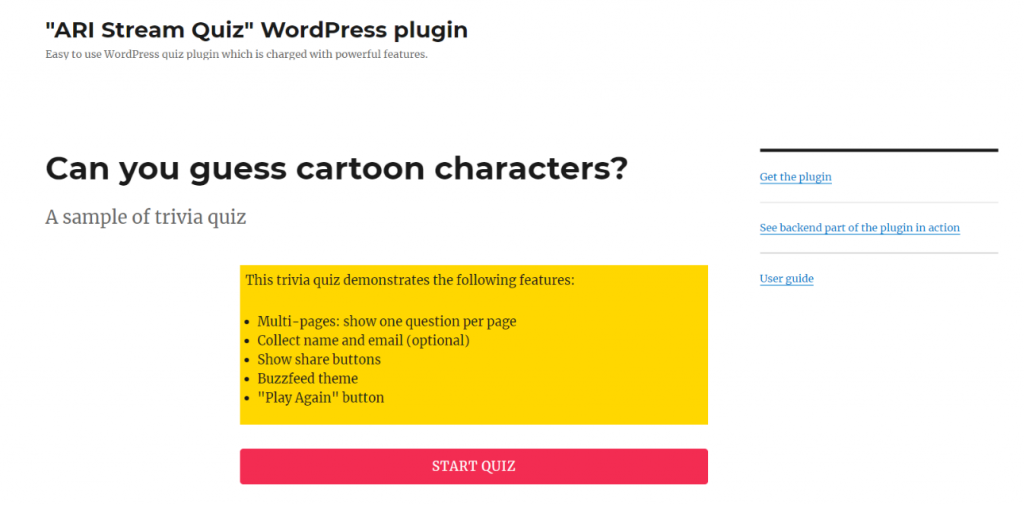 What could be better than a marketing tool dedicated to generating leads to boost your website traffic? And if this tool includes interactive features like quizzes to boost your site, that's even better. Well, that's exactly what to expect with ARI Stream Quiz. The latter allows you to use quizzes for lead generation by collecting the user's email address and name.
Indeed, as you will understand correctly, ARI Stream Quiz supports various email marketing service providers, like MailChimp. This is a great asset for tracking your users.
In addition, this WordPress plugin offers interesting performance features, such as social media integration, Open Graph support, or AJAX support for faster browsing.
Key Features
Lead capture
Create unlimited quizzes
WPML Supported
Fully responsive
Social share buttons
Export results to CSV
See statistics for each quiz
Can be translated to any language
10. Poll, Survey & Quiz by OpinionStage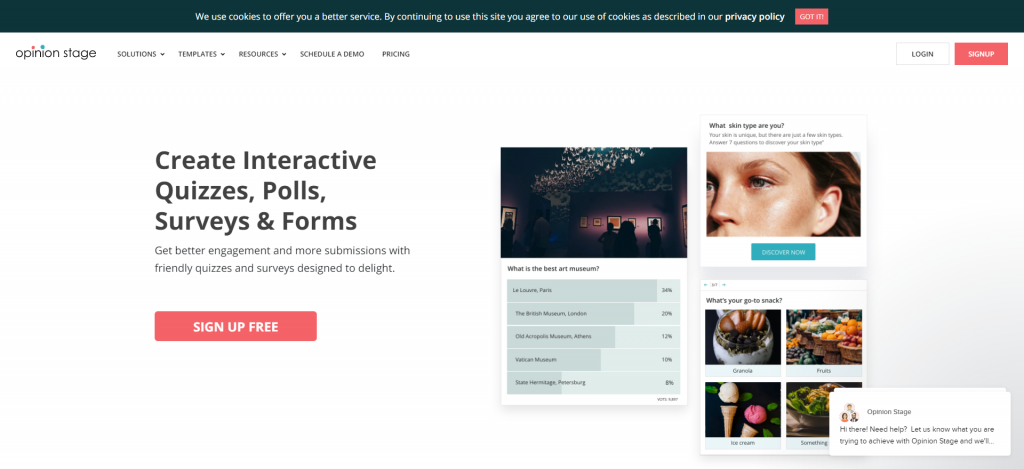 We come to the end of our list with OpinionStage, a WordPress survey, and a quiz plugin. Indeed, this plugin allows you on the one hand to create opinion polls and surveys to engage your users and learn a lot about what they have in mind. You can customize every aspect of this feature thanks in particular to an easy-to-use dashboard.
On the other hand, OpinionStage helps you create various types of quizzes (Buzzfeed, Facebook) in order to energize your audience and make your content viral on social platforms in particular. It is also possible for you to add your quiz as a pop-up window in the sidebar of your site or at the end of all the articles on your blog. Statistics about your quiz's views, responses, and lead generation activity are all visible in your OpinionStage account.
Key Features
Easy and fast to create polls, surveys, and quizzes
Integrate images & videos
Completely customizable
Display poll & survey results in real-time
Social sharing
Lead generation forms
Conclusion
We hope this article will point you to the perfect solution for adding quizzes to your WordPress site. If you have any suggestions or concerns, please let us know in the comments.
Likewise, you can be more quickly informed of our publications by following us on social networks such as Facebook and Twitter.