SiteGround is a popular shared hosting provider that offers its users several different hosting options. These include WordPress hosting, cloud hosting, and even dedicated servers.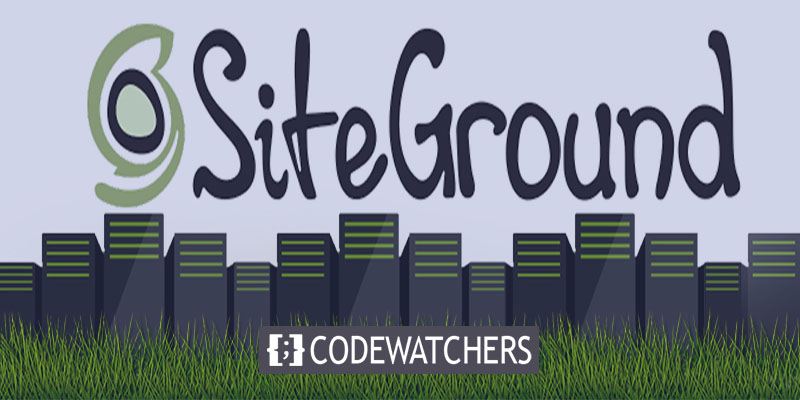 Overall, SiteGround hosting ranks among the best of all web hosting companies in terms of uptime and speed. They also have special hosting options tailor-made for Divi users. We will see together the features offered by this product and why it is interesting.
SiteGround WordPress Hosting Pricing
First, let's take a look at the Pricing structure of SiteGround.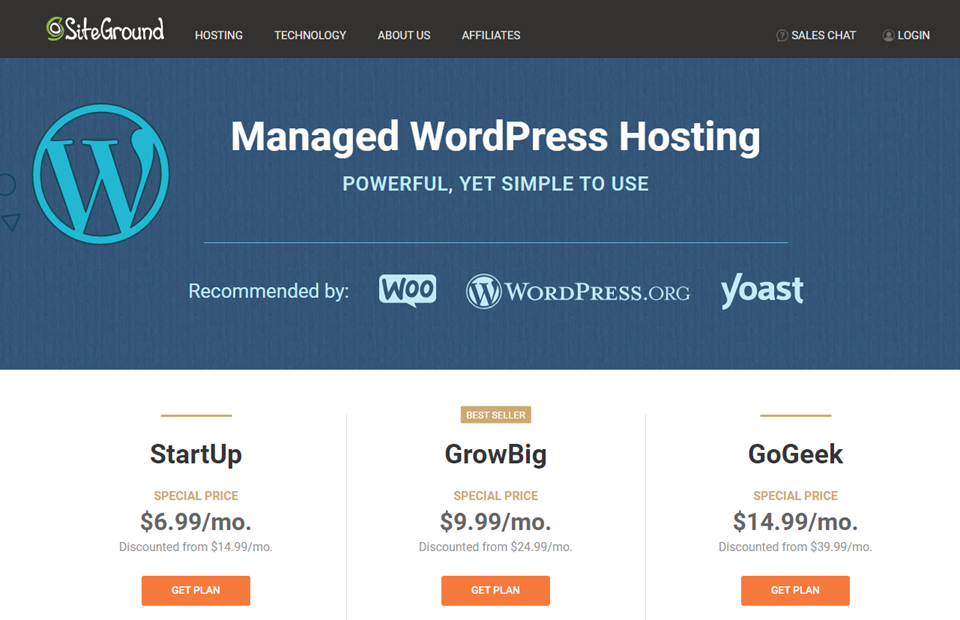 For your first year, you can take advantage of a discount. Then there will be a fairly significant unreduced price increase (from $ 9.99 per month to $ 24.99 per month). But this is not unusual! Most web hosts work the same. This is the case, for example, with WP Engine or Flywheel.
Create Amazing Websites
With the best free page builder Elementor
Start Now
The SiteGround Hosting Dashboard
When we connect to our account on the host's dashboard, we receive a "Welcome" message. You will find a toolbar at the top (1) and suggested actions at the bottom (2). A tutorial video will also open to guide you.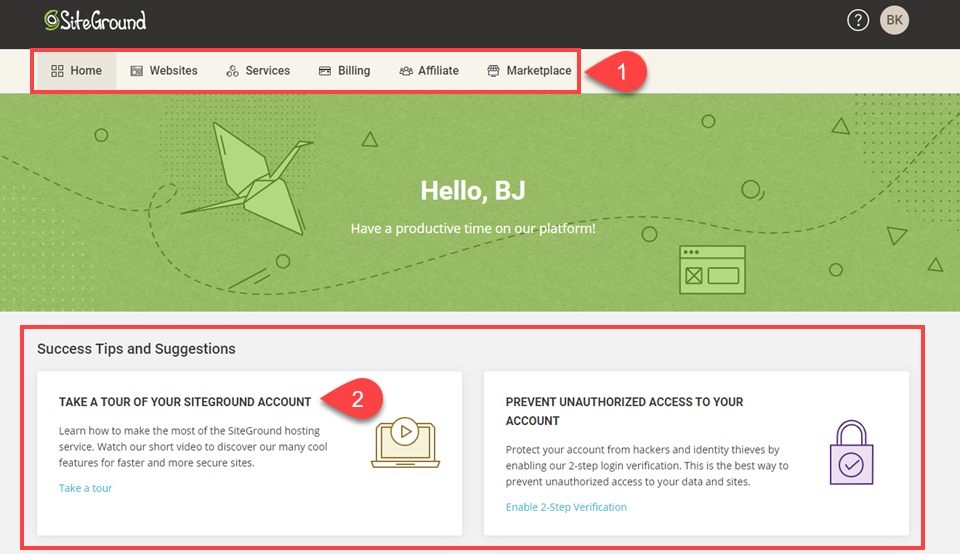 You should be completely familiar with how SiteGround works after watching this video. To access your account, there is a two-step verification system. This is an interesting feature that guarantees the security of your account.
Now let's take a look at another dashboard element, notably the toolbar of tabs near the top of the screen. It includes several elements that we will study in detail. The Websites Tab
This is where you will find the websites you have on the SiteGround WordPress hosting platform.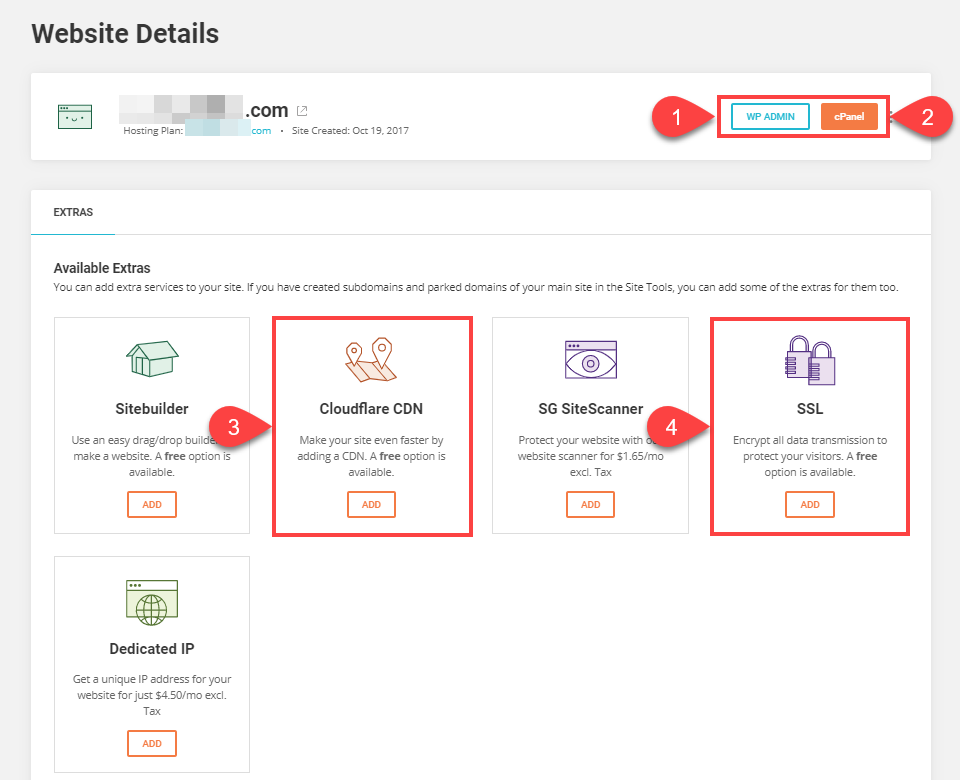 Here you can configure your WordPress hosting. You will define a primary domain for your site which will be listed first. Then, if you have additional sites, you can assign them an additional domain using the "Add-on Domain" feature in the cPanel and the Softalicious WordPress installer SG uses. (Or you can use the famous 5-minute install.) From there, just press the WP ADMIN button to see all of the sites in your account appear on a pop-up window.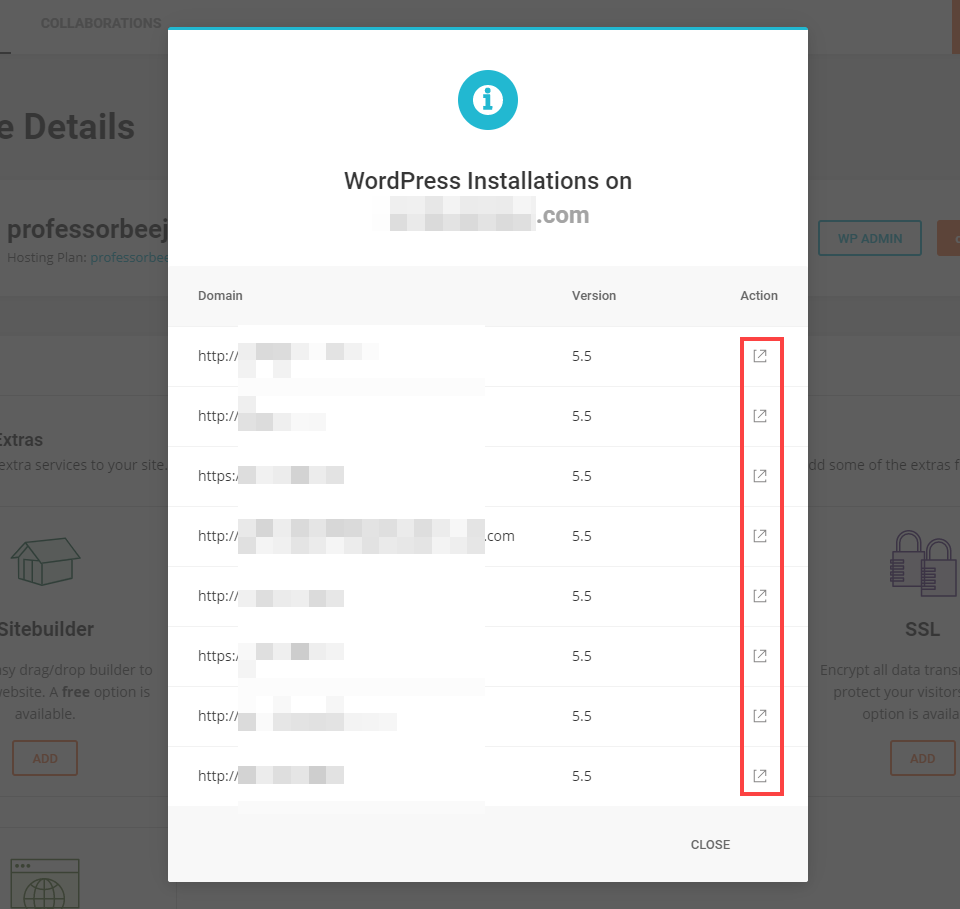 Websites tab has other very interesting assets like a free access to the Cloudflare CDN or free SSL certificates for all the domains of the account. Indeed, having free access to a CDN is essential, especially in the current context where several hosts are offering SSL.
SiteGround also provides you with a free Sitebuilder, as well as paid options for their proprietary SiteScanner and a dedicated IP address. The pricing is quite accessible. However, if you want to do a WordPress installation, we recommend a Page builder like Divi.
More Options
Click the three dots beside the cPanel button. You will have three options:  Change cPanel Password, Server Details, and Change Primary Domain.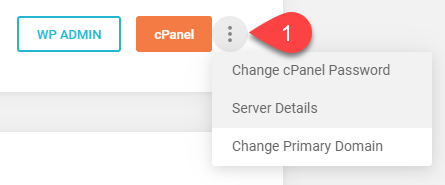 The first option, namely Changing your cPanel password, is accessible and easy to understand. As for the second, Server details, it offers easy modal access to your IP, data center location, and nameservers.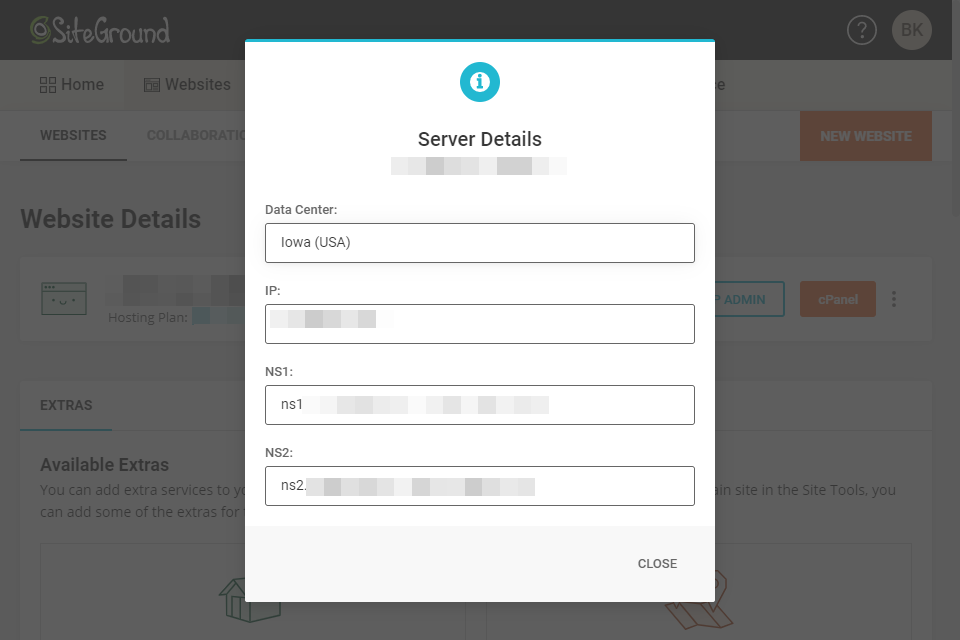 As for the Change Primary Domain option, it allows you to change the primary site supported by the managed SiteGround WordPress hosting. While it's easy to do, it's an option that shouldn't be taken lightly. Changing your main site can have irreversible effects.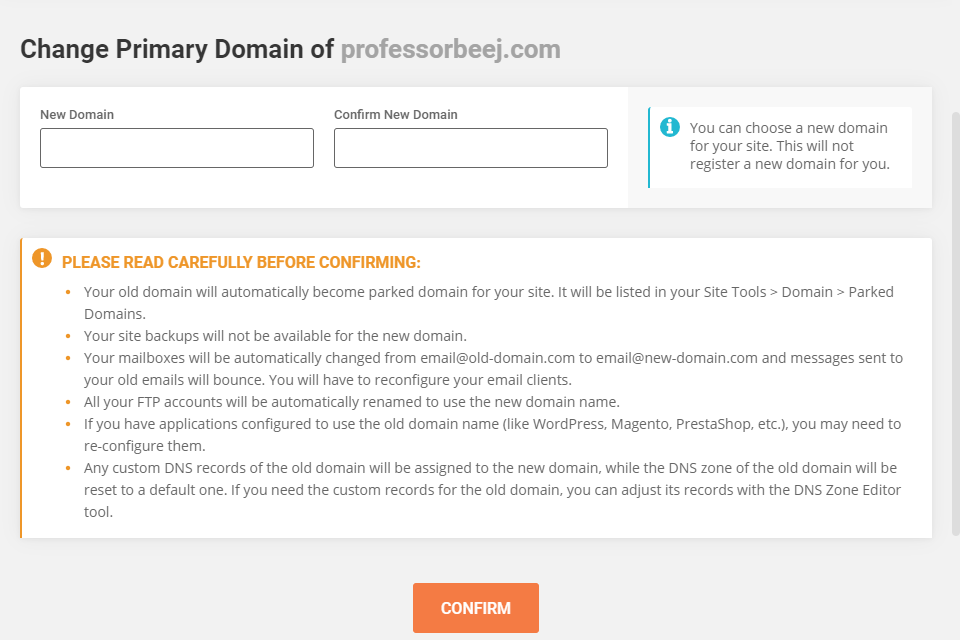 Collaborations
The Collaborations tab simply allows you to give access to your SiteGround dashboard or your website to a third party. This can be an associate or a client. But don't worry, there are several types of access. You therefore have the option of the type of access to which they are entitled to always have control.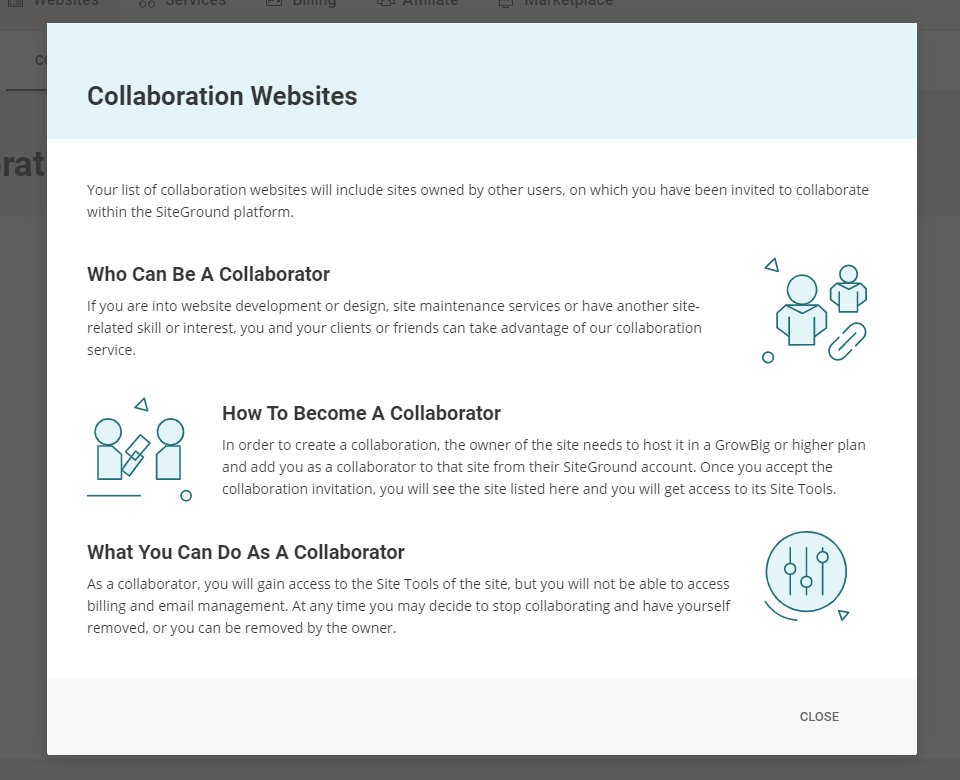 The interest we find here is the ability to white-label a website and give client access to it from the back-end. This is a fairly rare feature among web hosts, but one that SiteGround offers on the medium pricing tiers and up. Interesting isn't it!
The Services Tab
Let us now see the case of Services tab. It is used less but it is also important. For example, you have the possibility to check and manage the hosting plans and domains you have.
You have options such as the Renew button which directs you to a CC entry page where you can choose to alter your plan; or the Manage button which brings you Websites tab we discussed above. And of course, you can subscribe to another plan under the same account thanks to the Add New Hosting Plan option. Billing, Affiliate, and Marketplace Tabs
SiteGround has a really good affiliate program, where if you refer someone you get $50. You set up and manage that through the Affiliate tab. 
Billing is done on the Billing tab. And you can purchase domains, transfer them, and manage your privacy options from the Marketplace tab. You will notice how easy everything is to use. This is the big advantage of SiteGround over other hosts with more complex processes.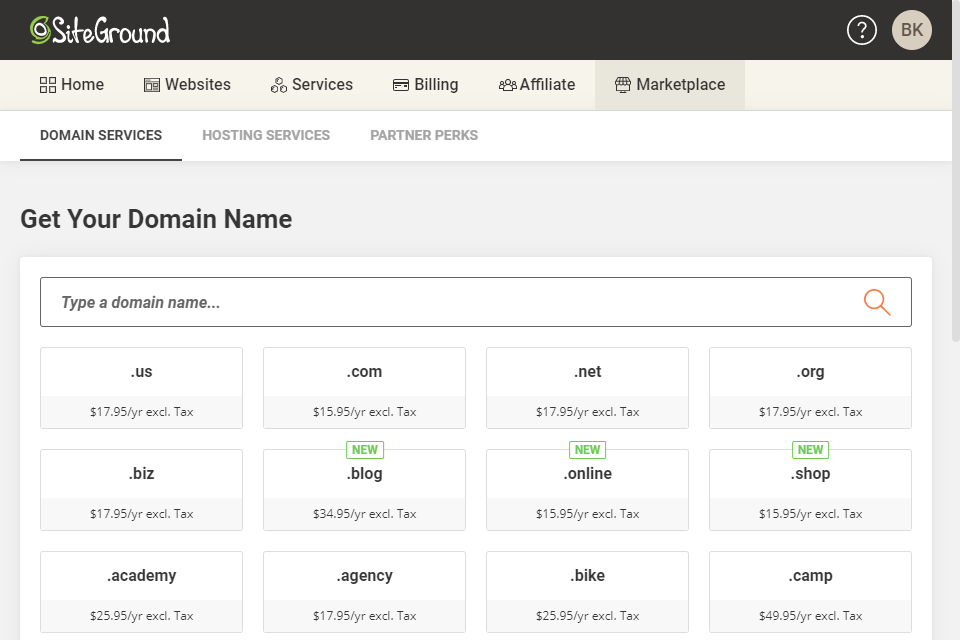 cPanel
Through cPanel, you have access to all possible functions. To access it, it's simple. Just click on the button that is located under the Websites tab in the dashboard. Once inside, the SG cPanel is clean and easy to use. You can drag the sections around so that they appear in any order.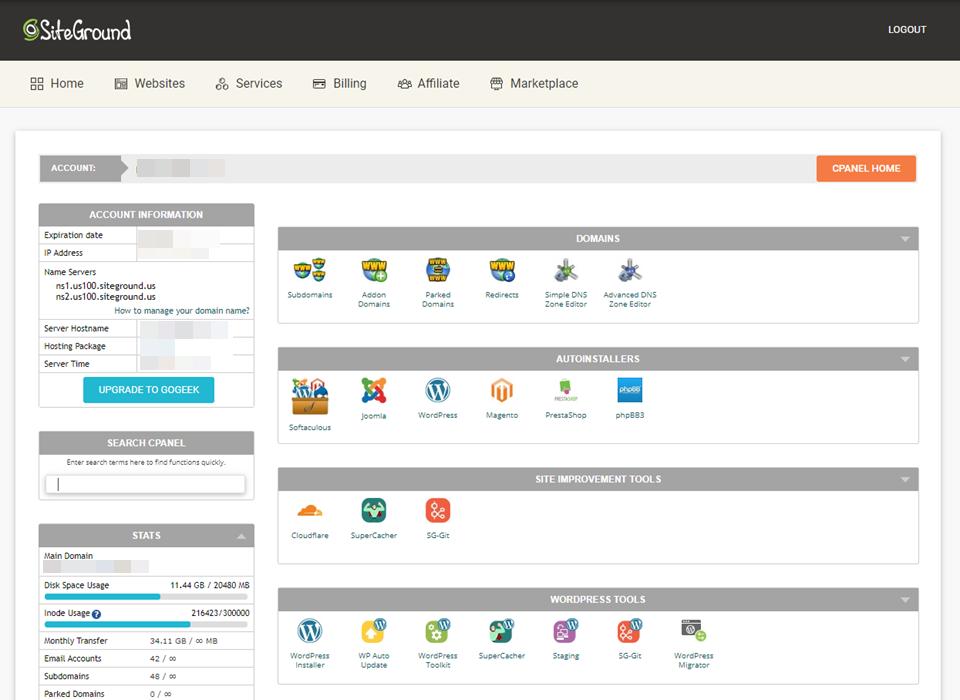 With cPanel, you have control over everything that happens on your website. You can manage email accounts, WordPress installations, domain redirects, and add-ons, caching, CDN, DNS, file management, and directory structure… everything.
In addition to that, you can find in SiteGround cPanel a WordPress Tools section. From there, it is possible to auto-update, work with their caching plugin, create staging sites, even get Git access and migrate other sites.
Customer Support
We cannot ignore this important point which will most certainly determine your level of support for SiteGround. So, the latter has a prompt and knowledgeable team, which was able to respond to all the concerns that we gave them.
To access support, click on the question mark in the upper right corner. If you don't find the answer you need in the Quick Help dropdown, click View Help Center.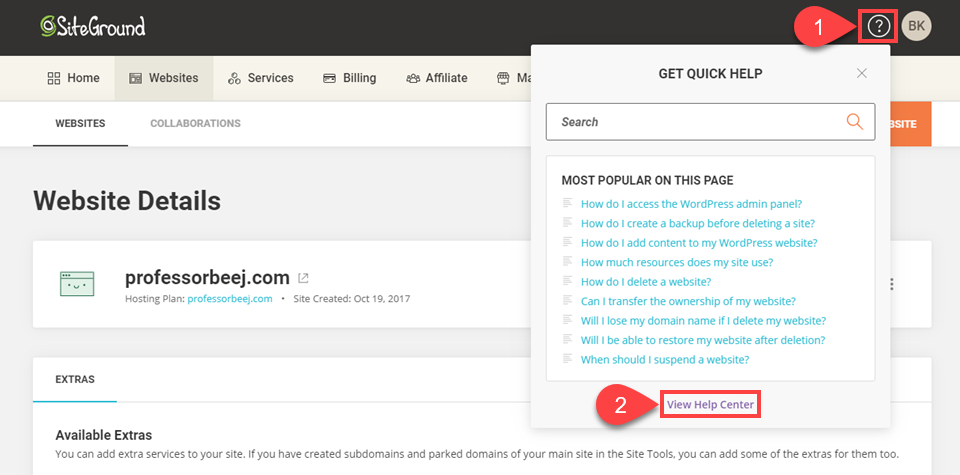 In our experience, you should be able to find the answer to your question in the KB pretty often. But when that's not possible, live chat can been incredibly useful, and the tickets have been responded to in under an hour most of the time (including the initial contact).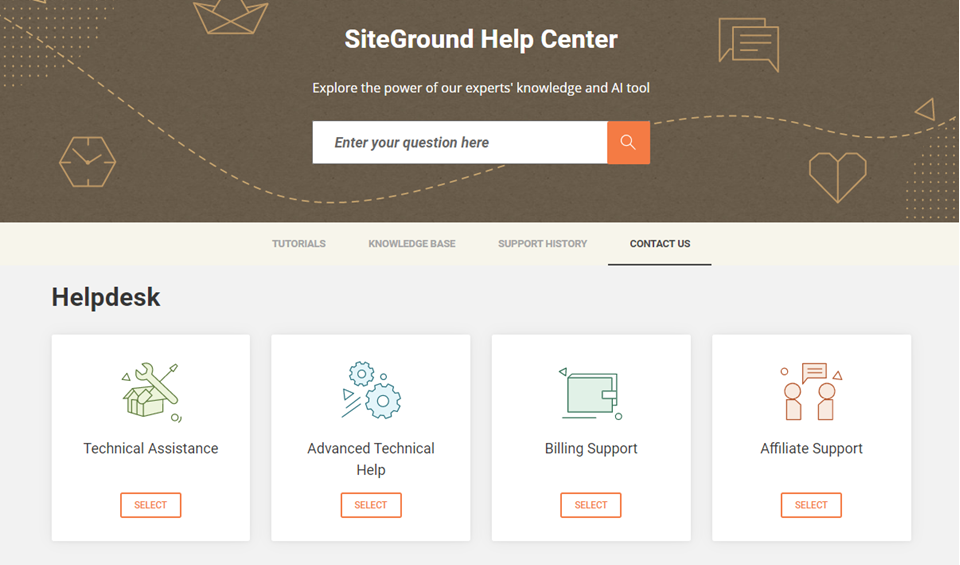 Author's note: As an SG user, myself, I haven't had any personal interaction with the phone support, as tickets and live chat have always solved my issues. But given how useful my interactions with the others, I can't imagine the phone support is anything less than superb.
Wrapping Up with SiteGround WordPress Hosting
In short, we have to admit that the reputation of SiteGround is not at all usurped. It is a WordPress host as solid and reliable as it looks. Everything has been designed with the aim of making the user experience as enjoyable and productive as possible. Not to mention the fact that you can access free CDN support through Cloudflare and every add-on domain can have a free SSL certificate.
If you liked this article, you can share it on social media. And to get more in real-time, follow us on Facebook and Twitter.