These days, no one has any doubts about the increasing success of various subscription businesses. Many companies have already succeeded in providing profitable subscription services to their audiences. It is possible to say that, for the most part, companies greatly benefit from this format themselves.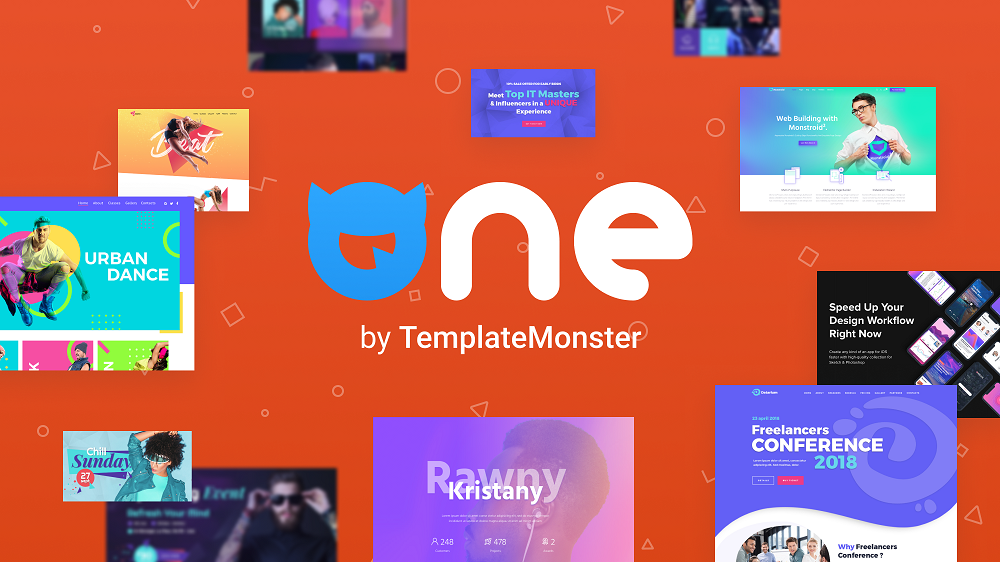 However, it does not mean that subscribing to a particular service is a bad investment. In fact, everything is different. It does not matter what niche arouses interest in you. You will always have a choice between many subscriptions for every taste and color. Therefore, there is an ideal outcome that many of us strive for. It is getting familiar with a subscription service that adds value not only to the company but also to its customers. As you may have already noticed, web design is no exception when it comes to the subscription business model.
For this reason, we want to introduce one of the well-known subscriptions. It offers thousands of first-quality digital products. It is a service provided by TemplateMonster digital marketplace, and it is called MonsterONE. We would like to find out if it is really as good as the team promises. Today, we will try to meet the challenge together with you.
Does this subscription keep up with all its promises? What should you expect from MonsterONE? We will search for clear answers to all these questions and others.
Create Amazing Websites
With the best free page builder Elementor
Start Now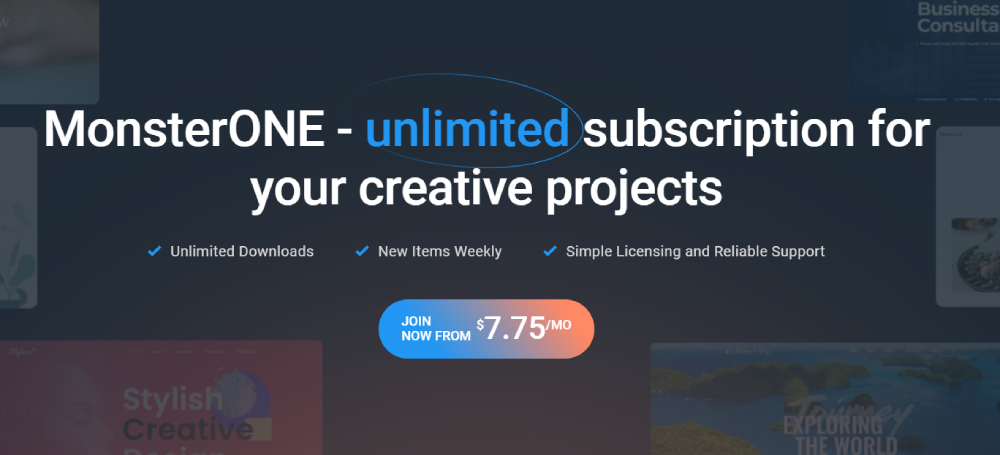 Subscription Business Model: Some More Basic Information
You might have subscribed to various services a long time ago. Many of you know how they work. However, what is the harm if we repeat the basics for those who have not had time to get familiar with different subscriptions. To get access to the desired products or services, the client should make regular payments. They can be paid annually or monthly. It is quite obvious that a large number of subscribers brings companies a stable income. Getting these very subscribers is not the easiest task. The company must develop a basic strategy, understand the assortment that it will provide, set up the communication process, and solve many other problems. Such a clear approach allows them to create a personalized subscription.
Now it is time to turn to popular subscription services that have already received millions of subscribers. We would like to start with the category of streaming services. These are one of the most famous and successful implementations of the subscription business model. Their subscribers get unlimited access to popular movies, TV shows, and music. Among them, we can name such well-known examples as Netflix, Spotify, HBO Max, Amazon Prime Video, and others. 
The next category of subscriptions provides various household products and cosmetics on an ongoing basis. Of course, we want to mention the monthly subscription kits (boxes). In this case, the buying process is really straightforward. From month to month, subscribers receive boxes that include the most popular or newest products from their assortment. Such companies Look Fantastic, Sephora, BoxyCharm, and others do this regularly. 
This is not a complete list of subscription services. We can go on with Audible for reading lovers or EA Arts for gamers. But we are ready to speak about MonsterONE and learn more about this subscription service.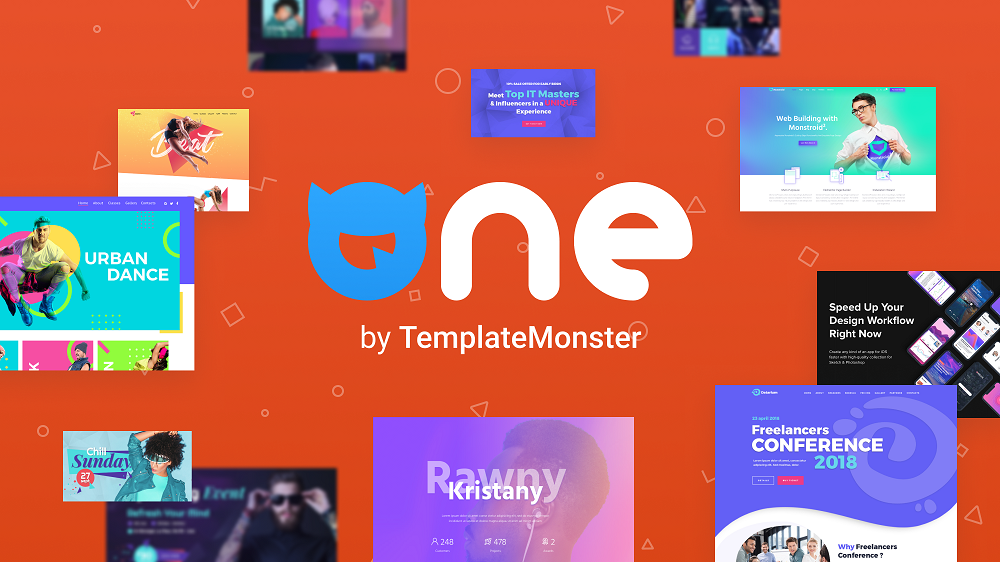 We can finally focus on the main topic of our article. You might have noticed that we refer to MonsterONE as a web design subscription. It is no coincidence because this service is aimed specifically at those who work in this particular area. With a versatile set of useful tools, web designers and developers can improve their workflow and get more custom projects. For example, they will have a wide selection of ready-made templates for popular CMS. It means that the opportunity to experiment and offer customers different solutions will always be yours. Even though MonsterONE is mostly marketed as a web design and development subscription, it has more uses. We looked through the assortment of its assets and concluded. MonsterONE has several more groups of users who might need this service.
These are, of course, illustrators and graphic designers. This subscription has prepared for them such digital products as PSD templates, sets of logos and icons, fonts, background images, vector files, infographic elements, and others.
Advertising and marketing professionals will be ready to visit the category of social media templates. Using them, creating attractive and enticing posts and stories for popular social networks will not be an issue. They can also look through corporate identity templates that allow creating interesting flyers, business cards, or posters.
We cannot forget about business owners and bloggers. These people might want to change the look of their online project to attract more readers and customers. They can also download great stock images for multiple topics.
How Is MonsterONE Different From Other Similar Subscription Services?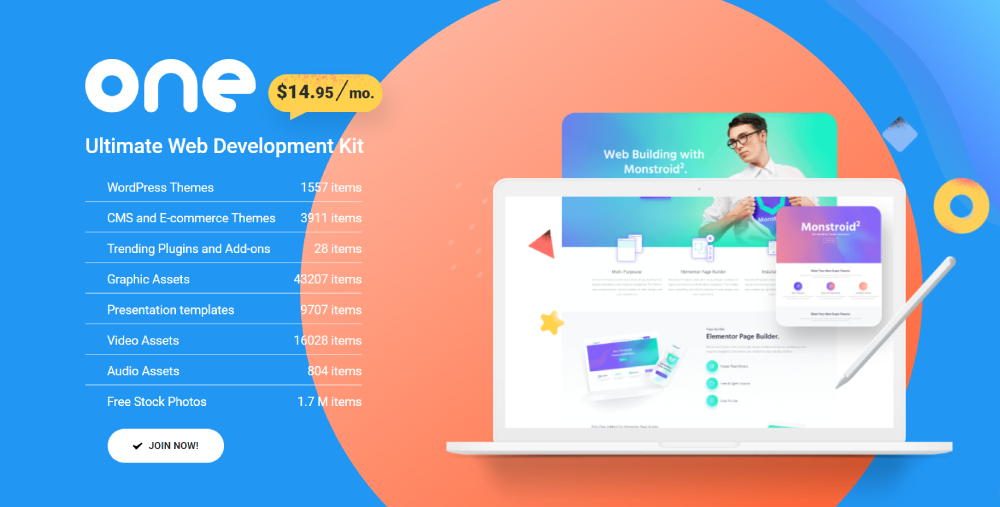 To make sure that MonsterONE is completely suitable for you, it is not enough to know only the information we have already mentioned. Therefore, we have collected the main advantages of this subscription that will help you make the right choice.
While talking about the categories of users who can benefit from MonsterONE, we have mentioned different digital products. However, that is not all. In addition to templates for popular eCommerce platforms, graphics, and stock images, more products are awaiting you. These include HTML templates, plugins, templates for presentations, stock media, effects for various video projects, and 3D models.
You can use ready-made solutions for unlimited domains. Of course, it is useful for web professionals who create many projects for their clients.
The team replenishes the MonsterONE assortment on an ongoing basis. They select the best out-of-the-box solutions from the marketplace and give people unlimited access to them. Users can already download the most popular templates like Monstroid2, WooStroid2, Eveprest, Multifly, and others. You can purchase ready-made templates from TemplateMonster with a 30% discount if you do not find them in MonsterONE.
The next important point is undoubtedly its technical support. You can seek help from a professional team that is ready to answer your questions 24/7. However, complex problems and troubleshooting are not the prerogatives of the support.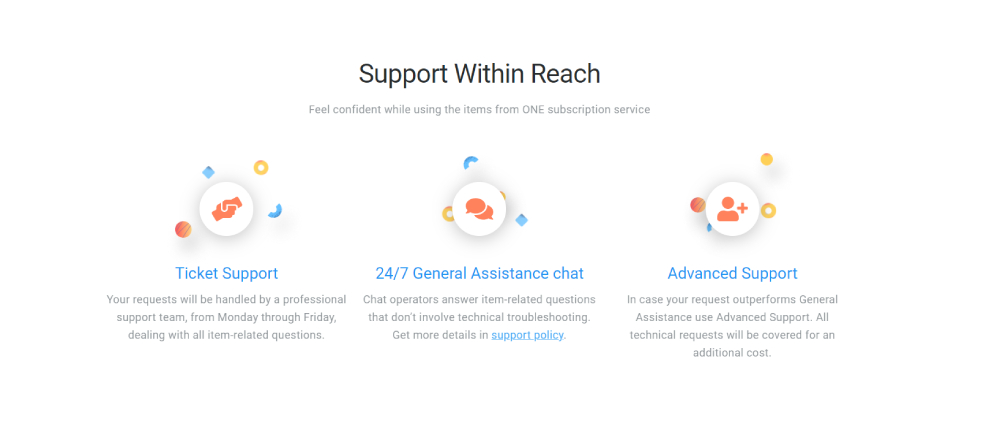 The next point is cooperation with popular related companies. As an example, you can get a 100% discount on Draftium PRO. It is a tool for prototyping sites and collaborating with your team. Thus, you do not have to pay a penny for the whole year. Other platforms such as DepositPhotos and Crello offer small discounts on their services.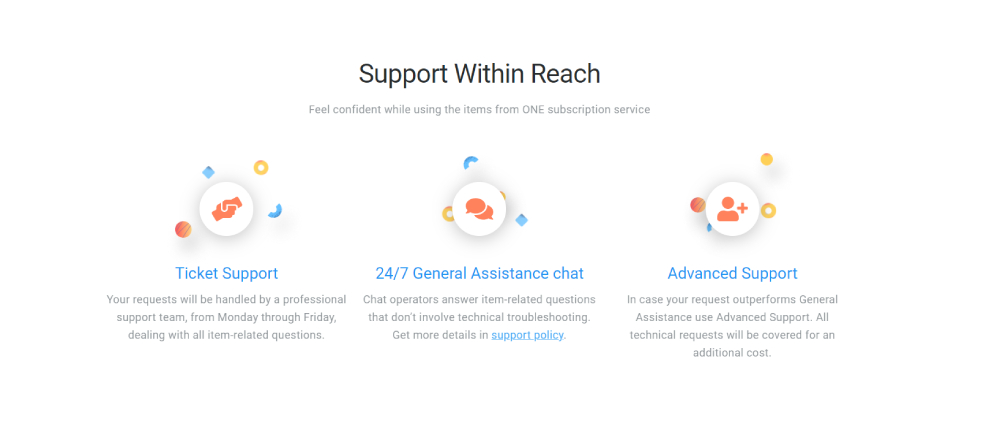 The last point we would like to talk about is the opportunity to join the MonsterONE Affiliate Program. Of course, it is not suitable for everyone. It is a perfect match for those who have popular and advanced web resources or social networks. By promoting your MonsterONE, you can earn a 30% commission on every unique sale. Each partner gets access to a dashboard that makes all the work much easier. You will be able to see your sales and payouts. You can also find many promotion tools such as ready-made videos, banners, and many others. We would also like to mention the possibility of making money for authors. As both an author and an affiliate, you will get a chance to earn a commission that goes up to 95%.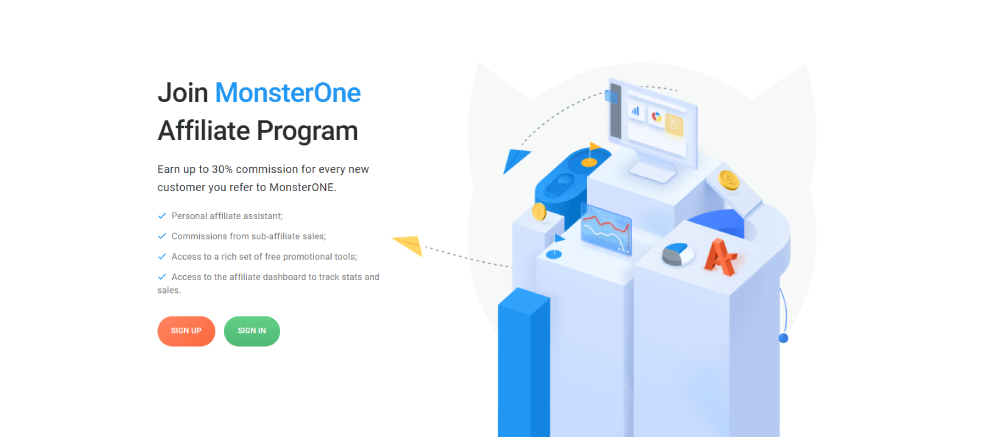 How Much Does It Cost to Purchase MonsterOne?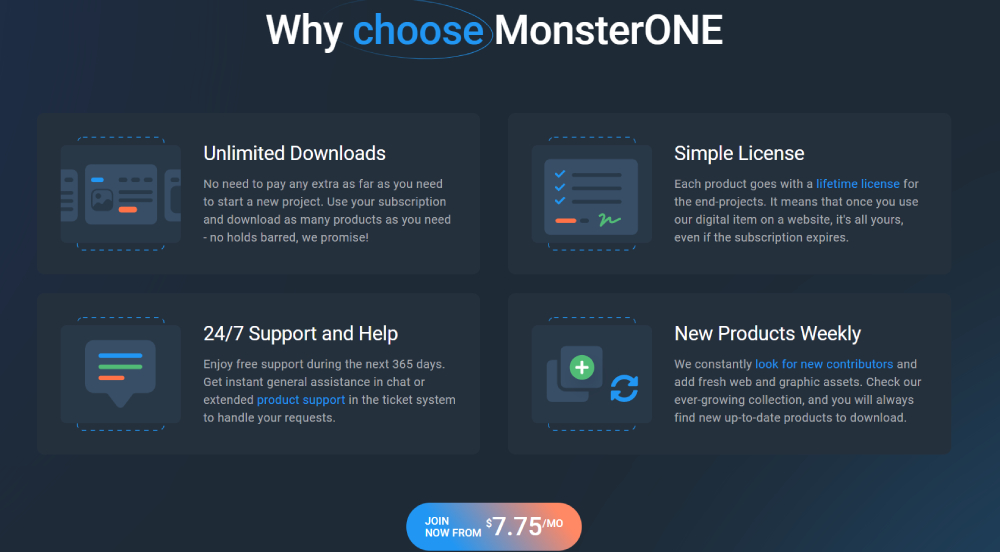 It is impossible to forget about the price of MonsterONE. Without a doubt, it can be a decisive factor in your final choice. We have prepared a useful table for you. It includes both the prices and the filling of each of the tariffs. However, to start with, it is better to mention a free plan that allows you to download such digital products as:
It will be a great opportunity to try MonsterONE out and see if you should still go for the paid version or not. It can also help those who do not have a large budget.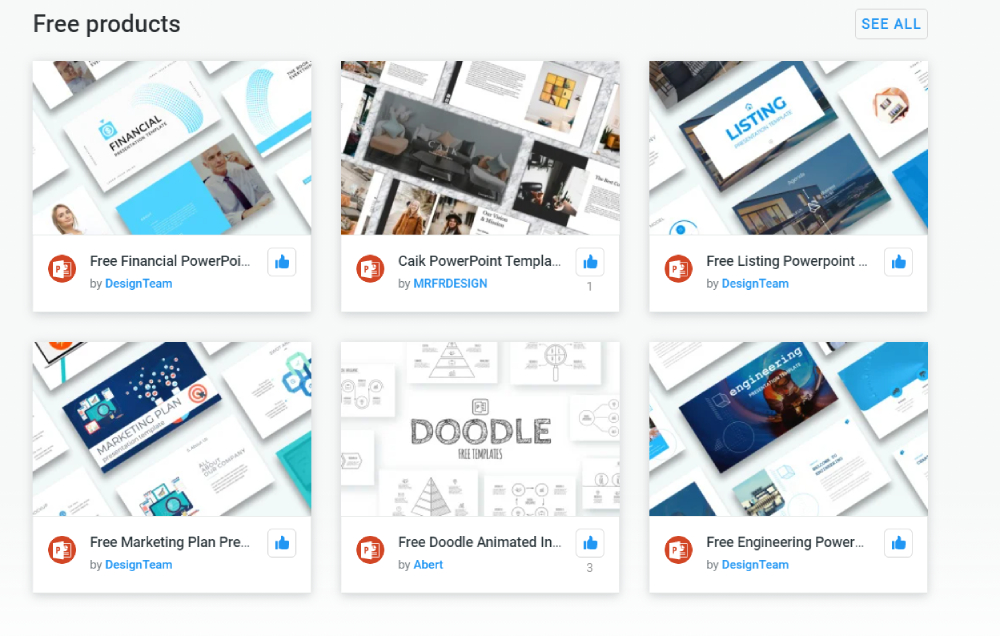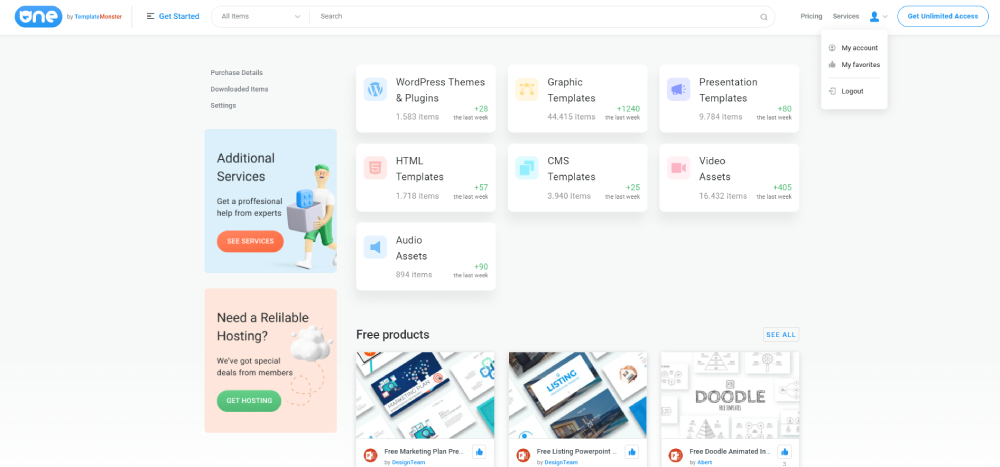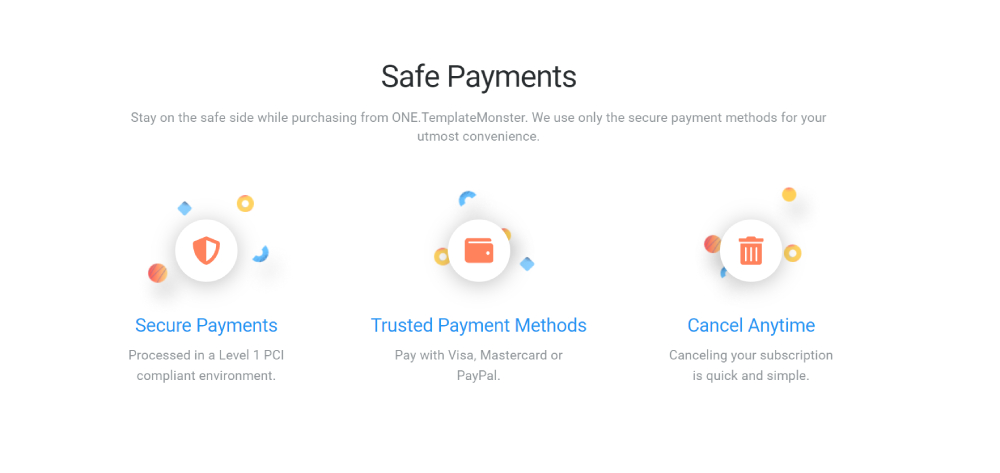 Now you can take a look at the paid tariffs.
| | | |
| --- | --- | --- |
| Creative ($82 per year) | All-in-One ($179 per year) | All-in-One (Lifetime) ($599 that is a one-time fee) |
| Graphic and design assets | WordPress and CMS themes | WordPress and CMS themes |
| Presentation templates | eCommerce themes | eCommerce themes |
| Video and audio assets | Plugins | Plugins |
| Unlimited projects | Graphic and design assets | Graphic and design assets |
| One-year technical support | Presentation templates | Presentation templates |
| | Video and audio assets | Video and audio assets |
| | Unlimited projects | Unlimited projects |
| | One-year technical support | One-year technical support |
| | | Unlimited lifetime access |
A Few Words in Conclusion
In such a way, we have introduced MonsterONE to you. Based on the above information, you can draw your conclusions and decide whether this service is right for you. We can only repeat the main characteristics that will help you make the final choice. Firstly, it is an opportunity to download digital products (like WordPress themes and HTML templates, as well as ready-made solutions for eCommerce platforms) unlimitedly. You can publish final online projects on an unlimited number of domains. If you have any problems, you can contact the support team. MonsterONE can also delight you with cool bonuses because TemplateMonster partners up with various related services. The affiliate program is a chance to increase income for those who are ready to promote subscriptions on their resources and social networks. The subscription continues to develop, and we will hear about it once again very soon. By the way, we have also prepared a small bonus for you. If you have an interest in MonsterONE, then use our promo code codewatchers and get a discount on any plan. Thanks for reading!
Forget Your Routine and Get Thousands of Web Design Tools in One Click With MonsterONE!