It's quite impossible to find a person who owns a WordPress website and does not want to increase their website's traffic. And when we talk about ranking and traffic, Keywords and Metadata hold their incomparable importance.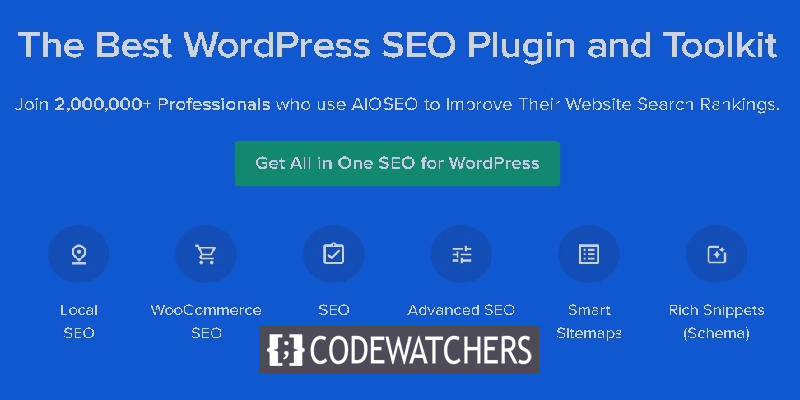 Adding Keywords and Metadata to your website means making it reach more people, expanding your audience and improve your website's SEO. In this tutorial, we are going to help you add Keywords and Metadata to your website.
Importance Of Keywords and Metadata
Keywords and Metadata help you in making your content recognizable to the search engines. It allows the search engine to have a vivid idea of your content to promote it to the concerned audience.
Keywords are important words or phrases used in the content. These words or phrases are likely to be used by the users to search for your content.
Create Amazing Websites
With the best free page builder Elementor
Start Now
Metadata or Meta Description is a short introduction of your content is about. It is displayed in the Google Search result for the user to have a slight idea about your content before they go on to read it. Keywords and Metadata are HTML tags. They might not be essential for your on-page content but are effective for the search engines and the browsers to use.
Meanwhile, it unknown to what extent Keywords and Metadata are effective for the content but using Keywords and Metadata effectively can help you improve your website's ranking.
Using focused Keywords throughout your content can help the search engine present your content upwards when the user uses the same exact word to search for the content.
Dedicated SEO plugins play a huge role in the effective usage of Keywords and Metadata to increase the Click Through Rate and improve your WordPress website's ranking.
Now that you have enough knowledge about the Keywords and Metadata, we move ahead towards the All In One SEO plugin that offers you a complete package to fulfil your SEO related needs.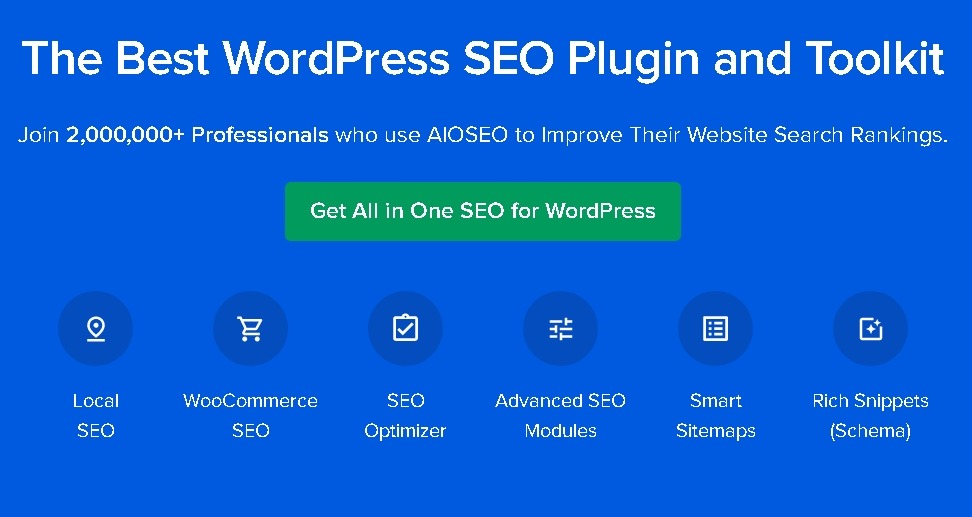 All In One SEO is one of the most popular SEO plugins which offer a whole package of tools to optimize your website for SEO.
It is comprehensively built to integrate your website SEO and help you better your website's ranking and increase traffic. It is highly responsive and quite simple to use even for those who are not familiar with coding.
How To Add Keywords And Description On A Post
Once you have installed the All In One SEO plugin, you will be taken through a setup wizard.
Complete the setup and press Finish Setup and Go To The Dashboard. Next, you need to enable the Keyword support as the Keyword features are turned off by default.
Head over to Search Appearances from All In One SEO option in the dashboard.
Switch to the Advanced tab from the bottom and turn on the Use Meta Keywords button.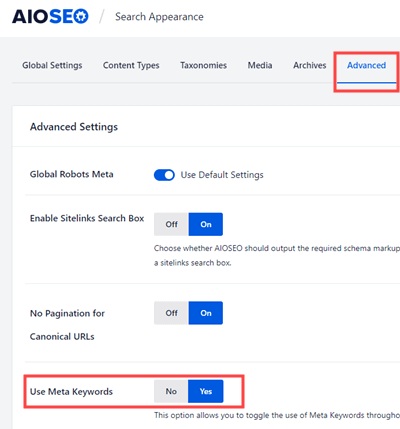 There are also a bunch of options that you can use for automated keywords and tags if you want to.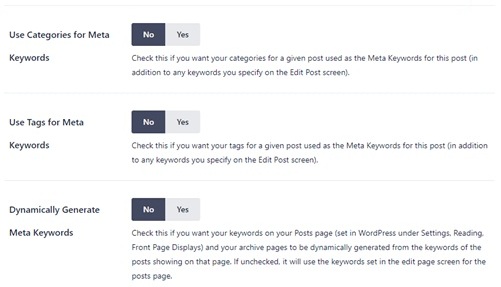 Store your settings by pressing the Save Changes button.
Now that you have enabled the Keyword support, you can go ahead and add Meta Keywords and Meta Descriptions to your WordPress content.
On the Content Editing Page, move to the AIOSEO Settings page below the content area.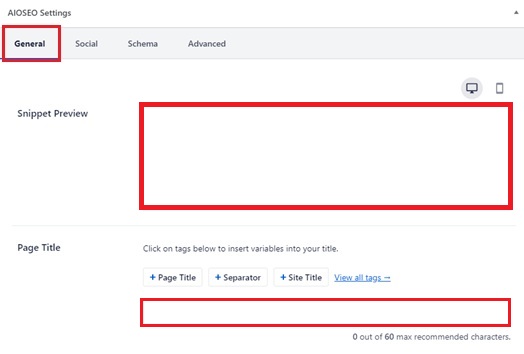 There will be an automated description, a field for the page title and for Meta Description. You need to fill in the Meta Description field. As soon as you start doing that, the automatically generated description will start changing to your manually entered Meta Description.
AIOSEO will also keep the word count for you as Google only allows to display 160 characters.
Save all your changes or publish the post with your new Meta Description.
Moreover, you can also add tags to your Meta Description. By Default, All In One SEO plugin offers a Separator and a Page Content tag while there are also other tags that you use.
In the Meta Description Field, type '#' and all the drop-down will show you the available tags.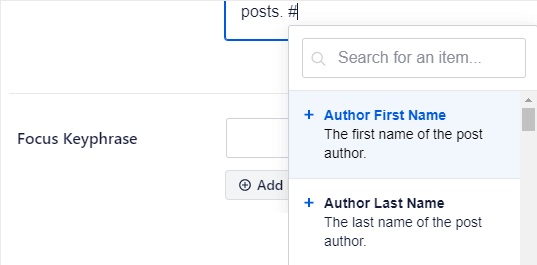 Add your desired tags and save the changes.
Now, we move towards the next part which is adding Meta Keywords to your content for better improvements.
On the AIOSEO Settings page, go to the Advanced tab.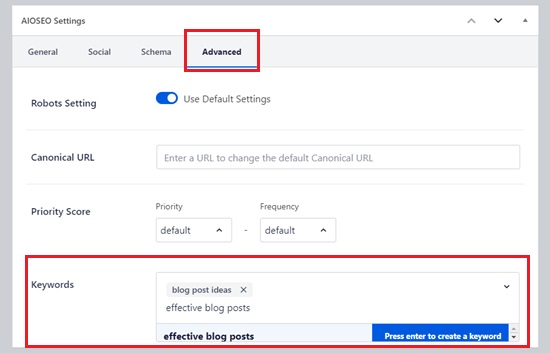 At the bottom of the screen, a dedicated Keywords field will allow you to enter your Keywords. Just press Enter after typing your Keyword.
You will also receive recommendations from the AIOSEO plugin. Make sure to save your changes.
How To Add Keywords And Description On the Homepage
All In One SEO plugin also allows you to put the Meta Description and Meta Keywords to your Homepage.
To do that, simply head over to the Global Settings page from Search Appearances in your Admin Bar and then scroll down to HomePage Section. In the Homepage section, input all the Keywords just like you did for the posts or pages.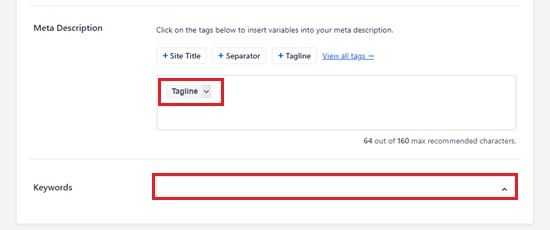 By default, your Tagline will be used for the description. You can leave it as it is or customize it if you want.
Similar to the posts and pages, there is also an option to add Tags simply by typing a '#' in the field.
This is how you can use Meta Description and Meta Keywords on your website to help it boost its ranking. And that's it for this tutorial, we hope we are being successful in making your website better. To stay updated, make sure you join us on Facebook and Twitter.