Working with the Divi theme means all the unique features and all the visually pleasing designs. If you want to try different designs for the same website, Divi is the best option. Each time you implement a new plan, you test which one suits your site better and which designers feel more comfortable. What if, unfortunately, you ever have to go back to the old design? There is no reason to worry because old structures can be easily retrieved using Divi, and that is what we will see in today's post.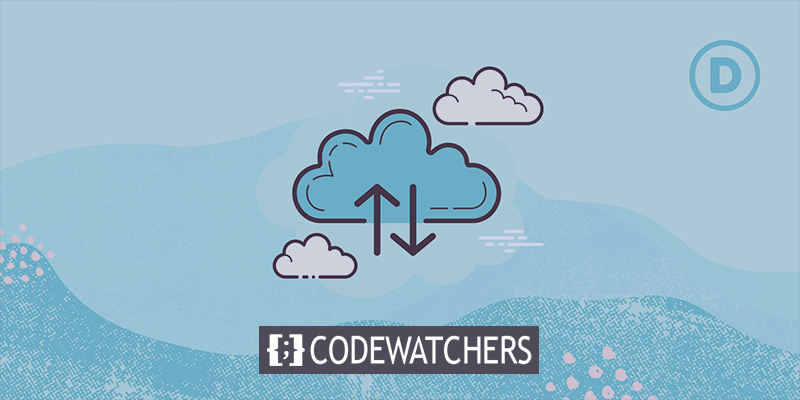 Restoring Divi Theme Builder Template
To retrieve a template, you have to be inside the Divi theme builder. Go to Divi > Theme Builder from your dashboard, and you'll see a set of templates on the website and their assignments.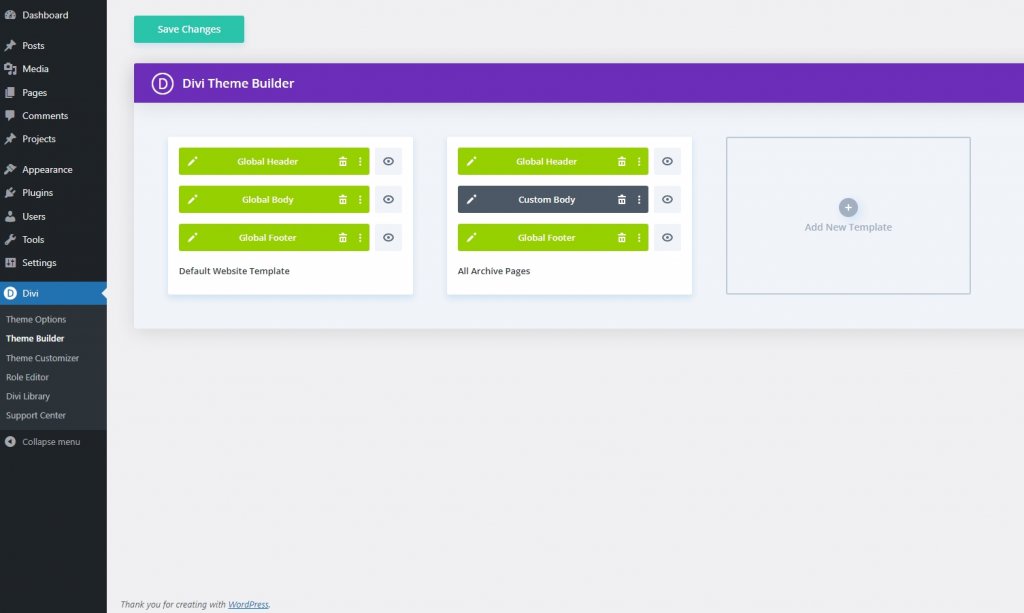 There are multiple reasons you can restore your old design, and that's why we are going to see a couple of methods to retrieve the old design. Those are:
Theme Builder Portability
Undo/Redo Option
Theme Builder History Tab
Enable Template conext menu option
We can do all these actions straight from the Theme Builder page. We are going to discuss all the options below.
Create Amazing Websites
With the best free page builder Elementor
Start Now
System 1:
Theme Builder

Portability

We can easily re-upload any template using the portability option. When a design is created, we can download the JSON file using the portability option. Also, if we want to use a premade template, we can upload it with this option. If we save the JSON file of the old design on the PC, then we can restore the design in this way.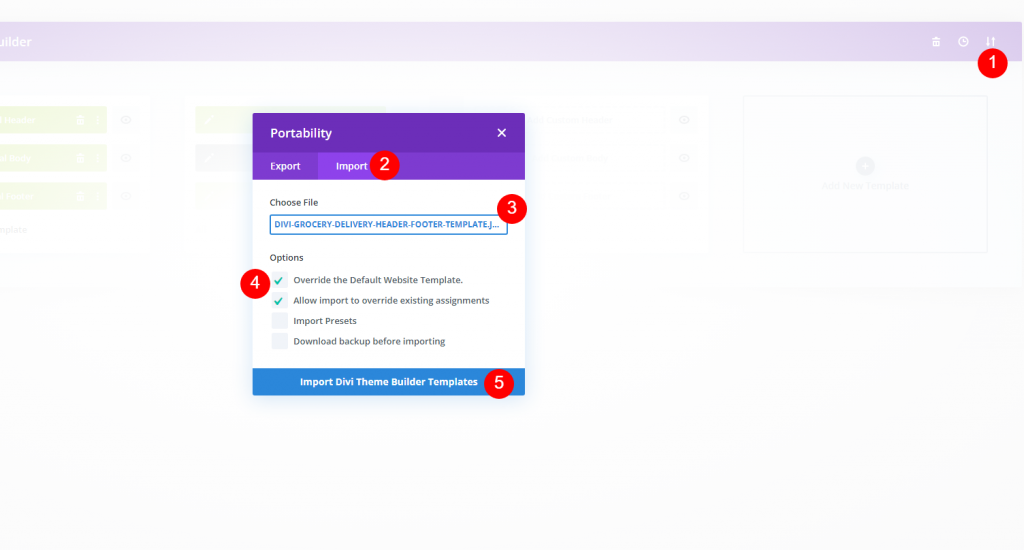 Simple click arrow on the upper right corner and open the option of portability. Click on the Import tab and then click on No file selected to choose your desired JSON file. Then check the marked options and import the file.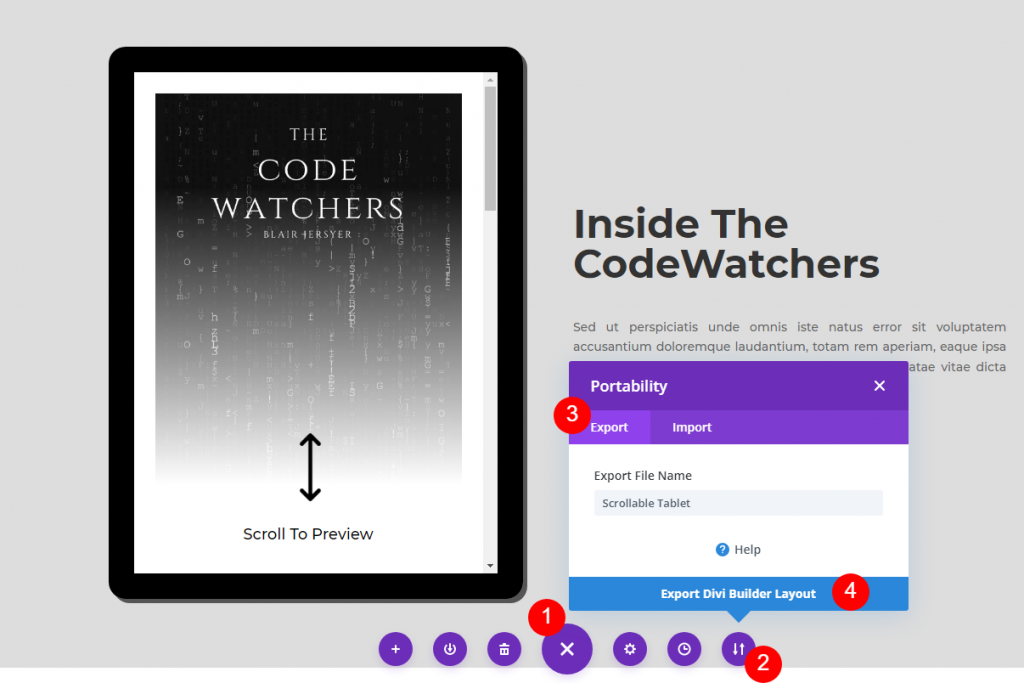 To export any page design, simply open the page with Divi builder. Click on the 3-dot button on the lower middle section and then click the portability icon. Then rename the design as you wish and click on Export Divi Builder Layout.
System 2: Undo/Redo Option
If you screw up using the theme builder, here is an easy fix to get your template back. You may have accidentally clicked Delete from the context menu when you clicked right, or dragged a layout box from one template to another, or assigned the incorrect pages to a template when you clicked right instead of left. Whenever you need to undo something quickly, try typing CTRL-Z on Windows or CMD-Z on Mac to undo the last thing you did.
Press CTRL-Y or CMD-Y to Redo if you've undone something too many times. With only a few keymaps, you can quickly fix action errors before they become more serious. Don't worry if your finger slips or your drag-and-drop goes wrong. These also work in the Divi Visual Builder!
System 3: Theme Builder History Tab
If you detect an error and don't know when it occurred, you can use the Clock Icon in the theme builder's upper-right corner to find out. A History window will open when you do this, showing you a history of your theme builder sessions.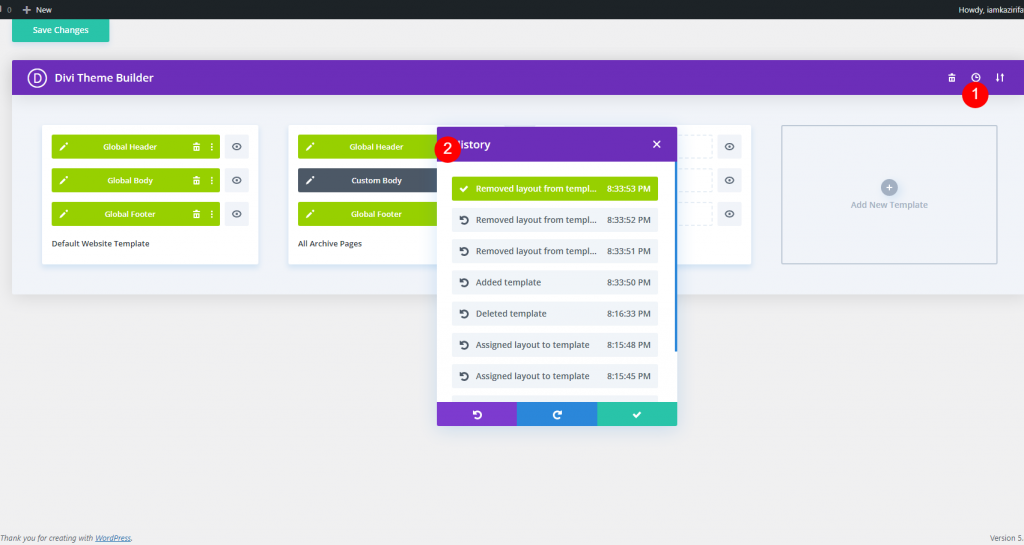 You can go back to any stage in the builder by clicking on any of the elements. But remember that if you've saved your modifications and then left the Theme Builder, you'll have to go through another process in order to get your template settings back to normal. This is not a comprehensive list of all the modifications to the site over time.
System 4: Enable Template
conext menu option
Divi has given you complete independence in your actions. This means you can access every command you need in the Theme Builder with just a few clicks. The right-click context menu in the theme builder lets you work with templates no matter where you are. Using the context menu, pick Disable Template from the right-click menu to turn off any template.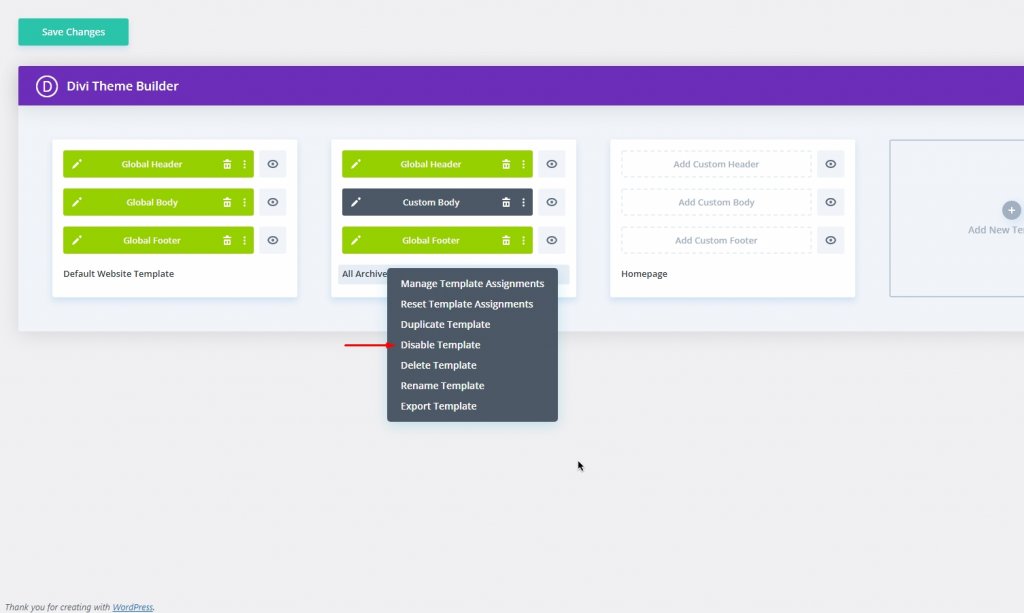 This way, the content given to this template will be reverted to the default Global Website Template by default (or the next, more specific template that applies to it).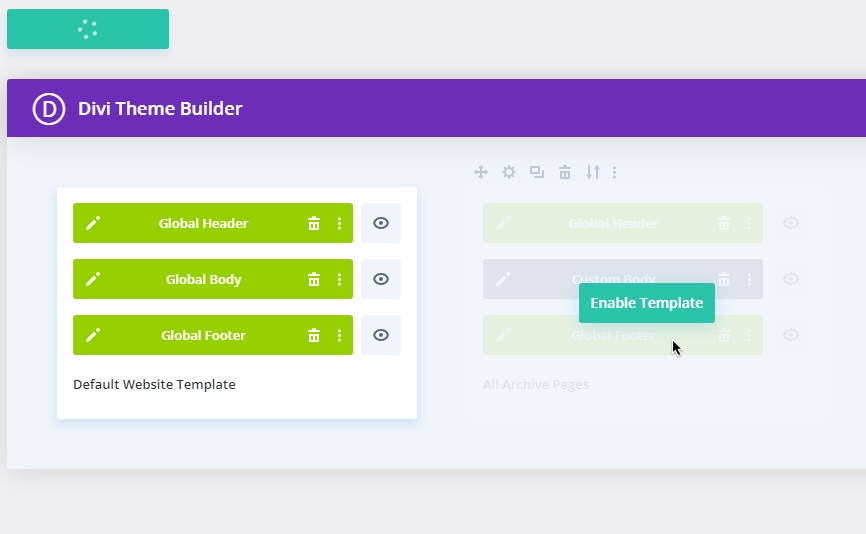 Hovering on the template with your mouse will return the content to as it was before you changed anything. There should be a green button with Enable Template sign on it. Simply click on it to return the content to its original layout.
Final Words
Divi is the most user-friendly builder, and once you choose it, it will always have your back. No matter what reason you need to restore the template, Divi can get a full backup via JSON file, and it's the most convenient way! Other ways are handy too. Let us know in the comment how you retrieve your first template? Also, share this post among your friends to let them know the diverse features of Divi.