Are you facing "Elementor stuck on loading screen" on your website? If that's the case, you've come to the correct place. Since we've been using Elementor for so long, we've run into this problem quite a bit. Fixing this problem, on the other hand, can be difficult at times.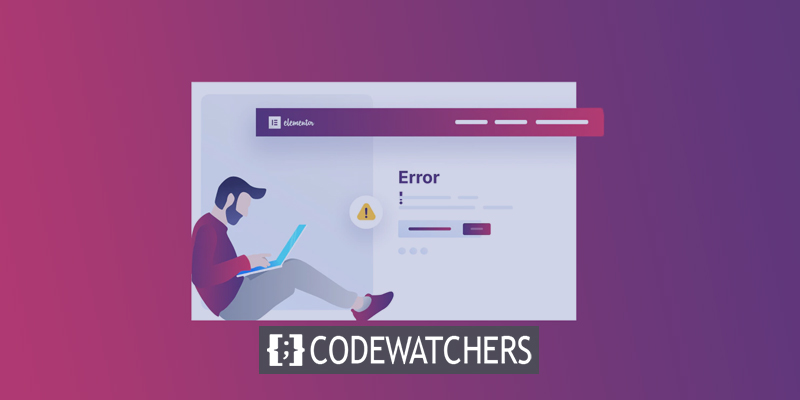 Due to a variety of factors, this error could appear on your website. You may learn how to fix Elementor's loading screen problem in this article. This mistake can occur for a variety of reasons, so I'll go over a few possible fixes to get you back up and running.
Let's get started now, please.
What Is Elementor Stuck On Loading Screen?
There are numerous variations of 'Elementor stuck on the loading screen.' In addition, many newcomers are unsure of the specific mistake they are encountering.
Create Amazing Websites
With the best free page builder Elementor
Start Now
There are three possible reasons for getting stuck on the Elementor loading screen.
Endless Loading In Editor
In Elementor, this is the most common problem that users encounter. Elementor's editor will keep loading indefinitely if you encounter this issue. Plugin or theme incompatibilities are the most common cause of this problem. White Blank Page Loading
When Elementor encounters a loading error, the editor will open to a white blank page. Plugin conflicts can also result in this issue. Server memory difficulties can also produce Elementor's white blank page error.
Unresponsive Widget Panel
Elementor's widgets panel won't load because of a new sort of problem. The widget panel is either completely grayed out or it keeps loading indefinitely. Such issues are caused by plugin conflicts.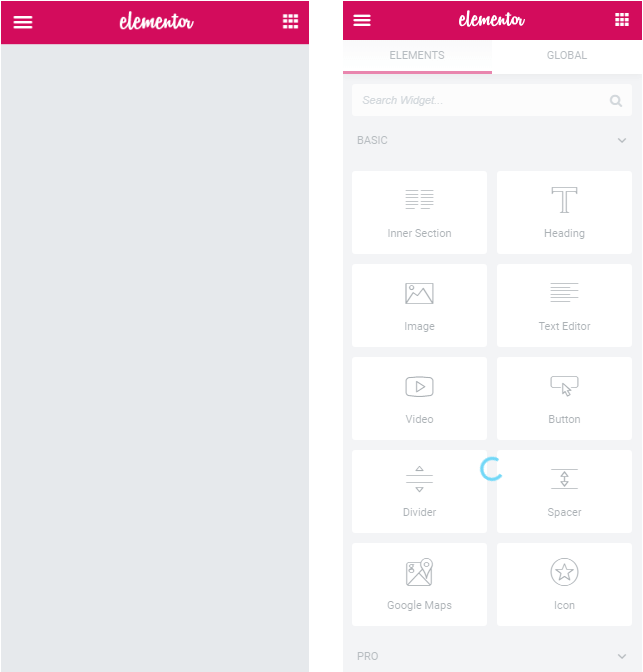 Best 7 To Resolve Elementor Stuck On Loading Screen Issue
According to Elementor, many of the Elementor loading screen failures are caused by conflicts between plugins.
This isn't always the case, of course. The following are many methods for resolving these problems.
1. Look For Plugin Conflicts
You should start with Elementor's remark that these loading failures are caused by conflicts between plugins. Investigate all of your website's plugins to discover if you've installed anything that might be causing this problem. Check for plugins you've recently added on your website if the Elementor loading problem is recent.
Check to see whether the problem is solved by disabling these plugins. Follow this plugin troubleshooting guide to only enable Elementor (and Elementor Pro, if you have it) and check if it's loading properly again if you're still unable to discover the offending plugin.
If so, activate each plugin one at a time and check Elementor as you go along. After activating a plugin, if the loading problem persists, you've located the culprit.
If that doesn't work, see if any of the other suggestions in this section does.
2. Check Your PHP Version
The 'Elementor not loading' problem can potentially be caused by an outdated version of PHP or a server with restricted PHP RAM. PHP 7.0 or above is required to get the maximum performance out of the editor while using Elementor page builder.
They also advocate for a minimum of 128M of recommended memory. Your site host's admin panel or your webmaster can help you update your PHP version, but you can also do it yourself.
When using an upgraded version of PHP, you should check to see if the PHP memory limit is set to 128M. Elementor's system information may be seen in your WordPress dashboard under Elementor > System Information. Under the 'WordPress Environment' section, you will discover the RAM limit. Memory requirements must be increased if your current limit is less than 128M.
Editing the wp-config.php file is required. In your WordPress directory, you'll find this file. The wp-config.php file can be accessed using cPanel or the WordPress File Manager.
Open the wp-config.php file and look for "/* That's all, stop editing! Happy blogging. */" and add the following line above it.
define('WP_MEMORY_LIMIT', '128M');
Elementor's system information page should show that the RAM limit has been increased. Check to see if the problem has been fixed by opening the Elementor editor.
3. Change Editor Loading Method
The builder can change the loading method in Elementor. If you're having issues with the editor, Elementor recommends moving to a different technique.
Navigate to Elementor > Settings > Advanced in your WordPress dashboard to locate this option.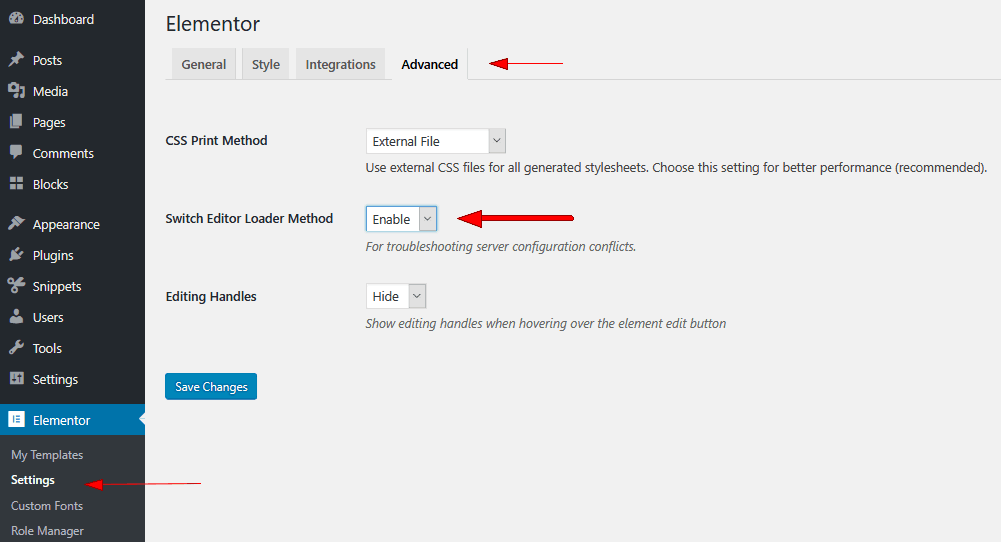 The editor loader mechanism can be changed on the Advanced tab. This feature is not enabled by default. This option can be enabled and checked to see if the editor loads.
4. Use Proper Elementor Plugins
Third-party add-ons are the most common cause of "Elementor not loading." It's possible to get issues like these if you're using an Elementor add-on that isn't correctly coded.
Check if the problem is solved by disabling any Elementor add-on plugins that you have installed on your website. If that's the case, steer clear of add-ons that aren't updated frequently or well-coded.
5. Look For Browser Addons
Most of the time, it's not your website's fault that Elementor is stuck on loading.
It's possible that your browser is to blame. Disable any installed extensions or plugins on your website to see if it fixes the issue. Browser extensions that prevent scripts from loading should be sought out. Make sure your website doesn't have any ad blockers installed. Elementor may not work properly on your current browser, therefore try switching to a different browser to make sure.
6. Turn Off RocketLoader in Cloudflare
Your website is most likely running RocketLoader if it is hosted by Cloudflare. The problem is that Elementor and RocketLoader don't get along.
Many users found that turning off RocketLoader in Elementor solved their 'Elementor stuck on loading screen problem. Cloudflare's RocketLoader can be disabled by following the steps outlined below: 7. WordPress Theme Issue
It's possible that Elementor won't load on your site because of a conflict with your WordPress theme. Despite the rarity, it's a good idea to double-check your theme for errors. Activate another theme on your website and see if Elementor is working as intended.
Yes, your theme is to blame if this is the case. In order to get Elementor to work, you can't just remove your theme. As soon as you have figured out that your theme is to blame, contact the theme's developers and request a repair.
Final Words
A typical occurrence, though not cause for alarm, is the dreaded "Elementor Stuck on Loading Screen". Every Elementor user has had this problem. The problem can be solved using any of the aforementioned solutions. Alternatively, you may get in touch with Elementor directly and ask for assistance.
As a result of their prompt customer service, they will investigate the problem and resolve it. Let us know if you have any further queries in the comments section below.