When there is a discourse about WordPress and Online Stores, Woocommerce it's difficult not to think about WooCommerce. WooCommerce is a WordPress plugin that powers innumerable online businesses all over the internet.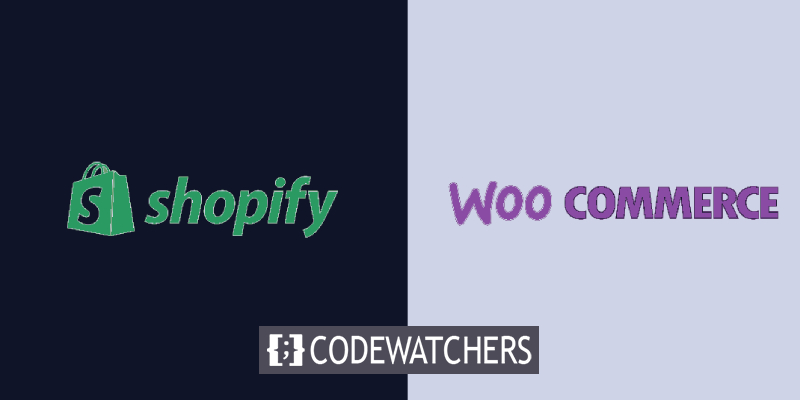 Despite the fact that many stores end up utilizing WordPress, they don't have to start there. You may create an online store using many alternative website builders, such as Shopify, then change your mind and transfer your store later.
Why Should You Move Your Shopify Store To Woocommerce
There are several factors why using Shopify to launch an online business is a wise decision. The interface is incredibly user-friendly, taking you through the process of creating a shop and assisting you with any necessary revisions. It also grants you access to a number of storefront themes, as well as a number of applications for adding functionality to your store and marketing tools to help you attract more consumers.
Unfortunately, pretty quickly, you'll find that each of these advantages has a drawback. Shopify is user-friendly, but it does so at the expense of customizable depth. Themes for storefronts are available, but they aren't as diverse as those for WordPress stores. Applications and marketing tools can't compete with WordPress plugins, no matter how useful they are.
Create Amazing Websites
With the best free page builder Elementor
Start Now
You'll probably look at what WordPress has to offer sooner or later. While Shopify can be used with WordPress, a native WordPress store platform like Woocommerce will provide you with a greater degree of integration and more possibilities. That's how you'll end up looking at WooCommerce, a WordPress plugin with an extension ecosystem for online sellers.
Creating A WordPress Website
When you've decided to make the transfer from Shopify to WooCommerce, the first thing you'll need to do is set up a WordPress site. Whether or not you want to maintain your Shopify-provided domain name will determine the steps you take while building your website.
To begin, you should learn about the different hosting alternatives, such as VPS or dedicated server, select a solid website hosting company that provides the services you want, then install WordPress, either manually or via the host's option.
If you want to transfer your Shopify domain to a new website, you may have to speak with your hosting service provider about setting up a temporary domain. If you don't have one, you'll need to acquire one, which your hosting company should be able to assist you with.
You should have a WordPress website with WooCommerce installed as a starting point. You may adjust the appearance and functionality later. For now, you'll need a location to move your store's data to.
Moving Data From Shopify To Woocommerce
You may move your data from Shopify to WooCommerce via three different methods. It's possible to accomplish it manually, using plugins, or with third-party migration services.
Moving Data From Shopify To Woocommerce With A Plugin
Don't throw away those downloaded files with your Shopify orders and customer information as you can use the Import From Shopify plugin to upload all that data into Woocommerce.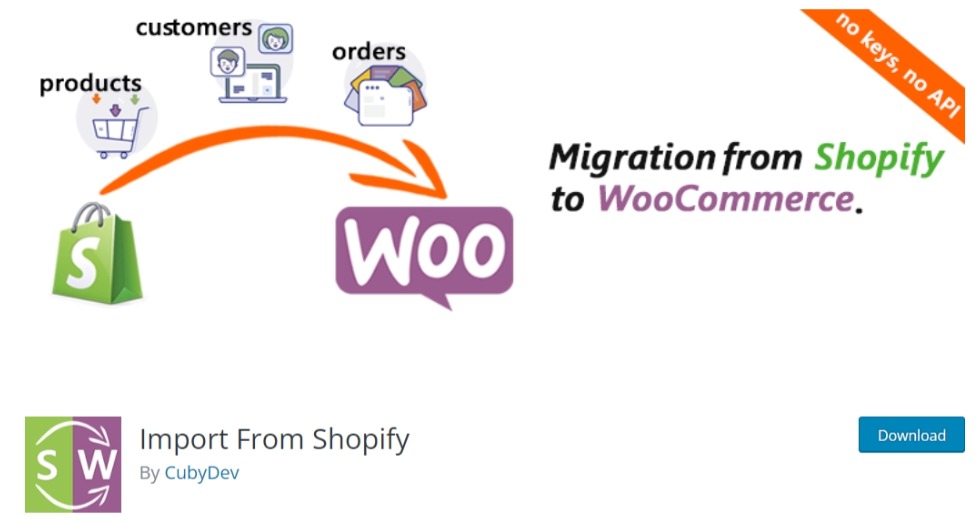 This plugin will allow you to import customer and product information from Shopify's free version. You'll need the Pro version of the plugin to use Import From Shopify for order details.
Moving Data From Shopify To Woocommerce Using Third-Party Services
Another alternative is to employ Cart2Cart, a migration service that specializes in online shop transfer. This is definitely the least time-consuming alternative, however, it will almost certainly be more expensive than utilizing plugins or doing everything manually.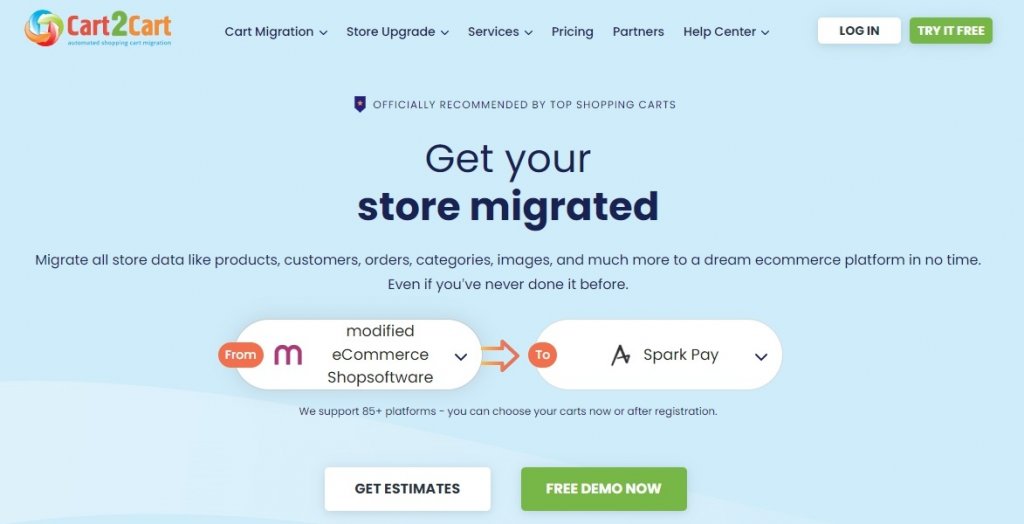 Cart2Cart is unique in how it charges you according to the amount of data you want to migrate. Larger stores will cost more to move, and Cart2Cart can help you with a calculator to estimate your transfer expenses.
Moving Data From Shopify To Woocommerce Manually
This option is the least ideal option and offers a little bit of difficulty, however, Shopify has done its bit to make it as simple as possible to transmit important data to other stores.
Simply go to your Shopify store's dashboard, choose Products, then All Products, and click the export option. You'll be given the option of selecting which goods to export and how you wish to export them. A link to download the CSV file containing your items will eventually be emailed to you. You can use a similar approach with Shopify orders and customers.
Uploading a CSV works solely for products when it comes to uploading lists of items, orders, or customers from Shopify. When you go to Products then All Products in WordPress, you'll see an import button that allows you to import a CSV or TXT file. The importer also assists you with important tasks like column mappings, which you should not overlook if you want the importer to upload your product photographs.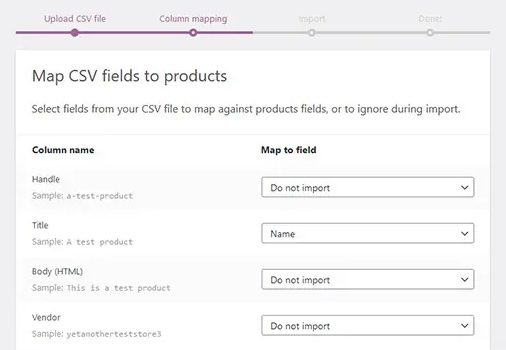 To transfer customers, go to Users, then Add New, and manually fill out all of the required information for each client one at a time. This is something you should probably do before entering any customer orders.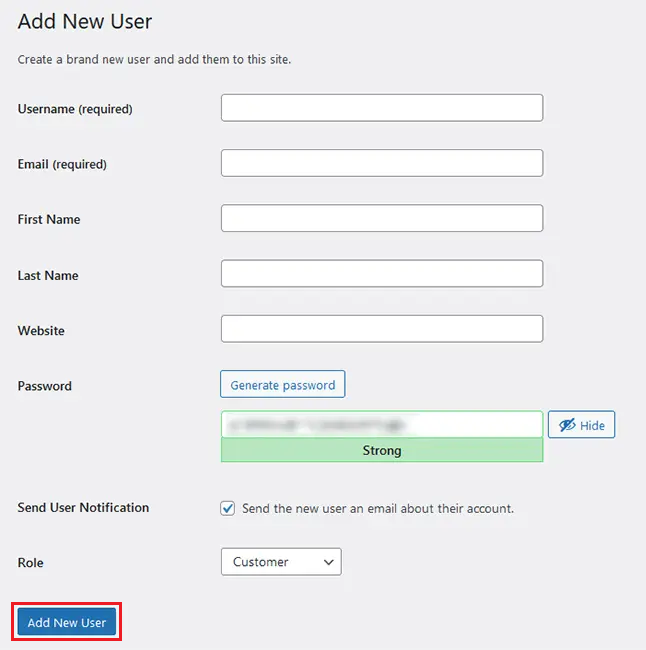 You'll have to manually import orders one at a time to upload them. Find the Add New button under WooCommerce, then Orders. Unless you simply wish to relocate items or have a small number of clients and orders to move, the manual alternative isn't suitable. You should probably try one of the other two alternatives if you have a large store with a lot of client and order information.
Customizing Your Website
Regardless of the migration technique you use, the very first step you should take after you believe you've finished is to go through everything and double-check that all of your data has made it across. Pay specific attention to product photos, which are vital while get frequently misplaced during the relocation.
The following phases will be determined by what you've accomplished thus far. If you wish to transfer a domain, you'll need to obtain the authorization code so that you may transfer the domain to your new website. You should also lookout for the appearance and the feel of your website later on.
That's all you need to do to move your online store from Shopify to Woocommerce. Make sure to revisit to resolve your doubts and join us on our Facebook and Twitter to never miss out on our posts.