Bots are one of the issues you run into while making a form for your website. The Elementor team has thankfully noted it. To prevent bots from bothering your form, you can include reCAPTCHA while constructing it with Elementor on your WordPress website. No, a separate plugin does not need to be installed. Integration with reCAPTCHA is already possible with Elementor. You only need to add a reCAPTCHA field to your form and connect your website to reCAPTCHA.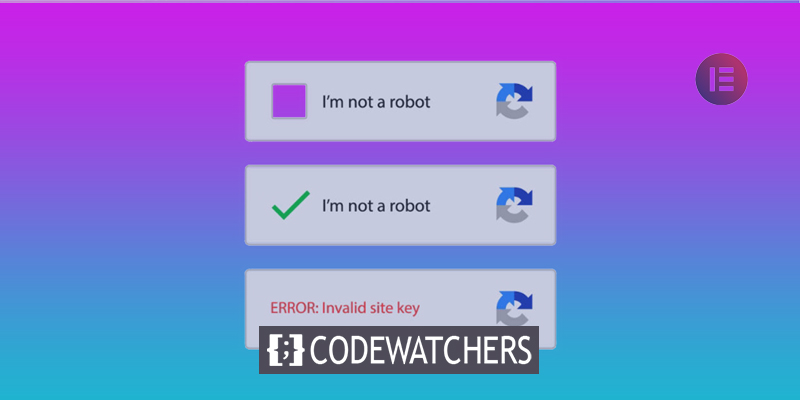 Connect reCAPTCHA to your website
As reCAPTCHA integration is only available on Elementor Pro, we will first assume that you have switched from Elementor's free edition to Pro. To begin with, go to the reCAPTCHA website and select Admin console from the top-right menu. Use your Google account to log in. To register a new site, click the plus sign. Create Amazing Websites
With the best free page builder Elementor
Start Now
Click the SUBMIT button after entering the label, choosing the reCAPTCHA type, adding your domain, and accepting to the reCAPTCHA ToS. a quick hint We recommend selecting the reCAPTCHA v2 -> I'm not a robot" Checkbox because you wish to add reCAPTCHA to a form. In order to use this feature, your visitors must first complete a challenge to verify their identity. View the screencast that is provided below. You will see the Site Key and the Secret Key after pressing the CREATE button. Note down these keys. Enter your WordPress dashboard after logging in, then select Elemetor -> Settings. Select the Integration tab, then fill out the appropriate boxes using the Site Key and Secret Key. Click the Save Changes button after scrolling down. Adding reCAPTCHA to an Elementor form
Elementor already contains a reCAPTCHA field, thus, adding reCAPTCHA to a form in Elementor is really simple. You may either edit an existing form or add a new one by dragging the Form widget into the canvas area. You can read this post if you've never made a form in Elementor before.
By using the ADD ITEM button when adding a new field to your form, you may add reCAPTCHA. Select reCAPTCHA as the field type. Decide on the style and the size (light or dark). Your form with reCAPTCHA is now prepared for publication. When you are through styling your form, click the PUBLISH/UPDATE button.
Wrapping Up
Anyone who uses the built-in Elementor forms will find that native integration is a big help. reCAPTCHA requires more resources, though, and its effectiveness is debated, which makes it important to weigh the costs and benefits. Bots are getting smarter, and this isn't the only way to stop them. Bots can also be stopped by using other anti-spam methods, such as a honeypot or plugins like Akismet, which both have their own articles.